These easy air fryer recipes include the most delicious appetizers, side dishes, and entrees you can make with your air fryer! I've even incorporated some kid-favorite recipes that you can whip up in a flash! Whenever you need a quick meal or snack, bust out your air fryer, and you'll have one ready in no time!
Best Air Fryer Recipes
Air fryer recipes are already popular for making short work of cook time! The results are perfectly crispy foods without soggy baked versions or super oily fried versions. Yum!
Plus, I think it's the best way to cook frozen convenience foods. You can't get much simpler than opening a bag of your fave frozen snack and popping it into your air fryer!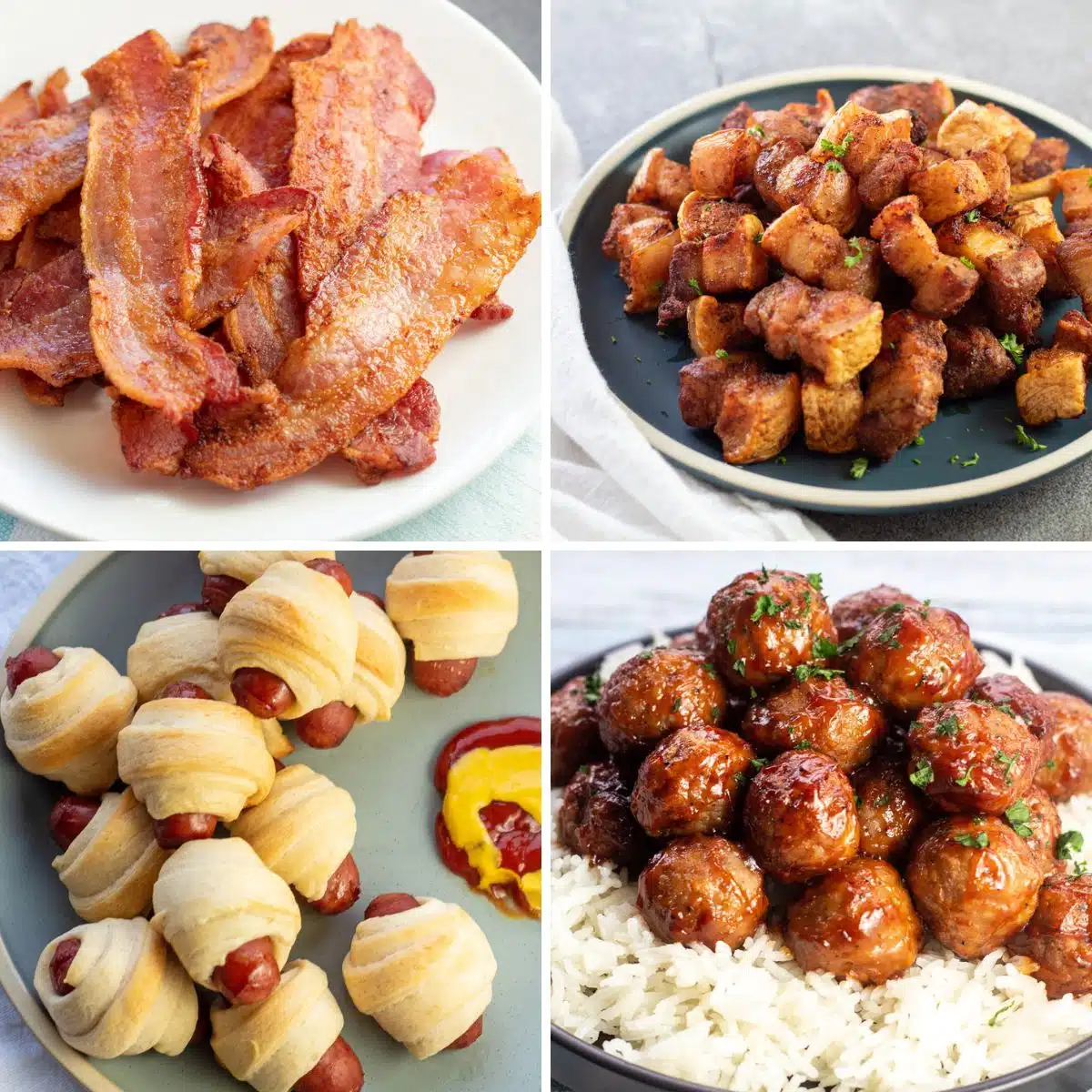 Jump to:
Air Fryer Appetizers
I love great appetizer recipes that make short work of your tasks as the host when entertaining, and using your air fryer can really cut time!
1. Air Fryer Pork Belly
This air fryer pork belly recipe features tender, bite-sized pork belly pieces coated with my homemade pork seasoning! The air fryer is an excellent way to cook up these delicious morsels, as it helps to render the fat and create a crispy skin!
2. Air Fryer Frozen Popcorn Chicken
Air fryer frozen popcorn chicken is a convenient and easy-to-make snack that's perfect for dunking in your favorite dipping sauces! It's the quickest way to satisfy your chicken cravings without doing any prep work.
3. Air Fryer Pigs in a Blanket
Air fryer pigs in a blanket are a classic appetizer for potlucks, parties, and family gatherings. The air fryer gives them a crispy, golden-brown crust while the sausage remains soft and juicy!
4. Air Fryer BBQ Lil Smokies
Air fryer BBQ lil smokies are a crowd-pleasing appetizer that's perfect for parties or game days. They're full of savory, sweet, and smoky flavors everyone loves!
5. Air Fryer Frozen Jalapeno Poppers
Jalapeno poppers are an easy and fantastic finger food for your next movie night, potluck, or large party! The combination of cream cheese, jalapeno, and a breaded crust will always be a hit with anyone who tries them.
6. Air Fryer Frozen Potstickers
These potstickers are so flavorful that you'll want to say goodbye to takeout and make them at home every time! They're fabulous when you are in a hurry and craving Asian food.
7. Air Fryer Frozen Meatballs
Air fryer frozen meatballs are an amazingly tasty and quick snack, appetizer, or dinner! They're also incredibly versatile, so you can either sauce them up and serve them on some pasta or rice or enjoy them on their own.
8. Air Fryer Frozen Shrimp
When you're in the mood for a seafood appetizer, this air fryer shrimp recipe is incredibly easy and will be ready in just 10 minutes. Then you can quickly make a tasty shrimp cocktail or toss them in your favorite pasta for dinner!
9. Air Fryer Quesadillas
These air fryer quesadillas are an easy and tasty appetizer, lunch, or dinner that can be loaded with your favorite quesadilla ingredients!
Plus, they're perfect for when you have leftover meat. All you have to do is add some cheese!
>>>>See all of my recipes HERE<<<<
10. Air Fryer Tortilla Chips
These air fryer tortilla chips are so incredibly easy to make that you'll never want to buy store-bought chips again. The air fryer makes them crispy and crunchy; you only need 3 simple ingredients.
11. Frozen Spring Rolls Air Fryer
These frozen spring rolls made in the air fryer are a flavorful and healthy alternative to their deep-fried counterpart. They are delightfully crispy and perfectly cooked from the freezer in just 15 minutes.
12. Air Fryer Frozen Onion Rings
Whether you're making burgers for dinner or your favorite grilled protein, these air fryer onion rings are the best accompaniment. They're ready in 8-10 minutes and are just as crispy as deep-fried onion rings - plus, there is no mess and less hassle!
13. Air Fryer Pickles
Air fryer pickles are a delicious and easy-to-make snack or appetizer made with dill pickles and a crunchy Panko breadcrumb coating. Serve them at your next family get-together, party, or potluck with my tasty homemade ranch dressing, and watch how quickly they disappear.
14. Frozen Egg Rolls Air Fryer
These frozen egg rolls are a quick and easy appetizer that's perfect for when you're in the mood for fried food but don't want the extra calories that come with frying in oil.
The air fryer makes them beautifully crispy and golden on the outside while the filling remains hot and flavorful on the inside.
15. Air Fryer Popcorn
If you've never made popcorn in the air fryer, you'll see how easy it is for yourself! The popcorn pops up light and fluffy every time, plus you can season the popcorn sweet, savory, or any way you'd like.
16. Air Fryer Bacon Wrapped Poppers
These air fryer bacon-wrapped poppers are the ultimate party appetizer with tons of flavor. They're filled with a creamy and rich cream cheese mixture that perfectly complements the jalapeno's spiciness perfectly.
17. Air Fryer Meatballs
This tasty air fryer homemade meatballs recipe combines Italian ground sausage with breadcrumbs, egg, milk, minced garlic, salt, and pepper. Load them on a tray with toothpicks as an easy appetizer, or add them to your favorite pasta dishes like spaghetti!
18. Air Fryer Shrimp
This air fryer shrimp recipe is the best and easiest way to cook up a delicious seafood meal quickly. Whether you want shrimp to serve as a quick appetizer or want some to add to your favorite rice or pasta dishes, you'll love how convenient this recipe is!
19. Air Fryer Frozen Breaded Okra
This air fryer frozen breaded okra is a delightfully crispy side dish or appetizer that's great for dipping in your favorite dipping sauces. Plus, you save the time it takes to make a dredging station and all of the mess that comes with a deep fryer.
20. Air Fryer Frozen Mac & Cheese Bites
These air fryer frozen mac & cheese bites are a comforting and delicious snack to share with your family. It's a kid-favorite dish that adults will enjoy too.
Sides
The main may be the star of the show, but nothing makes a meal more satisfying than a great side dish!
21. Air Fryer Mushrooms
This air fryer mushrooms recipe features white or cremini mushrooms coated in olive oil, salt, pepper, garlic powder, and onion powder. In just 15 minutes, you'll have a tasty side to pair with your favorite main course dish!
22. Air Fryer Frozen Hash Brown Patties
These delicious frozen hash brown patties are incredibly easy and quick to make because they are already cooked. They're an addicting side dish to pair with your favorite breakfast dishes like sour cream scrambled eggs and breakfast sausage!
23. Air Fryer Bacon
This recipe is a practically effortless way to cook bacon, plus there's no need to worry about oil splattering everywhere! Let your air fryer do all the work to crisp up the bacon while you make some scrambled eggs and mini silver dollar pancakes.
24. Air Fryer Zucchini
This air fryer zucchini is a quick and flavorful side dish that will pair well with any of your favorite main course proteins. It's a versatile vegetable you can easily season to complement the savory flavors of chicken, pork, fish, or beef!
25. Air Fryer Brussel Sprouts
If you're a fan of crispy vegetables, then you must try cooking your brussel sprouts in the air fryer! The air fryer allows them to cook evenly and quickly, resulting in a delicious side dish that can be seasoned any way you'd like.
26. Air Fryer Biscuits
This air fryer biscuits recipe features a package of refrigerated biscuits cooked to golden perfection in under 15 minutes! You can serve them with butter and jam, or top them off with my tasty country gravy!
27. Air Fryer Baked Potatoes
This air fryer baked potato recipe is the best way to get perfectly tender and fluffy potatoes with the least amount of effort! Load them up with your favorite baked potato toppings for a wonderful, filling side dish that pairs well with just about any meal.
28. Air Fryer Frozen Potato Wedges
These air fryer frozen potato wedges are perfect for those who love the taste and texture of deep-fried potato wedges but want a healthier alternative that doesn't require all the extra oil. Serve them with your favorite dipping sauce, and enjoy a tasty and satisfying side dish that everyone will love!
29. Air Fryer Garlic Bread
Cooking garlic bread in the air fryer is incredibly easy and convenient and results in a delightfully crispy texture! All you have to do is slice your bread, make garlic butter, spread it on the bread, and let the air dryer do its magic!
30. Air Fryer Asparagus
Air fryer asparagus is a simple and tasty vegetable side dish that only requires a few ingredients and is ready to serve quickly! Plus, it's a versatile vegetable that can be seasoned and dressed up in many different ways.
31. Air Fryer Baby Potatoes
These air fryer baby potatoes are a delicious and addicting side dish that can be enjoyed with any meal! The potatoes cook up wonderfully crispy on the outside while retaining their tender and fluffy texture on the inside.
32. Air Fryer Potato Chips
Air fryer potato chips are a delicious and healthier option to processed chips that you'd purchase from the store. They're perfect for snacking or serving as a tasty addition to a sandwich or burger!
33. Air Fryer Texas Toast
Air fryer Texas toast is the best and easiest way to enjoy your favorite thick-sliced bread with garlic or cheese without needing to preheat the oven! Pair it with a tasty soup, stew, salad, or pasta dish, or use the bread as a base for a delicious sandwich!
34. Air Fryer Squash
This air fryer squash recipe is incredibly easy to make and will be ready to serve in under 15 minutes! You can also use any of your favorite summer squash for this recipe, just slice them into smaller pieces and coat them with olive oil and seasonings before the air fryer takes over.
35. Air Fryer French Fries
Air fryer French fries are a healthy way to enjoy traditional fried potatoes with less oil. The air fryer allows the fries to cook evenly and crisply, resulting in a delicious and satisfying snack that can be seasoned however you'd like!
36. Waffle Fries In Air Fryer
Air fryer waffle fries are a delicious and easy-to-make side dish that will be loved by kids and adults alike. The waffle cut of fries gives them a unique and crispy texture that is perfect for dipping in your favorite sauces or enjoying them on their own.
37. Air Fryer Carrots
These carrots are transformed into a delicious and healthy side dish with just a few simple ingredients and the magic of your air fryer. By using this cooking method, your carrots become so tender and caramelized, bringing out their natural sweetness in the easiest way!
38. Air Fryer Frozen Sweet Potato Fries
Frozen sweet potato fries are readily available in most grocery stores and can be cooked quickly in your air fryer! Let your air fryer cook them until they reach your preferred level of crispness, and serve them on your busy weeknights.
Entrees
Whether you opt for a simple protein like steak, pork, or seafood, there's no faster way to get your main course on the table! Use my easy air fryer recipes to whip dinner up in just minutes!
39. Air Fryer Steak
My favorite main for a quick meal any night of the week is a simply seasoned steak! Grab your favorite beefy cut (sirloin, NY strip, ribeye), and get ready to enjoy a hearty dinner!
40. Air Fryer Pork Steaks
Another great, hearty dinner main course is these juicy pork steaks! They cook quickly with a nice seasoned crust and tender, juicy meat that will make everyone rave about their deliciousness!
41. Air Fryer Duck Legs
Looking for a meal that's worthy of date night but is also a snap to make? Look no further, as these air fryer duck legs taste great no matter what they're served with!
42. Air Fryer Salmon
If your family loves salmon as much as mine does, then you'll love how easy and quick this air fryer salmon recipe is! I've even included some tasty variations so you can mix up your seafood dinner however you'd like.
43. Air Fryer Filet Mignon
The next time you are in the mood for some tender and juicy filet mignon, you'll love how the air fryer gives the steak a perfectly golden-brown crust. Top them off with some garlic butter or your favorite steak sauce for an unforgettable dinner your family will enjoy!
44. Air Fryer Lamb Chops
Whether you are looking for a date night meal, or want a unique and flavorful recipe to make for a family dinner, these air fryer lamb chops are a must-try! Not only are full of deliciously savory and smoky flavors, but they are also ready to serve in less than 20 minutes!
45. Air Fryer Sausage & Peppers
Another fabulous, savory dinner main course is my sausage & peppers with onions! It's a hearty enough dish to enjoy on its own, or you could even stuff the sausage & peppers in a hoagie bun for some delicious sandwiches!
46. Air Fryer Pork Loin Chops
The next time pork is on the menu, these air fryer pork loin chops won't disappoint! They cook up incredibly juicy and tender and they also can be paired with a large variety of easy side dishes!
47. Air Fryer Chicken Thighs
These chicken thighs are amazingly juicy and tender and the hot heat of the air fryer creates a wonderfully crispy crust! All you need is chicken thighs and chicken seasoning to make an incredibly addicting and delicious chicken dinner.
48. Air Fryer Italian Sausages
One of my favorite main dishes to make in the air fryer is these incredibly tasty Italian sausages! The air fryer cooks them up quickly and evenly so you'll have bursts of juicy flavor in a deliciously crispy skin.
49. Air Fryer Cornish Hen
A cornish hen is a smaller, more tender version of a chicken, and is the perfect main dish for a special occasion or a romantic dinner for two! Either way, this juicy bird crisps up beautifully in the air fryer and is sure to impress anyone that tries it.
50. Air Fryer Frozen Burgers
If you're looking for an effortless dish to make for a busy weeknight dinner, then these tasty burgers are just the thing! Frozen burger patties only take 12 minutes to cook, plus you can customize them with your favorite burger toppings.
51. Air Fryer Tilapia
This air fryer tilapia recipe is not only incredibly delicious, but it's also super quick as the filets only need 7 minutes to cook! The result is a tender, flaky piece of fish that's full of amazing flavor and will satisfy any seafood lover.
52. Air Fryer Brats
These air fryer brats are a quick and easy way to make a classic, comforting dish that everyone will love. Simply take out some buns and your favorite condiments like ketchup, mustard, sauerkraut, or onions and your dinner is complete!
53. Air Fryer Shake & Bake Pork Chops
If you're searching for a simple recipe that offers tons of flavor with minimal ingredients, then you have to try my shake N bake pork chops! The crunchiness from the breadcrumb coating locks in all of the juice from the pork chops, making it a wonderful main dish to enjoy on any night of the week.
54. Frozen Orange Chicken in the Air Fryer
Whenever you're craving a takeout meal, making orange chicken in the air fryer is an absolute breeze! All you need is your favorite brand of frozen orange chicken and 15 minutes to cook up this delicious main dish.
55. Frozen Chicken Patties in Air Fryer
Frozen chicken patties cooked in the air fryer are super convenient and great for making delicious chicken sandwiches. They turn out amazingly crispy every time and can be topped individually with everyone's favorite toppings and condiments.
56. Air Fryer Grilled Ham and Cheese
If you're a fan of classic comfort foods, then you'll love my grilled ham and cheese sandwiches. They're an amazing combination of gooey melted cheese, sliced ham, and buttery bread, perfectly toasted in the air fryer.
57. Air Fryer Turkey Breast
This air fryer turkey breast is a tasty, hearty main dish that's perfect for any occasion. From weeknight dinners to holiday meals, your family will be impressed with how juicy, tender, and incredibly flavorful the meat turns out!
58. Air Fryer Frozen Country Fried Steak
It doesn't get any easier than making a family-favorite main course that only requires 1 ingredient. These frozen country-fried steak patties cook exceptionally well in the air fryer; you don't even have to thaw them out before you start!
59. Air Fryer Pork Ribs
If you love baby back pork ribs but don't feel like firing up the grill, this air fryer recipe is for you! Delicious, tender and perfectly cooked pork ribs are ready to serve in just 40 minutes.
60. Air Fryer Frozen Sausage Links
These effortless air fryer frozen sausage links are just what you need to make breakfast with your family extra special. Serve them with your favorite breakfast foods like baked eggs, banana bread, or French toast sticks!
61. Air Fryer Chicken Breast
With the help of an air fryer, you can enjoy delicious and juicy chicken breasts in no time! Serve them with easy side dishes like my parmesan orzo, pan-fried asparagus, or a fresh wedge salad for a well-rounded family dinner!
62. Air Fryer Whole Chicken
If you want an easy, savory, and incredibly flavorful main dish, look no further than my air fryer whole chicken! It's simple enough to enjoy any weeknight and will quickly become a new go-to chicken dinner.
63. Air Fryer Stuffed Pork Chops
This delicious and easy recipe features tender pork chops stuffed with savory stuffing! It's a wonderful main dish to serve for family dinners any night of the week, and it's even suitable for a special occasion or holiday meal.
64. Air Fryer Thick Cut Pork Chops
Thick-cut pork chops are where it's at when it comes to supremely tasty, hearty meals! Keeping the chops nice and thick means you get a great sear on the outside and juicy, tender pork on the inside - especially in your air fryer!
65. Air Fryer BBQ Bacon Wrapped Chicken Drumsticks
Nothing beats a bacon-wrapped chicken leg - unless you serve it slathered in a tangy BBQ sauce! Add that these chicken drumsticks are ready in less time than grilled or baked bacon wrapped chicken legs, and you have a winning dish!
Kid Favorites
These classic kids' dishes are staple lunches, snacks, and meals that satisfy even the pickiest eaters in the family! From quick convenience foods to simple sandwiches and hot dogs, you're sure to see some favorites!
66. Air Fryer Frozen Waffles
I have my fave brand, and I'm sure you do too! These tasty waffles are delightfully crispy and perfect for pouring your maple syrup over!
67. Pizza Rolls in Air Fryer
Late-night snacking on Totino's pizza rolls is one of our go-to's when we have a house full of teenagers over!
68. Air Fryer Frozen Fish Sticks
I love using my air fryer for frozen fish sticks! They get so crispy you won't want to make them any other way!
69. Air Fryer Corn Dogs
Grab some corn dogs or a bunch of mini dogs and serve them in no time at all! If you're feeding a crowd, keep the corndogs cooking in batches!
70. Air Fryer Frozen Chicken Nuggets
One of my sons' favorite lunches! And they're never too old to crush a plate of these perfectly crisped chicken nuggets!
71. Air Fryer Grilled Cheese
Grilled cheese sandwiches have always been a favorite of mine, so of course, these were one of the first recipes made in my air fryer!!
72. Air Fryer Hot Dogs
This is quite possibly my favorite way to cook hot dogs when grilling isn't an option! They're simple and perfectly juicy, without bursting in the microwave or having to boil water!
73. Air Fryer Cinnamon Rolls
If you don't want to heat up the house, cooking refrigerated cinnamon rolls in your air fryer is a snap! The canister of rolls fits perfectly into most air fryer baskets and cooks up wonderfully fluffy cinnamon rolls!
74. Air Fryer Cinnamon Roll Bites
These easy cinnamon roll bites are perfect for sharing! They're so easy to make and so darn tasty that you'll find reasons to make more!
75. Air Fryer Frozen French Toast Sticks
This is definitely up there at the top of most kids' favorites lists! These tasty cinnamon-coated French toast sticks are a super easy breakfast!
76. Air Fryer Frozen Pizza
If you haven't thought about fitting a whole pizza into your air fryer yet, what are you waiting for?? Granted, these are individual-sized pizzas, but you will love how crispy the crust gets!
77. Air Fryer Chicken Tenders
Homemade air fryer chicken tenders are a tasty snack or meal everyone will enjoy! The breading and seasoning are just right, making them popular with kids and grown-ups too!
With so many great air fryer recipes to choose from, I'm sure that you'll find a few new favorites to try out! Let me know which quick and easy dishes you've tried and plan to try soon!
😋 More Easy Recipes To Try
📋 Recipe