These steak sauce recipes are a collection of easy and delicious condiments that will complement and elevate your steak dinner! There are plenty to choose from, plus, they're quick and easy to whip up as you're cooking your family's steak dinner! From a creamy blue cheese sauce to a balsamic or red wine reduction sauce, you're sure to find a new favorite, go-to steak sauce!
Easy Steak Sauce Recipes
Pan-seared, grilled, baked, or broiled steak will always taste extra special with a steak sauce served on top or on the side! Whether you're looking for a garlic mushroom sauce or a creamy horseradish sauce, you're in for a real treat!
Keep reading on and pick a delicious sauce to try the next time a steak is on the menu for dinner. You may even end up with a few new favorites!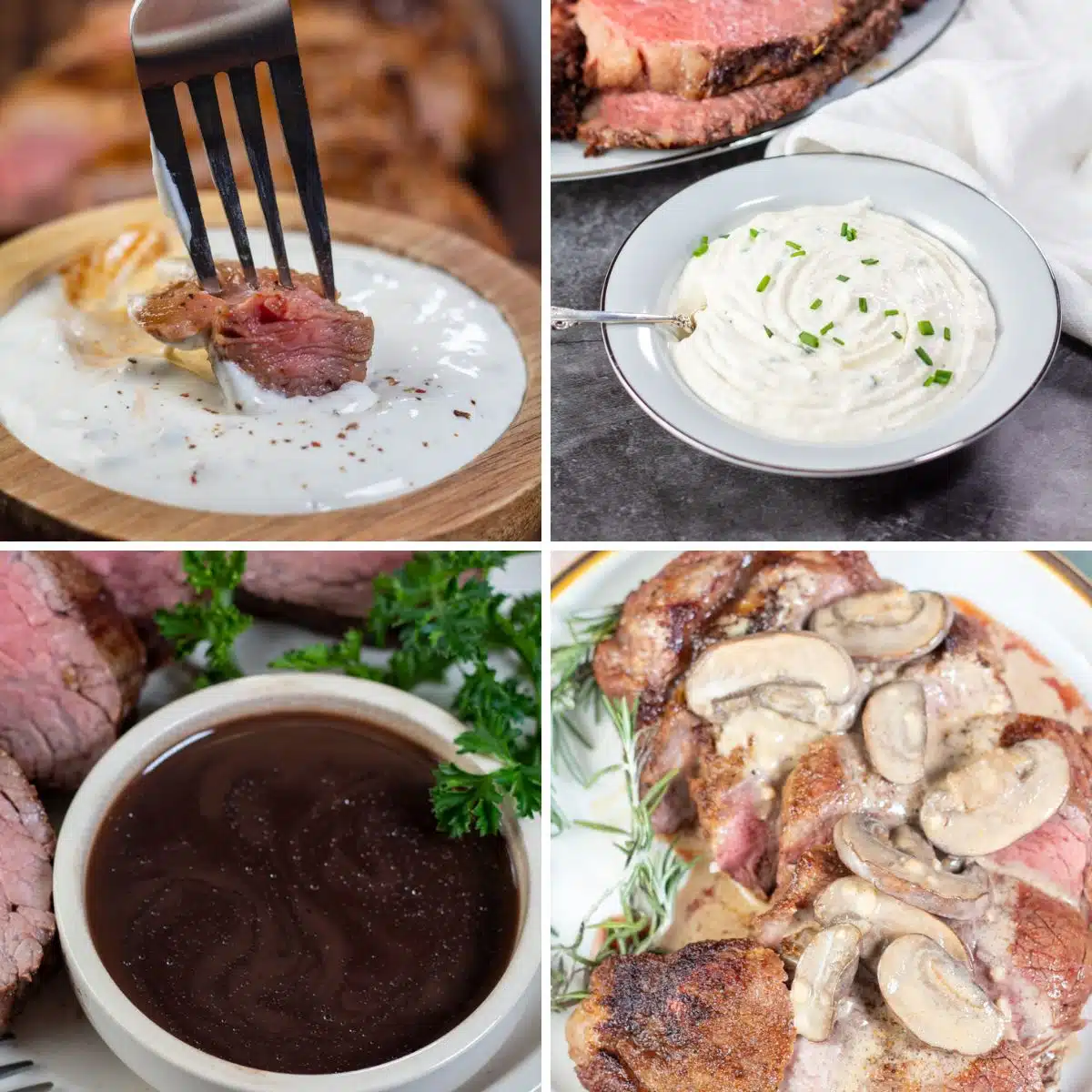 Jump to:
Want More Recipes? Enter your email below and we'll send them straight to your inbox!
1. Blue Cheese Steak Sauce
This blue cheese steak sauce is full of bold and tangy flavors that complement the savory taste of any cut of steak! It's a creamy sauce that every blue cheese lover will enjoy!
Crumbled blue cheese is combined with buttermilk, sour cream, Worcestershire, garlic, lemon juice, and seasonings. If blue cheese is one of your favorite dipping sauces, my homemade blue cheese dressing is fantastic too!
2. Mushroom Steak Sauce
If you regularly cook with mushrooms, then this creamy garlic mushroom steak sauce is a must-try! Mushrooms are sauteed with minced garlic to add an incredibly rich and delicious flavor to steak, plus, it's ready to serve in only 15 minutes!
I like to serve this tasty mushroom sauce with some baked New York strip steak or my pan-seared picanha steaks!
3. Balsamic Reduction
This balsamic reduction sauce features sweet and tangy flavors made with only 2 ingredients! It's a versatile condiment that is wonderful to drizzle over pizza, steak, roasted vegetables, and more!
4. Garlic Butter Sauce for Steak
Pairing your steak dinner with a delicious garlic butter sauce will bring your meal to the next level! This recipe truly feels like something you'd get with an expensive steak at a fancy steakhouse.
Plus, it would taste great on your favorite chicken, pork, or fish entrees too!
5. Red Wine Reduction Sauce
If you are a fan of red wine, then you have to make this delightfully rich and flavorful red wine reduction sauce! Plus you'll have a glass of wine left over to enjoy with your steak dinner!
This is hands down my favorite sauce to pair with pork chops and braised ribs too! Check out my article on all of the dry red wines to cook with to discover more about which ones you may use in your favorite dishes!
6. Cowboy Butter
Cowboy butter is a tasty blend of garlic, shallot, herbs, spices, horseradish, lemon juice, and Dijon mustard! It's incredibly easy to make and only takes 5 minutes to prepare!
I like to whip up cowboy butter to pour over the top of my bavette steak, roasted garlic mashed potatoes, and air fryer asparagus!
7. Gremolata
Gremolata is a classic Italian sauce made with parsley, lemon zest, and garlic that brings a wonderfully bright and fresh element to any cut of steak! It's also extremely versatile and can be customized in a lot of ways to perfectly suit your tastes!
Serve this Italian sauce the next time you are in the mood for some tender grilled cowboy ribeye or grilled filet mignon!
8. Steak Diane Sauce
This steak Diane sauce is a creamy steak condiment that will transform your steak into an incredibly rich and flavorful dinner! It's perfect to whisk together in a mixing bowl and cook in the same skillet with your favorite pan-seared steak!
9. Horseradish Sauce
My homemade horseradish sauce is a simple and quick sauce that is made with a handful of common ingredients! It pairs wonderfully with richer cuts of beef like steak or prime rib and gives the beef a lighter taste.
Plus, you can use any unused portion to make leftover steak or prime rib sandwiches the next day!
10. Bearnaise Sauce
Bearnaise sauce is a popular French cream sauce and is often called the "child" of Hollandaise sauce! It has a slightly acidic and subtle licorice taste!
This sauce is especially popular with grilled or broiled steaks like my grilled T-bone steak, grilled Tomahawk ribeye, grilled London broil, or broiled ribeye steak!
11. Chimichurri
Chimichurri is a bright and refreshing sauce that features chopped parsley, oregano, red pepper flakes, garlic, olive oil, and vinegar. Plus, it only takes 10 minutes to make!
Try this fresh herb sauce with some pan-seared hanger steak or my sirloin steak tips!
12. Homemade Steak Sauce
This homemade steak sauce is similar in taste to America's most popular steak sauce, A1! It's made with ketchup, mustard, Worcestershire, apple cider vinegar, and a few drops of Tobasco.
Whip up this easy steak sauce and my air fryer steak for a quick beef family dinner!
13. Creamy Peppercorn Sauce
If you like some kick in your steak sauce, then you have to try this creamy peppercorn sauce! Crushed whole black peppercorns are combined with white pepper, salt, melted butter, Worcestershire, hot pepper sauce, and half-and-half cream.
Try this sauce with my blue steak for an easy and extra delicious steak dinner!
Now that you have some delicious steak sauce recipes to try, which one are you most excited to make first? Leave me a comment down below to let me know!
>>>>See all of my recipes HERE<<<<
😋 More Delicious Sauce Recipes
📋 Recipe