For what to serve with French toast you've come to the right place because I have sauces, toppings, side dishes, and more! These recipes will help you pull off a picture-perfect breakfast or brunch with French toast as the main course. There are sweet and savory options to choose from, so no matter what you're in the mood for I've got you covered!
Recipes To Serve With French Toast
From syrup to scrambled eggs there are so many delicious recipes that can turn French toast into a fabulous breakfast or brunch! I've rounded up a few of my favorites so can turn your favorite French toast recipe into a well-rounded and satisfying meal.
Whether you are looking for simple side dishes or sweet topping ideas, you can find it all right here. Try one recipe or mix and match a few to make the perfect plate of French toast!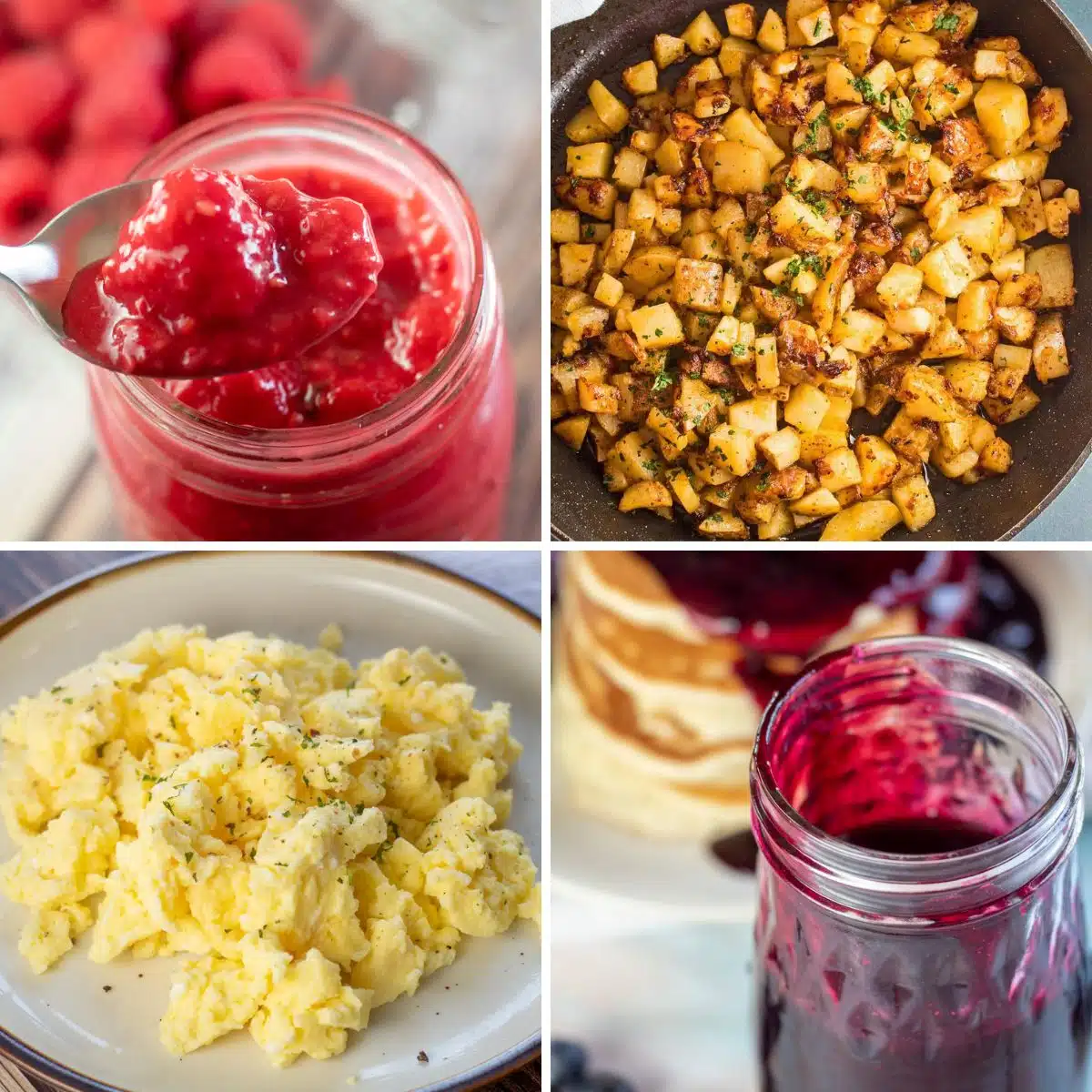 Jump to:
Want More Recipes? Enter your email below and we'll send them straight to your inbox!
These recipes will pair well with French toast in any form or fashion! From sourdough French toast to overnight French toast bakes, even French toast sticks!
1. Roasted Berries
This recipe for roasted berries couldn't be simpler and the results are out-of-this-world delicious! The raspberries, blackberries, blueberries, and strawberries, break down in the oven to form a delectable sweet and syrupy sauce that is perfect for French toast, pancakes, and more!
2. Maple Syrup
Arguably the most classic of all French toast toppings, maple syrup is always a great choice. The rich caramel and maple flavor of pure maple syrup is almost enough to make you want to lick the plate. If you don't have true maple syrup on hand, try using one of these substitutes!
3. Homemade Blueberry Syrup
Move over Ihop, now you can make your own homemade blueberry syrup from scratch! I prefer this version because it's filled with chunks of juicy fresh or frozen blueberries!
4. Whipped Cream
A dollop of homemade whipped cream makes everything better! You can always use Redi-Whip or Cool Whip, but there's just something about whipped cream made from scratch that makes it even more luscious than the store bought stuff.
5. Strawberry Coulis
With just 4 ingredients you can make this sweet strawberry sauce for topping off all of your favorite breakfast treats! All it takes is 1 pound of strawberries, some lemon juice, lemon zest, sugar, and about 20 minutes of your time.
6. Baked Cinnamon Apples
Baked cinnamon apples are fork-tender with a sweet and sticky caramelized exterior that is hard to resist. Serve them on the side or pile the apples right on top of your French toast with a dollop of whipped cream!
7. Sour Cream Scrambled Eggs
Scrambled eggs are a quick and easy way to add protein to your meal. This version with sour cream is my all-time favorite because the eggs are so moist and fluffy!
8. Candied Bacon
Everyone knows you can serve French toast with crispy bacon, but why not try something outside the box like this sweet and salty candied bacon? It's always a hit with guests and everyone will be asking for the recipe by the end of the meal. Sometimes I even add a little cayenne for a kick!
9. Fresh Fruit Salad
Try pairing your French toast with some fresh fruit salad for an easy light side dish that is bursting with flavor! I used a mixture of bananas, strawberries, kiwi, mango, oranges, pineapple, and nectarines tossed in a simple made-from-scratch honey citrus sauce.
10. Breakfast Sausage
Pork breakfast sausage adds a savory and salty contrast to sweet French toast. Not to mention, it's extra tasty if a little maple syrup seeps over onto the sausage, yum!
11. Hashbrown Casserole
This cheesy hash brown casserole tastes just like the popular version from Cracker Barrel. It's hearty and filling, while also easy to prepare with frozen hashbrowns!
12. Potatoes O'Brien
Everyone will enjoy these tender pan-fried potatoes with bell peppers and onions. I boil the potatoes first so that they are extra soft inside, but give them a nice sear in the skillet afterward so you still get the deliciously crispy brown bits!
13. Pan Fried Potatoes & onions
This quick and easy 30-minute recipe is a great one to keep in your back pocket because you can serve it at breakfast, lunch, or dinner! You can stir in some extra mix-ins like garlic, green onions, or cherry tomatoes, or you can keep it simple. It's super versatile!
14. Homemade Hashbrowns
The great thing about making hashbrowns at home is that you can make them as soft or as crispy as you like! In fact, they only take 3 ingredients and are almost as easy, and much tastier, than frozen hash browns.
15. Raspberry Pie Filling
Pie filling is not just for pies! This sweet fruity filling makes a fabulous topping for pancakes, waffles, French toast, and so much more.
You aren't limited to raspberry pie filling by any means. Any of my delicious homemade pie filling recipes will do the trick!
I hope this list helped you solve the question 'what to serve with French toast'! Let me know which recipes you tried and how everything turns out in the comments below!
>>>>See all of my recipes HERE<<<<
🥞 More Breakfast Recipes
📋 Recipe