Often times the best potato side dishes are just as delicious as the main course and who doesn't love potatoes? So, we thought we should come up with a list of easy potato side dishes suitable for chicken, pork, beef, fish, or any entrée you can think of!
The Best Potato Side Dishes
Potatoes are a universal side dish found in every culture's culinary repertoire. That's because they are so incredibly versatile!
We've got you covered with our favorite potato side dishes that include delicious roasted potatoes, baked potatoes, mashed potatoes, and everything between. Find your new favorite use for potatoes below!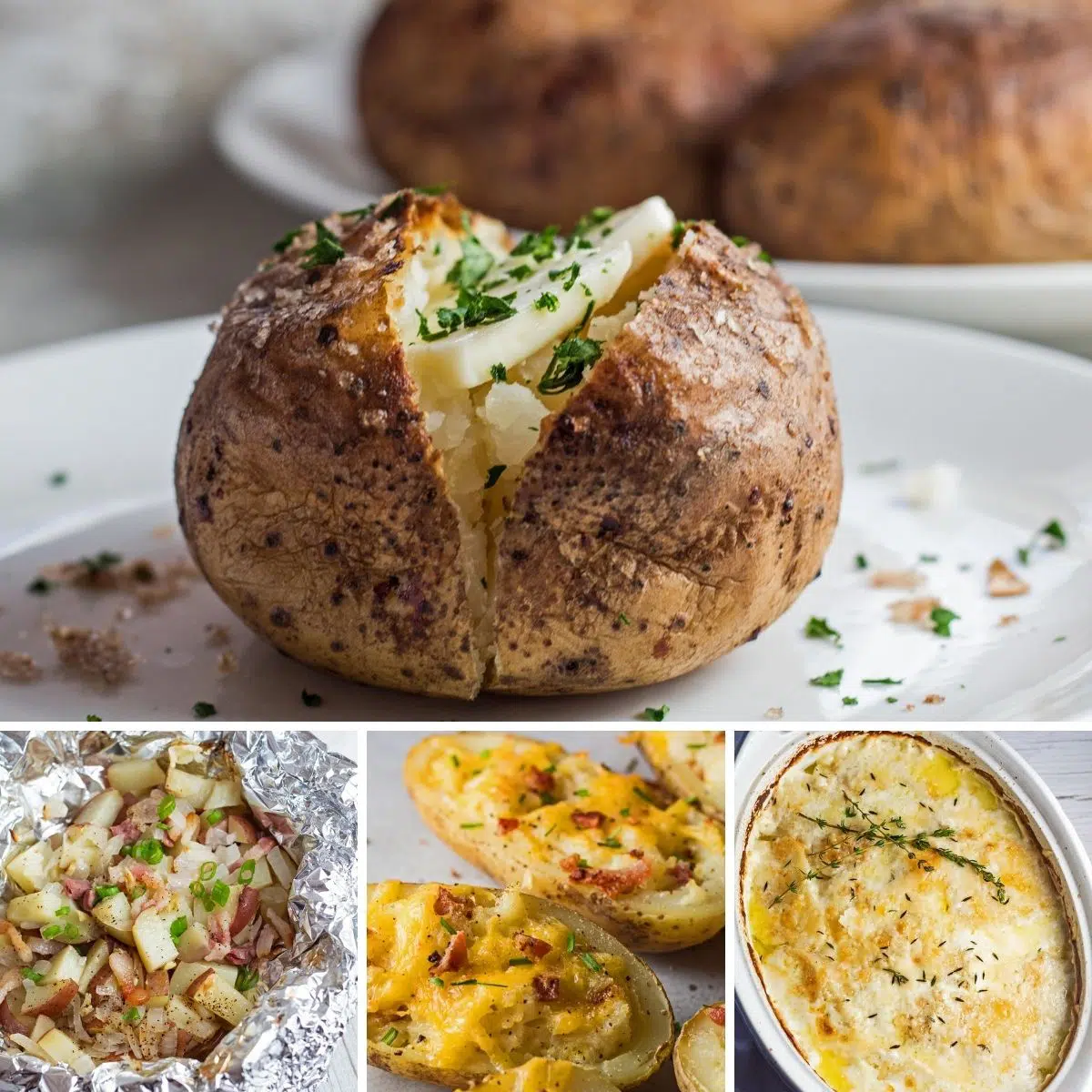 You can't go wrong with any of these delicious potato side dishes! For more menu inspiration and incredible sides, check out all of our side dish recipes here!
1. Oven Roasted Potatoes
Oven-roasted potatoes are one of the easiest ways to cook potatoes. They are very versatile in that you can add different seasonings to create different flavor profiles.
Roasting the potatoes gets them nice and crispy on the outside and pillowy-soft on the inside. With minimal effort, you've got a scrumptious side dish ready for any meal.
2. Fondant Potatoes
Take your potato game to the next level with this gorgeous dish. It's a French method of cooking potatoes and it isn't as hard as you may think.
They are an elegant addition to any plate and extremely creamy, tender, and delectable. This recipe will up your culinary skills and wow your friends and family.
3. Crispy Roasted Red Potatoes
Crispy roasted red potatoes are a simple, easy, and quick recipe that pairs with any meal. They are packed full of flavor and have a wonderful texture juxtaposition.
The potatoes are nice and crispy on the outside while fluffy and soft on the inside. A fabulous addition to any plate and also makes great leftovers.
4. Duck Fat Fried Potatoes
These duck-fat fried potatoes are rich, earthy, and oh-so-delicious. It doesn't take many ingredients or steps to create these flavorful, elevated potatoes.
They are rich and luscious in flavor and a wonderful addition to any plate. Once you try them, you may not want to cook them any other way again!
5. Crockpot Green Beans and Potatoes
This is a simple 3-step recipe that yields mountains of flavor. Pairing the quintessential side dishes of both green beans and potatoes into your easiest kitchen item, the crockpot, creates a hassle-free side dish.
With minced garlic, onion, bacon, and seasonings, you've got a new favorite to throw into your culinary repertoire.
6. Loaded Baked Potato Salad
A loaded baked potato salad takes your potato salad game to new heights in this lovable recipe. It takes all of your favorite baked potato toppings of bacon, cheddar cheese, green onions, and sour cream and creates a dreamy, creamy, chilled salad.
It's perfect for those summer months and sure to be a new favorite.
7. Smoked Baked Potato
Save time and dishes by adding your potatoes in with your smoked meats to cook. This recipe is a crazy simple way to create the best smoked baked potato you'll ever eat.
Crispy skin gives way to that fluffy center just waiting to be filled with all of your favorite toppings. A wonderfully delicious potato that is worthy of any cooking competition.
8. Cheesy Bacon Ranch Potatoes
Don't walk, run to your kitchens and make this recipe tonight because it's sure to be the potato dish of your dreams. We all know cheese, bacon, and ranch make everything taste better!
This recipe adds them all together for an out-of-this-world delicious dish. You'll be the crown jewel of culinary mastery with your friends and family once you serve them this satisfying side dish.
9. Dauphinoise Potatoes (Cheesy Potatoes Gratin Dauphinoise)
This classic French side dish is an elegant addition to your dinner table. Simple to make, it is full of wonderful flavor and looks sophisticated.
Sliced potatoes are layered with the tasty flavors of heavy cream, butter, garlic, and gruyere cheese. While similar to au gratin potatoes, these are easier to make and packed full of tremendous flavor.
10. Potatoes O'Brien
Potatoes O'Brien, while a wonderful breakfast dish, also has great flavors that pair brilliantly with main course dinner recipes. This easy-to-make-at-home dish is full of potatoes that are fried with bell peppers, onions, and seasonings.
The onions tend to caramelize slightly giving a sweet flavor and the bell peppers add a bit of zest. Whether it's breakfast, lunch, or dinner, these potatoes are a seamless sidekick.
11. Cajun Fries
Skip the drive-thru and make this easy recipe today! These fries are packed full of flavor and are deliciously crispy on the outside while soft on the inside.
They are the perfect addition to many meals including burgers, pulled pork, or your BBQ favorites.
12. Baked Sweet Potatoes
Baked sweet potatoes are a great alternative to regular baked potatoes. They are sweet, savory, and all-around delicious.
Sweet Potatoes have so much flavor on their own that they don't necessarily need all the fixings of traditional russet bakers. They are also a healthier option as they are packed full of vitamins and minerals, more so than their russet counterparts.
13. Mashed Potatoes Without Milk
Mashed potatoes are one of the most classic side dishes to ever grace our dinner plates. Traditionally blended with milk, this recipe gives those wanting to cut dairy out of their diets an alternative.
They are just as creamy and delicious as their full dairy friends, but without the issues dairy gives many of us. So, whether you are a vegan, dairy intolerant, or just want to eat fewer foods with dairy in them, this recipe has you covered.
14. Twice Baked Potatoes
What's better than baked potatoes? Twice-baked potatoes! This fun and easy recipe is a great alternative to traditional baked potatoes.
Take your baked potato, scoop out that fluffy, yummy center, mix with your favorite toppings, add back into the shell, and bake again. A regular side dish in our household, this recipe will have you coming back for seconds.
15. Boiled Potatoes
This quick and easy recipe is perfect when you are short on time but don't want to sacrifice flavor. In just 15 minutes, you've got a tasty side dish the whole family will love.
Baby potatoes are boiled with salt, peppercorns, garlic, and a bay leaf before being tossed with butter and seasonings. An easy-peasy and versatile side dish.
16. Air Fryer Frozen Potato Wedges
When you're short on time, these potato wedges save the day. In only 12 minutes you've got kid-approved, tasty, and crispy fries. When in a pinch for a snack or quick side dish, the air fryer gets them crispier than oven fries and in half the time!
17. Microwave Baked Potato
Another fast and easy recipe, this is the easiest baked potato you'll ever make. While traditional baking takes at least an hour, these microwave potatoes provide the same wonderfully fluffy baked potato in a fraction of the time.
Totally customizable just like their oven-baked friends. Add your favorite toppings and enjoy.
18. Air Fryer Potato Chips
These air fryer potato chips are a healthier, fun alternative to traditional store-bought bags of chips. Crunchy, crispy, and easy to make, once you try these you won't want to buy a bag of chips again.
Create your own fun flavors with seasonings or enjoy traditional delicious, salty, chips. Great for any burger night, snack, or just because you want some chips!
19. Pan Fried Potatoes and Onions
Pan-fried potatoes and onions are a staple dish also known as home fries, skillet potatoes, or country potatoes. They are completely customizable and the absolute perfect dish to have at any time of the day.
They pair wonderfully with breakfast favorites like bacon and eggs while also proving to be a force on the lunch or dinner table. Enjoyable with just about any main meat dish like roasted chicken or Salisbury steak, these pan-fried taters are crispy on the outside and scrumptiously soft on the inside.
20. Garlic Red Skin Mashed Potatoes
Lusciously creamy and packed full of yummy garlic flavor, these mashed potatoes are next-level delicious. Loaded with cream cheese and roasted garlic, they are velvety smooth and full of flavor.
Feel free to add to the flavor profile with fresh herbs or add cheese like gruyere or parmesan for an over-the-top appetizing dish.
21. Air Fryer Homemade French Fries
A healthier alternative to deep fried fries, these homemade air fryer fries are just as good and a fabulous treat. We love French fries so making this air fryer version at home is something we do regularly and guilt-free.
With little to no oil without sacrificing crispiness or flavor, this is an addicting side everyone loves.
22. Parmesan Roasted Mashed Potatoes
Considered a fancy addition to our dinner table and used for many holiday gatherings, these potatoes are so good and easy to make. Take your favorite mashed potatoes and elevate them with a beautiful flavor blend of parmesan, bread crumbs, and seasonings on the top of them.
They bake with a nice crispy layer on top with the creamy mashed potatoes just beneath. A family favorite and an easy way to dress up any meal.
23. Au Gratin Potatoes with Diced Ham Recipe
Au Gratin potatoes, also known as scalloped potatoes, are a cheesy, creamy delight. Adding ham to the mix only makes them that much better.
Layered potatoes are topped with ham and a creamy, cheesy sauce and baked to perfection. A perfect holiday dish or one-pot meal for any night of the week.
24. Homemade Hash Browns
What's breakfast without hash browns? These easy homemade hash browns will convert you from ever buying store-bought bags again.
They are so easy to make and deliciously customizable to your preferred texture, soft and fluffy or nice and crispy. Whichever you prefer, one thing is for sure, in 20 minutes you've got a tasty breakfast side ready to devour.
25. Foil Packet Baked Red Potatoes with Bacon and Onion
This method of cooking has long been a favorite for campers and barbecue lovers alike. Now, you can enjoy this fuss-free method all year long by cooking your beloved foil packet in the oven.
Packed full of flavor, fill your foil packet with potatoes, bacon, onion, and seasonings. The packet allows for all the juices to meld together creating a flavor explosion of yummy goodness. The best part is, there are no dishes to clean up!
You can't go wrong with any of these delicious potato side dishes! Whether you're wanting to feed a crowd or celebrate a special occasion, any of these potato recipes will do the trick!
📖 Recipe Card