These incredibly easy-to-make boiled potatoes combine tender, tasty baby potatoes tossed with melted butter and seasoning staples! The short list of ingredients imparts maximum flavor with a practically effortless cooking method!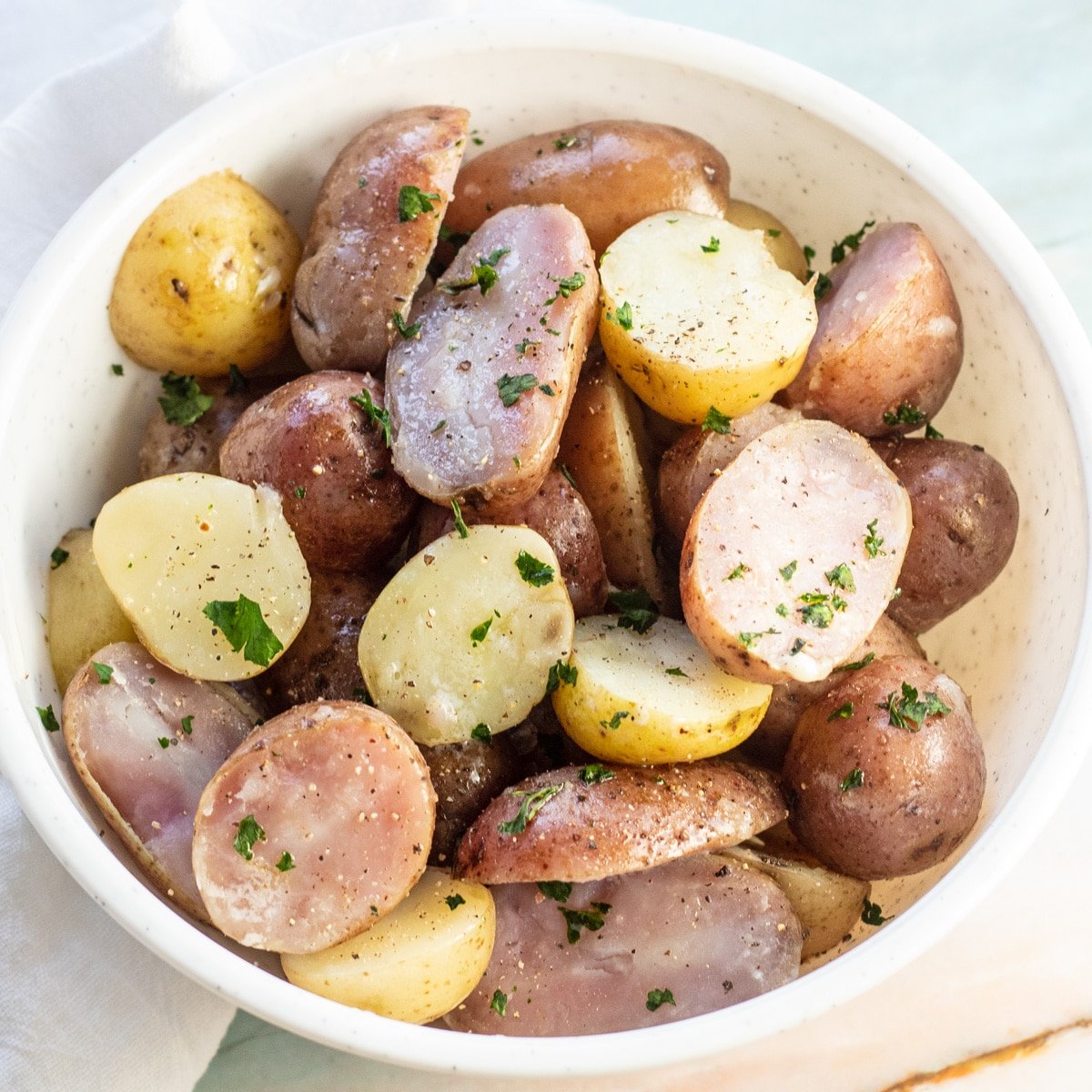 The easiest, most delicious potatoes that complement any dish!
Potatoes are a staple of many cuisines around the world and with good reason. They're incredibly diverse and pair well with virtually anything. Plus, they're super affordable and readily available. That's a combination that I love!
My boiled potatoes are full of flavors like butter, garlic, and bay leaves, and they take just 15 minutes to prepare! With only 3 steps, even the less culinary-inclined can create a masterpiece that will impress their family and dinner guests.
Jump to:
Throw this dish together any night of the week for a rich, savory, wonderfully-seasoned potato side dish that you can enjoy for multiple days.
While we all have our favorite versions, it's hard to find anyone who doesn't like potatoes, especially as we move into fall and winter. They make an incredible part of a hot meal on a cold day!
❤️ Why You'll Love This Recipe!
It's easy! With one pan, just a few ingredients, and 3 steps it's a no-brainier.
It's budget-friendly. Relax at home after a day at the office; no expensive grocery runs are necessary.
It's versatile! This side goes well with almost any main dish you feel like cooking. It's also equally wonderful as part of an everyday dinner as it is a holiday side dish!
🥘 Ingredients
All of these ingredients are readily available pantry staples. You're likely able to skip the trip to the store if you keep your kitchen well-stocked.
Baby Potatoes (or any variety) – Cut these into equal-sized chunks for even cooking.
Whole Bay Leaves – These are flavorful additions for anything boiled or slow-cooked!
Kosher Salt – Salt intensifies the flavor of anything you add it to.
Black Peppercorns – Peppercorns flavor the water the potatoes will soak up.
Whole Garlic Cloves (optional) – Garlic and potatoes are made for each other. Boiling with the whole cloves imparts flavor during the cooking process.
Melted Butter – Don't forget a delicious drizzle of rich, melted butter!
Salt & Pepper – These staple spices are ideal for finishing off a dish to bring out the amazing flavors!
🔪 Step-By-Step Instructions
With only three steps and one pan, it's smooth sailing from prep to cleanup. This is an easy weeknight side dish to whip up on short notice!
Prepare the water. Pull out a large saucepan or stock pot, and drop in 1lb of baby potatoes chopped into equal-sized pieces. Add 1 whole bay leaf, 2 teaspoons Kosher salt, 1 teaspoon black peppercorns, and 4 whole garlic cloves (optional). Fill the pot with water to a point about 1 inch above the potatoes.
Bring it to a boil. Heat the water and potato mix over medium-high heat. When it's boiling, reduce the flame to low. Simmer for 5-8 minutes or until potatoes are cooked and take it off the heat. Drain off the water and pick out the bay leaf, peppercorns, and garlic cloves. You can throw them all away.
Toss with butter and spices. Transfer the cooked potatoes back to the pan or a serving dish and mix with 2 tablespoons melted butter. Add salt and pepper to taste and serve while hot.
These are an amazing side that can be served for lunch or dinner alongside pretty much anything you can think of. I like them with Air Fryer Frozen Country Fried Steak or Baked Chicken Quarters.
Garnish with a sprig of parsley, a few chives (my personal fave), or green onion pieces. Enjoy!
💭 Angela's Tips & Recipe Notes
Be sure to thoroughly wash potatoes before cutting or cooking. Use a soft brush or cloth to rid the vegetable of all dirt. It's not necessary to peel them when the skins are clean. You can also use a vegetable wash, but water and a rag work just fine.
Add potatoes before you turn the burner on, while the water is still cold. If you don't add them until after the water is boiling, the outsides will cook faster than the insides resulting in uneven cooking. It can also lead to the outside breaking down, leaving you with busted pieces.
To test if your potatoes are thoroughly cooked, use a fork or paring knife to poke the potato pieces. Hopefully your pieces are around the same size, but if they aren't, choose one of the bigger ones to test. Your utensil of choice should easily penetrate to the middle. Think about how soft you would expect a baked potato to be. The goal is to cook them just until fork-tender. Too much time in the water, and they'll fall apart.
Make sure to remove the bay leaf before serving. While not getting all the peppercorns or garlic cloves would, at worst, cause a burst of strong flavor, a surprise bay leaf could cut someone's mouth.
Mix in Parmesan cheese for that extra Italian taste. This is exceptionally good when served with a main dish like eggplant Parmesan or a steak with chimichurri sauce.
🥡 Storing & Reheating
Leftover potatoes will last 3-5 days in an airtight container or plastic storage bag in the fridge. If you opt for the latter, squeeze out as much air as you can before closing the bag. And be sure to cool the potatoes to room temperature before storing.
Potatoes can also easily be frozen. Lay them out flat on a parchment-lined baking sheet and freeze for 2-4 hours. Transfer to an airtight container or plastic freezer bags. They'll be good for up to 6 months.
Reheating
If reheating from a frozen state, quartered potatoes don't need to be thawed. If however, you opted to use whole potatoes, let them thaw in the fridge overnight.
Put them on a parchment paper-lined baking sheet or spray with olive oil. Bake at 300℉ (150℃) for 10 minutes. Add another 2-4 minutes at a time until they are hot enough, continuing to check.
🥔 What To Serve With Boiled Potatoes
❓ FAQ
Will whole, small potatoes work in this recipe?
In short, yes. I like bite-sized pieces when I make this dish, so either tiny whole potatoes or cut up pieces work best. If you prefer full-sized, you will have to cook them longer.
Make the recipe as written but add 3-5 extra minutes at a time, checking for softness between each addition.
Can I mash my potatoes after they're boiled?
This recipe was designed to be eaten as written, but if you have lots of leftovers and want to change things up, go for it! One caveat: Potatoes would usually be cooked longer to make them softer if making mashed potatoes. 
I would recommend reheating them and adding a bit of milk or cream and butter during the mashing process. Chicken broth will also add some flavor. Use a masher for chunky potatoes, but if you like them smooth and fluffy, beaters will be your best option. 
To add extra flavor, top with cheddar and bacon bits or Parmesan cheese with a bit of black pepper!
What does adding salt to the potato water do?
Any seasoning you add to the water will seep into the potatoes and help season them, but salt has another purpose. It helps water boil a bit hotter which cooks the starch in the potatoes more thoroughly.
This leads to a creamier texture, which becomes especially noticeable when and if mashing them.
What are the best kinds of potatoes to boil?
Any potatoes with thin skin, like baby potatoes, are the best. Thicker skins on varieties like Russet potatoes create a less favorable texture. If you use a thick skin variety, you might consider peeling them first.
📋 Recipe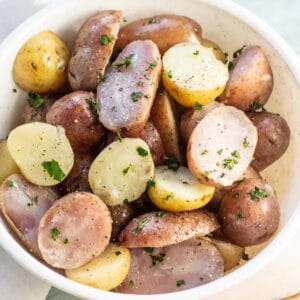 Print Recipe
Leave A Comment
Love This Recipe?
Click On A Star To Rate It!
Boiled Potatoes
These incredibly easy-to-make boiled potatoes combine tender, tasty baby potatoes tossed with melted butter and seasoning staples! The short list of ingredients imparts maximum flavor with a practically effortless cooking method!
Pin Recipe
Share on Facebook
Ingredients
Instructions
In a large saucepan or stock pot, add the baby potatoes, bay leaf, Kosher salt, peppercorns, garlic cloves, and enough water to cover the potatoes by about an extra inch.

1 lb baby potatoes,

1 whole bay leaf,

2 teaspoon Kosher salt,

1 teaspoon black peppercorns,

4 whole garlic cloves

Bring the water to a boil, then reduce the heat and simmer for about 5-8 minutes. Once the potatoes are fork tender, remove from heat. Drain and discard the bay leaf, peppercorns, and garlic cloves.

Return the drained boiled potatoes to the saucepan or a clean bowl and toss with melted butter. Season to taste with salt and pepper, then serve immediately.

2 tablespoon butter,

each, salt & pepper
Equipment You May Need
Nutrition
Calories:
143
kcal
(7%)
|
Carbohydrates:
21
g
(7%)
|
Protein:
3
g
(6%)
|
Fat:
6
g
(9%)
|
Saturated Fat:
4
g
(25%)
|
Polyunsaturated Fat:
1
g
|
Monounsaturated Fat:
1
g
|
Trans Fat:
1
g
|
Cholesterol:
15
mg
(5%)
|
Sodium:
1220
mg
(53%)
|
Potassium:
499
mg
(14%)
|
Fiber:
3
g
(13%)
|
Sugar:
1
g
(1%)
|
Vitamin A:
199
IU
(4%)
|
Vitamin C:
23
mg
(28%)
|
Calcium:
25
mg
(3%)
|
Iron:
1
mg
(6%)
baby potatoes, Boiled Potatoes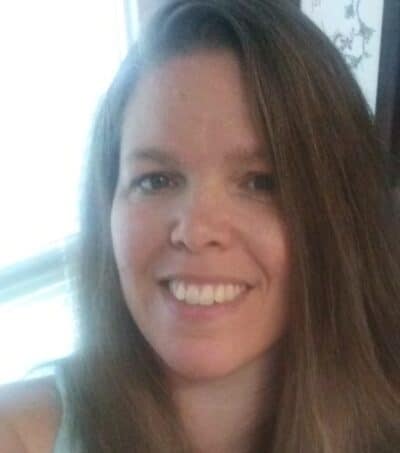 Angela is an at home chef that developed a passion for all things cooking and baking at a young age in her Grandma's kitchen. After many years in the food service industry, she now enjoys sharing all of her family favorite recipes and creating tasty dinner and amazing dessert recipes here at Bake It With Love!