These delightfully crispy Air Fryer Potato Chips are quite simply the best homemade potato chips that you will ever make! Now you can enjoy potato chips anytime you like, and they're not only healthier, but also way better than a freshly opened bag of chips from the store!
Crispy Air Fryer Potato Chips Recipe
Potato chips are the snack that always satisfies. Making them in the air fryer means less grease, lots of crispiness, and incredibly fresh chips you just can't get from a store-bought bag!
Simple, salty, and snack time-friendly, these potato chips are always a hit in my household. In less than an hour, the air fryer potato chips are ready to be devoured, with only crumbs left to count.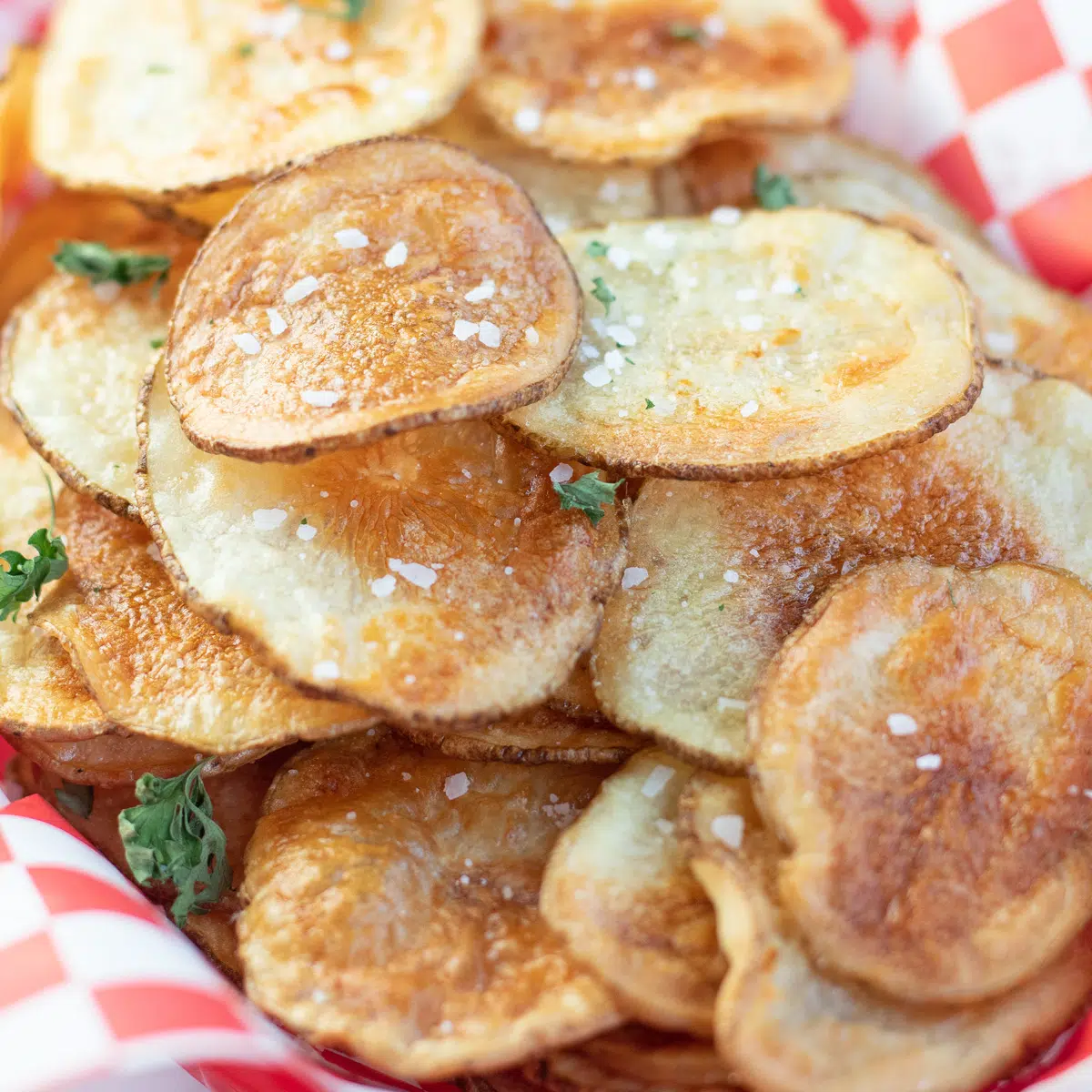 These are the crispy potato chips you'll want to make every day!
Jump to:
🥘 Ingredients
Get your ingredients gathered (there's not much to set out) and your air fryer ready for action. Your cravings for potato chips are about to be tamed. It's all about the potatoes!
The 3-item ingredient list makes air fryer potato chips a breeze to cook!
Russet or Yukon Gold Potatoes (yellow/golden) – These types of potatoes make the best air fryer potato chips in my experience, with Russet potatoes being my top pick!
Olive Oil – Go for extra virgin olive oil for best flavor.
Salt – Sprinkle on your favorite salt, to taste. I like my chips good and salty. You can also try ground black pepper, garlic powder or garlic salt, or a handful of dried herbs.
*Be sure to see the free printable recipe card below for ingredients, exact amounts & instructions with tips!*
🔪 Step-By-Step Instructions
This recipe makes 4 servings of potato chips, but that hasn't stopped me from eating them all myself! If you want to make more, adjust the measurements accordingly.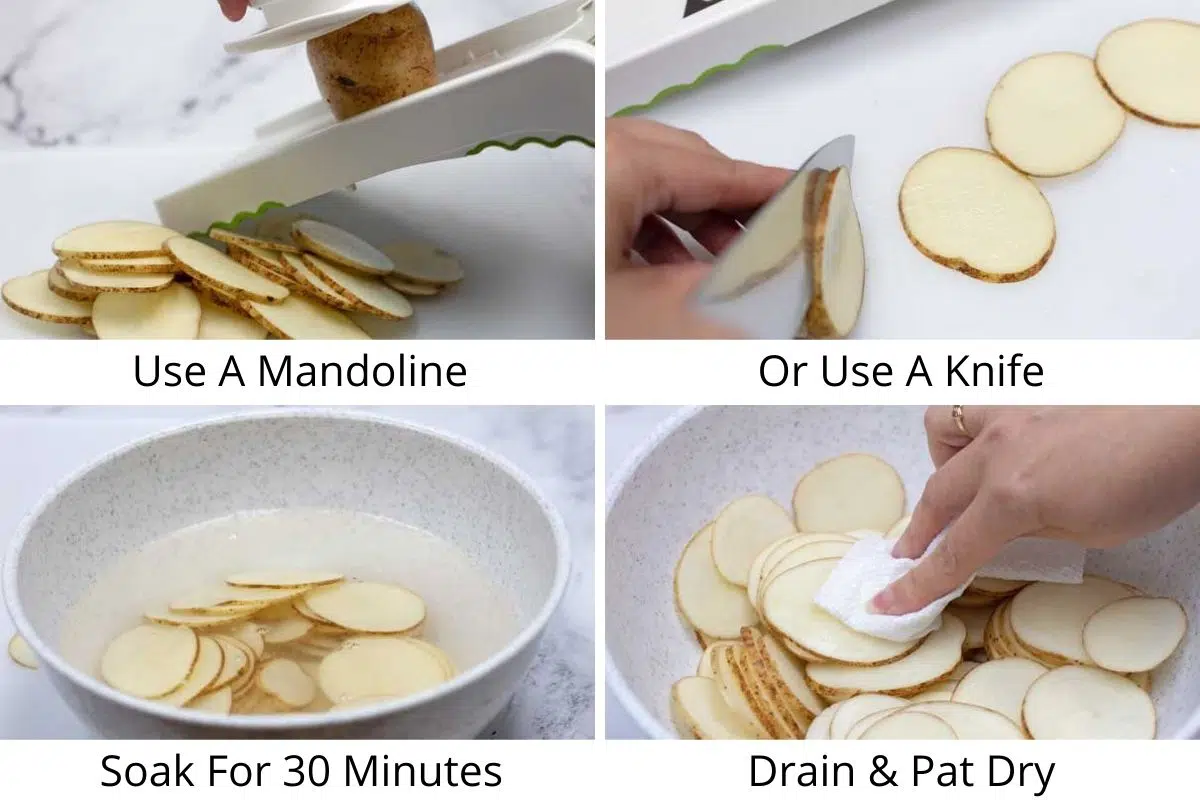 Prepare the potatoes. Wash 2 large Russet or Yukon Gold potatoes and slice thinly and evenly. I recommend using a mandolin slicer with a safety guard. A 4-sided cheese grater is a good option for slicing potatoes, as is a food processor. Or you can slice by hand.
Soak the sliced potatoes. Put the slices of potato into a medium-sized bowl and fill with cold water, covering the potato slices completely. Let them soak for some time, up to 2 hours, but at least for 30 minutes. This will remove the excess starch and your potato chips will turn out better.
Preheat. Preheat your air fryer to 360°F (182°C).
Drain, rinse, and dry the potatoes. Drain and rinse off the potato slices and pat them dry with paper towels. Toss them in a bowl with 1 tablespoon extra virgin olive oil and salt to taste.
Arrange the potato chips. Place your potato slices in the air fryer basket or on trays in an even layer. If you run out of space, a bit of overlapping will be fine.
Air fry. Cook your chips in the air fryer at 360°F (182°C) for about 10-15 minutes, flipping mid-way (between 5-8 minutes). Return any chips that are less done than the others to your air fryer for an additional minute or two if needed.
Remove and cool before serving. Your air fryer potato chips will be done when they are crisp (not soggy or moist to the touch). Lay them out on a wire rack to cool and eat them once cooled. The chips continue to crisp while cooling.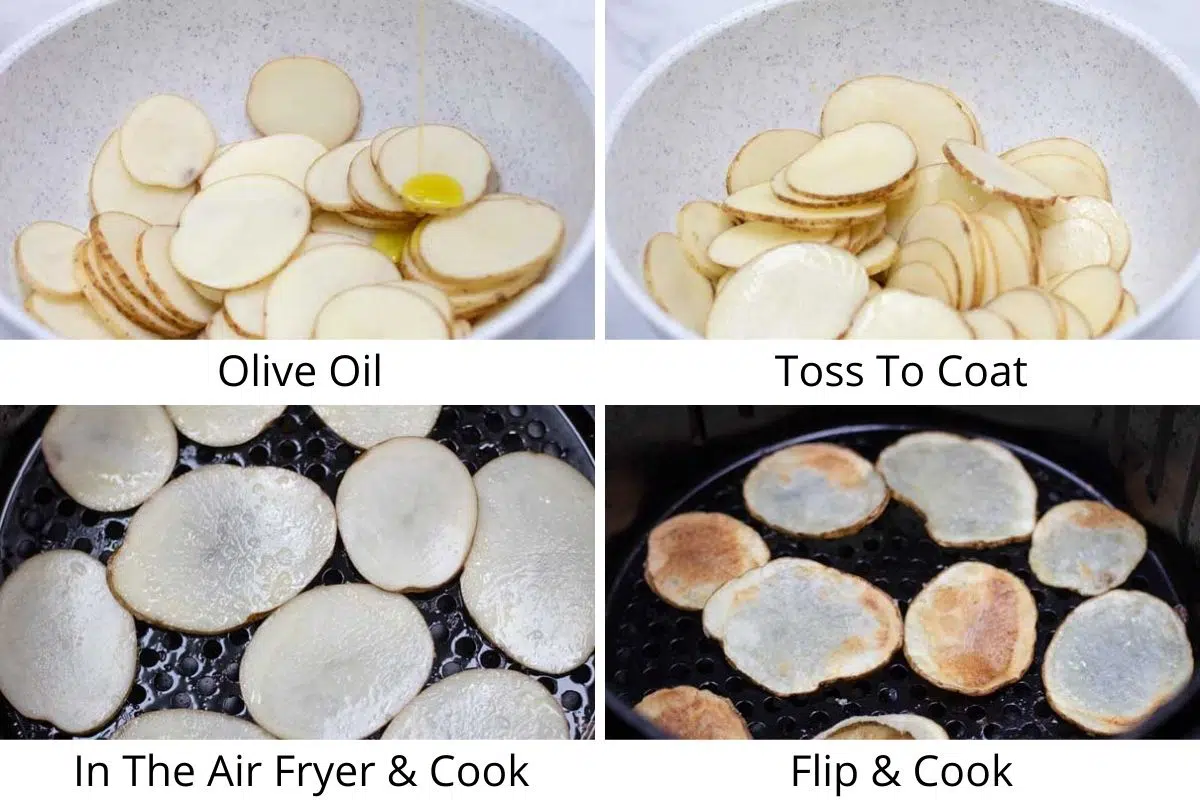 Once cooled, serve with my French Onion Dip or my Cajun dipping sauce if you desire, but these chips are perfect as is - with or without dip. Enjoy your delightfully crisp air fryer potato chips!
💭 Angela's Tips & Recipe Notes
For best results, your sliced potatoes should be soaked before air frying. Details are in the instructions below, and I recommend not skipping the step!
Feel free to experiment with different types of potatoes, or even mix-and-match. Think about the size of the potatoes you select, which will determine the size of the chips.
🥡 Storing
Room Temperature
Store leftover air fryer potato chips in an airtight container, or plastic bag, in a cool and dry area. Your chips should remain fresh for about a week, but they'll probably be long gone well before a week has passed!
Freezing Air Fryer Potato Chips
You can also freeze chips in a single layer on a baking sheet, then transfer to a plastic freezer storage bag. The chips may be a bit soggy when thawed, so return them to your preheated air fryer at 350°F (175°C) to re-crisp for a few minutes before serving.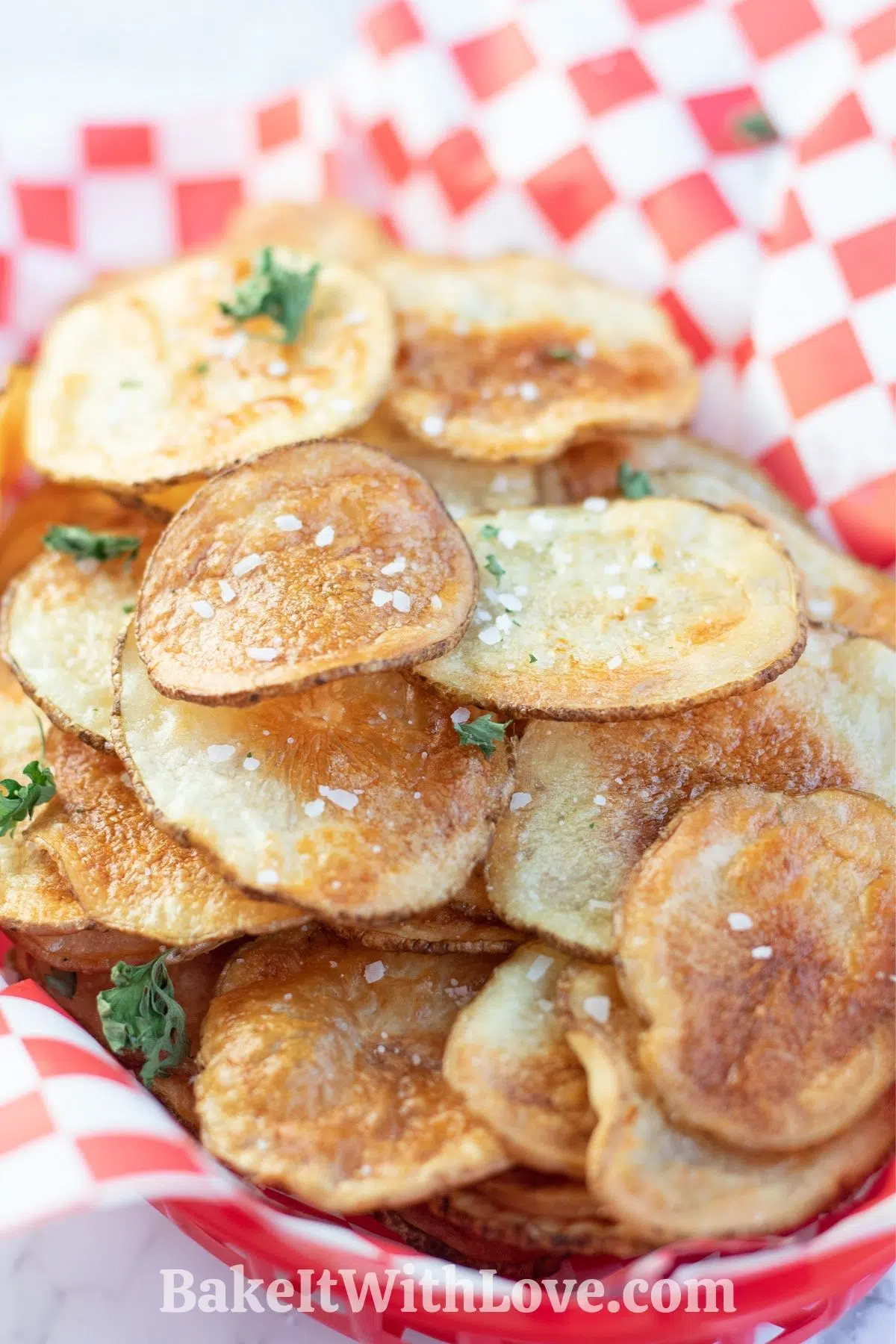 ❓ FAQ
Why do my chips come out soggy?
They're not cooked long enough. My directions are a guide, and your air fryer may require more time to achieve that crispness. Keep an eye on the chips and cook a bit longer if they're soggy.
Why should I soak the potato slices?
Soaking gets rid of much of the starch, resulting in crispier chips. You'll also find that the slices won't clump/stick together if they've been soaked as directed.
Can I cut thick potato chips?
I recommend thinner chips for best results from the air fryer. However, you can try thicker slices, which will likely need to cook longer in the air fryer to achieve the perfect crispness.
📋 Recipe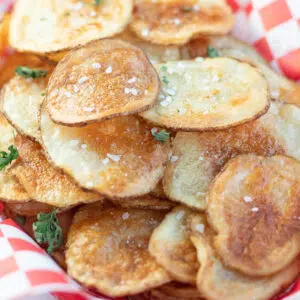 Print Recipe
Leave A Comment
Love This Recipe?
Click On A Star To Rate It!
Air Fryer Potato Chips
These delightfully crispy Air Fryer Potato Chips are quite simply the best homemade potato chips that you will ever make! Now you can enjoy potato chips anytime you like, and they're not only healthier, but also way better than a freshly opened bag of chips from the store!
Pin Recipe
Share on Facebook
Ingredients
2

large

russet potatoes

(or yellow potatoes)

1

tablespoon

olive oil

(extra virgin)

salt

(to taste)
Instructions
Wash and slice your potatoes so that they are all thin and evenly cut. The easiest way to do this is with a mandolin slicer (be sure to use the safety guide or a cut-resistant glove!). However, the slicing side of a 4-sided cheese grater also works, as does slicing the potatoes by hand.

Transfer your sliced potatoes into a medium-size bowl and cover them completely with cold water. Allow the potatoes to soak for at least 30 minutes, up to a couple of hours, to remove excess starch for best results.

Preheat the air fryer to 360°F (182°C).

Drain and rinse the potatoes, then pat dry using paper towels. Return them to a bowl then toss with the olive oil and season with salt.

1 tablespoon olive oil,

salt

Arrange your potato slices in an even layer (a little overlap is OK) in your air fryer basket or air fryer trays.

Cook in the air fryer at 360°F (182°C) for 10 to 15 minutes. Be sure to check and flip them about 5 to 7 minutes.

When chips are done they should be crisp and not soggy, set them out on a wire rack till they have cooled completely.

When cooled, enjoy them now or put them into an air tight container for later, enjoy!
Equipment You May Need
Nutrition
Calories:
177
kcal
(9%)
|
Carbohydrates:
33
g
(11%)
|
Protein:
4
g
(8%)
|
Fat:
4
g
(6%)
|
Saturated Fat:
1
g
(6%)
|
Polyunsaturated Fat:
1
g
|
Monounsaturated Fat:
3
g
|
Sodium:
9
mg
|
Potassium:
769
mg
(22%)
|
Fiber:
2
g
(8%)
|
Sugar:
1
g
(1%)
|
Vitamin A:
2
IU
|
Vitamin C:
11
mg
(13%)
|
Calcium:
24
mg
(2%)
|
Iron:
2
mg
(11%)
Air Fryer Potato Chips, appetizers, Homemade, snacks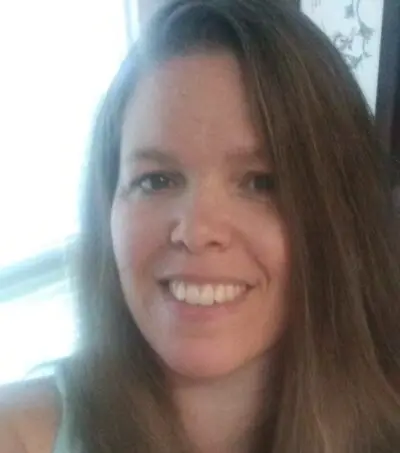 Angela is an at home chef that developed a passion for all things cooking and baking at a young age in her Grandma's kitchen. After many years in the food service industry, she now enjoys sharing all of her family favorite recipes and creating tasty dinner and amazing dessert recipes here at Bake It With Love!