These super easy Oven Roasted Potatoes are delightfully crispy on the outside and melt-in-your-mouth fluffy and tender inside! They're super versatile from adding your favorite seasoning and herbs, to what to serve them alongside to round out an amazing family meal!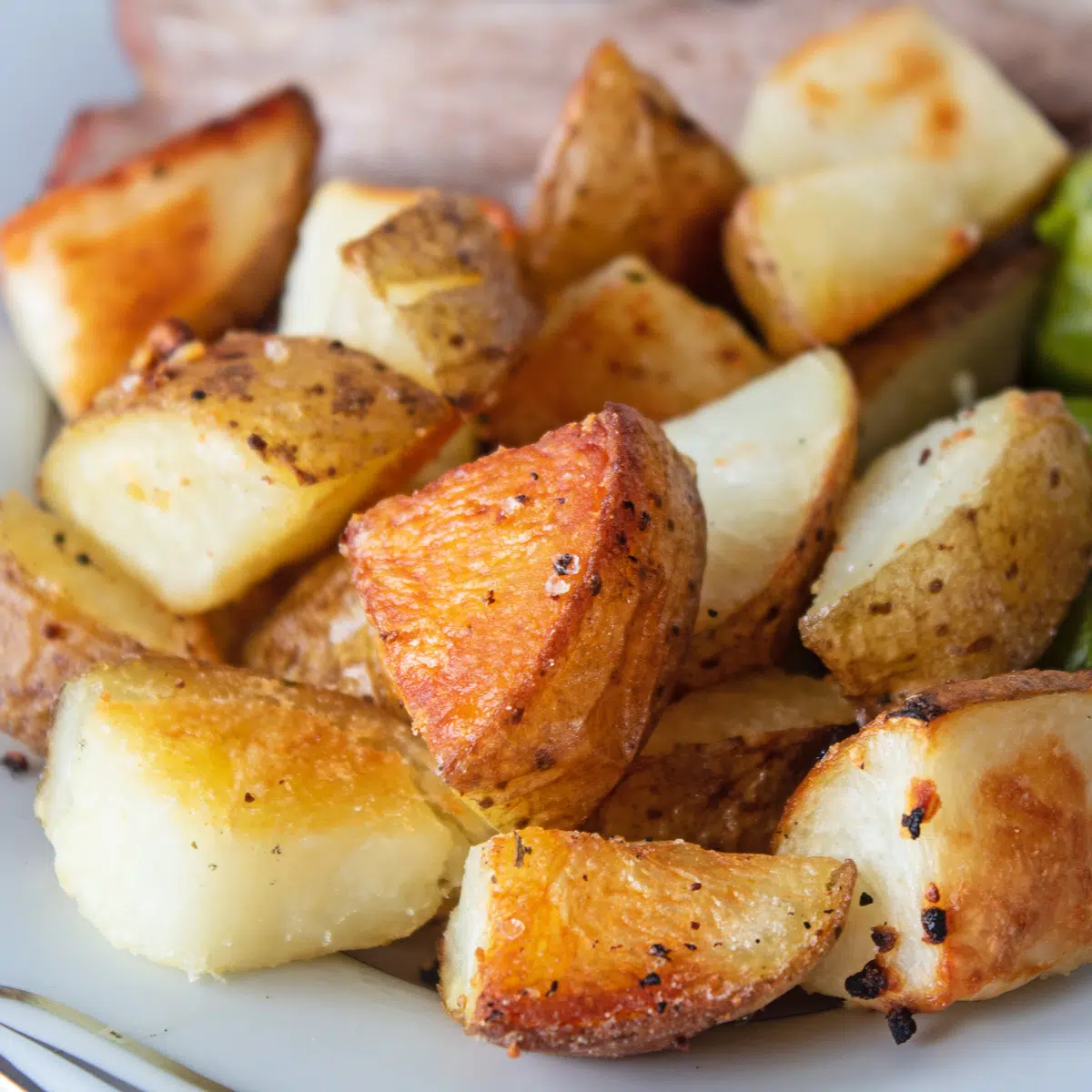 These crispy potatoes are anything but your average roasted potatoes!
Roasted potatoes are a classic American dish. Whether you're serving these crispy potatoes as a holiday side or side dish for a weekday dinner, these roasted russet potatoes pack a powerful punch that you won't soon forget!
Flavored with onion and garlic powders, the addition of fresh herbs goes a long way to tailor this recipe to your specific tastes. I love growing fresh herbs in my kitchen and patio garden, and this is the perfect dish to add them to in order to really highlight their flavor!
Jump to:
The aroma released when in the oven will make your whole house smell like a special feast is being prepared!
When it comes to the main course, you can take your pick when pairing this potato side dish. There's not much that doesn't go well with these fantastic flavors!
❤️ Why You'll Love This Recipe!
It's easy! All you have to do is toss the chopped potatoes with oil and spices and cook!
It's flavorful! Start with some basic seasoning and toss in fresh herbs for a tasty addition that makes your house smell AMAZING!
It has minimal ingredients! No big shopping trip necessary and no long list of ingredients here! You probably have most of these pantry staples in your house on a daily basis.
🥘 Ingredients
Most of these ingredients will already be on your shelves. And because this recipe is flexible, you don't have to worry if you're missing one of the spices or herbs. Potatoes, however, are a must.
Russet potatoes - These are perfect for roasting because of their high starch content. Yukon Gold potatoes or yellow potatoes are the next best choice.
Olive oil - Extra virgin olive oil (EVOO) is ideal when roasting your potatoes. The wonderful flavor is suited to this recipe perfectly!
Garlic powder - Everything is better with garlic. The unique garlic flavor adds a delicious contrast to the mild potatoes.
Onion powder - Onions go hand-in-hand with potatoes (like my pan fried potatoes and onions) so it's no surprise that a touch of onion powder is a must have for seasoning!
Salt and pepper - Salt and pepper both highlight the flavors of your other ingredients. Fresh, cracked pepper would be a standout in the recipe!
Fresh herbs - Thyme, rosemary, basil, parsley…They're ALL delicious! And they're also all wonderfully suited to pairing with potatoes!
💭 Angela's Tips & Recipe Notes
Change up your spice mixture as desired. Going for a Mediterranean meal? Try lemon pepper and rosemary! Want to kick up the heat? Experiment with cayenne and cumin!
Your options are limitless. The important part is understanding how to use oil and heat to roast the potatoes.
Spread out your potato pieces when roasting.
If you crowd your potatoes all on one pan, they won't have the space to get as crispy, because they will start to steam instead of roast.
Short on time? Try using an air fryer!
The recipe is the same, but place prepared potatoes in an air fryer basket preheated to 400℉ (205℃) for 18-20 minutes, stirring halfway through. Make sure to keep an eye on them, as cooking times can vary. They're done when they're golden.
For extra crispiness, parboil the potatoes first! If you'd like to go this route, boil them whole in a pot with enough water to cover them.
Cook the potatoes until tender before draining and setting them aside to cool. All you have to do after that is continue with the recipe from the beginning. (Note: that the cooking time will be reduced to roughly have the time stated in the recipe, keep an eye on your spuds just to be sure!)
🔪 Step-By-Step Instructions
Nothing is better than the smell of roasting vegetables and herbs to tantalize dinner guests. This oven roasted potatoes recipe makes eight servings, so hopefully, you'll have some leftovers!
Preheat your oven. Set your oven to 450°F (232℃) and clean 2 pounds of russet potatoes.
Next, cut potatoes. Pieces should be in one-inch chunks and kept as uniform as possible for even cooking. If you soak the potatoes, make sure to dry completely before cooking in order to create those crispy edges!
Combine potatoes and oil. In a bowl, mix the cubed, dried potatoes with two tablespoons of extra virgin olive oil. Make sure everything is well-coated.
Add seasoning. Sprinkle one teaspoon of garlic powder, ½ teaspoon of onion powder, salt and pepper (to taste), and fresh herbs (optional). Toss to evenly coat with the seasoning.
Transfer to a pan. Move the prepared potatoes to a parchment-lined baking sheet in a single layer. Don't overcrowd the pan.
Bake until crisp. Cook at 450℉ (232℃) for 20 minutes. Use a spatula or a set of kitchen tongs to flip the potatoes. Return to the oven for another 20 minutes or until the potatoes reach your desired level of crispiness.
Serve. Allow the potatoes to cool slightly before serving.
These roasted potatoes make a drool-worthy side dish and can be served any time of the day. They're even great with eggs at breakfast! Garnish with more fresh herbs for a professional-looking touch.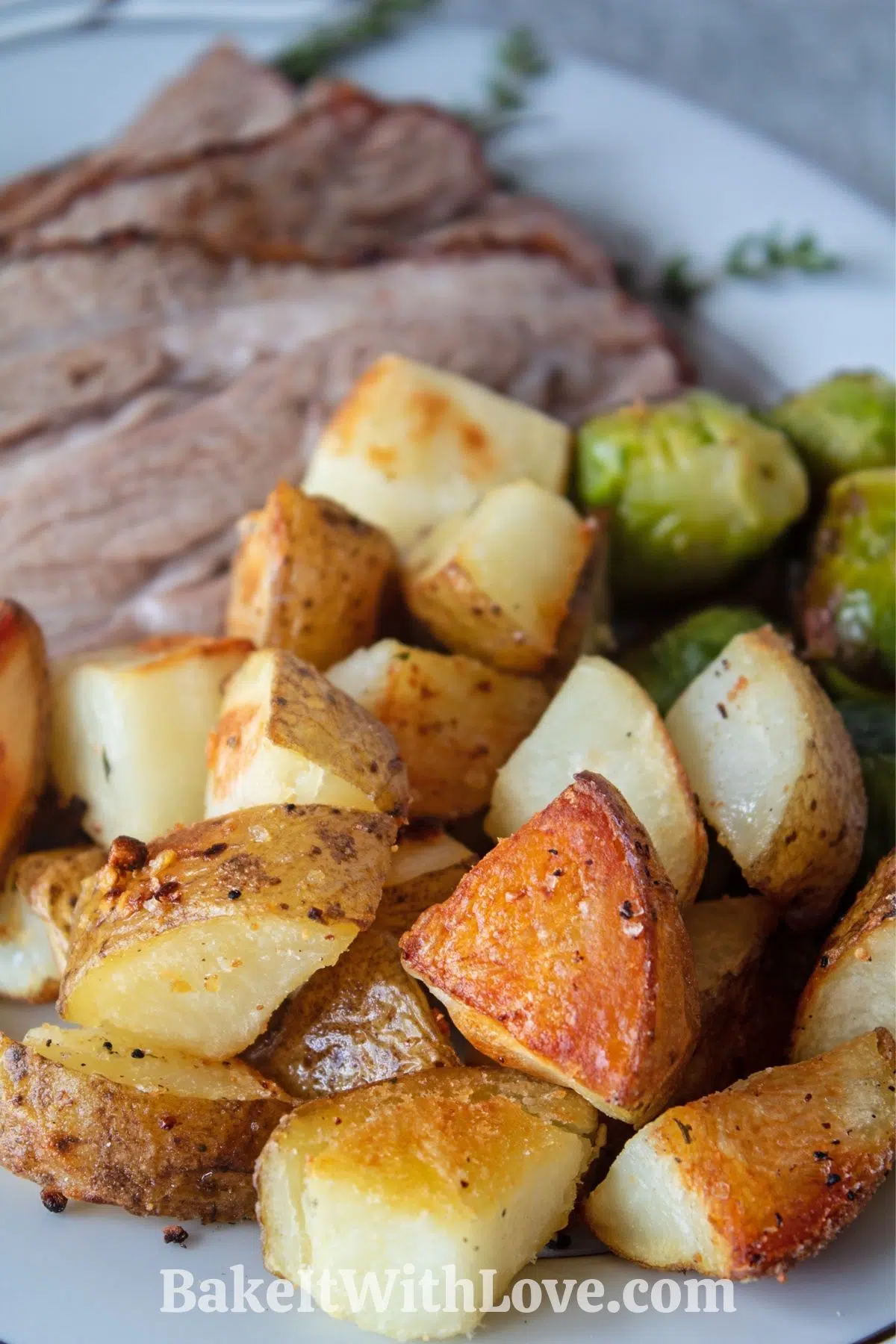 🥡 Storing & Reheating
REFRIGERATING
Leftover potatoes will be good in the fridge for 3-4 days if stored in an airtight container or covered in foil. Make sure you cool your leftover roasted potatoes completely before storing them.  
FREEZING
Roasted potatoes can absolutely be frozen! They make a great snack or side to pull out when you're not in the mood to whip up an extravagant meal from scratch.
To keep your leftover potatoes from sticking together and make them easy to pull out as individual portions, first spread them out on a baking tray and freeze just until the outside is solid. From there, transfer them into an airtight container or plastic freezer bag with the air removed.
They'll keep in the freezer for up to a year, but are best used within the first 3-4 months.
If only pulling out a single portion, try to keep the rest frozen. Freezing and thawing multiple times will leave your potatoes mushy.
REHEATING
For best results, throw the oven-roasted potatoes on a baking sheet in a 400℉ (204℃) oven or toaster oven and cook covered in foil for 10-15 minutes, or until hot. Remove the foil for the last five minutes to add crispiness. Add approximately 10 minutes if cooking from a frozen state.
If you have an air fryer, this is a great time to use it! Drop potatoes into the basket and cook at around 375℉ (190℃) for 3-4 minutes. Add additional time as needed.
If you're in a hurry, you can always reheat in the microwave for 1-2 minutes covered in a damp paper towel, but they will lose their crunch. The other options listed above are your best bet to maintain texture and quality.
❓ FAQ
Is it necessary to boil potatoes before roasting?
While it's not vital, boiling your spuds before their time in the oven will definitely make the outsides crispier. If you're really looking for that extra crunch, par-boiling allows the energy from the oven to be directed towards caramelizing the outsides instead of cooking the insides, because the potatoes will already be soft.
Do you need to cover roasting potatoes?
No, not at all. Roasting potatoes uncovered allows the outsides to caramelize. If you cover them, they will steam. If you choose to boil them before roasting, there is no need for this; the insides will already be cooked.
Cover potatoes that need to be reheated with tin foil to trap heat and speed up the process. Uncover for the last few minutes to return them to their crunchy state.
Can I use other types of potatoes?
Russets are good for roasting because of their high starch content. High starch helps create a crunchy outside that is balanced by a fluffy vs. waxy inside.
Yukon Gold potatoes are also delicious, and have creamy centers, but will be slightly less crisp. They'll also be a bit darker in color and deeper in flavor. Thin skin also helps speed along the cooking process.
Do I need to peel my potatoes?
That is entirely up to you. The peel is where much of the nutrition is, so I usually like to leave mine on. It saves time, too!
📋 Recipe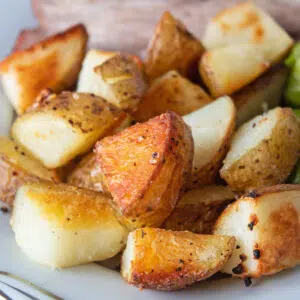 Print Recipe
Leave A Comment
Love This Recipe?
Click On A Star To Rate It!
Oven Roasted Potatoes
These super easy Oven Roasted Potatoes are delightfully crispy on the outside and melt-in-your-mouth fluffy and tender inside! They're super versatile from adding your favorite seasoning and herbs, to what to serve them alongside to round out an amazing family meal!
Pin Recipe
Share on Facebook
Ingredients
2

lbs

russet potatoes

(Yukon gold, red skin, or white potatoes also work)

2

tablespoon

olive oil

(extra virgin)

1

teaspoon

garlic powder

½

teaspoon

onion powder

each, salt & pepper

(to taste)

fresh herbs

(optional - fresh thyme, rosemary, basil, and parsley are all excellent with potatoes)
Instructions
Preheat your oven to 450°F (232°C) and wash the potatoes.

Cube into roughly 1" chunks that are relatively the same size to make sure that the potatoes cook evenly. *If you want to soak the potatoes, make sure that they are dried REALLY WELL before roasting. Otherwise, you end up with steamed potatoes and no crispy edges.

In a large bowl add the cut, washed, and dried potatoes. Drizzle the olive oil over the potatoes.

Season with garlic powder, onion powder, salt, and pepper plus any fresh herbs you may have on hand. Toss to coat.

1 teaspoon garlic powder,

½ teaspoon onion powder,

each, salt & pepper,

fresh herbs

Transfer the coated potatoes onto a parchment paper-lined baking sheet in a single layer.

Bake at 450°F (232°C) for about 20 minutes, using kitchen tongs or a spatula flip the potatoes and bake for another 20 minutes or until the reach your desired level of crispiness.

Remove from oven when done, add any additional seasoning and serve. Enjoy!
Equipment You May Need
Notes
Peeling your potatoes is completely optional. I like that these roasted potatoes are wonderfully crispy, beyond easy, and take no time at all to get in the oven!
Nutrition
Calories:
122
kcal
(6%)
|
Carbohydrates:
21
g
(7%)
|
Protein:
3
g
(6%)
|
Fat:
4
g
(6%)
|
Saturated Fat:
1
g
(6%)
|
Polyunsaturated Fat:
1
g
|
Monounsaturated Fat:
3
g
|
Sodium:
6
mg
|
Potassium:
479
mg
(14%)
|
Fiber:
2
g
(8%)
|
Sugar:
1
g
(1%)
|
Vitamin A:
1
IU
|
Vitamin C:
6
mg
(7%)
|
Calcium:
16
mg
(2%)
|
Iron:
1
mg
(6%)
oven roasted potatoes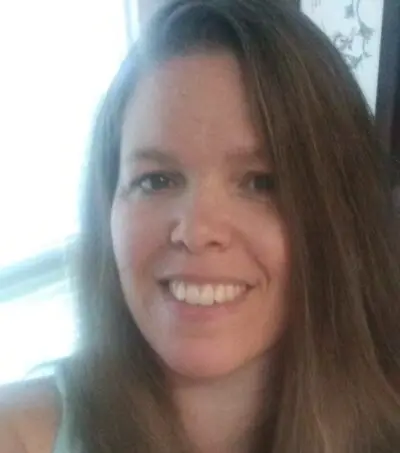 Angela is an at home chef that developed a passion for all things cooking and baking at a young age in her Grandma's kitchen. After many years in the food service industry, she now enjoys sharing all of her family favorite recipes and creating tasty dinner and amazing dessert recipes here at Bake It With Love!