For an easy onion powder substitute that will help you make a tasty recipe without anyone the wiser, check out these alternatives! Onion powder is a kitchen staple, so knowing what to use in its place if you ever run out is will come in handy!
Best Onion Powder Substitutes
Made from dehydrated onions that have been finely ground, onion powder is a staple in many kitchens. Extremely versatile, it is the perfect way to enhance the flavor of almost any savory dish.
It can be used to season meat, vegetables, salads, and even eggs. In addition, it is a common ingredient in marinades, dressings, and other seasoning mixtures.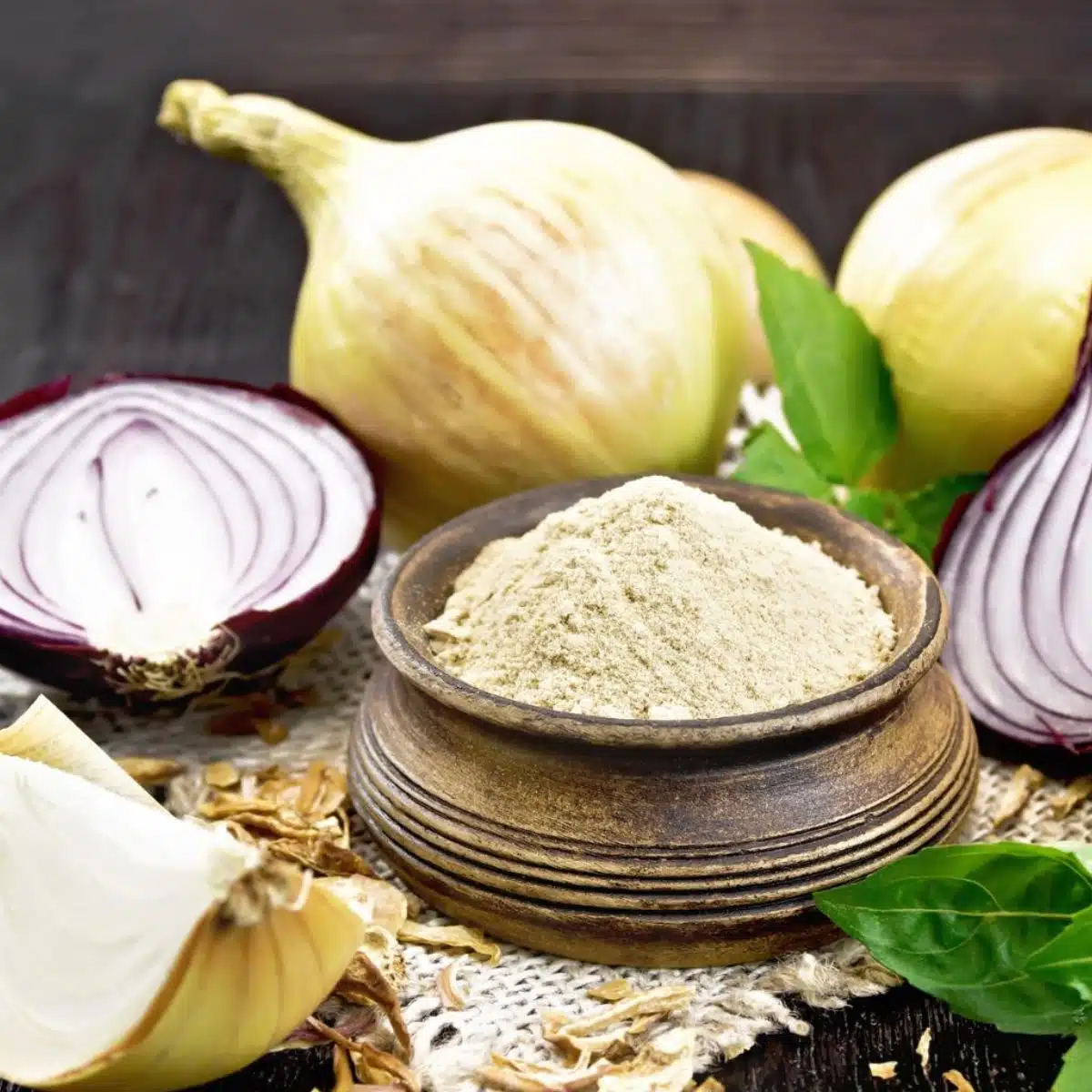 Jump to:
Alternatives for Onion Powder
Even though onion powder is a well-loved staple, it is also an easy one to run out of and forget to replace. I know that I do not always remember to check the spice cabinet before a weekly grocery run.
Therefore, you may find that mid recipe you had a lot less onion powder than you thought. Moreover, as such a popular spice, your grocery store may be out when you run to grab some.
Leaving the onion powder out isn't a choice though if you want a well-flavored dish. So, instead of settling for a dish with no flavor, try one of these substitutes.
1. Freshly Chopped Onions
If you don't have onion powder on hand, you can always reach for the fresh version. Freshly chopped onions are a great substitute for onion powder since they will help maintain the original flavor of the dish.
In addition, many of us have onions that are just sitting in the kitchen waiting to be used.
Since onion powder is so concentrated, you get a ton of flavor in a small amount. However, when using the fresh version, it takes a lot more.
You will need to use 1 cup of chopped onion in place of 1 tablespoon of onion powder.
While the flavor will be matched, this added volume will shift the texture of your dish. Therefore, if you do not want the added texture you may want to try one of the other options.
2. Onion Salt
While you may not have onion powder on hand, you may have onion salt. Onion salt is the easiest substitute for onion powder because it is made with onion powder. It is simply onion powder mixed with salt.
Therefore, you will get an almost identical flavor exchange. However, due to the salt, you need to be careful to not make the dish too salty. The best thing to do is leave out any extra salt that your recipe calls for.
By leaving out any extra salt you can usually get away with a simple 1:1 ratio when substituting onion salt for onion powder.
If you are worried about your recipe being too salty though, start with half the amount and add more to taste.
3. Onion Flakes
Onion flakes are the best flavor match for onion powder. Unfortunately, it is not the most common ingredient to have on hand. If you do have onions flakes though, make them your first pick for a substitute.
One step before grinding them to make onion powder, onion flakes are simply minced dehydrated onions. Therefore, they will add some extra texture to a dish.
If you don't want the added texture though you can simply toss the onion flakes in a blender for a few seconds and make your own onion powder.
Whether using them as flakes or newly ground powder, this is an easy 1:1 substitution for any recipe.
If you do leave them as flakes, be aware that they absorb more liquid than onion powder. So, you may need to add more water to your recipe.
This will depend on the recipe. Just notice if it seems too try or thick and add a little extra water if needed.
4. Onion Paste
You may not have heard of onion paste, but this is one you'll want to keep in your back pocket. Onion paste is basically pureed onions. That's it.
You can buy it in the grocery store, or you can make it at home. All you need is an onion.
Peel an onion and toss it in a blender or food processor. Blend until the onion is pureed and resembles a paste.
Transfer to a small jar with an airtight lid and refrigerate. You can keep this onion paste in your fridge for about a week. However, if you freeze it – it will stay fresh much longer.
To freeze, measure 1 tablespoon of the paste into ice-cube trays. Then pop the tray into the freezer and freeze. Use each pre-measured cube for any recipe that calls for onion paste.
While onion paste is more concentrated than chopped onion, it is still less concentrated than onion powder. Therefore, you will need to use 2 – 3 times more than the recipe calls for (about 1 tablespoon of onion paste for every 1 teaspoon of onion powder).
5. Garlic Powder
While garlic has a different taste than onion, it comes from the same vegetable family. Onions and garlic are both types of allium plants.
These are strongly flavored plants that are used for adding flavor to cooking. Green onions, chives, leeks, and shallots are all members of this plant family as well.
In addition to coming from the same plant family, garlic powder is made in the same way. It is simply dried garlic that has been ground into powder form. This gives it a texture like onion powder.
If you don't have onion powder available, garlic powder is a great alternative flavor to use. It will pair nicely with the same foods that onion helps enhance. Therefore, you will still have a wonderful dish that is full of flavor.
Overall, garlic is more potent than onions though. To avoid overpowering your dish, use half the amount of garlic powder. If you need more, you can add more to taste.
6. Garlic Salt
Just like onion salt, garlic salt is garlic powder and salt. Therefore, since garlic powder works as a substitute so can garlic salt.
Follow the same guidelines for using garlic powder and onion salt. Use half the amount of garlic salt (to begin) and leave out any additional salt that the recipe calls for.
Remember, you can always add more if needed, but you can't remove it.
7. Green Onions (Scallions)
Just like the name implies, green onions are members of the onion family. They are technically immature onions. Therefore, while they have an onion-like taste, it is milder than a mature onion.
Green onions can be used in both hot and cold dishes. While they are not as finely chopped as onion powder, they will not add as much texture as a regular onion will.
Due to their milder flavor, you will need to use about 3 times the amount the recipe calls for in onion powder. Focus on chopping the white bulb part for the most flavor.
8. Chives
While chives are also a member of the allium family, they are an herb rather than a vegetable. Chives are also not the same thing as green onions.
Even though they are not an onion, chives do have a mild onion-like flavor. Therefore, they work as a substitute. These are best used for cold dishes though, as they lose a lot of their flavor when cooked.
You will need about 4 times the amount of chopped chives to replace the flavor of onion powder in a cold dish (such as a salad or dressing).
9. Shallots
Shallots are often thought of as a cross between onions and garlic (you can read all about shallots vs onions here). This is a good description since they all come from the same plant family.
While shallots resemble the two strong flavors of onions and garlic, they have their own sweetness. This adds a lovely unique flavor that is less sharp.
Just like other fresh alternatives, you will need to use more than what the recipe calls for to get the right amount of flavor. Finely mince two average-sized shallots to equal 1 tablespoon of onion powder (depending on the size of your shallots this may vary, so if in doubt, start with less and add more as needed).
Shallots hold their flavor in heat but are also wonderful cold.
10. Leeks
Another member of the allium family, these long stalky vegetables look like a larger version of a green onion.
While they are not technically an onion, leeks have a similar aromatic and pungent flavor. Compared to an onion though, the flavor is milder and slightly sweeter.
If you are looking for a fun and fresh alternative to onion powder, try leeks out for a new taste alternative.
Use 1 cup of finely chopped leeks in place of 1 teaspoon of onion powder in any dish.
11. Fennel Bulbs
Fennel bulbs have a distinctly different flavor than onion. They taste like anise or licorice.
Despite this difference in flavor, their aromatic and bitter taste is a lovely flavor alternative for onion powder in certain dishes.
While many people enjoy the flavor of fennel, it is not a flavor for everyone. Therefore, I recommend only using this substitute if you know you (and others) like fennel.
Moreover, be thoughtful in what foods you are pairing it with. Fennel goes well with most vegetables, as well as poultry and fish. Use finely chopped fennel in a two to one ratio for onion powder.
More great substitute pages to help you out with all of your cooking and baking!
So remember, when you need an onion powder substitute, just use one of these common pantry ingredients instead! Tell us which substitute you tried by leaving us a comment below!
Do you love a recipe you tried? Please leave a 5-star 🌟rating in the recipe card below and/or a review in the comments section further down the page.
Stay in touch with me through social media @ Pinterest, Facebook, Instagram, or Twitter! Subscribe to the newsletter today (no spam, I promise)! Don't forget to tag me when you try one of my recipes!
📋 Recipe
Print Recipe
Leave A Comment
Love This Recipe?
Click On A Star To Rate It!
Best Onion Powder Substitute: Chopped Fresh Onions (+More Great Alternatives!)
For an easy onion powder substitute that will help you make a tasty recipe without anyone the wiser, check out these alternatives! Onion powder is a kitchen staple, so knowing what to use in its place if you ever run out is will come in handy!
Pin Recipe
Share on Facebook
Ingredients
Option 1 - Freshly Chopped Onions
Option 2 - Onion Flakes (Dried Minced Onion)
1

tablespoon

onion flakes

(or dried minced onion)
Instructions
Option 1 - Freshly Chopped Onions
Use 1 cup fresh, chopped onion to replace 1 tablespoon of onion powder (or ⅓ cup to substitute fresh chopped onion for 1 teaspoon onion powder).
Option 2 - Onion Flakes (Dried Minced Onion)
Use in equal portions for substituting onion powder. Taste and adjust as needed. You can also run these through a spice grinder to yield a fine onion powder.
Notes
Nutrition information is calculated based on using fresh onion only.
Nutrition
Calories:
64
kcal
(3%)
|
Carbohydrates:
15
g
(5%)
|
Protein:
2
g
(4%)
|
Fat:
1
g
(2%)
|
Saturated Fat:
1
g
(6%)
|
Polyunsaturated Fat:
1
g
|
Monounsaturated Fat:
1
g
|
Sodium:
6
mg
|
Potassium:
234
mg
(7%)
|
Fiber:
3
g
(13%)
|
Sugar:
7
g
(8%)
|
Vitamin A:
3
IU
|
Vitamin C:
12
mg
(15%)
|
Calcium:
37
mg
(4%)
|
Iron:
1
mg
(6%)
best onion powder alternatives, Onion Powder Substitute, substitutions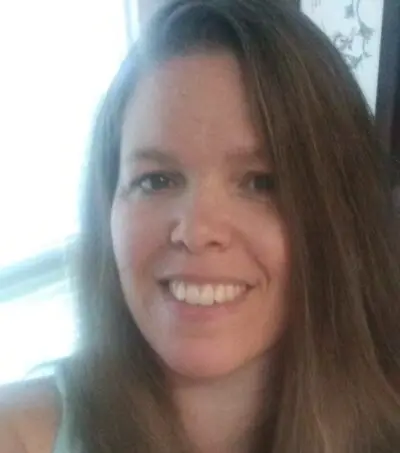 Angela is an at home chef that developed a passion for all things cooking and baking at a young age in her Grandma's kitchen. After many years in the food service industry, she now enjoys sharing all of her family favorite recipes and creating tasty dinner and amazing dessert recipes here at Bake It With Love!