Tender, flavorful Smoked Brussel Sprouts are the only way you'll ever want to cook up this little veggie that people love to hate! Perfectly cooked brussels sprouts are a delightful side dish that will have everyone asking for more!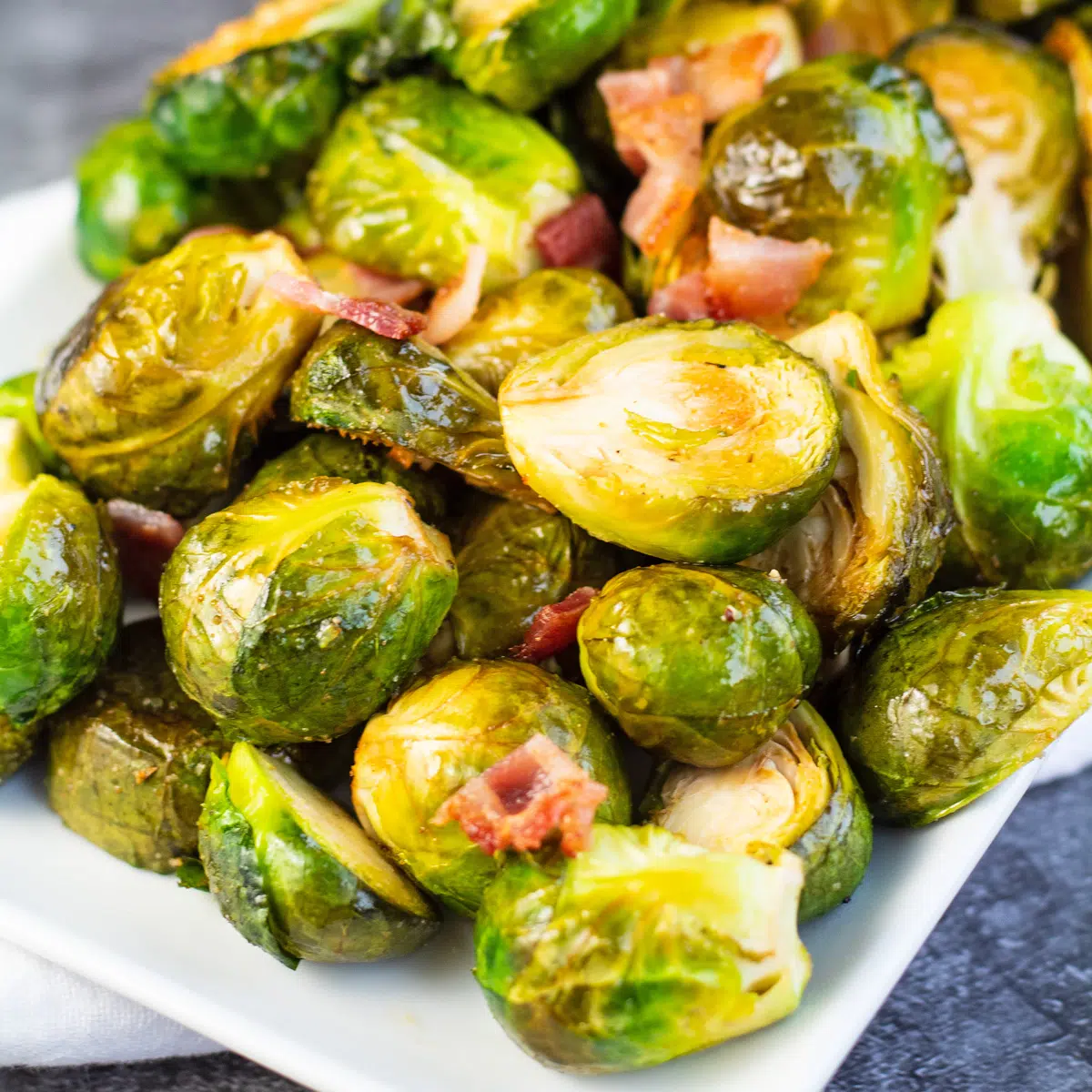 A savory smoked side dish that takes brussel sprouts from ho-hum to amazing!
Smoky and sizzling, my smoked brussel sprouts are easy to make and incredibly tasty. Simple seasonings, the beauty of crisp bacon, fresh brussel sprouts, and some good olive oil makes for a side dish that is out of this world. Or pair it with my smoked prime rib!
Use your smoker to get that amazing flavor for tender-on-the-inside, crisp-on-the-outside brussel sprouts that will be your favorite new go-to veggie. If you love brussel sprouts already, this recipe will have you smoking them every chance you get!
Jump to:
For those who think they don't like brussel sprouts, one taste of these smoked brussel sprouts and they'll be hooked! The cooking method makes a HUGE difference in the texture and flavor of these tiny cabbages!
The best part, however, is that these tender and tasty brussels sprouts cook right up alongside your favorite smoked meats!
❤️ Why You'll Love This Recipe!
Easy To Prepare! You certainly don't need to be a culinary hotshot to make these smoked brussel sprouts. They take some time to cook, but the prep work is a piece of cake and your smoker does the rest!
The Best Brussel Sprouts! Soggy prepackaged microwave sprouts are bland and nowhere near as tasty. This recipe brings new life to the often-frowned-upon veggie. The smoking technique makes all the difference. They are gourmet-level good!
An Impressive Side! Steamed broccoli, corn on the cob, or creamed spinach are nothing new. Take your side game up a notch with a veggie plate that is the star of the meal.
🥘 Ingredients
You won't need much to make these smoked brussels sprouts. Aside from the brussel sprouts themselves, you probably have everything else at home in the kitchen already.
Brussel Sprouts – Cleaned, trimmed, and cut. Fresh ones are so much better than frozen brussel sprouts (which are too soft and tender already to hold up to smoking long enough to take on much flavor).
Olive Oil – I always go for extra virgin olive oil (EVOO) for its rich and robust flavor. You can use your favorite cooking oil, but be aware that the smoke point will matter if you do the high heat sear at the end of the cooking time.
Kosher Salt – Bring out the best in your brussels sprouts with a hint of salt.
Pepper – Black pepper adds some heat and spice and is always the perfect addition to highlight flavors, use freshly ground black pepper with these sprouts if possible.
Bacon Bits – These are optional, but they pack a flavorful punch that really belongs with these sprouts! I always add them for texture and flavor to enhance the smokiness. Of course, just crisped bacon always wins out over store-bought bacon bits!
💭 Tips & Notes
Be sure to coat the brussels sprouts well and evenly with the olive oil and seasonings.
Each bite should be full of flavor. A "naked" sprout is never a good thing!
That smoker or oven blast of high heat at the end of the cooking process will create a slightly crisp outside which compliments the tender middle so perfectly. It adds a nice brown char to the veggies too.
I prefer to transfer my sprouts (or other veggies, or meats) directly into my preheated oven. This leaves my smoker free for continuing to finish cooking meats that were alongside my brussel sprouts.
No need to over-season.
A little goes a long way, especially if you choose to add bacon bits. Plus, you can always add more salt and pepper to taste once you have plated your dish.
🔪 Instructions
Before you are ready to cook your smoked brussel sprouts, be sure your smoker is ready to go, you've got some aluminum foil or a grill sheet at the ready, and your short list of ingredients are out on the counter.
I recommend washing the brussel sprouts a bit ahead of time if possible so they aren't dripping wet, otherwise do as instructed below. This recipe makes 4 servings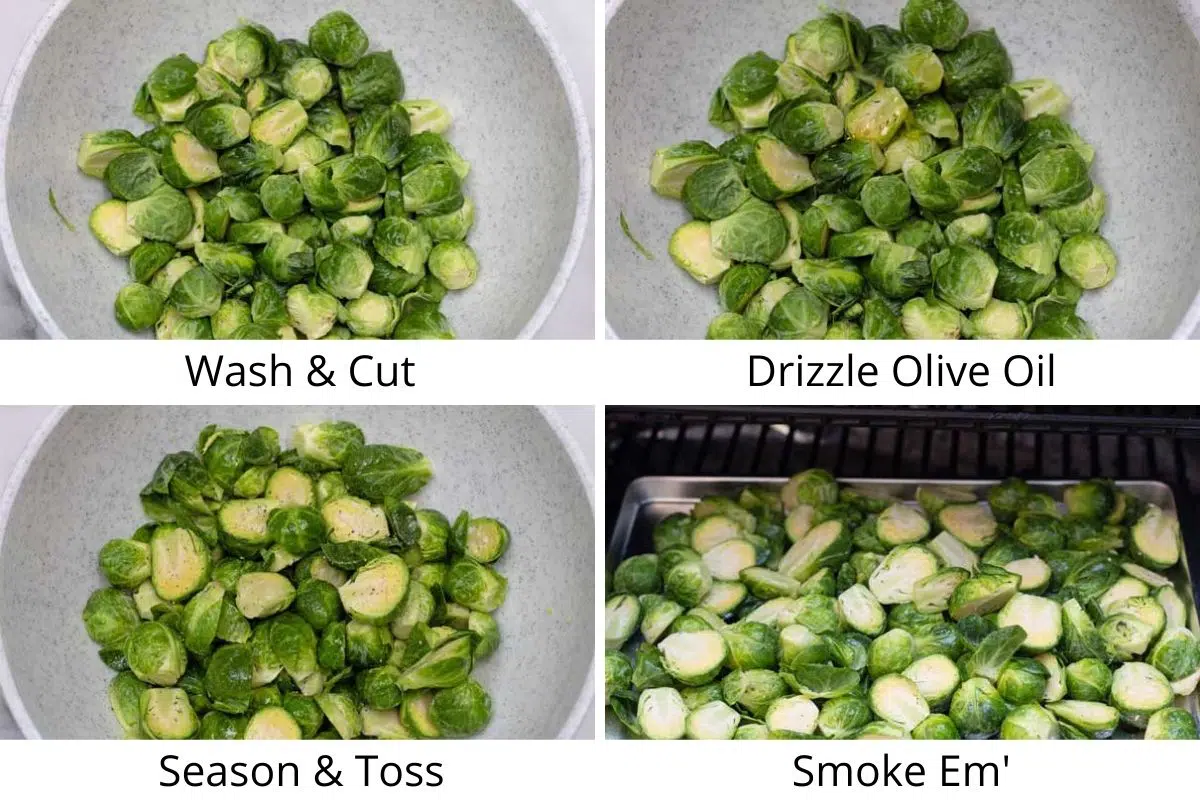 Preheat. Set your smoker to 225°F (107°C) before preparing the dish so the smoker is nice and hot. Be sure to follow the manufacturer instructions for your smoker model.
Prep the sprouts. Wash your brussel sprouts under the kitchen faucet, trim the ends (optional), and cut each one in half or in quarters. Try to get each cut brussel sprout to be around the same size for uniformity and to ensure that they cook evenly. Use paper towels to pat the rinsed brussel sprouts dry.
Drizzle then toss. Use a medium-size mixing bowl to toss the cut brussel sprouts with 1 tablespoon olive oil, and 1 teaspoon each Kosher salt and black pepper. Toss well to make sure everything is thoroughly coated.
Prepare for smoking. Set the coated brussel sprouts onto a grill sheet, in a disposable pan, or on top of heavy duty aluminum foil. If you use the foil, fold up the edges to make a "basket" so the veggies can be transported to the smoker without falling off.
Smoke until tender. Place your grill sheet, pan, or aluminum foil into the smoker at 225°F (107°C) for 1 hour and 10 minutes or until fork-tender.
*The more space between the sliced sprouts, the quicker they cook through! I LOVE brussel sprouts, so used 2 pounds in this batch and they definitely took longer to smoke this time when crowded together.
Blast 'Em! For an additional 10 minutes, sear the brussel sprouts in the smoker or transfer to your oven set at 450°F (232°C).
Cool and serve. Take your brussel sprouts out of the smoker or oven and let them cool down for a few minutes before serving. If desired, toss the smoked brussel sprouts with melted butter and/or sprinkle with 1 tablespoon bacon bits.
Enjoy these smoked brussel sprouts as a delightfully flavorful side dish with chicken, smoked beef back ribs, smoked country style pork ribs, steak, or seafood. You can also toss them with pasta or serve over rice.
A big plate of smoked brussel sprouts with or without bacon bits can be a main dish as well! They're that good!!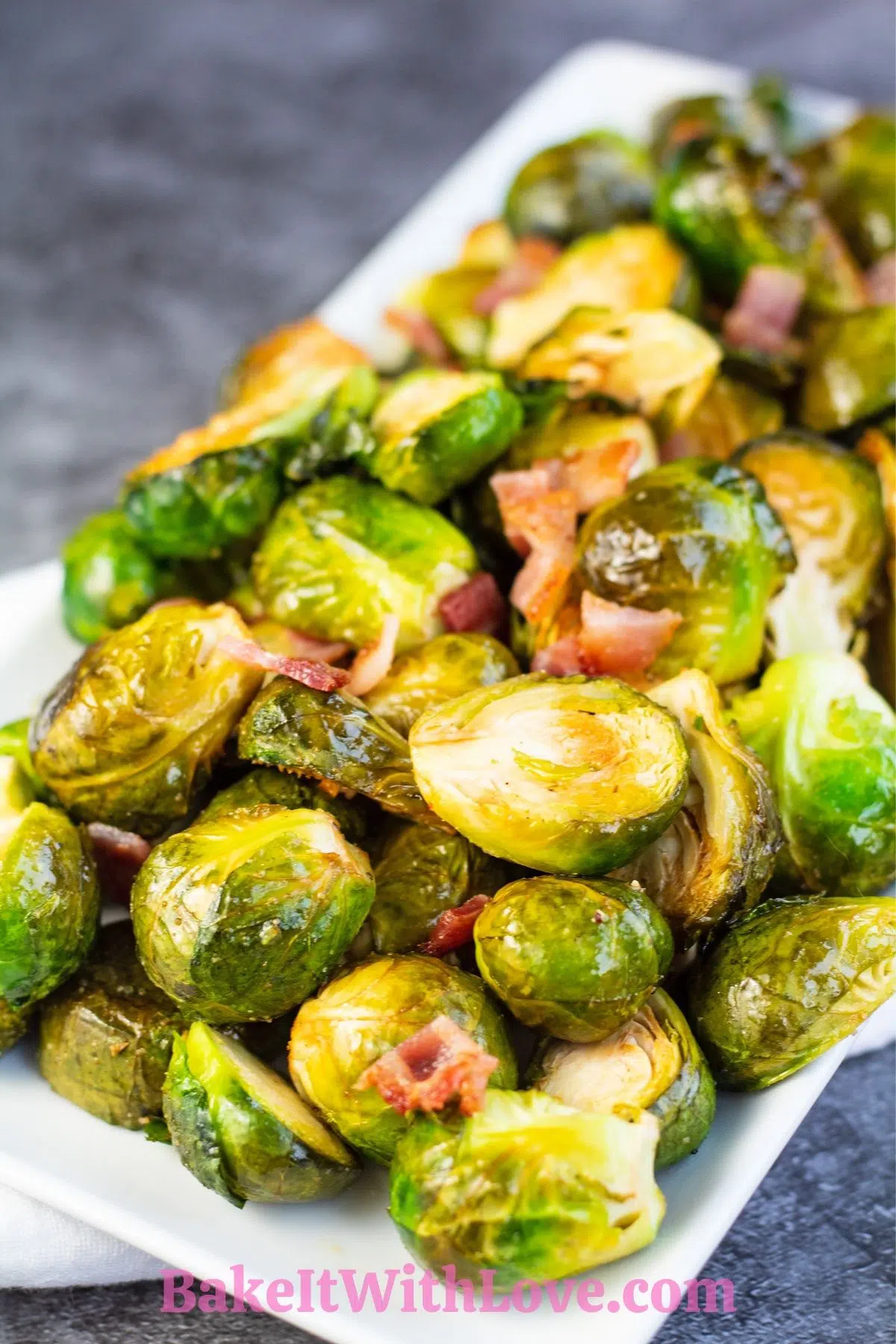 🥡 Storing & Reheating
Refrigerating
Store leftover smoked brussel sprouts for up to three days in the refrigerator. Store the sprouts in an airtight container or place in a bowl and cover securely with plastic wrap.
Freezing
You can freeze your leftover cooked brussel sprouts for up to 12 months when stored properly in an airtight container. To best freeze the sprouts, place them in a single layer (make sure they're not touching!) on a baking sheet to flash freeze them.
Transfer to a plastic freezer storage bag or freezer-safe container once fully frozen, typically between 1-2 hours.
Reheating
The best way to reheat your smoked brussel sprouts is transfer your desired portion to a lightly greased sheet pan or onto aluminum foil. Then reheat in a preheated oven, warming the brussels at 350°F (175°C) for 5-10 minutes until heated to your desired level.
The quickest reheating method is using the microwave. Place your portion of brussel sprouts into a microwave-safe dish and heat on high in 30-second increments until warmed to your satisfaction.
❓ FAQ
Can I use frozen brussel sprouts?
Frozen already-cooked brussel sprouts won't work well in this recipe. They'll be too mushy. If you can find frozen-fresh brussel sprouts, follow thawing instructions then follow my recipe. I recommend using fresh brussels sprouts for the best (and tastiest) results.
Can I use imitation bacon bits instead of real ones?
Definitely. If you don't eat bacon or prefer imitation, they will taste just fine in this dish. If you do not like the taste of bacon, get some texture from a spoonful of sunflower or sesame seeds, pepitas, or crushed walnuts or smoked almonds.
Can I add different seasonings aside from salt and pepper?
While I like this simple recipe and classic flavors, feel free to experiment with your favorite seasonings, herbs, and spices. You can also take things to the next level with white or black truffle oil in place of regular olive oil.
📖 Recipe Card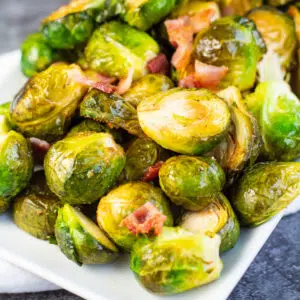 Print Recipe
Leave A Comment
Love This Recipe?
Click On A Star To Rate It!
Smoked Brussel Sprouts
Tender, flavorful Smoked Brussel Sprouts are the only way you'll ever want to cook up this little veggie that people love to hate! Perfectly cooked brussels sprouts are a delightful side dish that will have everyone asking for more!
Cooking
1

hour
20

minutes
Total Time
1

hour
30

minutes
Pin Recipe
Share on Facebook
Ingredients
1

lb

brussel sprouts

(washed, ends trimmed, and cut in half or quarters)

1

tablespoon

olive oil

(extra virgin)

1

teaspoon

Kosher salt

1

teaspoon

black pepper

1

tablespoon

bacon

(optional - cooked and crumbled)

1

tablespoon

butter

(optional - melted)
Help Us Out!
If you love a recipe, be sure to come back and share your ratings. This helps future users, and allows me to continue sharing free recipes! Angela
Instructions
Preheat smoker to 225°F (107°C)

Wash brussel sprouts, trim the ends (if desired), cut each into half or quarters to ensure uniform size.

In a medium bowl add brussel sprouts then drizzle with olive oil and sprinkle with black pepper and kosher salt. Toss to coat.

1 tablespoon olive oil,

1 teaspoon Kosher salt,

1 teaspoon black pepper

Place brussel sprouts on a grill sheet, disposable pan, or on some heavy duty aluminum foil with the edges folded up to make a basket.

Place in the smoker at 225°F (107°C) for about an hour and 10 minutes or until they become fork tender.

Either in your smoker or in the oven blast the brussel sprouts for 10 minutes at 450°F (232°C).

Remove from the smoker or oven and allow to cool a few minutes and serve. Toss with melted butter and sprinkle with crispy bacon or bacon bits if desired. Enjoy!
Nutrition
Calories:
80
kcal
(4%)
|
Carbohydrates:
10
g
(3%)
|
Protein:
4
g
(8%)
|
Fat:
4
g
(6%)
|
Saturated Fat:
1
g
(6%)
|
Polyunsaturated Fat:
1
g
|
Monounsaturated Fat:
3
g
|
Sodium:
610
mg
(27%)
|
Potassium:
441
mg
(13%)
|
Fiber:
4
g
(17%)
|
Sugar:
2
g
(2%)
|
Vitamin A:
855
IU
(17%)
|
Vitamin C:
96
mg
(116%)
|
Calcium:
48
mg
(5%)
|
Iron:
2
mg
(11%)
brussel sprouts, brussels sprouts, smoked, Smoked Brussel Sprouts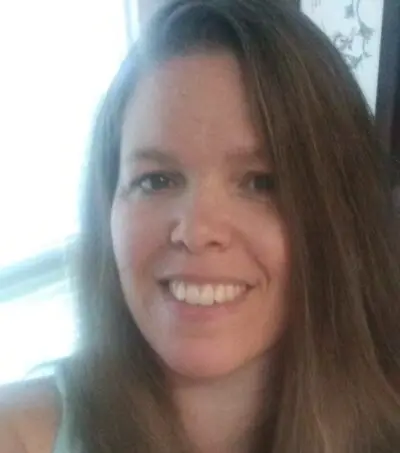 Angela is an at home chef that developed a passion for all things cooking and baking at a young age in her Grandma's kitchen. After many years in the food service industry, she now enjoys sharing all of her family favorite recipes and creating tasty dinner and amazing dessert recipes here at Bake It With Love!