These juicy Baked Beef Back Ribs are slathered with a flavorful rib seasoning and sticky BBQ sauce before cooking up to perfection! They are quite simply the easiest way to satisfy your summertime barbecue cravings at any time of the year!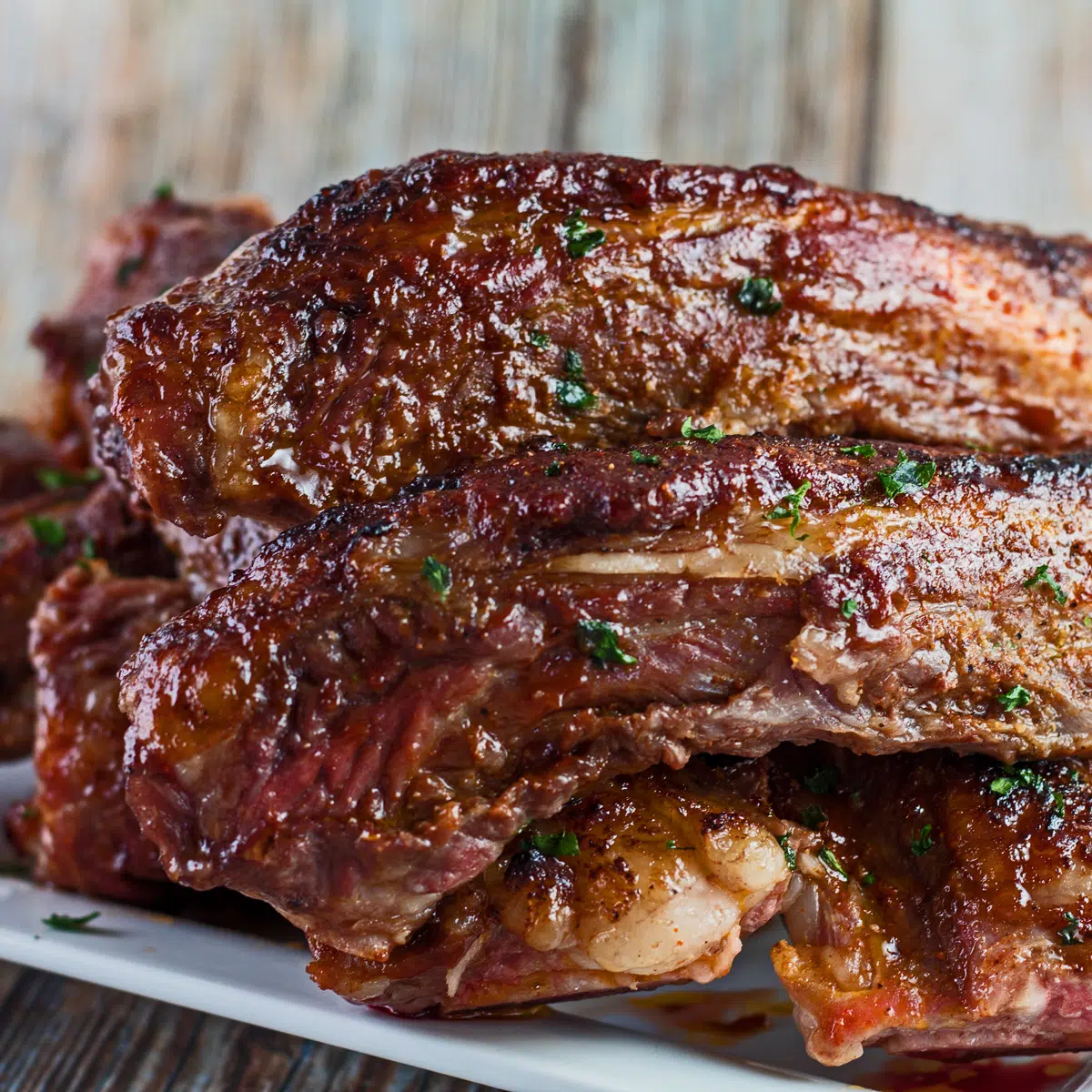 Tender, Sweet, and Savory – These ribs are finger-licking good!
Summertime calls for classic, delicious barbecue! My baked beef back ribs are quick to fix but still have that succulent, fresh-off-the-grill taste. This simple, yet amazing main dish will become a new favorite in your kitchen!
Ribs are the perfect family meal! Seasoned with a flavorful rub and coated with sticky BBQ sauce, your family is sure to be asking for seconds.
Jump to:
They'll think you've spent hours at the grill, but you'll have these decadent baked beef back ribs on the table in under 90 minutes!
❤️ Why You'll Love This Recipe!
So Fast! With just three ingredients, this recipe comes together effortlessly—no matter your cooking experience level!
Incredible Flavor! The sticky sauce and savory spice rub blend perfectly to create a mouth-watering main course.
Family Friendly! Your kids can have fun in the kitchen brushing on their favorite BBQ sauce!
🥘 Ingredients
Could ribs get any easier? A simple, short list of ingredients makes this 4-serving recipe come together with ease, so you spend less time in the kitchen!
Beef Back Ribs – Thawed, so they're ready to bake. Beef back ribs are less commonly used than pork, but just as tasty—ask your butcher for help if needed!
Steak or Rib Seasoning – The blend of spices infuses flavor into the meat to make each bite delicious. Use my go-to seasoning recipe or use your favorite store-bought!
BBQ Sauce – Pick your favorite store-bought sauce or make your own to coat each rib with deliciousness.
Want to try my incredible steak seasoning? It requires a few more spices and seasonings but comes together in no time and is incredibly versatile!
💭 Angela's Tips & Recipe Notes
Be generous with your seasoning and sauce. These will enhance the flavor of the ribs to make them irresistible.
Coat the ribs completely with the seasoning blend before putting them in the oven. When it's time to apply the sauce, be generous—the more sauce, the better!
Want to try smoking these Beef Back Ribs? This recipe can work for any smoker type!
Smoking the ribs can add an extra layer of flavor. Be sure to follow the manufacturer's directions and allow yourself adequate time to smoke the ribs. Check out my Smoked Beef Ribs for more tips!
Don't forget to increase the temperature at the end!
Increasing the oven temperature creates a reverse sear, caramelizing the BBQ sauce and giving the ribs that classic, finger-licking taste.
Remove the rib's membrane (silverskin) to ensure maximum tenderness.
This step is optional but recommended if you have time! The membrane on the underside of the ribs can become tough.
Removing it can make the ribs more tender and allow the seasoning to soak into the meat more deeply. But your ribs will still be delicious either way!
🔪 Step-By-Step Instructions
Your oven will transform these ribs into a succulent and juicy meal, but don't forget to preheat! It is essential to ensure your ribs get cooked on time.
Preheat and Prep. Before you begin, turn your oven on to 350°F (176°C) to make sure it's the perfect temperature to cook the ribs. Line a large baking tray with foil or parchment paper and set aside.
Rinse the beef ribs. Rinse the 3 pounds of beef ribs under cold water and pat them very dry with paper towels. Then, place them onto a large plate or plastic cutting board for preparation.
Prepare. If you wish, pull off the membrane from the underside of each rib. First, use a butter knife to loosen the membrane. Then, use your hand or a paper towel to peel the membrane away from you. Next, cut each rib apart from each other, cutting between each bone down the rib rack.
Season. Coat each rib with the dry seasoning, being sure to cover each piece completely. No need for extra oil: beef ribs naturally have more fat, which will render and keep the meat moist and juicy.
Bake. Place the ribs onto your prepared baking tray and bake for 1 hour. Use this time to get your sides and, if you're making it, home-made sauce ready.
Sauce 'em up. After one hour, pull the ribs out of the oven. Increase the temperature to 450° F (232° C). Drench your ribs with one cup of your favorite or home-made BBQ sauce, coating every inch.
Caramelize the ribs. Return the ribs to the oven at 450°F (232°C) for 10-15 minutes, or until the sauce begins to bubble and look delicious. Keep your eye on the ribs so they don't burn!
Serve and enjoy. Take the ribs out of the oven and let them cool slightly before serving.
I love serving my decadent bbq baked beef back ribs for dinner with some creamy Southern mac and cheese, juicy corn-on-the-cob, or bright and savory braised collard greens.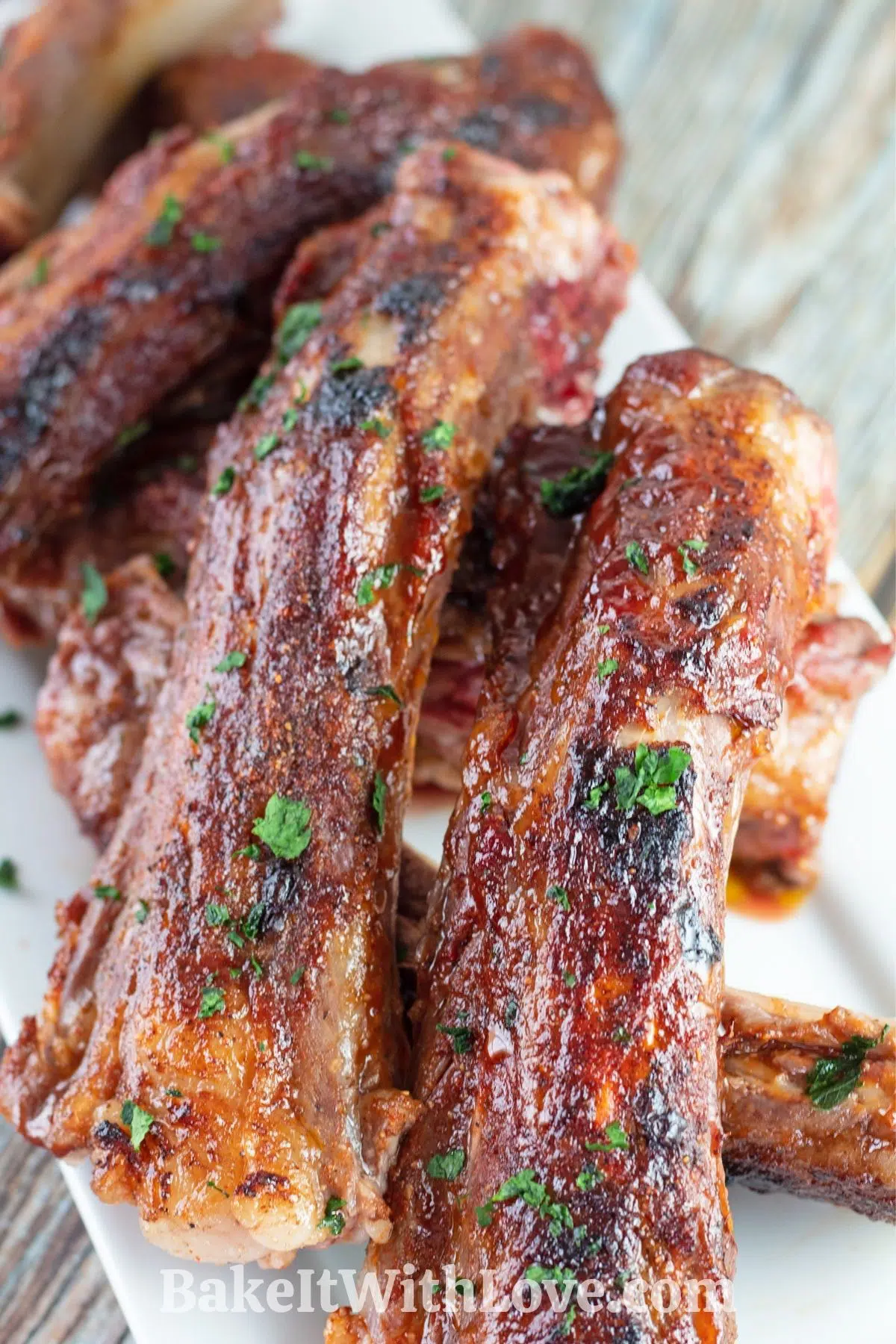 🥡 Storing & Reheating
Refrigerating
These ribs can be stored in an airtight container or wrapped in foil and kept in the fridge for no more than 3-4 days. But they're so delicious, you'll have eaten them all before then!
Freezing
To enjoy these ribs later, place the completely cooled ribs into an airtight container, double wrapped with plastic wrap or heavy-duty foil. They can then be frozen and stored for 2-3 months.
I recommend the above method to ensure no freezer burn and no mess when your ribs defrost!
Reheating
To reheat, wrap the leftover ribs in foil and reheat in the oven at 225°F (107°C) until hot and sizzling, applying more sauce if desired.
I do not recommend using the microwave to reheat your leftover beef ribs, which can result in a dry or rubbery texture. You want to keep these ribs juicy!
❓ FAQ
Is there a difference between beef back ribs and beef short ribs?
Back ribs are what you get when the Prime Rib cut is removed from its bones. Short ribs are smaller and are cut from a lower portion of the rib cage. They are delicious, but not meant to be used in this recipe, as they need to be cooked for longer periods of time. If you're having trouble finding the beef back ribs, ask your butcher!
What temperature should the ribs be when done?
You want to be sure to have these amazing ribs reach an internal temperature of 205°F (96°C). Beef ribs are safe to eat at 145°F (63°C) but cooking them to this higher temperature will ensure they are pull-apart tender.
Can I finish these on the grill?
Absolutely! If you desire, you can light up your grill (according to the manufacturer's instructions). After the ribs have cooked for an hour in the oven, sear and let them caramelize on the grill for another layer of smoky goodness.
Where can I buy beef back ribs?
You should be able to find beef back ribs at any grocery store, next to the pork ribs and other meats. But if you're having trouble, contact a local butcher shop. It's worth it to use them - beef back ribs have such amazing flavor!
📋 Recipe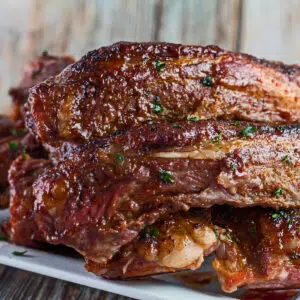 Print Recipe
Leave A Comment
Love This Recipe?
Click On A Star To Rate It!
Baked Beef Back Ribs
These juicy Baked Beef Back Ribs are slathered with a flavorful rib seasoning and sticky BBQ sauce before cooking up to perfection! They are quite simply the easiest way to satisfy your summertime barbecue cravings at any time of the year!
Cooking
1
hour
10
minutes
Total Time
1
hour
15
minutes
Pin Recipe
Share on Facebook
Ingredients
3

lbs

beef back ribs

(1 full rack of ribs)

1

steak or rib seasoning

(Use mine or store bought)

1

cup

BBQ sauce

(Your favorite)
Instructions
Preheat oven to 350°F (176°C).

Rinse and pat dry ribs with a paper towel.

(Optional) Remove membrane off the underside of the ribs if desired.

Cut each rib apart from each other.

Apply a good amount of my steak seasoning (or your favorite beef seasoning) to the ribs.

Line a baking tray with foil or parchment paper. Put the ribs on the tray, and bake at 350°F (176°C). for 1 hour.

After 1 hour, remove your ribs from the oven. Increase temperature to 450°F (232°C).

Brush your favorite BBQ sauce over the ribs, and return to the oven at 450°F (232°C) for 10 to 15 minutes.

Remove from oven and allow to cool slightly, serve and enjoy!
Notes
The increased oven temperature at the end is a reverse sear that will beautifully caramelize your ribs!
Nutrition
Calories:
515
kcal
(26%)
|
Carbohydrates:
29
g
(10%)
|
Protein:
44
g
(88%)
|
Fat:
24
g
(37%)
|
Saturated Fat:
10
g
(63%)
|
Polyunsaturated Fat:
1
g
|
Monounsaturated Fat:
10
g
|
Cholesterol:
134
mg
(45%)
|
Sodium:
882
mg
(38%)
|
Potassium:
976
mg
(28%)
|
Fiber:
1
g
(4%)
|
Sugar:
24
g
(27%)
|
Vitamin A:
160
IU
(3%)
|
Vitamin C:
1
mg
(1%)
|
Calcium:
42
mg
(4%)
|
Iron:
5
mg
(28%)
Baked Beef Back Ribs, BBQ, beef back ribs, beef ribs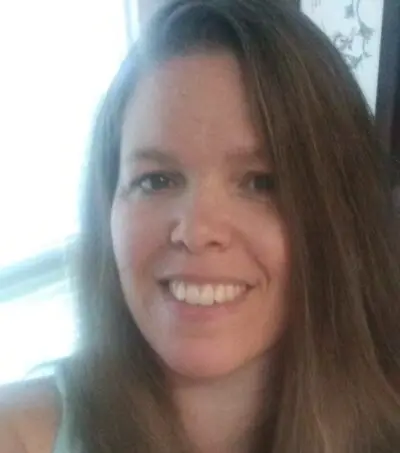 Angela is an at home chef that developed a passion for all things cooking and baking at a young age in her Grandma's kitchen. After many years in the food service industry, she now enjoys sharing all of her family favorite recipes and creating tasty dinner and amazing dessert recipes here at Bake It With Love!