My homemade Steak Seasoning spice blend is quick and versatile! It's perfect for grilled or pan seared steaks, and works just as well for seasoning pork and chicken!!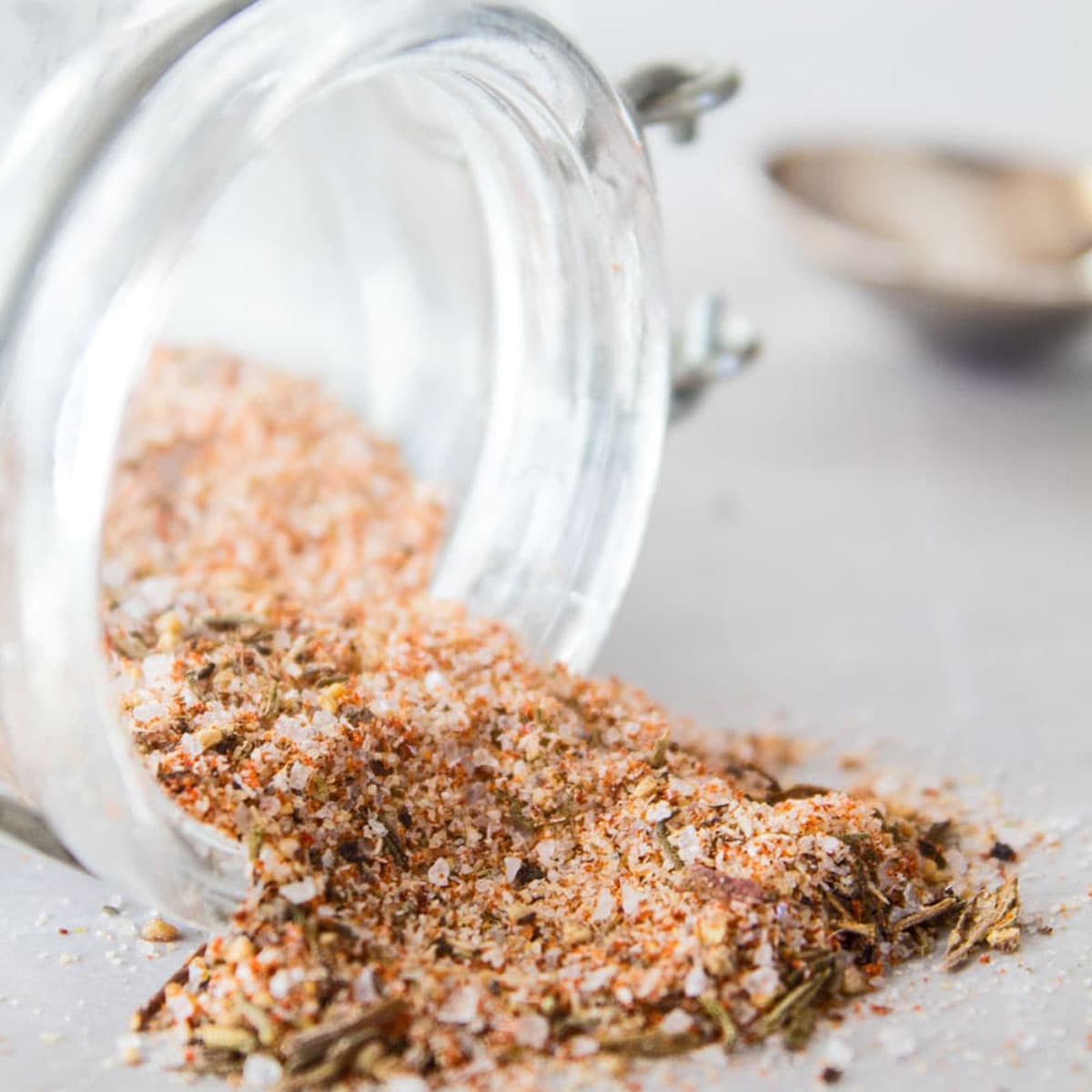 I love bringing home a fabulous steak to cook up, and when I do, I want it to be perfect! One of the keys to really bringing out the best flavors in a steak cut of any quality is to use an amazing steak seasoning!
Jump to:
🥩 Homemade Steak Seasoning
---
Your well seasoned steak will impress everyone with the delightful flavor and appetizing caramel coloring!
If you're pan searing your steak rather than grilling, you can also add fresh herbs and some whole garlic cloves to your pan to enhance the steak flavor even more!
The amount of seasoning needed will depend on the thickness of your steak cut or roast, and your taste preferences. That said, mix up enough of this seasoning blend to store with your spices. Sealed in an air tight container, the steak seasoning will last for months!
🥘 Ingredients
---
2 tablespoon coarse ground pepper (freshly ground)
2 tablespoon Kosher salt (or Himalayan, freshly ground)
1 tablespoon onion powder
1 tablespoon garlic powder
1 tablespoon smoked paprika
2 teaspoon dried thyme
1 teaspoon dried rosemary
🤔 What Makes A Great Steak Seasoning?
---
A good quality steak really only needs salt and pepper, but the addition of a few other herbs and spices can bring out the best flavors of your steak!
The best steak seasoning always has salt and pepper as the core ingredients. I suggest coarse ground pepper ( reshly ground) and either kosher salt or Himalayan salt depending on what you have on hand ( see notes below on quantities of each to use ).
The other herbs are used in just the right amount, so as to not overpower or take away from that wonderful steak flavor! Onion powder and garlic powder just go with steak.
If you like to pan sear your steaks with fresh garlic cloves, you can omit the garlic powder or drastically reduce the quantity.
The additional dried herbs, rosemary and thyme, are also herbs that are a classic pairing with steak. Either fresh or dried, both herbs highlight the steak flavors and add a lightness that works well with all of the savory elements in the seasoning.
Paprika is another one of the savory elements you want to add to the spice blend. Not only does paprika add flavor, but it also helps the steak(s) to caramelize for a superbly colored steak.
I use smoked paprika. It's a spice rack essential for me, and has become readily available at most grocery stores in recent years. If you don't have smoked paprika, see my notes below on paprika vs smoked paprika and smoked paprika substitution.
🔪 Step-by-Step Instructions
---
Making your steak seasoning blend is really easy. It's just a matter of combining your desired spices and dried herbs.
So the first thing to consider is how much steak seasoning you want to make at this time. Scale the recipe up or down as needed.
Gather ingredients (freshly ground pepper, salt, onion powder, garlic powder, smoked paprika, dried rosemary and dried thyme) and an appropriate storage container. Something as simple as a ziploc plastic storage bag works, or a saved spice container that has been washed and dried. I like my little apothecary bottles, but they were ordered online.
Use a bowl and combine the ingredients as you measure them out. Then I season my steak(s) and store away whatever is left once I have finished cooking my protein.
Whatever you choose to use for storing your steak seasoning mix, it will last longer if stored in your cabinets, away from the light. I say the seasoning blend is best used within 3 months, but really it will last longer if stored appropriately.
Salt Conversions (Kosher, Himalayan, Table Salt)
When deciding which salt to use for your steak seasoning mix, it is preferable to use a larger grained salt like kosher salt or pink Himalayan salt. The larger granules dissolve slowly during the cooking process.
Kosher salt and Himalayan salt can be used interchangeably as far as amounts go. If you only have table salt on hand, or prefer to use table salt, you will need to use less table salt than you would either Kosher or Himalayan salts.
For table salt substitution:
La Baleine Course Sea Salt, La Baleine Fine Sea Salt and Real Salt Fine Sea Salt convert at 0.9, so 1 tablespoon sea salt = 0.9 tablespoon of table salt or 2.7 tsp. I round up to 2 ¾ teaspoon or consider the difference negligible and continue to use a tablespoon amount of table salt.
Real Salt Kosher Salt and Morton's Kosher Salt convert at 0.8, so 1 tablespoon kosher salt = 0.8 tablespoon of table salt or 2.4 tsp. I round up to 2 ½ teaspoon of table salt.
Diamond Crystal Kosher Salt convert at 0.6, so 1 tablespoon Kosher salt = 0.6 tablespoon of table salt or 1.8 tsp. I either measure just shy of 2 teaspoon or round up to the 2 teaspoon of table salt.
Maldon Flaky Sea Salt convert at 0.4, so 1 tablespoon sea salt = 0.4 tablespoon of table salt or 1.2 tsp. I round up to 1 ¼ teaspoon table salt.
Kosher salt vs Himalayan salt
Kosher salt is distinctly white, like our standard table salt. The flavor of Kosher and table salt is a pure salt flavor and both are primarily composed of sodium chloride.
Himalayan salt varies in shades of pink, from nearly white or off white to deeply pink. This is due to the ancient oceans that the salt is mined from, and the algae, bacteria and minerals that reside in the salt. Himalayan salt offers trace amounts of minerals that our bodies need, and these minerals affect the taste profile of the salt.
Paprika vs Smoked Paprika Seasoning
There are actually ALOT of paprika varieties! Spanish paprika has three types, Hungarian paprika has eight types, and then there's sweet, hot and smoked paprika varieties that are found in most retail grocery stores.
The standard paprika is made up from peppers of the capsicum family, usually tomato peppers which are a bell pepper or sweet pepper variety. Hot paprika is made with the same pepper varieties, but with a hot pepper variety like chili peppers or cayenne peppers mixed in.
Smoked paprika is made from chili peppers that are oak smoked (smoke dried) first. The smoked chilies are then crushed to make smoked paprika.
The flavor profile that smoked paprika brings is almost like being able to add liquid smoke to your seasoning mix. Smoked paprika is a wonderful addition to nearly any hearty, savory dish!
The flavor is distinctly different than regular paprika, although paprika will work in this steak seasoning mix in the same quantity.
Best Smoked Paprika Substitute
If you would like to add that smoky tone to your paprika, use 2 parts paprika to 1 part cumin. That is my best smoked paprika substitute that I have found when making a dry spice blend.
🧂 How To Season A Steak
---
Start out with a room temperature steak, if possible. I like to allow about 1 hour for my steaks to come to room temperature. But at a minimum try to set your steaks out for at least 30 minutes.
The steaks will cook faster and more evenly if you are not having to heat up a cold steak!
Don't season your steak until you're almost ready to cook it! A steak should be salted and cooked within three minutes of seasoning with salt, and preferably immediately after adding the seasoning (containing salt).
The best way to season steak is to start out with less seasoning, and add more as needed. It's really hard to remove seasoning if you find that you've been a bit heavy handed and overdone it!
Sprinkle seasoning over both sides of the steak, and use your fingertips to apply pressure (but not rub) the seasoning so it adheres to the steak surface. You can also place some seasoning on your tray or plate, then coat the sides of the steak. This is a wonderful addition to your fatty sections left on the sides of a steak, too!
Once seasoned, transfer to a heated grill or pan and cook to your desired level of doneness.
Do you love a recipe you tried? Please leave a 5-star 🌟rating in the recipe card below and/or a review in the comments section further down the page.

Stay in touch with me through social media @ Pinterest, Facebook, Instagram, or Twitter! Don't forget to tag me when you try one of my recipes!
📋 Recipe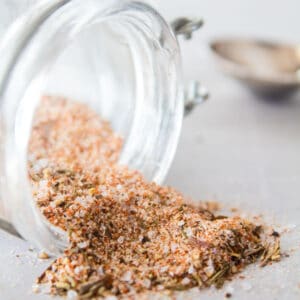 Print Recipe
Leave A Comment
Love This Recipe?
Click On A Star To Rate It!
Steak Seasoning
My homemade Steak Seasoning spice blend is quick and versatile! It's perfect for grilled or pan seared steaks, and works just as well for seasoning pork and chicken!!
Pin Recipe
Share on Facebook
Ingredients
2

tablespoon

coarse ground pepper

(freshly ground)

2

tablespoon

Kosher salt

(or Himalayan, freshly ground)

1

tablespoon

onion powder

1

tablespoon

garlic powder

1

tablespoon

smoked paprika

2

teaspoon

dried thyme

1

teaspoon

dried rosemary
Instructions
Gather all spices and measure steak seasoning ingredients into a small bowl, combine.

Season room temperature steaks (or beef roasts, as well as pork or chicken ) before grilling, pan searing, or oven roasting.

Store unused seasoning in an air tight container or plastic storage bag away from light.
Notes
*The homemade steak seasoning blend should be stored in an air tight container or plastic storage bag and is best used within 3 months. However, the seasoning mix will last longer if stored appropriately.
Nutrition
Calories:
4
kcal
|
Carbohydrates:
1
g
|
Protein:
1
g
(2%)
|
Fat:
1
g
(2%)
|
Saturated Fat:
1
g
(6%)
|
Sodium:
466
mg
(20%)
|
Potassium:
17
mg
|
Fiber:
1
g
(4%)
|
Sugar:
1
g
(1%)
|
Vitamin A:
120
IU
(2%)
|
Vitamin C:
1
mg
(1%)
|
Calcium:
4
mg
|
Iron:
1
mg
(6%)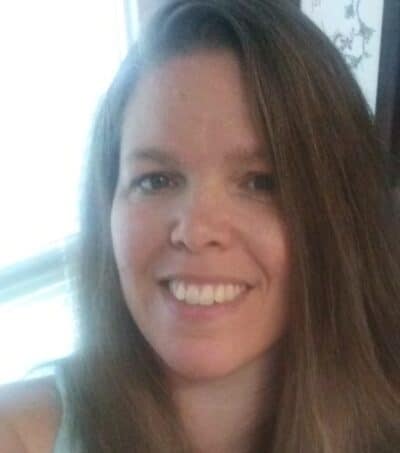 Angela is an at home chef that developed a passion for all things cooking and baking at a young age in her Grandma's kitchen. After many years in the food service industry, she now enjoys sharing all of her family favorite recipes and creating tasty dinner and amazing dessert recipes here at Bake It With Love!