Have you ever wondered 'What's The Difference Between Lamb, Mutton, and Goat Meat'? I've heard this question and decided to ask my neighbor that raises goats for goat meat. What I found out was enlightening!!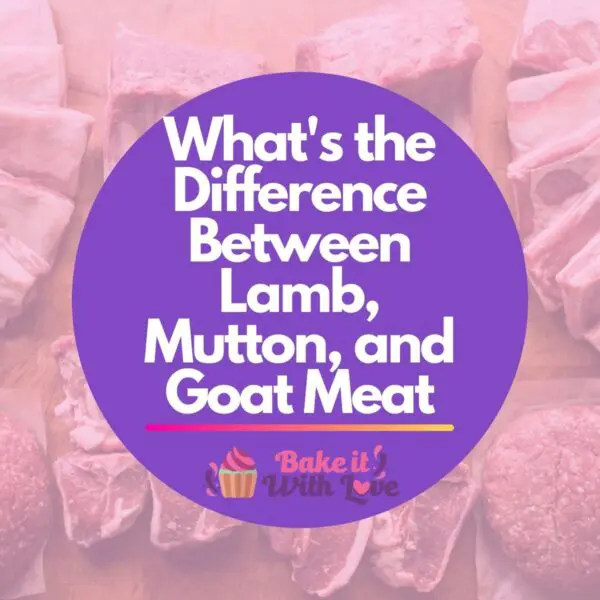 Let's start with the basic differences between the three before getting into finer detail. Lamb and mutton meats are from sheep, and goat meat is from goats. This is true for most countries unless you're in South Asia ( India ), Australia, or Jamaica.
In India, the meat from a goat can also be referred to as mutton or sheep interchangeably. However, this is not the case in the United States and Europe.
I'll get more specific now. In this article, I refer primarily to terminology in the US and Europe.
Difference Between Sheep and Goats
Sheep are a different species than goats. Sheep (Ovine species) can have wool or hair, so that is not how to differentiate the two species.
The best way to tell, if you were looking out into a field of grazing animals, is that sheep have tails that hang down. Goats (Caprine species) have tails that point upward.
Sheep Terminology by Age and Gender
Lamb (in general) - is a sheep under one year of age. The meat is very tender and has less fat than older sheep.
American lamb is typically fed milk and grain, which yields a milder flavor still. Imported meat from Australia or New Zealand has been grass-fed and will have a slightly stronger flavor than domestic lamb meat.
Milk Lamb - a very young lamb, between 4 - 6 weeks of age. Milk-fed only and has superbly tender meat with a mild flavor.
Spring Lamb - a baby lamb, under 3 - 5 months of age. These lambs are primarily milk and grain-fed and typically sold around Easter or before June 1st. The meat is lighter in color, a pale pink. It is more tender than older lamb meat and has a more mild flavor due to the lower fat content.
Ram Lamb - a male lamb, under one year of age.
Ewe Lamb - a female lamb, under one year of age.
Hogget - a male or female sheep between 1 - 2 years of age, sometimes called 'yearling mutton'. The meat from a hogget sheep is a combination of the tenderness expected of a young lamb and the gamey flavor of older sheep or mutton meat.
Mutton - sheep meat from a male (typically a castrated male) or female sheep over 2 years of age. The flavor of mutton is very strongly gamey to most Americans, which is why it is not commonly sold outside of specialty butcher shops or sheep farms.
The strong flavor is due to the higher fat content in adult sheep. To reduce the gamey flavor, you should trim off any excess fat.
Mutton meat is best eaten when around 4 years of age. The meat should be a deep red in color, as the meat from older animals is darker than lamb meat.
Ram (sometimes called a 'tup' - a mature male sheep capable of reproducing.
Ewe - a mature female sheep.
Wether - a castrated male sheep.
*Now, to add some confusion, I've sometimes heard any castrated male sheep (a wether) referred to as mutton. This is most likely because that male would be intended to be used for meat.
Sheep are raised for their wool, meat, hides, and only occasionally for milk. There are a few specialty kinds of cheese produced from sheep's milk.
Goat Terminology by Age and Gender
Kid - a young goat under one year of age of either sex, male or female.
Buckling - a young male under one year of age is sometimes called a buckling.
Buck or Billy - a mature male goat capable of reproducing.
Wether - a castrated mature male goat, wethers intended for meat are castrated between 6 - 9 months of age and processed for meat typically before one year of age.
Doe or Nanny - a mature female goat.
Goat Meat, Goat's Meat, or Chevron - goat or goat's meat from adult goats. The lean goat meat has a stronger game flavor as the animals mature.
Kid, Capretto, Cabrito, or Natalie - cabrito is goat meat from a grass-fed young goat. Kid, capretto, or natalie is young goat meat under one year of age. Like lamb vs mutton, the gamey flavor of goat meat is milder in the meat from kid goats.
Goats are raised for their meat, milk, fibre ( hair ), and hides. Locally ( here where I live in Minnesota ), goats can also be rented to clear areas of heavy underbrush and weeds.
Both the meat from sheep ( lamb and mutton ) and goat's meat ( kid and chevron ) are red meats like beef. Both sheep ( lamb and mutton ) and goat's meat ( kid and chevron ) are inspected by the USDA at approved facilities.

Lamb vs Goat - The Difference Between Lamb Meat & Goat Meat
When considering overall nutrition, goat meat is generally considered to be healthier meat than lamb or mutton meat.
Goat meat is slightly sweeter and milder than lamb meat.
Goat meat has more protein per ounce of meat than lamb or mutton meat.
Lamb meat has a higher fat content than goat meat ( the fat is where the gamey flavor is most noticeable ).
The distinctive odor of lamb meat is due to caprylic acid stored in the fatty portions of lamb cuts.
Since goat meat has less fat and marbling than lamb it is generally a tougher cut of red meat than lamb.
*If you don't like lamb or venison meats, then it is not likely that you will find goat meat tasty either!
Selecting Lamb and Mutton Meat
Lamb and mutton meat is USDA graded on a voluntary basis. The lower grade levels, utility, and cull are used for ground meat and processed meat products.
Higher grade levels, in order of quality from high to low, are Prime, Choice, and Good. These three grade levels of meat are the ones found at your local retail grocery store or butchers. The majority ( approximately 80% ) of lamb and mutton cuts sold at retail locations are either Prime or Choice.
Not all lamb meat is graded; however, all lamb meat is inspected for 'wholesomeness' according to the USDA fact sheet on lamb.
USDA inspected lambs can be raised using hormones and antibiotics, although both are given time to cycle out of the animals before processing. When processing, the meats are inspected for residual hormones or antibiotics and must be under FDA legal tolerance amounts.
When purchasing lamb meat, you should look at the texture of the meat. It should be fine-grained and vary in shades of light pink to red ( depending on age, the older the animal, the deeper the color of red in the meat ).
Fine white marbling should be present in the meat muscle, and the white fat should be firm but not too thick in any area of the meat portion.
Mutton meat will have a larger, more open, grain texture. The marbling should still be fine, and the fat should be obviously white, not off-color.
I have had good luck when using older lamb or mutton with a gamey flavor. When cooking, sear in some sesame seed oil before roasting or braising to help offset the strong flavor.
Lamb Recipes
Selecting Goat Meat
Although all processed goat meat intended for sale is inspected, the meat is not graded, according to the USDA fact sheet on goat meat.
The use of hormones is not approved in raising goats, although preventative or treatment antibiotics can be used. As in lamb raising, there is a period of time required for the antibiotics to cycle out of the goat before it can be processed for meat.
Imported goat meat is also tested for residual antibiotics. Both domestic and imported goat meat must be under FDA legal tolerance amounts.
Overall, goat meat is fairly lean, so choose meat that is fine-grained and evenly colored. Fat should be white and firm, with little marbling seen in the muscle grain.
Kid meat is milder in flavor and best for a first time purchase of goat meat. Overall, even though goat meat is known for its gamey flavor, it also has a certain sweetness to it that lamb and mutton meat do not have.
Typically, due to the lower fat content in goat meat, you will want to use slow cooking techniques. Neck, Leg, Shoulder, Shank, and Breast goat meat do well low and slow-roasted in the oven or braised. Loin and Rack can be grilled, pan-seared, or quickly roasted.
More about the author:
I wanted to take a quick moment to share some of my personal experiences in life that have led to why I would have a good base of knowledge on meat and meat animals. Yes, I love to cook! But I also have a lifetime of being animal obsessed.
I took courses in agriculture, veterinary science, and equine science from my high school age. I worked at a veterinary clinic, was involved in FFA (Future Farmers of America), then after high school, I worked for a horse trainer before going into the culinary field.
I have raised pigs and cattle and kept multiple fish tanks with various tropical fish, goldfish, eels, and crabs. I currently have my horse, two rabbits, two dogs, and six cats. I've been toying with the idea of adding some sheep, but for now, I have two local farmers that I purchase lamb from.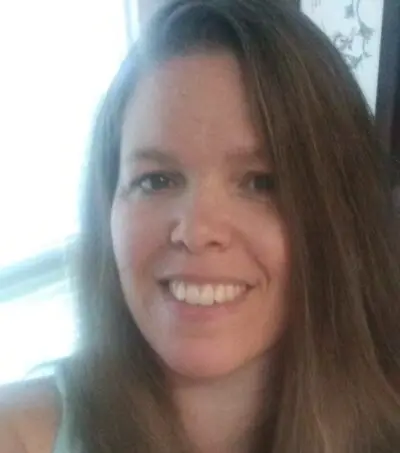 Angela is an at home chef that developed a passion for all things cooking and baking at a young age in her Grandma's kitchen. After many years in the food service industry, she now enjoys sharing all of her family favorite recipes and creating tasty dinner and amazing dessert recipes here at Bake It With Love!