This Ultimate Guide to Cooking Lamb has everything you need to know to make the juiciest, most tender, and richly flavored lamb possible. You'll find everything here from tips and tricks to recipes and more! Whether you roast it, smoke it, or grill it, your lamb will turn out incredibly delicious every time!
How To Cook The Best Lamb
Compared to other meats, lamb is one of the least common meats sold in the United States. While other meats like chicken, beef, and pork are eaten regularly throughout the year, lamb tends to be meat that is saved for special occasions.
You may even be looking at this ultimate guide to cooking lamb to prepare for a special occasion. Whether you are preparing lamb for a special occasion, or just want to change up your typical pot roast, this guide will lead the way.
Jump to:
Cuts of Lamb
Just like other types of meat, there are multiple cuts of lamb. While leg of lamb is one of the most popular and tasty cuts of lamb, the other cuts are equally flavorful and great to eat any time of year (not just for special occasions).
Leg of Lamb
A leg of lamb is not only a common cut for special occasions in the United States but around the world. Especially in the Middle East and Greece. It is a large cut that typically weighs anywhere from 3 to 6 pounds. This is one reason it is a great choice for a celebration because it can feed a lot of people.
Bone in
Serving a leg of lamb with the bone in is quite a presentation. Therefore, many people choose this traditional cut when they want to showcase the roast.
In addition to the look of a bone in the leg of lamb, the bone also provides some additional flavor to the roast. However, it also makes it more difficult to cook.
With the leg in, you need to make sure the leg of lamb you purchase will fit in your oven. Moreover, you want to be aware that your leg of lamb will not cook evenly throughout.
Due to the shape of the meat tapering off down the bone, there will be pieces of meat that get more well-done. However, this will not impact the primary part of the roast - you can still easily cook the main part of the roast to your desired level of doneness.
Boneless
A boneless leg of lamb is a great alternative for those who don't have the oven space or desire to cook a bone-in leg of lamb. This cut is the same meat as a bone-in, except that the butcher has removed the bone. Therefore, your roast will be round and easier to cook.
While it will lose a tiny bit of flavor from the bone, it is not much. Especially when it comes to how much easier it is to prepare and cook.
Typically, a boneless leg of lamb is tied and sold in a net bag to help it maintain its shape. Moreover, it will be a more consistent round shape so that you get a more evenly cooked lamb throughout.
Butterfly
Another option for your leg of lamb is a butterfly cut. This is a leg of lamb where the bone has been removed but the meat has not yet been rolled into the shape of a roast (like a boneless leg of lamb).
This cut is typically only available through a butcher. Therefore, if you want to try this option look for a reputable local butcher and ask them for a butterfly-cut leg of lamb.
One benefit of this lamb is that you can season both sides of the meat before rolling it. Therefore, you get evenly seasoned meat and an even bolder flavor. Simply season both sides. Then, roll the meat together, with the fat on the outside. Use butcher twine to tie it together in several spots.
How to Make Lamb Less Gamey
People often avoid lamb because they think the flavor is too gamey. While lamb does have a richer flavor than beef, it does not have to be overly gamey. The key is in the fat.
The flavor of any type of meat is found in the fat. Therefore, the less fat that the meat is cooked in, the less distinct flavor.
While you can cut off excess fat on most lamb cuts, it is easiest with a butterfly cut. Before rolling it up to cook, you can slice off areas of excess fat. You can even ask your butcher to do this for you.
Even though you may not want a strong gamey flavor, you do want some flavor. You also want moisture. Therefore, don't get rid of all the fat. Keep enough so that you still get a richly flavored moist leg of lamb.

Another trick is to add a small amount of sesame seed oil to the cooking oil ,if using any. It helps to decrease the gamey flavor.
Other Cuts of Lamb
Half Leg of Lamb
While many people love a leg of lamb for special occasions, some also enjoy it for a nice Sunday dinner. However, a full leg of lamb is quite large. Luckily, you can often find half of a leg of lamb.
A half leg of lamb will be a boneless cut and quicker to cook for a regular evening dinner.
Lamb Shoulder
Lamb shoulder is cut as a roast and can be purchased boneless or with the bone in. It is a fattier cut of meat. Therefore, while it will be super tender once cooked it will also have a stronger and more distinct lamb flavor.
Lamb Rump
Another choice for a nice roast is a rump roast. In contrast to a shoulder roast, a rump roast is a leaner cut of meat. It typically has a simple layer of fat over the top that helps the moisture stay in throughout cooking, but there is no excess fat throughout the meat. Therefore, this is a good choice for those who want a roast with a less gamey flavor.
However, lamp rump is not as frequently sold in grocery stores. If you have a butcher though, you can ask them for a lamp rump roast.
Lamb Loin
Another great choice for a roast is a lamb loin. Lamb loin is typically sold boneless and is more commonly sold in mainstream grocery stores.
It does not have the fatty layer that the rump roast does that helps to keep the moisture in. Therefore, it is important to cook this type of cut slowly so it doesn't dry out.
Lamb Chops
Lamb chops are any smaller cut of meat that can be cooked individually, rather than a whole roast. Chops often come from the rump, loin, or rib area. Any of these lamb chops are tasty choices that will have good flavor and be easy to cook.
Rack of Lamb
The small steaks that come from the ribs make up a rack of lamb. These smaller cuts of meat are easy and quick to cook. Moreover, they have a less gamey flavor than larger cuts of lamb. While a great choice for dinner during the week, if presented correctly these also make for an impressive lamb dish for a special occasion.
Ground Lamb
Ground lamb is typically made from breast meat. It has a rich flavor and is quite moist, making for delicious burgers! In addition, this cut of lamb is wonderful for adding a rich and decadent flavor when blended with ground beef to make meatballs or meatloaf.
How to Choose a Cut of Meat
Choosing the best cut of lamb depends on personal preference. Specifically, what type of flavor you want, how long you want to spend preparing it, and what occasion you are preparing it for.
As mentioned before, a leg of lamb is typically prepared for a special occasion. However, if you want the rich flavor of the leg of lamb just for a delicious dinner you can reach for a half leg of lamb.
In addition, a lamb shoulder, rump, or loin are other excellent choices for an easy roast any time of year. Other easy cuts for a casual dinner are lamb chops, a rack, or ground lamb. In the end, it is all about what you enjoy the most.
Is Lamb the Same as Mutton?
While you are choosing your desired cut of meat you may find yourself wondering about other types of meat, like mutton or even goat.
Compared to lamb, mutton and goat are even less common meats consumed in the United States. In fact, you cannot usually buy mutton or goat unless it is from a special butcher.
However, around the world, these two types of meat are just as common as lamb. Therefore, it is important to know about these differences.
The basic difference between these three is that lamb is meat from a sheep that is less than a year old, while mutton is meat from sheep that is 2 years old (or older). The goat, while also a small animal is a different species than sheep.
If you want to learn more about these types of meat check out my detailed post about What's The Difference Between Lamb, Mutton, and Goat Meat.
How to Season the Lamb
Now that you have decided on your perfect cut of lamb it is time to prepare it for cooking. That means, choosing how to season the lamb. Before I give you my favorite tips for seasoning lamb though, there is one more important tip for cooking lamb: let the meat come to room temperature.
You do not want to cook the lamb cold. Therefore, before you start seasoning it, remove it from the fridge and let it sit on the counter for 10-20 minutes (depending on how large it is). Once it has reached room temperature, you can season it and then immediately cook it.
While a simple rub of salt and pepper is always a good starting point, there are so many wonderful flavors you can pair with lamb. In addition to basic salt and pepper, three classic seasonings for lamb are garlic and oregano.
Even though you can easily use the dried version of each of these herbs, fresh ones are amazing if you have access to them. Simply chop up a handful of garlic cloves, fresh oregano, and fresh rosemary, and mix with a little olive oil. Use this paste to rub all over the lamb before cooking.
Lamb Rub and Marinade Recipes
If you are ready to take your seasoning game a bit further, check out my lamb rub or lamb marinade.
My lamb rub adds to the basic seasonings above with additional flavors like sage, orange peel, and paprika, to create a delightfully Mediterranean flavor.
For a rich and herbaceous flavor, try my lamb marinade which includes lemon, mint, and a plethora of other fragrant herbs.
My mint sauce for lamb is another great condiment for adding extra flavor to your lamb!
How to Cook Lamb
Once you have selected the cut of lamb you want to serve and how you want to season it, the next part is deciding how to cook it.
Small Cuts of Lamb
The best way to decide how to cook your lamb is to look at the cut of meat you are cooking. As a general guideline, smaller cuts like chops or shanks are best cooked on high heat for a shorter amount of time. This can be done in a roasting pan in the oven or even in a skillet on the stove.
Large Cuts of Lamb
On the other hand, larger cuts of lamb like a leg or other roast are often best prepared using the low and slow method. Cooking the roast for a longer amount of time at a lower temperature.
The standard temperature for this type of roasting is 350°F (175°C). The standard time for cooking is about 30 minutes for every pound of meat.
In addition to these standard methods, there are other choices. For example, you may choose to sear a boneless roast in a skillet to seal in the juices before moving it to the oven. This combination of quick and high heat for a short minute, followed by a low and slow roast is one of the best ways to prepare a large lamb roast.
Internal Temperature
Regardless of how you cook the lamb, it is important to check the internal temperature with a meat thermometer for the exact doneness. While the USDA recommends cooking lamb to an internal temperature of 145 °F (63°C ) many people prefer to eat lamb that is medium or medium well.
Use the guide below to find the internal temperature for the desired level of doneness. Whatever your preference, remember to remove the meat from the heat when it is still 5-10 degrees below your desired level of doneness. Then let it rest and finish cooking off the heat.
Rare: 120°F (49°C)
Medium-rare: 125°F (52°C)
Medium: 130°F (54°C)
Medium-well: 145°F (63°C)
Well: 150°F (66°C)
My Guide On How To Roast Lamb will give you even more detailed tips on how to prepare any cut of lamb and the perfect way to cook it.
How to Serve Lamb
Since lamb is often the star of the meal, you want to make sure it has equally delicious and well-presented side dishes. As with the lamb itself, this will depend on your preference for tastes. It can also depend on the type of cut.
A more formal dinner with a full leg of lamb may have several side dishes such as a starch, salad, and dessert. However, a more casual meal with lamb chops may call for one simple side.
Whatever you prefer, I have put together a list of my favorite sides to serve with lamb.
This list includes everything from potato dishes to lemon asparagus orzo, with mac and cheese and roasted Brussel sprouts in between. There is truly a side dish for every occasion ad every taste bud! Choose one or several to pair with your lamb.
Make Lamb a More Common Dinner
With so many tasty side dishes to choose from, you may need to start making lamb a more common choice for dinner. Simply come back to this ultimate guide as much as needed to try out new cuts of lamb, new seasonings, and even new ways of roasting! You may find you love lamb just as much (or more) than the standard beef, chicken, and pork dishes more commonly cooked.
🥩 Lamb Recipes To Try
📋 Recipe
Print Recipe
Leave A Comment
Love This Recipe?
Click On A Star To Rate It!
Ultimate Guide To Cooking Lamb: Roasted Leg of Lamb
This Ultimate Guide to Cooking Lamb has everything you need to know to make the juiciest, most tender, and richly flavored lamb possible. You'll find everything here from tips and tricks to recipes and more! Whether you roast it, smoke it, or grill it, your lamb will turn out incredibly delicious every time!
Total Time
2
hours
10
minutes
Pin Recipe
Share on Facebook
Ingredients
5

lb

leg of lamb

(bone-in, anywhere between 4-7 pounds on average)

2

tablespoon

olive oil

salt & pepper
Herb Rub
Roasted Veggies
2

cups

chicken broth

2

lbs

yellow potatoes

 (washed and halved or quartered)

1

large

onion

 (sliced in thick rings, or quartered)

2

teaspoon

garlic

(minced)

1-2

sprigs

rosemary

½

teaspoon

each, salt & pepper

½

teaspoon

garlic powder

½

teaspoon

onion powder

½

teaspoon

paprika

(optional)
Instructions
Sear Lamb
Before starting, set the lamb leg out for 30 minutes to an hour to take the chill off and bring it to room temperature for best results while roasting.

Rinse and pat the lamb leg dry using paper towels. Trim any excess fat, if needed. Score the upward facing fatty layer in a criss-cross pattern using a (not too sharp) knife without going so deep that you cut into the lamb meat.

Apply the olive oil and season generously with salt & pepper - use kosher salt & freshly ground black pepper for best taste.

2 tablespoon olive oil,

salt & pepper

Place your seasoned lamb into a roasting pan with a rack inside and set your oven to 450°F (232°C). Move the oven rack down if needed, then place the lamb into your oven while it heats. Roast for 8 minutes per side once the oven reaches 450°F (232°C) then remove from the oven.
Make Herb Rub
While your lamb is roasting, mix the rub ingredients by placing into a food processor or blender. Then, puree or pulse until well combined. Set aside.

1 large lemon,

2 tablespoon garlic,

1-2 tablespoon olive oil,

2 sprigs rosemary,

1 small bunch thyme,

1 stem basil,

1 small bunch oregano,

1 stem mint
Roast Lamb
Next, reduce the oven temperature to 325°F (163°C) while you allow the lamb to cool enough so that you can apply the rub. Add the broth, potatoes, onion, garlic, rosemary, and bay leaves (remove the roasting rack, if necessary).

2 lbs yellow potatoes,

1 large onion,

2 teaspoon garlic,

1-2 sprigs rosemary,

2 bay leaves,

2 cups chicken broth

Sprinkle combined seasoning (salt, pepper, garlic powder, onion powder, and paprika if using) over the potatoes before returning the lamb and roasting rack over the veggies.

½ teaspoon each, salt & pepper,

½ teaspoon garlic powder,

½ teaspoon onion powder,

½ teaspoon paprika

Apply the mixed herb rub liberally and generously over the entire surface of the lamb leg, massaging the herbs into all areas of the meat.

Return the lamb to the oven at the reduced temperature and roast for 25 minutes per pound for medium (with an internal temp of 135-145°F) or until desired doneness (*see note).

Cover loosely with aluminum foil and rest for 20-30 minutes before serving.
Equipment You May Need
Notes
Roasting times for different levels of doneness:

Rare: 15 minutes per pound- internal temp of 125°F (52°C)
Medium-rare: 20 minutes per pound- internal temp of 130-135°F (55°C-57°C)
Medium: 25 minutes per pound- internal temp of 135-140°F (57°C-60°C)
Done/Well Done: 30 minutes per pound- internal temp of 140°F+ (60°C+)

Fall Off The Bone Tender: 40 minutes per pound- internal temp of 175°F+ (179°C+)

When buying your lamb, avoid buying mutton. It is an older and tougher type of meat. 
You can ask your butcher to trim the thick layer of fat for you, if desired.
Resting the lamb is essential in allowing all the juices to redistribute throughout the meat before slicing, do not skip this step.
Nutrition
Calories:
384
kcal
(19%)
|
Carbohydrates:
25
g
(8%)
|
Protein:
40
g
(80%)
|
Fat:
14
g
(22%)
|
Saturated Fat:
4
g
(25%)
|
Polyunsaturated Fat:
1
g
|
Monounsaturated Fat:
7
g
|
Cholesterol:
115
mg
(38%)
|
Sodium:
483
mg
(21%)
|
Potassium:
1074
mg
(31%)
|
Fiber:
3
g
(13%)
|
Sugar:
2
g
(2%)
|
Vitamin A:
109
IU
(2%)
|
Vitamin C:
33
mg
(40%)
|
Calcium:
46
mg
(5%)
|
Iron:
5
mg
(28%)
how to cook lamb at 450, lamb, Roasted Leg of Lamb, Ultimate Guide To Cooking Lamb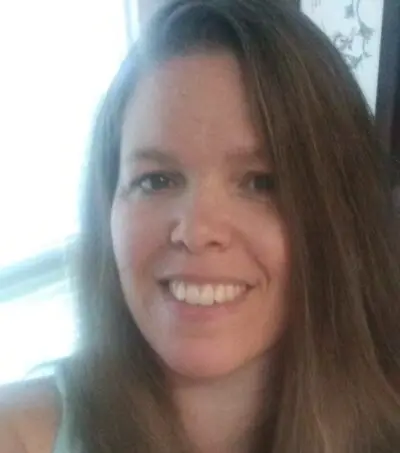 Angela is an at home chef that developed a passion for all things cooking and baking at a young age in her Grandma's kitchen. After many years in the food service industry, she now enjoys sharing all of her family favorite recipes and creating tasty dinner and amazing dessert recipes here at Bake It With Love!