If you don't know what to serve with lamb for dinner tonight, any of these delicious side dishes would be a great choice! No matter the form or fashion you plan to serve your lamb, one of these wonderful pairings will help you make the perfect meal!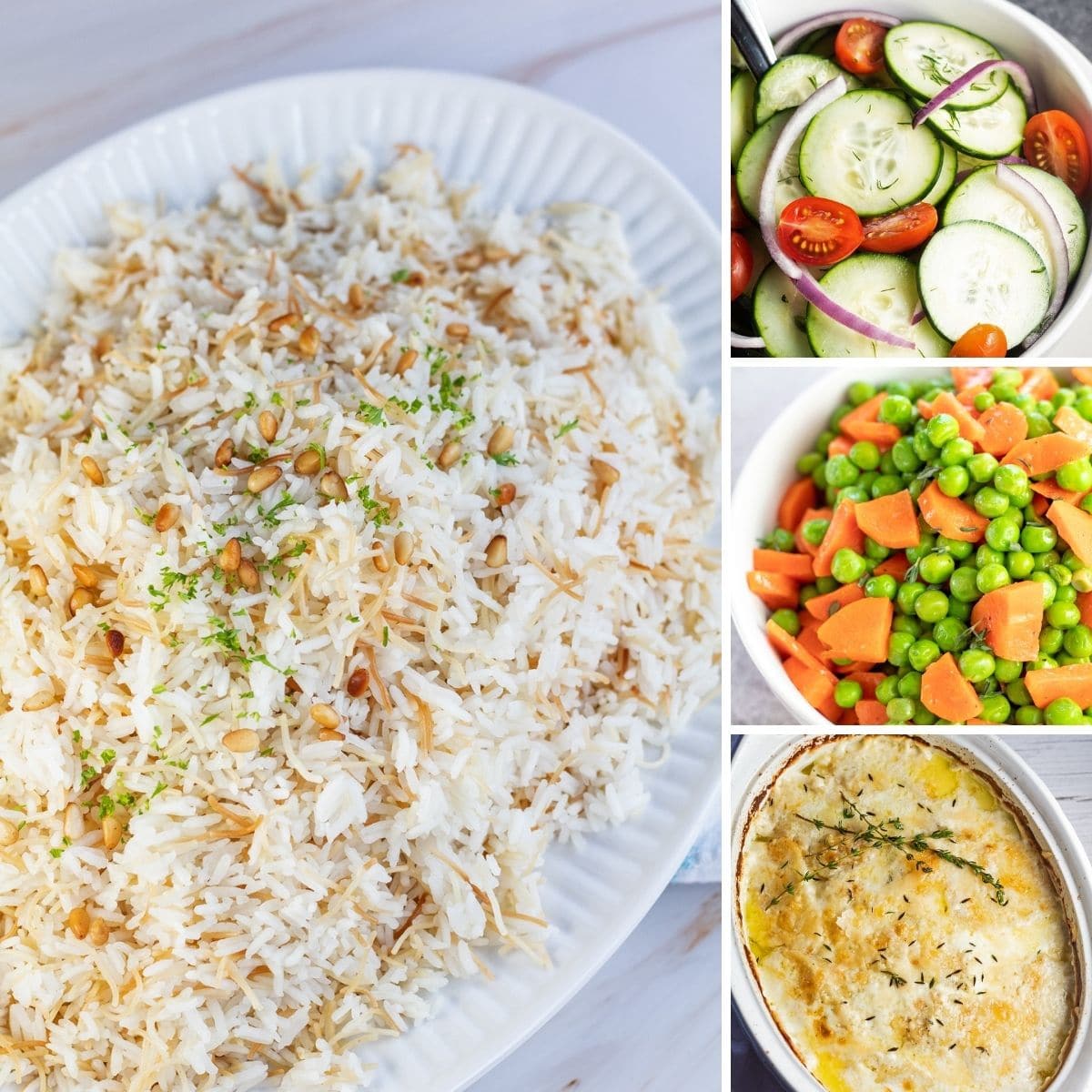 The very best side dishes to pair with lamb- no matter the how you serve it!
There are a million different ways to enjoy lamb. From meaty lamb chops to elegant rack of lamb, there are even some more casual options like gyros or lamb stew!
Because lamb is as versatile as it is delicious, there are a wide variety of sides to choose from when whipping up a lamb dinner. So, if you've got lamb on the menu try pairing it with one of these fool-proof sides that are guaranteed to make your lamb shine!
Jump to:
1. Dauphinoise Potatoes
A unique dish like this deserves an occasion. Dauphinoise potatoes are like an elevated version of au gratin and they are divine with lamb dinners!
Thinly sliced potatoes are covered with a creamy butter and garlic sauce and topped with a rich gruyere cheese. Garnishing with an earthy thyme completes the dish. Delicious!
2. Roasted Asparagus and Cherry Tomatoes
I love roasted vegetables and adding a sprinkle of Parmesan on top makes them even better! The grassy taste of asparagus blends with sweet cherry tomatoes and garlic in this recipe, and it's a real winner.
The salty cheese is just the proverbial icing on the cake. It makes a beautiful dish full of color and flavor!
3. Oven Roasted Brussel Sprouts
Perfectly roasted brussel sprouts are fantastic with pretty much any main course. The slightly crunchy, slightly chewy texture with that amazing earthy taste is to die for! They're easy to make and only require a few ingredients making them equally as perfect for a weeknight meal or a date night.
4. Honey Glazed Oven Roasted Carrots
Naturally sweet carrots with honey, brown sugar, and herbs will have everyone asking for seconds. They go really well with the strong flavor or lamb, adding an almost dessert-like flavor to the meal.
And because we "eat with our eyes," the bright orange and green make them an Instagram-worthy choice.
5. Pea and Mint Risotto
Any risotto would make a good side for lamb. One of my favorites combines onion, butter, and Parmesan with peas and mint oil for a fresh yet rich taste you'll love.
This version is not made with wine, as most traditional risottos. Mint has always been one of my favorite herbs to pair with lamb, so if you're looking for a unique side dish, this is it!
6. Roasted Green Beans
Baked, steamed, and sauteed green beans are delicious, but roasting them adds a whole new depth of flavor! If you haven't already, it's worth trying.
Roasting adds a unique flavor, and with just a bit of garlic, butter, lemon juice, and seasonings, it's an entirely new dish. Change things up!
7. Cucumber Vinegar Salad
For a refreshing summer cookout, throw together a cucumber vinegar salad with your lamb chops right off the grill. It marries tangy and sweet for a light side you'll love!
Sliced cucumbers are covered with white wine vinegar and sugar then tossed with red onions, dill, and sweet cherry tomatoes. Make it ahead and serve it chilled.
8. Fondant Potatoes
Fondant potatoes are a singular treat. Seared with butter, chives, and garlic, a tantalizing brown crust forms.
Then, they're baked in the oven with chicken broth and garnished with freshly chopped herbs. Impress your dinner guests with a rack of lamb and these tasty potatoes!
9. Napa Cabbage Greek Yogurt Slaw
This yogurt-based, Asian-inspired dressing is full of ginger, sesame oil, and soy sauce. Blended up with Greek yogurt and tangy white wine vinegar, the results are super addictive.
I like to serve it on napa cabbage with snow peas, radishes, cilantro, and a few slivered almonds.
10. Roasted Vegetable Medley
I've listed multiple roasted vegetables here, because there's something about them that pairs especially well with meaty lamb dishes.
In this recipe, brussel sprouts, carrots, parsnips, and beets are roasted with a simple garlic, rosemary, and thyme seasoning. They're simple, easy, and outstanding.
11. Roasted Broccoli with Garlic and Parmesan
The name says it all. Roasted broccoli is delicious by itself but top it with garlic and parmesan for a whole new world of flavor.
It's a classic dish made modern by a few simple additions. Add red pepper flakes for some extra heat.
12. Buttered Peas and Carrots
Butter makes everything better, right? Saute peas and carrots with butter, honey, and herbs for a unique blend of flavors that will wow your whole family.
It hits all of the right notes: sweet, rich, savory, and fresh. And it's exceptional when served with lamb seasoned the same way.
13. Baked Sweet Potatoes
Sweet potatoes are the dessert you can have with dinner. They're easy to make and always turn out fantastic.
If you want a more savory version, try adding some of the same seasonings as you add to your lamb. Red pepper is ideal for that sweet and savory taste! Sage butter is another great option.
14. Naan Bread
Indian cuisine is something I always look forward to. While most dishes are slow cooked with tons of spices, naan is something you can whip up and serve with anything.
All it takes is flour, yeast, and a little bit of time. You can even serve this in place of pita with a gyro or wrapped around some marinated shish kabob pieces.
15. Vermicelli Rice
Sometimes, simple is best. Vermicelli is an extremely versatile dish flavored with just olive oil, salt, and pine nuts.
The key is toasting the vermicelli and mixing it with a nutty basmati. You can't go wrong with this combination of natural flavors.
16. White Cheddar Mac and Cheese
Mac and cheese is a universal crowd-pleaser, and this white cheddar version is a true gem.
It's as creamy, buttery, and garlicky as you could ever want it to be, and it will undoubtedly win the hearts of everyone at your table, especially kids. In just 30 minutes, it'll likely become a regular on the rotation, with lamb or not.
17. Boiled Potatoes
Boiled potatoes are practically effortless. Just flavor the water you boil them in with a bay leaf, salt, peppercorns, and garlic.
Then toss with butter, salt, and pepper when they're done. It's budget-friendly and easy.
18. Saffron Jasmine Rice
Saffron and chicken broth are all you need for a memorable rice dish to serve with lamb. It's a classic Middle Eastern side for a traditional meaty main.
All you need is a bit of hummus to finish things off! Efficiency is important during a busy week, and this delicious dish can be churned out in 15 minutes.
19. Lemon Asparagus Orzo
Asparagus and orzo in a lemon-garlic sauce pairs really well with lamb. Lemon is a common flavor in the lamb-eating cuisines of the world and universally loved.
This recipe takes things up a notch with the addition of Parmesan and herbs for even more flavor!
We hope we helped you put together the perfect lamb dinner to enjoy with family and friends. Tell us what you're serving in the comments below!
📋 Recipe