This amazing Vermicelli Rice is a popular Middle Eastern side dish that combines toasted vermicelli pasta with long-grain Basmati rice! The flavorful rice side dish is easy to make, extremely versatile, and intensely flavorful despite only having a few ingredients!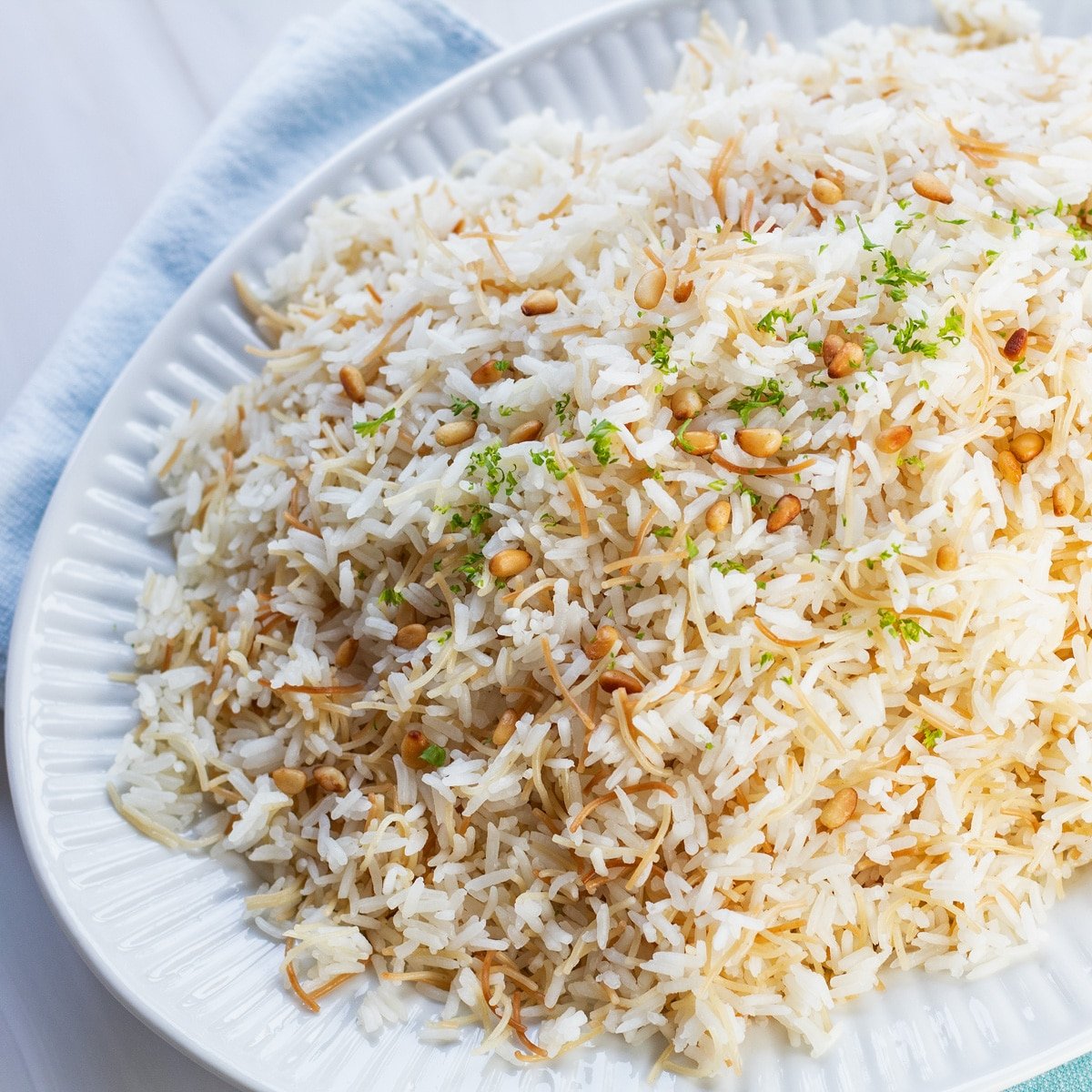 Vermicelli Rice - From Stove to Table in Under an Hour!
This Vermicelli is easy to make but rich and nutty in flavor. With only Basmati rice, vermicelli, salt, and oil (with the option of adding pine nuts), you won't need to load up the shopping cart for this one.
If you're looking for a dish that goes well with anything and is a fast, weeknight option, look no further! Eat it just like this or get creative with added protein and vegetables to make it a main dish.
Jump to:
❤️ Why You'll Love This Recipe!
It's fast! In just 40 minutes, you can have a delicious side dish with an umami flavor explosion!
It's simple. No long list of ingredients here! You probably have most of these at your house on a daily basis!
It's versatile! You can put your own spin on this easy rice dish by adding your favorite meat, grilled vegetables, broth or bouillon cubes, or even extra spices! It goes well as a side dish with practically everything!
🥘 Ingredients
Most of these will already be in your pantry, but if you want to kick it up a notch, adding pine nuts really makes it special. Plus, they add a nice texture to the chewy homemade rice-a-roni! Makes eight servings.
Olive Oil - Extra virgin olive oil (EVOO) works best here.
Vermicelli Pasta - This looks like rice but is actually a tiny pasta! If you can't find the small pieces of vermicelli, get the spaghetti length pasta and break it up.
Basmati Rice (or any long grain rice) - Basmati adds great flavor and will make the kitchen smell amazing.
Salt - Salt always enhances the flavor of a dish. Pick your favorite.
Water - You can just use your best estimate here.
Pine Nuts (optional) - These can be toasted for a few minutes in the oven or in a pan on the stove. Make extra to throw on salads!
Parsley (optional garnish) - Parsley is a light flavor but adds a pop of color to the dish.
💭 Angela's Tips & Recipe Notes
Make sure to toast the pine nuts if adding them. Toasting the nuts brings out the oil and changes the flavor. It only takes a few minutes, but it makes a huge difference!
You can do this in a dry skillet over medium heat for about three minutes or spread them out on a pan in a 350°F (175°C) oven for five minutes. The latter cooks more evenly but takes a bit longer to wait for the oven to heat up. 
Stir and watch closely to keep from burning. They're done when they are golden brown. You will also notice a distinct toasted smell. Yum!
Don't skip the rinsing and soaking of the Basmati.
Rinsing removes a naturally occurring layer of starch so the grains don't stick together when it's cooked. Soaking starts the water absorption process before you even start cooking. This means less time on the stove, and therefore, better flavor.
Don't stir the rice while it's cooking.
It's important to keep the steam in for constant heat. Stirring can often break the rice, ruining the beautiful, long grains.
🔪 Step-By-Step Instructions
This delicious side dish is pretty straightforward. Follow these easy instructions for picture-perfect rice and pasta combo that tastes as good as it looks!
First, rinse the rice. Pour cold water over two cups of Basmati rice and mix before straining. Repeat until the water comes off clear (or runs clear if under running water).
Soak the rice. In a bowl, let the rice sit in cold water for 10-15 minutes. Drain and set aside.
Next, toast the vermicelli. Add two tablespoons of olive oil to a medium or large stock pot and bring to medium heat. Then, add one cup of vermicelli pasta when the oil is hot. Toast the pasta until golden brown, stirring constantly to prevent burning.
Add the drained Basmati rice. Stir to combine.
Add water and salt. Water should cover the rice by about half an inch or 2.5 centimeters. Sprinkle in 1 teaspoon of salt.  
Cover and bring to a boil. When the water is at a full boil--not just a few tiny bubbles-- turn your heat all the way down and cook for ten minutes. Keep the lid on!
Shut the heat off and let it rest. Once the ten minutes is up, turn off the heat and let the rice sit, covered, for another ten minutes. Resist the urge to taste! We're almost there!
Fluff the rice. Remove the lid and use a fork to fluff your rice and add some volume. 
Serve. Serve the cooked vermicelli rice immediately once done. Garnish with two tablespoons of toasted pine nuts and one tablespoon of chopped fresh parsley if desired.
This is great for lunch or dinner alongside pan-seared sirloin steak tips or a hearty entree salad. It's very versatile and can be an excellent side to any dish!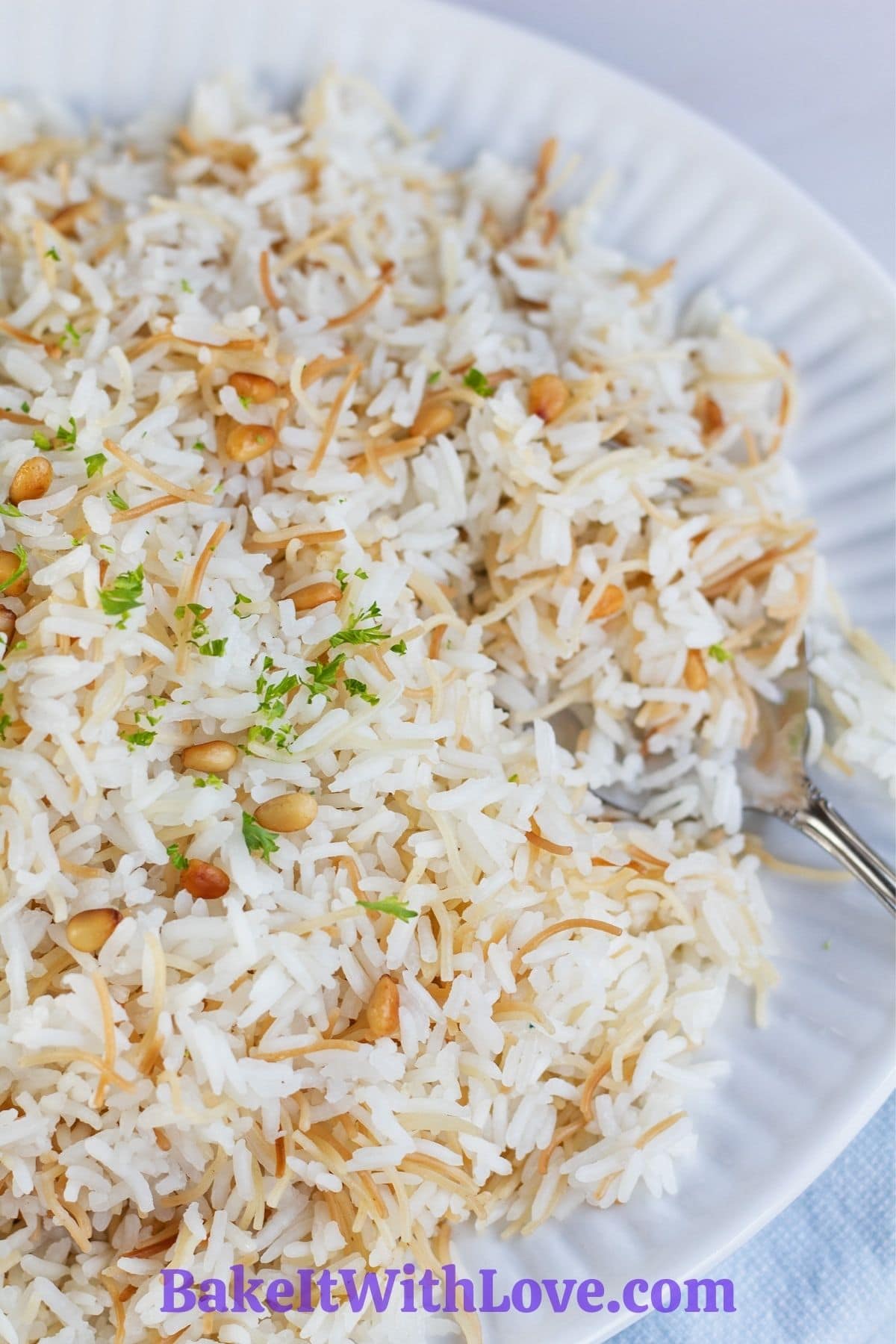 🥡 Storing & Reheating
REFRIGERATING
Leftovers can be stored in airtight containers in the fridge for three to five days. With hungry people around, mine doesn't usually last that long!
FREEZING
Cooked Vermicelli can definitely be frozen after being cooked. Be sure to freeze in a microwave-safe container to make it easy to pull out and reheat.  
Don't keep leftovers in the fridge for a few days before freezing. In order to prevent bacteria growth, it's best to freeze as soon as the vermicelli rice cools from the cooking process. It'll be good for up to a month.
REHEATING
You can quickly reheat this dish in the microwave for one to two minutes in a microwave-safe bowl. Stir the rice halfway through your heating.
If you'd like it hotter, add time in thirty-second intervals. You may also want to add a bit of water or broth to keep it from drying out.
If reheating from the freezer, you can defrost in the fridge for a few hours before microwaving or defrost in the microwave for two to three minutes before following previous instructions.
Stovetop reheating is also a good option. Just put your desired portion in a nonstick frying pan or skillet, add liquid, and heat on low until the vermicelli rice is heated to your preferred temperature. 
If reheating from a frozen state, follow the same steps but put a lid on to trap the steam and heat it faster.
❓ FAQ
Can I use other types of rice in place of Basmati?
Yes. But it will change the flavor a bit. Basmati is an aromatic, long-grain rice that has a slightly nutty flavor. Using a different rice will not be as flavorful, in my opinion. That said, any long grain rice, such as jasmine or brown rice, will work.
Is vermicelli rice or pasta?  Can I substitute it with something else?
Vermicelli is a long, slender, round pasta that is thinner than spaghetti (here in the U.S.) and thicker than spaghetti (in Italy). The best vermicelli substitutes would be capellini (angel's hair or capelli d'angelo), spaghettini, or fedelini. Orzo could potentially work in a pinch.
📋 Recipe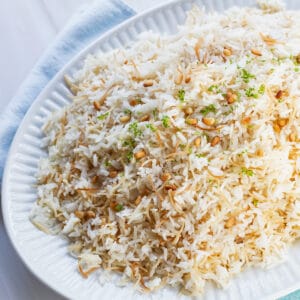 Print Recipe
Leave A Comment
Love This Recipe?
Click On A Star To Rate It!
Vermicelli Rice
This amazing Vermicelli Rice is a popular Middle Eastern side dish that combines toasted vermicelli pasta with long-grain Basmati rice! The flavorful rice side dish is easy to make, extremely versatile, and intensely flavorful despite only having a few ingredients!
Pin Recipe
Share on Facebook
Ingredients
2

tablespoon

olive oil

(extra virgin)

1

cup

Vermicelli rice

2

cups

Basmati rice

(or any long grain rice)

1

teaspoon

salt

water

(enough to cover rice by ½ inch or 2.5 cm)

2

tablespoon

toasted pine nuts

(optional)

1

tablespoon

chopped parsley

(optional garnish)
Instructions
Rinse your rice under cold water for a few minutes until the water runs clear.

Soak rice in a bowl of cold water for about 10 to 15 minutes. Drain and set aside.

In a medium to a large stockpot, add olive oil and bring the heat up to medium. When oil is hot add in the vermicelli pasta. Stir it around to "toast it" keep it moving try and not to burn the vermicelli - you are looking for a golden brown look.

2 tablespoon olive oil,

1 cup Vermicelli rice

When the Vermicelli is toasted, immediately add the drained rice and then stir to combine.

Add enough water to cover the rice and pasta by half an inch (2.5cm), then sprinkle in salt.

Cover and bring the water to a rapid boil. When you reach a rapid boil, reduce the heat down to the lowest setting and continue to cook for 10 minutes. (Do not uncover)

After 10 minutes is up, shut the heat off, do not uncover. Leave covered for another 10 minutes while the rice and pasta continue to cook.

Remove the lid and fluff your rice using a fork. If desired garnish with toasted pine nuts and chopped parsley. Serve and enjoy!

1 tablespoon chopped parsley,

2 tablespoon toasted pine nuts
Nutrition
Calories:
307
kcal
(15%)
|
Carbohydrates:
62
g
(21%)
|
Protein:
4
g
(8%)
|
Fat:
4
g
(6%)
|
Saturated Fat:
1
g
(6%)
|
Polyunsaturated Fat:
1
g
|
Monounsaturated Fat:
3
g
|
Sodium:
347
mg
(15%)
|
Potassium:
62
mg
(2%)
|
Fiber:
1
g
(4%)
|
Sugar:
1
g
(1%)
|
Calcium:
18
mg
(2%)
|
Iron:
1
mg
(6%)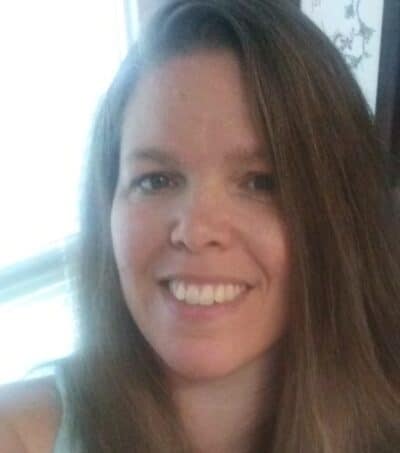 Angela is an at home chef that developed a passion for all things cooking and baking at a young age in her Grandma's kitchen. After many years in the food service industry, she now enjoys sharing all of her family favorite recipes and creating tasty dinner and amazing dessert recipes here at Bake It With Love!