These heavenly Hello Dolly Bars are an all-around favorite for everyone with layers of tasty ingredients that magically turn into fabulous cookie bars! Also known as 7 layer bars, miracle bars, magic cookie bars, coconut dream bars, or magic bars. Whatever you may call them they are fantastic, incredibly easy, with no special equipment needed!
Hello Dolly Bars Recipe
Even though these scrumptious dessert bars are known by many names, they all mean the same thing - flavor heaven! They may be loaded with decadent layers, but I promise they're worth every calorie!
Your taste buds will love the decadent combination of butterscotch and chocolate any time of year. Coconut and pecans add the perfect amount of chewy, crunchy goodness. They're a real crowd-pleaser, no matter the age of your crowd!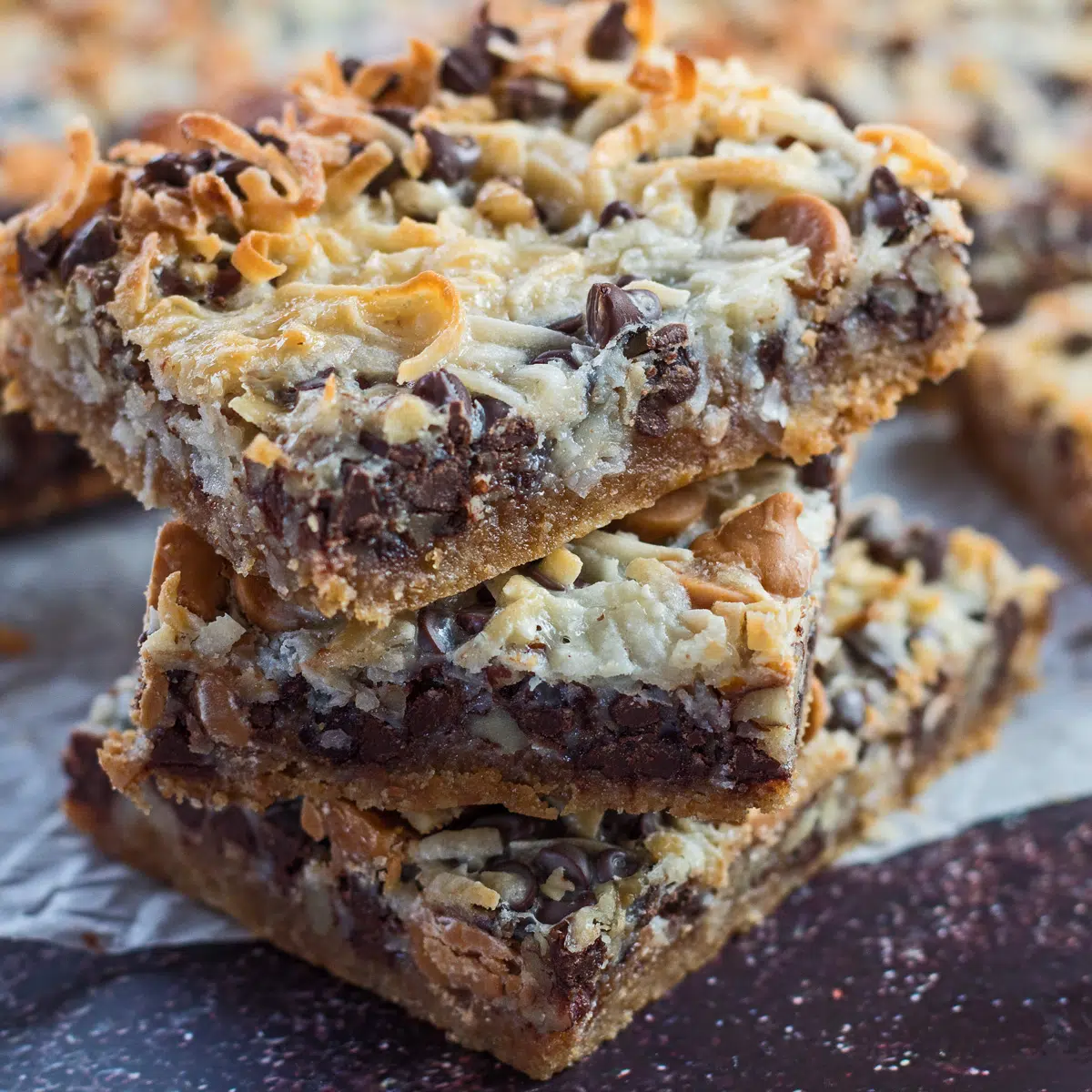 Kid-Friendly Hello Dolly Bars the Whole Family Will Love!
Jump to:
One bite, and you'll know just how addictive this recipe can be. On the bright side, they store and transport exceptionally well so these cookie bars also make great gifts to share!
Dress them up a bit on a decorative plate then gift them to your family, friends, neighbors, or co-workers! This recipe is never forgotten during our holiday Christmas cookie baking either!!
❤️ Why You'll Love This Recipe!
It's kid-friendly! This is a perfect recipe to make with your mini-me chefs at home. It's easy and interactive, and they can sample any of the ingredients during the process.
It's an easy win! Most of these ingredients are widely loved and very popular. They're even more appreciated when put together.
It's uniquely tasty! Butterscotch isn't in a lot of desserts, but it will leave a lasting impression.
🥘 Ingredients
So many delicious things in one recipe! Butterscotch chips make this especially memorable, and the coconut adds that chewy texture we all know and love.
Graham Cracker Crumbs - Honey or cinnamon-sugar graham crackers would both be good here. You can increase the graham cracker crust amounts to 16 graham crackers and 12 tablespoons of butter for a thicker graham cracker base layer if desired. PS...my sweet shortcrust pastry is also an amazing base for these easy treats!!
Unsalted Butter - Unsalted butter is typically used for baking, so you can better control the amount of salt, if any, in your dessert, and let the creamy butter flavor shine. In this case, it's also a big part of what makes the graham cracker crust oh-so good!
Semi-Sweet Chocolate Chips - You can never go wrong with chocolate! If you don't have chocolate chips on hand, chunk up a semi-sweet chocolate bar.
Butterscotch Chips - Butterscotch isn't as popular as it once was, but I especially love it in this recipe!
Shredded Sweetened Coconut - Coconut adds a tropical twist that reminds me of a Mounds bar, full of chewy goodness.
Pecans - One of my favorite nuts! Of course, this can easily be swapped out for other nut varieties like almonds, walnuts, and more.
Sweetened Condensed Milk - Any brand will work for this. Use your favorite, or a generic brand with equally wonderful results!
*Be sure to see the recipe card below for ingredients, amounts & instructions!*
🔪 How To Make Hello Dolly Bars
There are only a few easy layers, and you're on your way to a delicious, decadent dessert! This recipe makes twenty-four servings.
Start by preheating your oven to 350℉ (176℃).  
Next, prepare your pan. Lightly grease or spray a 9x13-inch baking dish with nonstick cooking spray or line with parchment paper to prevent sticking.
Melt your butter. Put ½ cup (one stick, or 8 tablespoons) of butter in a saucepan over low heat or in the microwave at 50% power for thirty to sixty seconds until warm. You might want to put a lid over it in case of splashes. Don't let it get too hot!
Crush the graham crackers. Seal about 12 sheets of graham crackers into a plastic baggie and use a mallet or bowl to crush them. You should have approximately 1 ½ cups after crushing.
Mix the base layer.  Add graham cracker crumbs and melted butter to a mixing bowl and combine thoroughly with a fork. It will look mealy, but it will solidify when you continue with the next step. *Alternatively, you can also layer the crushed graham crackers in the bottom of you baking dish over the melted butter.
Now, line your pan. Press the mixture into the bottom of your 9x13-inch pan using your fingers. The bottom of the pan should be completely covered, and the mix should feel solid, not crumbly. Make sure to press firmly to really pack this layer down.
Layer in the other ingredients. Sprinkle 1 cup of semi-sweet chocolate chips over the graham cracker layer. Follow this with a layer of 1 cup of butterscotch chips, then 1 cup of shredded sweetened coconut. Add ½ cup chopped pecans on top, and finally, pour on 14 ounces of sweetened condensed milk (1-14oz. can). It should be looking and smelling divine at this point.
Bake. Drop this in the oven at 350℉ (176℃) and find something to distract yourself for 25-30 minutes while your magic bars bake up to golden brown perfection.
Remove and cool. Take your baked dessert bars out of the oven and let them cool completely before eating, or storing them for later. 
These mouth-watering desserts are easy to transport and make great treats for kids' lunches, parties, or picnics. They're parent-friendly as well - I dare you to try and eat just one! 🙂
💭 Angela's Tips & Recipe Notes
Try toasting the pecans for an added boost of flavor. You can toss them in a dry skillet for two to three minutes over low heat. Or put them on a baking sheet in a 350℉ (176℃) oven for five to ten minutes. Remember to watch closely and stir them to keep from burning!
Place a towel over the bag of graham crackers to keep things clean. It's not uncommon for a plastic bag to break when crushing the contents inside. Putting a towel between your crushing tool of choice and the plastic should help prevent tears.
Be sure to add the sweetened condensed milk last. This acts as a binding ingredient, so your bars won't be a crumbly mess when you try to remove them from the pan after cooking, which brings me to my next tip...
For easiest removal, line your pan with parchment. This way, you can pull out the entire slab of bars without worrying about sticking. They slide out perfectly intact every time, and you can keep that parchment to layer between cut bars in the freezer.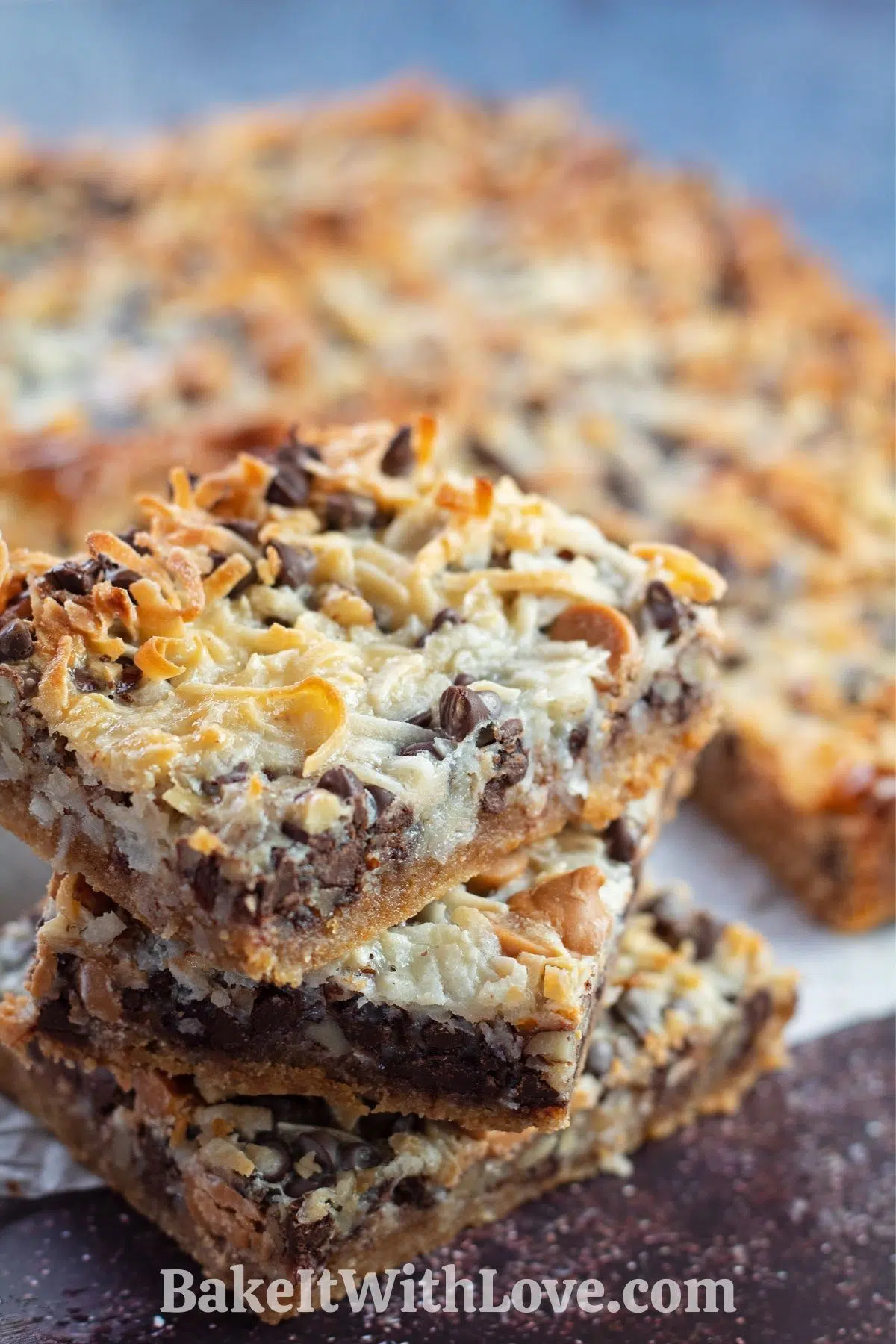 🥡 Storing
This is a very sticky dessert, so you'll want to follow storage instructions carefully to prevent your hard work from ending up in one giant, gooey glob.
Storing At Room Temp & Refrigerating
While these bars don't have to be kept in the fridge, they will keep longer if refrigerated. Hello Dolly Bars will last for three to four days in an airtight container at room temperature and about a week in the refrigerator, assuming they aren't all eaten by then.
Freezing Hello Dolly Bars
Hello Dolly Bars, if wrapped tightly in foil, will last two to three months in the freezer. To keep them from sticking together, layer parchment or wax paper between each bar. You can enjoy these straight from the freezer if you'd like!
They don't freeze solid, so I promise you won't chip a tooth!
Bars should be eaten cool or at room temperature, so you can just pull them out of the refrigerator and enjoy. If serving your 7 Layer Bars after being frozen, thaw them in the fridge overnight or set them out on the counter until bite-ready.
🍪 More Awesome Cookie Recipes
❓ FAQ
What can I substitute for semi-sweet chocolate chips?
You can substitute semi-sweet baking chocolate in a 1:1 ratio. Using one ounce of unsweetened baking chocolate for one ounce of semi-sweet chocolate chips will also work, but you should add one tablespoon of sugar for each ounce used to make up for the lost sugar.
Substituting dark or milk chocolate chips or bittersweet chocolate, for example, can change the sweetness level in the recipe. If you feel like experimenting, or that's all you have in the house, you can definitely try either, but it will slightly change the outcome.
Can I use a food processor to crush the graham crackers?
Absolutely! This is a fast and easy way to evenly crush the graham crackers. I sometimes use the bag method in an attempt to avoid dirtying more dishes, but they are equally effective.
Do Hello Dolly Bars have to be refrigerated?  
No. You can leave these on your counter for three to four days, but to keep them fresh longer, store them in the fridge. They'll keep for approximately one week.
Where did the original recipe for Hello Dolly Bars (Magic Bars, 7 Layer Bars) come from?
The original recipe was sent in by 11-year-old Alecia Leigh Couch of Dallas, Texas. The recipe was reportedly one of her grandmother's recipes that went on to be featured in The Week food column by Clementine Paddleford on September 9th, 1965.
Since then it has become very familiar to many as a regular printed recipe on the Eagle brand sweetened condensed milk. I've also been told that Land O Lakes butter had the recipe printed on packaging at one point in time as well.
📋 Recipe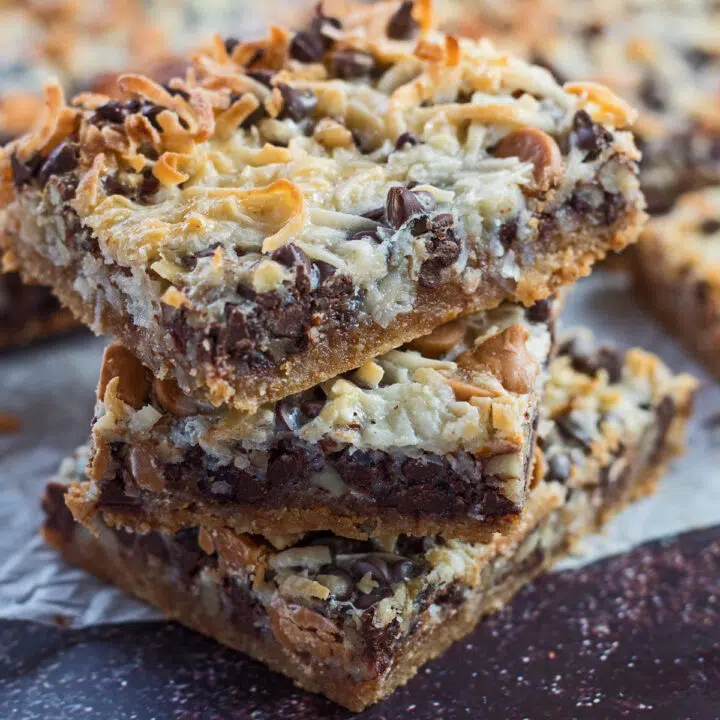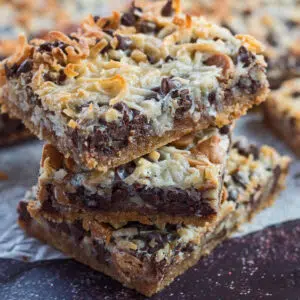 Print Recipe
Leave A Comment
Love This Recipe?
Click On A Star To Rate It!
Hello Dolly Bars
These heavenly Hello Dolly Bars are an all-around favorite for everyone with layers of tasty ingredients that magically turn into fabulous cookie bars! Also known as 7 layer bars, miracle bars, magic cookie bars, coconut dream bars, or magic bars. Whatever you may call them they are fantastic, incredibly easy, with no special equipment needed!
Pin Recipe
Share on Facebook
Ingredients
1 ½

cups

graham cracker crumbs

(about 12 graham crackers crushed)

½

cup

unsalted butter

(1 stick of butter, melted)

1

cup

semi-sweet chocolate chips

1

cup

butterscotch chips

1

cup

shredded sweetened coconut

½

cup

pecans

(chopped or crushed)

14

oz

sweetened condensed milk

(1 14 ounce can)
Instructions
Preheat your oven to 350°F (175°C) and lightly oil a 9x13 baking dish (or coat it with non-stick cooking spray, or line with parchment paper).

Put the graham crackers in a ziplock baggie, seal, and crush the crackers.

1 ½ cups graham cracker crumbs

In a mixing bowl add the crushed graham crackers and pour the melted butter over the top. Mix completely using a fork.

Transfer the graham cracker/butter mixture to your 9x13 baking pan. Press it down using your fingers covering the entire bottom of the baking pan (layers 1 & 2).

Sprinkle in the chocolate chips (layer 3), then add in the butterscotch chips (layer 4), next add in the shredded coconut (layer 5), then the chopped pecans (layer 6), finally pour the can of sweetened condensed milk over the top (layer 7).

1 cup semi-sweet chocolate chips,

1 cup butterscotch chips,

1 cup shredded sweetened coconut,

½ cup pecans,

14 oz sweetened condensed milk

Bake at 350°F (175°C) for 25 to 30 minutes or until golden brown in color.

Remove from your oven and allow the bars to cool completely. Eat or store them for later, enjoy!
Equipment You May Need
Nutrition
Calories:
220
kcal
(11%)
|
Carbohydrates:
25
g
(8%)
|
Protein:
3
g
(6%)
|
Fat:
13
g
(20%)
|
Saturated Fat:
8
g
(50%)
|
Polyunsaturated Fat:
1
g
|
Monounsaturated Fat:
3
g
|
Trans Fat:
1
g
|
Cholesterol:
17
mg
(6%)
|
Sodium:
86
mg
(4%)
|
Potassium:
144
mg
(4%)
|
Fiber:
2
g
(8%)
|
Sugar:
19
g
(21%)
|
Vitamin A:
174
IU
(3%)
|
Vitamin C:
1
mg
(1%)
|
Calcium:
60
mg
(6%)
|
Iron:
1
mg
(6%)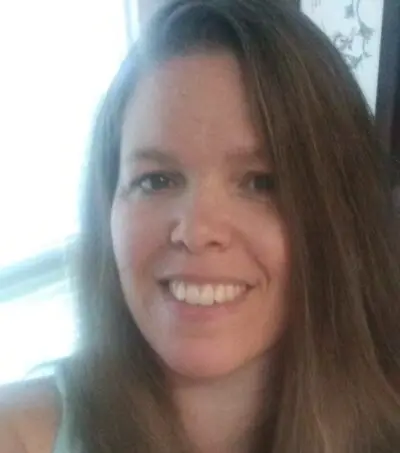 Angela is an at home chef that developed a passion for all things cooking and baking at a young age in her Grandma's kitchen. After many years in the food service industry, she now enjoys sharing all of her family favorite recipes and creating tasty dinner and amazing dessert recipes here at Bake It With Love!