A pecan substitute could be necessary for a variety of reasons - allergies, none in the pantry, store being sold out, or more! No matter the reason or the recipe, there are substitutes available to you! This list covers 9 options (as well as nut-free choices) that you can use to swap out pecans!
Best Pecan Substitutes
While pecans can be used in recipes all year long, they are especially popular around the holidays. From pecan pie to special holiday cookies, this tasty nut gets used a lot from Thanksgiving through Christmas.
Therefore, with so many people making similar holiday dishes it's possible that your store may run out of pecans this time of year – leaving you with a need for the best pecan substitutes.
Jump to:
Even if you are baking with pecans another time of year you may find yourself needing to find a perfect substitute for another reason.
From allergies to preference and even cost, there are several reasons you may be searching for a great substitute. Keep reading to find your perfect pecan alternative!
1. Walnuts
One of the easiest and best substitutes for pecans is walnuts. They have a similar shape, size, and texture. They are also less expensive than pecans which makes them a popular choice for many people.
Although walnuts are an amazing substitute, they are better for certain types of recipes. Walnuts work well for replacing pecans in cookies, cakes, and quick bread.
However, they are not ideal for replacing pecans in large quantities like in pecan pie. The flavor of walnuts is a bit softer and is missing the richness of pecans that is desired in desserts like pecan pie. Although combined with pecan oil, walnuts would provide a close replica of pecans in taste and texture.
Aside from pecan pie, walnuts are a great alternative for any recipe. Use walnuts (chopped or whole) in a 1:1 substitution for pecans.
2. Hazelnuts
While hazelnuts are just as well-known as other common nuts, they are not used as regularly in everyday baking. One reason may be that they are more expensive than other nuts.
However, if you want a more decadent substitute, hazelnuts are an excellent choice.
With a wonderful warm earthy flavor that shares similar flavor notes with pecans, hazelnuts pair well with the same foods. Like chocolate! This makes them an easy and delicious alternative to pecans in any recipe.
Next time you want to upgrade a recipe switch out the pecans for a 1:1 ratio of hazelnuts.
3. Pistachios
Pistachios have an earthy taste and a rich texture and flavor. Both pistachios and pecans have more layered flavor profiles than other nuts. Compared to one another though, they both have their own distinct flavors.
The complex flavors of these two nuts make them both good choices for sweet and savory recipes. The distinct flavor of pistachios will be more prevalent though, so only use them if you enjoy the taste of pistachios.
Use pistachios in a 1:1 ratio for pecans. Make sure to buy pistachios that are already shelled to save yourself time.
4. Macadamia Nuts
The rich buttery flavor of macadamia nuts is uniquely it's own. As one of the more decadent nuts, macadamia nuts are a delicious choice for both sweet and savory recipes.
Like pecans, macadamia nuts are quite versatile. They are a delicious addition to desserts and can also be used to elevate a savory dish, like coating fish or chicken in crushed macadamia nuts.
The only drawback to macadamia nuts is that they are quite expensive. Therefore, you may not want to invest in a large amount of them. If you choose to use macadamia nuts, though, they can be used in a 1:1 ratio in place of pecans.
5. Brazil Nuts
Brazil nuts are larger nuts with a smooth texture and rich earthy flavor. While people love the taste of Brazil nuts, these nuts are not used in baking and cooking the same way that other nuts are.
Pecans and other nuts are typically used in large quantities. However, Brazil nuts are typically used in much smaller quantities. In fact, eating too many Brazil nuts on a regular basis can be harmful to your health.
Since you are most likely not eating Brazil nuts daily you can use them in a 1:1 ratio for pecans. If you are making regular dishes with Brazil nuts though, be mindful that you are not overdoing it.
6. Cashews
Like walnuts, cashews are another common nut that works well as a substitute. While cashews do not have a similar shape to pecans, they do have the same desired texture.
One difference is the taste. Cashews have a distinct buttery flavor that is different from pecans. They pair well with caramel and other similar sweet flavors. If you enjoy the taste of cashews, they can be a nice way to switch up a favorite dessert.
Swap cashews for pecans in a simple 1:1 exchange.
7. Unsalted Peanuts
Although they are technically not nuts, peanuts are one of the most popular nuts around the world. These legumes are especially popular in the United States as a favorite snack food.
While not used in baking as much as pecans, peanuts are a good substitute in recipes that call for raw pecans. Peanuts can be a good alternative to pecans for toppings on ice cream or even salads!
Use peanuts in a 1:1 substitution for pecans.
8. Pine Nuts
Pine nuts are quite different from most nuts. They are smaller and have a softer flavor and texture.
Compared to pecans (which are used in many sweet desserts), pine nuts are primarily used in savory dishes. Therefore, whole pine nuts are best used as an alternative to pecans in savory dishes.
Due to the smaller shape of pine nuts, you will have more nuts per cup than pecans. Therefore, to avoid having too many nuts start with ¾ the amount requested.
9. Pecan Oil
If you are making a recipe, like pecan cookies, that relies on the flavor of these nuts then you can use pecan oil as a substitute. Pecan oil is pulled from pecans. Therefore, it lends the same flavor as the whole nuts.
Although pecan oil can provide the taste of pecans, it does not add texture. For a balance of flavor and texture consider using pecan oil with another nut to get the best of both. Combining it with walnuts is an especially great choice.
Replace 1 cup of pecans with 3 tablespoons of pecan oil.
10. Nut-Free Options
If you are allergic to nuts, then unfortunately swapping pecans for another nut will not work as an option for you. However, there are several nut-free substitutions you can explore for different recipes.
Many seeds have a similar crunchy texture to pecans. They also lend a similar earthy flavor. However, most seeds are quite different in shape and size. Therefore, these will not be ideal substitutes for every recipe.
Moreover, due to the difference in shape and size, you will not want to use a full 1:1 swap for most of these. Instead, start with ½ to ¾ measurement and then add more if needed.
While these are not ideal for replacing pecans in large quantities (like pecan pie) you can use these in place of nuts to add a crunchy texture to your baked goods.
Sunflower Seeds
Pumpkin Seeds
Smaller seeds are good choices for coating meat or adding a light texture on top of different desserts or drinks.
Hemp Seeds (Hemp Hearts)
Chia seeds
More great substitute pages to help you out with all of your cooking and baking!
I hope that this list of pecan substitutes can help you out. Leave a comment down below and let me know which option is your favorite!
📋 Recipe
Print Recipe
Leave A Comment
Love This Recipe?
Click On A Star To Rate It!
Pecan Substitute: Walnuts (+Other Great Options)
A pecan substitute could be necessary for a variety of reasons - allergies, none in the pantry, store being sold out, or more! No matter the reason or the recipe, there are substitutes available to you! This list covers 9 options (as well as nut-free choices) that you can use to swap out pecans!
Pin Recipe
Share on Facebook
Ingredients
Best Nuts To Substitute Pecans
1

oz

walnuts

1

oz

hazelnuts

1

oz

pistachios

(shelled)
Best Nut-Free Pecan Substitute
½

oz

sunflower seeds

(shelled)
Instructions
Best Nuts To Substitute Pecans
Walnuts are my favorite alternative. However, you can also use hazelnuts or shelled pistachios to substitute pecans in both sweet and savory dishes. Swap them for pecans in a simple 1:1 exchange.

1 oz walnuts,

1 oz hazelnuts,

1 oz pistachios
Best Nut-Free Options To Substitute Pecans
Sunflower seeds can be used to substitute pecans in baked goods for a wonderfully crunchy texture. Start off with only using ½-¾ of the amount of pecans you would need and then adjust from there.
Equipment You May Need
Notes
*Nutritional information is calculated for the walnuts only.
Nutrition
Serving:
1
ounce
|
Calories:
185
kcal
(9%)
|
Carbohydrates:
4
g
(1%)
|
Protein:
4
g
(8%)
|
Fat:
18
g
(28%)
|
Saturated Fat:
2
g
(13%)
|
Polyunsaturated Fat:
13
g
|
Monounsaturated Fat:
3
g
|
Sodium:
1
mg
|
Potassium:
125
mg
(4%)
|
Fiber:
2
g
(8%)
|
Sugar:
1
g
(1%)
|
Vitamin A:
6
IU
|
Vitamin C:
0.4
mg
|
Calcium:
28
mg
(3%)
|
Iron:
1
mg
(6%)
best alternatives to use for pecans, best pecan substitute, how to substitute for pecans in recipes, nut-free pecan substitutes, pecan substitute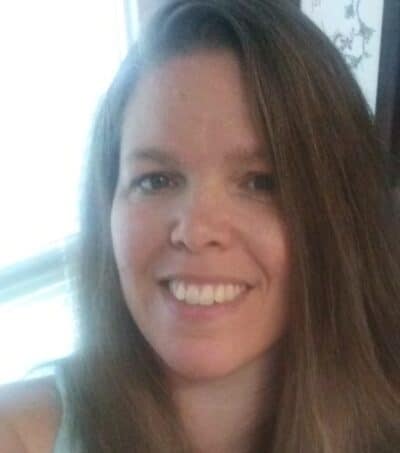 Angela is an at home chef that developed a passion for all things cooking and baking at a young age in her Grandma's kitchen. After many years in the food service industry, she now enjoys sharing all of her family favorite recipes and creating tasty dinner and amazing dessert recipes here at Bake It With Love!