If you're searching for a shallots substitute there are plenty of easy options, some of which you may not expect but probably have on hand! I've comprised a list of simple substitutions you can use when a recipe calls for shallots and you realize you're out!
A list of shallot substitutions that aren't short on flavor and will work in a pinch!
One of the most popular uses for shallots is in a tasty Béarnaise Sauce on top of juicy steak. Shallots have many other tasty uses in the kitchen too! Many of which are quite simple and add a ton of flavor.
Due to their milder flavor in comparison to onions, shallots are great for adding flavor to uncooked dishes such as salads or salad dressings. In addition, they are equally tasty when caramelized or added to sauces. They can even be pickled, fried, or roasted!
Jump to:
With so many options for using shallots, once you start using them you are likely to want to find more and more recipes to use them in. What happens when you go to make a dish with shallots and realize you are out, though? What if your grocery store runs out? Simply reach for a substitute!
While shallots have their own unique flavor, they are a member of a family of vegetables with similar qualities. This makes it quite easy to find a tasty substitute!
What Is A Shallot?
Often described as a cross between an onion and garlic, shallots play a similar role in flavoring food the way that garlic and onions do. Shallots are smaller than an onion and larger than a clove of garlic which is another reason they are often referred to as a cross between garlic and onion.
Other foods that fall into this category are chives, scallions, and leeks. All of these are types of allium vegetables. Members of the allium family are well known in the kitchen for their aroma and flavor. They are even popular for their health benefits!
While shallots are a member of this fragrant family, they are specifically a type of onion. Shallots have their own milder and sweeter flavor that distinctly separates them from an onion though. Therefore, many chefs place shallots in a category on their own.
How To Substitute For Shallots
You can probably guess that any of the vegetables named above will be great substitutes for shallots. You are correct!
A great thing about having several vegetables in the same family is that they make it easy to find a substitute. All of these can be used as substitutes for shallots:
Leeks
Scallions
Chives
Yellow onions
White onions
Pearl onions
Red onions
Garlic
Garlic scapes
Remember that each of these does have its own unique flavor and some are quite stronger than shallots. Therefore, it is important to learn how to best use each of these individual and aromatic veggies to get the best results.
One of the important things to pay attention to is how to measure each of these as a substitute. These substitutes may all come from the same flavor family; however, they are all quite different in size.
Due to this, you will need to know how to measure each different substitute to equal one shallot.
The Best Substitutes For Shallots
1. Leeks
In the United States, leeks are probably one of the least used members of the allium family. They are the most closely related in taste to the shallots, though! So, if you are looking for a quick and easy substitute that is straight across – try some leeks!
While you can substitute leeks in a 1:1 ratio, leeks are shaped and sized differently than shallots. If the recipe calls for volume, such as tablespoons or cups, measure 1:1 for shallots.
If your recipe calls for 1 large chopped shallot, that equals approximately ½ cup (depending on the size of the shallots). 1 medium shallot equals ¼ cup chopped, and a small shallot is typically 2 tablespoons of shallot chopped.
Use the white or light green portion of the center of the leek for best results. This portion of 1 leek equals roughly 1 cup of leek when chopped.
Leeks can be used to replace both cooked and raw shallots. The one thing to keep in mind if using them in a hot dish is that leeks cook quite a bit faster than shallots. Add leeks later in the cooking process – just before serving – to keep them from over cooking.
Tips For Using Leeks In Place Of Shallots
The light green stalk of the leek is the most closely related in flavor to shallots. Make sure to include a mixture of the white bulb plus the tender, light green stalk to get the best flavor.
2. Scallions (AKA Green Onions)
Technically, scallions are young green onions; however, the two are commonly used interchangeably.
Both are sold in a bunch and have a white onion bulb at the bottom of the green stalk. They are also very similar in flavor and can be used in the same way as a substitute for shallot.
Scallions can be used in a 1:1 ratio for shallots. They work well as both a cooked and raw substitute. The trickiest part of using scallions is finding the right measurement.
Measuring by volume is simple. However, if a recipe calls for one chopped shallot you will need to approximate and probably do some taste testing along the way. Begin with chopping about 5 bulbs at the base of the scallion. Add more if needed.
Scallions have a milder flavor compared to other types of larger onions. This makes them a better option to substitute for shallots, as the flavor won't overpower a dish.
Tips For Using Scallions In Place Of Shallots
Unlike leeks, focus on only using the white bulb of the scallion. You can chop the green stalk for garnish to add for serving if you'd like.
To mimic the complex flavor of the shallot, add a dash of garlic powder or a small amount (¼ teaspoon per 1 shallot) of finely chopped fresh garlic.
3. Chives
Chives are a small grassy vegetable. Commonly used as a garnish or topping for dishes they can also be used in cooking.
Chives are mild in flavor and offer a similar taste and aroma to shallots. Their mild flavor makes them a great substitute since they will not quickly overpower the flavors of a dish the way that too much onion or garlic may do.
Chives are most easily used for a recipe that measures shallots by volume, as it is difficult to make an exact measurement for 1 shallot compared to a bunch of chives.
You can use chives in a 1:1 ratio for chopped shallots in both cooked and raw recipes. You may even find that due to their milder flavor, you add some extra chives at the end.
4. Yellow Onion
Yellow onion is milder and sweeter than white onions. This makes it more closely related to the flavor of shallot and a great substitute for recipes calling for cooked shallots because it won't overpower the other flavors.
It can also be a good choice for replacing raw shallots in salads and other similar dishes.
Yellow onions are usually small-medium in size. However, a small yellow onion is still a bit larger than a shallot.
When substituting for raw shallots that are measured in tablespoons or cups, begin with half the amount of onion. For example, replace a ½ cup of shallots with ¼ cup of yellow onion.
If substituting for 1 chopped shallot, begin by substituting a ¼ of a yellow onion for 1 shallot. Depending on the size of the onion you may need to use a full half. Begin with a quarter though and taste your dish, then add more as needed.
You can usually use a 1:1 ratio of cooked yellow onion for cooked shallots. Remember that onion in any form can quickly overpower a dish though. I suggest chopping up a 1:1 ratio but only adding ¼ to ½ to begin with and then add more to taste.
5. White Onion
When you are at the grocery store you may think that grabbing a white onion instead of a yellow onion won't make much difference. It will. White onions are less sweet and quite a bit sharper in taste than yellow onions.
Yellow onions will always be a better substitute for shallots. In a pinch, white onions can be used as a substitute for recipes that call for cooked shallots.
Due to their more stringent taste, you will use ¼ to ½ the amount of white onion that the recipe calls for in shallots.
If measuring by 1 chopped or diced shallot, begin with a quarter chopped white onion. Add more as needed once you have tasted the flavor.
Tips For Substituting White or Yellow Onions
To help mimic the more complex flavor of a shallot, add a dash of garlic powder to your dish. This will help balance the onion taste and mimic the flavor of a shallot more closely.
6. White Pearl Onions
The only place you may have seen a white pearl onion is in a cocktail. These little onions are most often pickled to use in cocktails.
While less commonly found in their raw form, if you do see pearl onions in the vegetable aisle go ahead and grab a few! (Leave the pickled ones for cocktails though).
Since these are closer in size to shallots, you can make an easy 1:1 substitution or pearl onions for shallots. Use pearl onions for recipes that call for cooked or raw shallots.
7. Red Onions
Sometimes people think red onions are more potent than white or yellow onions; however, they are actually milder. This makes them a great option as a substitute for raw shallots.
I do not suggest using red onions as a substitute for cooked shallots, though. When cooked, the taste and even color of red onion is not ideal.
Since red onions are popularly used in their raw form to add flavor to salads and dressings you can easily swap out red onion for shallots in a 1:1 ratio if measuring by volume (teaspoon, tablespoon, cups).
Red onions are much larger than shallots though. Therefore, if measuring for 1 chopped shallot begin with ¼ (or even less than a ¼) of chopped red onion. You can add more if needed, but a quarter is probably about the size of one shallot.
8. Garlic
Although shallots are often referred to as a cross between garlic and onion, in most cases garlic is the last resort as a substitute for shallots. This is due to the powerful taste of garlic. Especially raw garlic.
Shallots are milder and sweeter in flavor than raw garlic. On the other hand, cooked or roasted garlic is milder than its raw counterpart. Therefore, garlic can work as a substitute in recipes that call for roasted, sauteed, or cooked shallots.
Use 1 clove of garlic in place of 1 shallot to begin. You may want to add a second clove but wait until you have cooked that first clove. If using volume measurements, use half of what the recipe calls for.
Keep in mind that garlic has a distinct flavor. Unlike some of the substitutes above that have a flavor similar to shallots, even cooked garlic will not mimic the flavor of shallots.
Garlic will add aroma and flavor to a dish, but it will taste like garlic and not shallots.
The best way to use garlic is in addition to other substitutes. By adding garlic to some of the substitutes mentioned above you can get a similar flavor profile to shallots.
*See the tips above for adding garlic or garlic powder for yellow onion, leeks, scallions.
9. Garlic Scapes
Garlic scapes are probably more difficult to come across than shallots. So, you may not find yourself reaching for them as an everyday substitute.
These rare veggies are the actual green leafy part on top of the garlic bulb, that grows above ground. You are most likely only familiar with garlic scapes if you grow your garlic since this part of the garlic has already been removed before the bulbs get to the store
In the case that you happen to grow your own garlic and have access to the scapes or come across them at a farmers market, try them out!
They are tasty and mild in flavor and can be used as a 1:1 substitute for shallots that are measured in volume.
Shallots As A Substitute
There are many different reasons to reach for a substitute. Whatever your reason, these different options will all add delicious flavor to your dish.
If your reason for choosing a substitute is because you have never tried shallots, I highly recommend giving them a try at some point.
As you can see, there are plenty of options to substitute for shallots. On the other hand, shallots are great substitutes for any of these allium veggies!
Next time you reach for an onion at the store, look nearby and pick up a shallot to try as well.
I hope this list has provided you with plenty of options should you ever find yourself short on shallots!
An all-inclusive list of my other helpful substitutes!
📋 Recipe
Print Recipe
Leave A Comment
Love This Recipe?
Click On A Star To Rate It!
Shallots Substitute: Best Options & How to Use Them
If you're searching for a shallots substitute there are plenty of easy options, some of which you may not expect! I've comprised a list of simple substitutions you can use when a recipe calls for shallots and you realize you're out!
Share on Facebook
Ingredients
Option 2: Scallions (Green Onions)
Instructions
Option 1: Leek
Use the bottom and inner portion of the leek (white and light green) for best results. Clean thoroughly and chop, then add toward the end of your cooking process as leek cooks faster than shallots.
Option 2: Green Onions (Scallions)
Use the bottom white portion of the scallions to substitute best for your shallots. Scallions can be substituted in a 1:1 ratio of equal amounts, but you may want a dash of garlic salt to help mimic the shallot flavor best.
Equipment You May Need
Notes
Using leek is my personal favorite substitute for shallots, followed by green onions (or scallions).
However, onion is most likely what you may have on hand and readily available. In this case, select a yellow or sweet onion whenever possible and use ½ the amount of onion as your recipe calls for shallots.
Nutrition
Calories:
54
kcal
(3%)
|
Carbohydrates:
13
g
(4%)
|
Protein:
1
g
(2%)
|
Fat:
1
g
(2%)
|
Saturated Fat:
1
g
(6%)
|
Polyunsaturated Fat:
1
g
|
Sodium:
18
mg
(1%)
|
Potassium:
160
mg
(5%)
|
Fiber:
2
g
(8%)
|
Sugar:
3
g
(3%)
|
Vitamin A:
1484
IU
(30%)
|
Vitamin C:
11
mg
(13%)
|
Calcium:
53
mg
(5%)
|
Iron:
2
mg
(11%)
Shallots Substitute, substitutions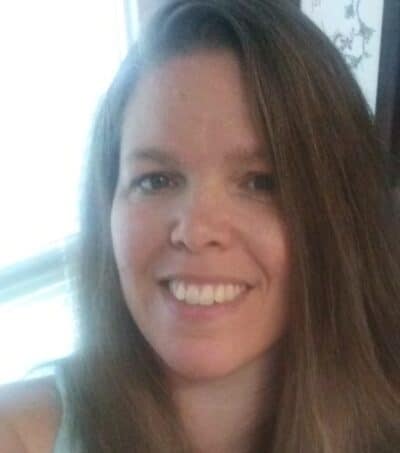 Angela is an at home chef that developed a passion for all things cooking and baking at a young age in her Grandma's kitchen. After many years in the food service industry, she now enjoys sharing all of her family favorite recipes and creating tasty dinner and amazing dessert recipes here at Bake It With Love!