My favorite quick and easy Marsala wine substitute ideas for the best cooking wine substitutions that don't compromise on great flavor! This list of 16 substitutes for Marsala cooking wine includes both alcoholic and non-alcoholic options to suit your dietary needs and to make use of what is readily available to you in your kitchen!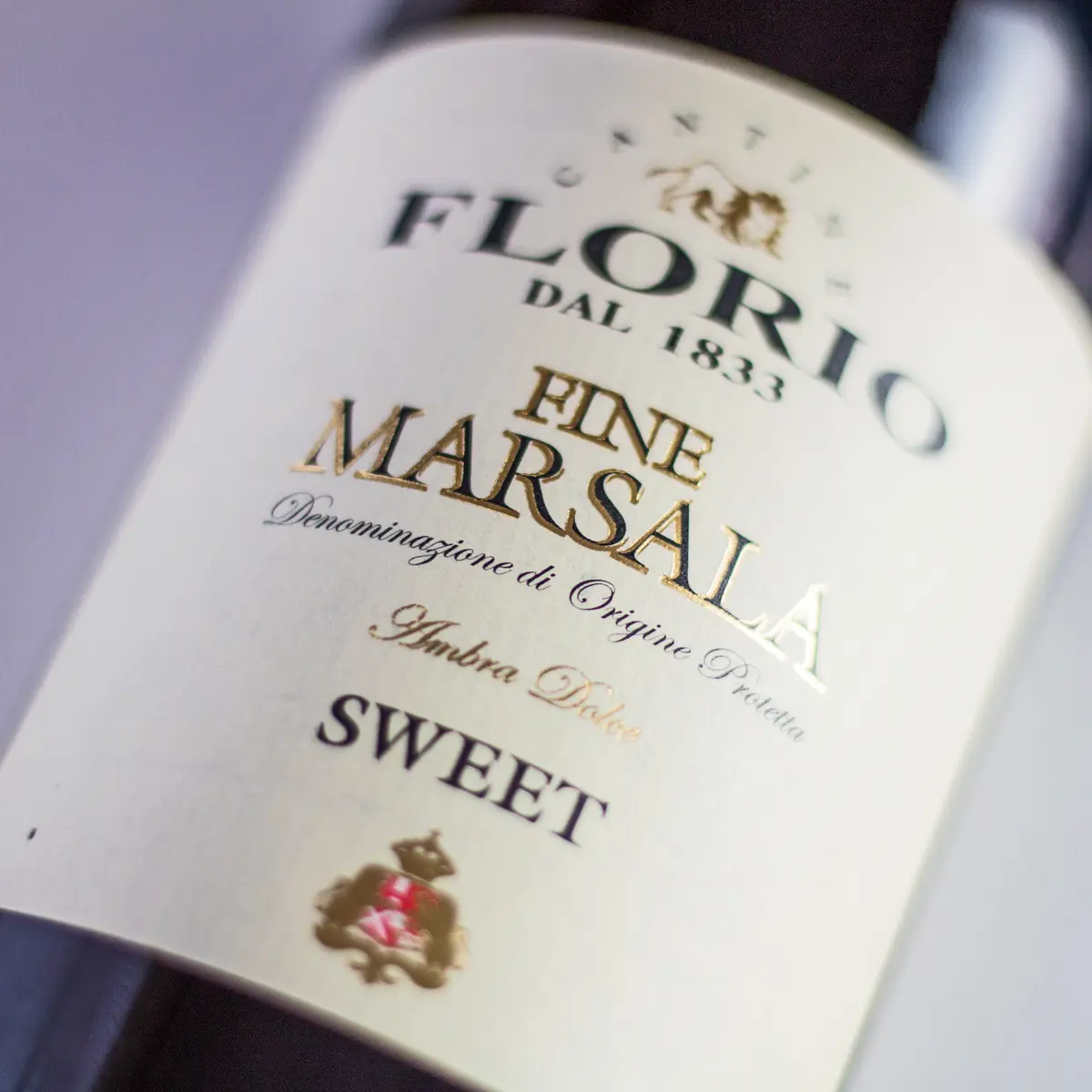 16 Easy Marsala Wine Substitutes
Marsala Wine is often used in Italian recipes to make creamy, delicious, and savory recipes. If you like Marsala Chicken, you are already familiar with Marsala Wine!
Dry Marsala wine is used in Marsala chicken, veal Marsala, and many risotto recipes, most frequently in US-based Italian restaurants. Sweet Marsala wines are used in recipes like zabaglione, tiramisu, shortcake, and more.
What is Marsala Wine?
Marsala is a 'fortified' wine, one that is made with a mixture of distilled spirits. Usually, the spirit used in Marsala is brandy. *Other fortified wines include Commandaria, Madeira, port, vermouth, and sherry.
The fortified Marsala wine was originated in the region near the village of Marsala, Sicily, Italy. Marsala is made from various kinds of grapes and contains 15% to 20% alcohol ( by volume ).
Alcohol-Based Marsala Substitutes for Cooking
1. Madeira
Madeira is your best substitute for Marsala wine. It is almost identical to Marsala in terms of color and flavor.
Madeira is enjoyed by many people as an aperitif, while some restaurants serve it as dessert. Note that the authentic Madeira is made of five kinds of grapes, and possesses a strong flavor.
Just like Marsala Wine, Madeira also becomes more robust with aging. Since this wine is strongly flavored, to begin with, you should carefully choose the best Madeira for your recipe or overall cooking purposes.
2. Fortified Wine
Fortified wines, as noted above, are wines that have been improved with some distilled spirit, most commonly brandy. Marsala wines lead the fortified wine community for cooking, though the other varieties are also used for both sweet and savory cooking.
You can use any of these fortified wines to replace Marsala in your recipe: Madeira ( mentioned above as the best Marsala substitute ), Commandaria, sherry, vermouth, and port.
3. Dry Sherry
Another excellent and popular Marsala wine substitute is dry sherry. Though Marsala offers a more complex flavor to dishes, dry sherry achieves very similar results.
Note that you need to use the actual sherry wine, not the cooking sherry wine. Cooking sherry has a higher sodium content that will most likely alter the desired taste of the recipe that you're cooking.
4. Sherry Wine and Sweet Vermouth
Although dry sherry is a good alternative; the flavor profile can be enhanced if you use an equal amount of sweet vermouth with it. This combination adds a more intense flavor to your cooking.
5. Amontillado Wine and Pedro Ximenez
Amontillado Wine is a sherry wine variety that originated in Spain in the eighteenth century. Instead of dry Marsala, you can use Amontillado. Similarly, another Spanish wine named Pedro Ximenez can be used to replace sweet Marsala.
6. Port
Port can also act as a substitute for Marsala Wine, especially for sweet recipes and desserts. I love using port wines as the base for desserts, especially braising or poaching pears!
Even though I usually associate port wine with a sweet red wine variety, port wine, like other wine varieties, comes in many flavors. Port wine also comes as dry, rosé, semi-dry, and white varieties that can also be good substitutes for Marsala wine in savory recipes.
7. White Grape Juice with Brandy
If you have some white grape juice in your kitchen you can make an easy Marsala substitute by combining it with brandy ( best option ), or cognac ( next best choice ). For every ¼ cup of white grape juice add one teaspoon of brandy or 1 cup white grape juice with 1 tablespoon plus 1 teaspoon of brandy or cognac.
8. Non-fortified Wine
A standard white wine can be a great substitute for Marsala wine too. You can improve the flavor approximation by adding a splash of brandy, or cognac, to the wine.
For an even better match to Marsala's flavor, use 1 cup of your white wine of choice, a ½ cup of brandy, ½ tablespoon of brown sugar, and a pinch of salt.
Use a sweet white wine like a riesling or Moscato for desserts. For savory dishes, use a dry white wine variety.
9. Pinot Noir
Pinot Noir is a red wine mainly made from Pinot noir grapes that can be used as a great alternative to Marsala wine. This red wine has a slightly sweet flavor and is readily available in most grocery and liquor stores.
Add a bit of sugar to your recipe if needed, to better mimic the Marsala wine flavor.
10. Dry White Wine
Consider using a dry white wine if you don't find any Marsala wine in your nearby stores. A dry white wine is a great, quick substitute for Marsala. For best results, I still like to add a splash of brandy for better flavor.
Note: When cooking with wine or alcohol, not all of the alcohol content evaporates. Foods that are braised, poached, simmered, sauteed, or baked can still retain somewhere between 4% - 85% of the alcohol according to the USDA.
Non-Alcoholic Marsala Wine Substitutes for Cooking
11. White Grape Juice
Simple plain white grape juice also works as a Marsala Wine substitute. However, the best non-alcoholic Masala wine substitute is a combination of ¼ cup white grape juice, 2 tablespoons of sherry vinegar, and 1 tablespoon of vanilla extract.
12. Prunes, Figs, or Plums with Balsamic Vinegar
Fruits such as prunes, figs, or plums can be used and cooked down, stew style, to make a Masala substitute. Simmer the fruits over low heat and strain them through a fine-mesh sieve. After you strain the fruit, add a bit of Balsamic vinegar, and your substitute is ready to use!
13. Red Grape Juice or Cranberry Juice
For cakes and many baked goods, you can even work with red grape juice or cranberry juice. The flavor is not exact, but it is a fair approximation and completely alcohol-free.
14. Figs and Rosemary with Sage
A puree can be made using figs, rosemary, and sage. This puree can be used as-is, or slightly watered down to use as your Marsala substitution.
When using this puree, start with one teaspoon at a time. Taste, and increase the amount of puree as needed.
15. Balsamic Vinegar
Balsamic vinegar can work as a Marsala Wine substitute in a pinch. However, it would not be my first choice especially if needing a sweet Marsala substitute.
When using balsamic vinegar, I would suggest making a reduction with the vinegar first. Add small amounts of sugar after reducing, adjusting to your own taste gradually.
16. Chicken or Vegetable Stock
Chicken stock or vegetable broth can be used as a non-alcoholic Marsala substitute for savory dishes. Recipes, especially meat dishes, that will be simmered or cooked for longer periods of time will work best with this Marsala wine substitute.
More Great Substitutes!
More great substitute pages to help you out with all of your cooking and baking!
📋 Recipe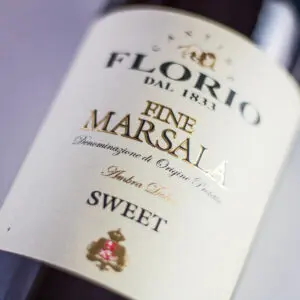 Print Recipe
Leave A Comment
Love This Recipe?
Click On A Star To Rate It!
Marsala Wine Substitute
My favorite quick and easy Marsala wine substitute ideas for the best cooking wine substitutions that don't compromise on great flavor! This list of 16 substitutes for Marsala cooking wine includes both alcoholic and non-alcoholic options to suit your dietary needs and to make use of what is readily available to you in your kitchen!
Share on Facebook
Ingredients
Option 2 - Fortified Wine
1

cup

Fortified Wine

(Commandaria, Madeira, Sherry, Vermouth, Port)
Option 3 - Dry Sherry Wine
1

cup

Sherry Wine

(not sherry cooking wine)
Option 4 - Sherry Wine + Sweet Vermouth
½

cup

Sherry Wine

½

cup

Sweet Vermouth
Option 5 - Amontillado Wine (savory) or Pedro Ximenez (sweet)
1

cup

Amontillado Wine

(Sherry Wine variety to replace dry Marsala)

1

cup

Pedro Ximenez

(Spanish wine to replace sweet Marsala)
Option 7 - White Grape Juice + Brandy (or Cognac)
1 ⅓

tablespoon

Brandy or Cognac

(1 tablespoon + 1 teaspoon)

1

cup

White Grape Juice

(minus the 1 ⅓ tablespoons brandy)
Option 8 - Non-Fortified Wine
1

cup

Non-Fortified White Wine
Option 10 - Dry White Wine
Option 11 - White Grape Juice
Option 12 - Prunes, Figs, or Plums + Balsamic Vinegar
Option 13 - Red Grape Juice or Cranberry Juice
1

cup

Red Grape Juice or Cranberry Juice
Option 14 - Figs, Rosemary, and Sage
1

cup

Figs

1

sprig

Rosemary

(or 1 teaspoon dried rosemary)

1

leaf

Sage

(or ½ teaspoon ground sage)
Option 15 - Balsamic Vinegar
1

cup

Balsamic Vinegar

(cooked and reduced)

1

cup

Chicken or Vegetable Broth

1

tablespoon

Sugar
Option 16 - Chicken Stock or Vegetable Broth
1

cup

Chicken Stock or Vegetable Broth
Help Us Out!
If you love a recipe, be sure to come back and share your ratings. This helps future users, and allows me to continue sharing free recipes! Angela
Instructions
Select the substitute ingredient that works best for your recipe. Note the amount needed to make the best adjustments.

Prepare your recipe as usual, and taste to make sure that you are getting the desired flavor. Make adjustments as needed, then serve and enjoy!
Notes
*All of the substitutions given above are for 1 cup of Marsala Cooking Wine. Use more or less as needed. I suggest starting with less, and adjusting to taste as you go.
**Nutritional information is based upon 1 cup of Madeira wine.
Nutrition
Calories:
197
kcal
(10%)
|
Carbohydrates:
6
g
(2%)
|
Protein:
1
g
(2%)
|
Sodium:
12
mg
(1%)
|
Potassium:
170
mg
(5%)
|
Sugar:
2
g
(2%)
|
Calcium:
22
mg
(2%)
|
Iron:
1
mg
(6%)
Marsala cooking wine, Marsala Wine Substitute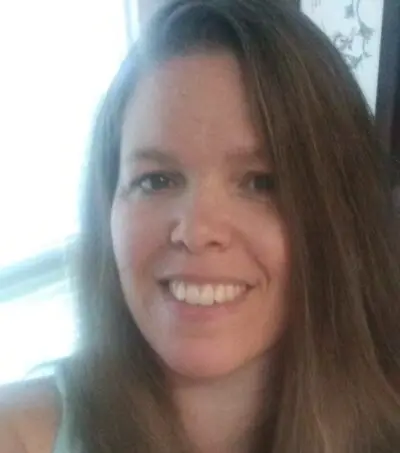 Angela is an at home chef that developed a passion for all things cooking and baking at a young age in her Grandma's kitchen. After many years in the food service industry, she now enjoys sharing all of her family favorite recipes and creating tasty dinner and amazing dessert recipes here at Bake It With Love!