Swapping out a Coconut Sugar Substitute is super easy to do with this fabulous, complete list of alternatives for cooking and baking! Choose from this variety of sugar options and select the very best substitution that fits your needs!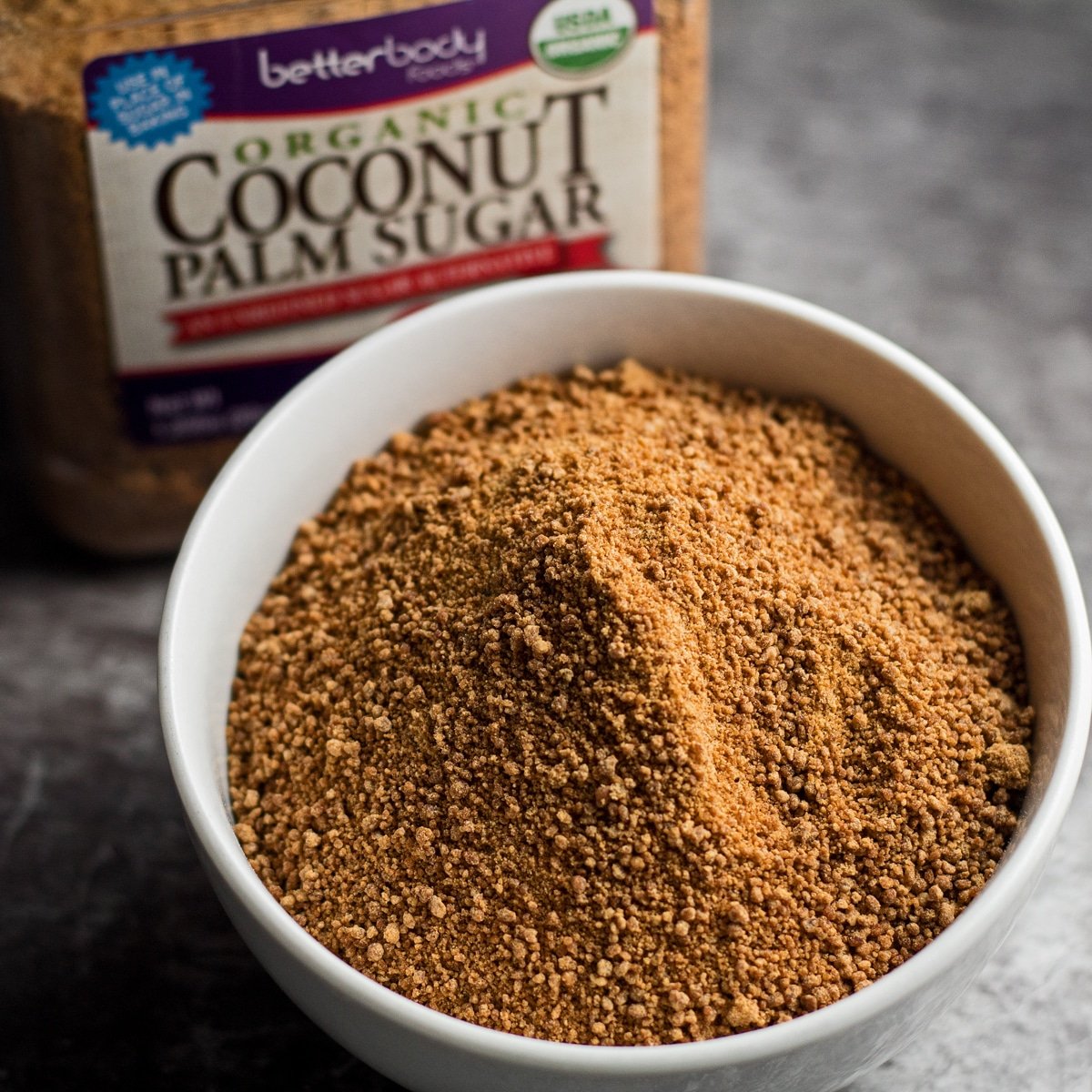 14 Best Coconut Sugar Substitutes
Do you love baking with coconut sugar? Or have a recipe that calls for this wonderfully tasty sugar option? Went to reach for your coconut sugar, only to find that it's not in your pantry?
This has also certainly been the year of not being able to find some of our grocery shopping staples on the shelves! No matter the reason, here are the very best substitutes for you to choose from!
Jump to:
What is Coconut Sugar?
Coconut sugar, also called coconut palm sugar, coco sap sugar, or coconut crystals, is the sugar made from the sap of coconut palm tree flowers. It's a natural sugar that is relatively unprocessed, especially in comparison to granulated white sugar or 'table sugar'.
This sugar goes most commonly by the names coconut sugar and coconut palm sugar, but should not be confused with palm sugar. Palm sugar is a similar sugar from the palm tree.
The simple 2-step process of making coconut sugar includes: collecting sap from the coconut flowers then removing the liquid by dehydrating. This dehydrated form is broken into the granules that we purchase as coconut sugar.
What has created the buzz around coconut sugar? It actually has a lower glycemic index than granulated sugar. Granted, the calories are about the same so it's not a low-calorie option.
Still, the relatively unprocessed sugar has a fiber, inulin, that helps to slow the digestion of sugar. The low GI of this sugar and the trace mineral content makes it a viable healthier eating choice.
Table Sugar GI = 60 vs. Coconut Sugar GI = 54 (or 35 as claimed by Nutiva brand)

To make things even more confusing, coconut sugar is also available in liquid form. This liquid option also goes by two names, either coconut sap or coconut nectar!
More Great Baking Substitutions: Buttermilk Substitute, Arrowroot Powder Substitute, Cream Cheese Substitute
Best Overall Substitute
There is one stand-out substitute that works best for matching the color, consistency, and flavor of coconut sugar.
1. Brown Sugar
For the best end result that most resembles coconut sugar, use brown sugar instead. It's super common and easy to get, and there's a good chance that you already have some on hand.
Do use light brown sugar, as the higher molasses content in dark brown sugar will change your flavor.
In a pinch, if you have no other sugar alternatives available, even granulated sugar will work as a replacement for coconut sugar.
In general, you can use light brown sugar, dark brown sugar, and granulated sugar in equal amounts as coconut sugar. However, you do not need to pack your brown sugar for measuring.
Since other sugars are a bit sweeter than coconut sugar, you may want to reduce the sugar amount. Use ⅔ cup of light brown sugar ( or sugar, or dark brown sugar ) for each 1 cup of coconut sugar called for in a recipe.
Best Natural Substitutes
If you're looking for a great coconut sugar substitution that is still a healthier option than table sugar or brown sugar, you can use one of these great options!
2. Sucanat
Sucanat is raw cane sugar that undergoes only a few processing steps. The larger crystals and light golden color resemble coconut sugar very much! In addition, the natural molasses content of sucanat means that the flavor also has slight hints of caramel.
The coarse texture of sucanat means that it will not dissolve as quickly as finer sugars. Use the coarse granules to top baked goods, or run the sugar through a food processor to reach table sugar or caster sugar consistency ( superfine sugar ).
Sucanat can be used in a 1:1 ratio in any recipe calling for coconut sugar.
3. Raw Honey
Or honey, but I do recommend raw honey. What is raw honey? Raw honey is honey as you would find it in the beehive or honeycomb. It is removed, strained, and packaged therefore retaining a bevy of wonderful nutrients.
Once raw honey has undergone commercial processing, which includes heating, cooling, skimming, it is typically not as nutritious as raw honey.
Additionally, sometimes commercially processed honey has been processed to the point that it holds very little of its true honey flavor. Additives like corn syrup and sweeteners can also change the honey flavor, consistency, and nutritional values.
Back to raw honey! Use raw honey in a 1:4 ratio as coconut sugar when substituting. For every 1 cup of coconut sugar, use ¼ cup of honey. *When using liquid substitutes, you may need to adjust other liquids in your recipes.
4. Maple Syrup
Maple syrup is the sap that has been harvested from maple trees. The maple sap is boiled until it reaches syrup consistency, then bottled and sold for all of us to enjoy!
Like honey, maple syrup is a quick and easy coconut sugar substitute! The flavor is more maple, obviously! However, it does add its own notes of sweetness that work quite suitably in any recipe.
Do opt for pure maple syrup for any substitution as most commercial brands have plenty of other ingredients!
Use maple syrup in a 1:4 ratio, or ¼ cup of maple syrup for every 1 cup of coconut sugar. *When using liquid substitutes, you may need to adjust other liquids in your recipes.
5. Agave Syrup
Agave syrup, also called agave nectar or maguey syrup, is a syrup made from the agave plant. The sap is harvested from the plant and then processed with heat and enzymes.
This commercial process changes the traditional Mexican syrup, miel de agave, into a highly-processed syrup. The resulting syrup has lost most, if not all, of its nutritional benefits.
However, the GI index of agave syrup is lower due to the fructans of the agave sap being converted to fructose in the heating and/or enzyme process.
Agave syrup is 1 ½ times sweeter than sugar! Like other liquid coconut sugar substitutes, use ¼ cup agave syrup for each 1 cup of coconut sugar needed. *When using liquid substitutes, you may need to adjust other liquids in your recipes.
6. Maple Sugar
Maple sugar is exactly what it sounds like it is! The 'sugar' is the dehydrated maple sap that has been reduced to granule form.
The coarse granules look a lot like coconut sugar, but like maple syrup, they have a more maple flavor. It's still a very pleasant flavor, it just doesn't quite match up to the light caramel flavor of coconut sugar.
BONUS - you can make maple sugar at home! You need the actual maple sap from a sugar maple tree. Boil the sap until it reaches 270ºF ( 132ºC ). The sugar granules will form at this temperature, just continue stirring until the granules have completely formed.
Maple sugar works wonderfully in a 1:1 ratio as a coconut sugar substitution!
7. Date Sugar
This sweet powdered sugar is not a 'sugar' in the strictest sense. It is made of finely ground, dehydrated dates that can be used as a sweetener. And it packs a punch of fiber and minerals for some great nutritional benefits!
BONUS - you can make date sugar at home! I like Medjool dates for my date sugar. Cut each of your dates in half, remove the pits and discard.
Using a dehydrator or a preheated oven at 425ºF ( 218ºC ) place your dates on a parchment paper-lined baking sheet. Leave spacing between the dates so that they get heated evenly.
Bake for about 15 minutes, or until the dates feel extremely firm when squeezed. Literally, there should be no real give to them!
Once they're dried, you will need a food processor that can handle a heavy-duty job! Process the dates a few at a time until complete, working in about 1 teaspoon of cornstarch per 1 pound of dates. Store the date sugar in an airtight container.
Date sugar has a mild, sweet flavor that can be used in a 1:1 ratio when replacing coconut sugar. However, I prefer to use ½ cup for each cup of coconut sugar or brown sugar and ⅔ cup for each 1 cup of granulated sugar. *Just note that date sugar will not dissolve like other sugars!
8. Demerara Sugar and Turbinado Sugar
These two sugars are sometimes referred to interchangeably, and also called 'raw sugar'. Here in the States, you are much more likely to find this sugar sold as 'turbinado'. Over the pond in Britain, you are more likely to find 'demerara' sugar.
However, if you do happen to find both at a store you would notice that the demerara sugar is typically lighter in color with a golden blonde appearance. The taste of demerara is also a bit milder than turbinado sugar.
Both of these sugars are great alternatives to coconut sugar and can be used in the same amount as the coconut sugar called for in a recipe.
9. Piloncillo or Panela (Mexican Brown Sugar)
Best Low-Carb Substitutes
10. Stevia
Stevia is a plant-based sugar substitute from the leaves of the stevia plant, which is an herb from the Asteraceae family. This sugar-free sweetener is available in powdered or liquid form, with individual packets available for ease of use.
I've seen it noted in many places that Stevia can be used as a 1:1 replacement for sugars of all types. HOWEVER, Stevia is twice as sweet as sugar and I do not use it in anywhere near the same proportions!
If you are familiar with using Stevia, you may already know your preferred ratio for substitutions. If you are new to using Stevia, taste and adjust as you go. Experiment until you find your 'just right' flavor.
11. Monk Fruit
12. Erythritol
13. Tagatose
14. Xylitol
More great substitute pages to help you out with all of your cooking and baking!
More Substitutes
📋 Recipe
Print Recipe
Leave A Comment
Love This Recipe?
Click On A Star To Rate It!
Coconut Sugar Substitute
Swapping out a Coconut Sugar Substitute is super easy to do with this fabulous, complete list of alternatives for cooking and baking!
Pin Recipe
Share on Facebook
Ingredients
Best Coconut Sugar Substitute
⅔

cup

light brown sugar

(spooned and leveled, not packed - for each 1 cup of coconut sugar)
Best Natural Substitutes
1

cup

sucanat

(for each 1 cup of coconut sugar)

¼

cup

honey

(for each 1 cup of coconut sugar)

¼

cup

maple syrup

(for each 1 cup of coconut sugar)

¼

cup

agave syrup

(for each 1 cup of coconut sugar)

1

cup

maple syrup

(for each 1 cup of coconut sugar)

½

cup

date sugar

(for each 1 cup of coconut sugar)

1

cup

demerara and turbinado sugar

(for each 1 cup of coconut sugar)
Best Low-Carb Substitutes
½

cup

stevia

(for each 1 cup of coconut sugar - taste and adjust to your liking)
Instructions
Choose which coconut sugar substitute will work best for you and read the notes on any additional adjustments that may need to be made to your recipe. *You may need to reduce the liquid ingredients in your recipe when using liquids like honey or syrups.

Make your recipe with your preferred substitute and any necessary adjustments.
Equipment You May Need
Notes
Nutritional values listed are for 1 cup of coconut sugar and will vary based on the brand.
Nutrition
Calories:
522
kcal
(26%)
|
Carbohydrates:
139
g
(46%)
|
Sodium:
314
mg
(14%)
|
Sugar:
104
g
(116%)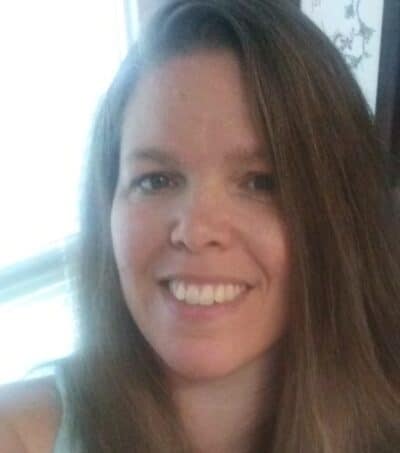 Angela is an at home chef that developed a passion for all things cooking and baking at a young age in her Grandma's kitchen. After many years in the food service industry, she now enjoys sharing all of her family favorite recipes and creating tasty dinner and amazing dessert recipes here at Bake It With Love!