When you need the best brown sugar substitute to make an amazing recipe, check out this complete list of great brown sugar alternatives! Everything you need to know about which substitute to choose for specific types of foods, and how to use them!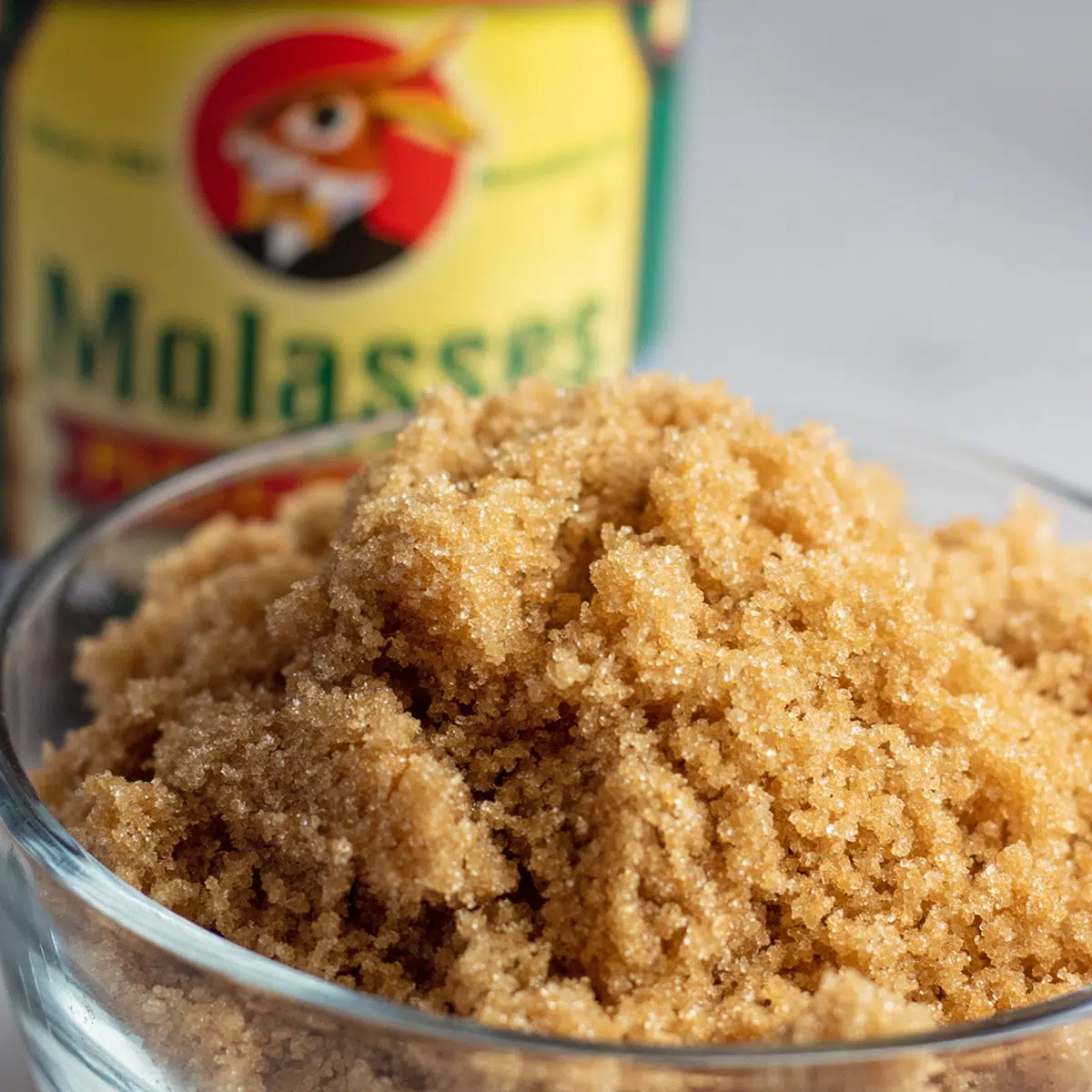 Bake without missing a beat when you have these handy brown sugar substitutes!
When you're getting ready to cook or bake and start out with gathering your ingredients, you can confidently move forward even when missing brown sugar!
All you need is just one of the many alternatives shared here to get amazing results!
Jump to:
What is brown sugar?
Brown sugar is a brown sucrose sugar product. The sugar is either refined or unrefined, and the sugar crystals are brown in color.
This is either due to some residual molasses if it is natural brown sugar, or molasses added to refined white sugar, if it is commercial brown sugar. Brown sugar is a commonly used ingredient in both cooking and baking.
Light Brown Sugar vs. Dark Brown Sugar
The difference between light brown sugar and dark brown sugar comes down to the amount of molasses that the ingredient contains.
Based on volume, commercial light brown sugar contains around 3.5% molasses and dark brown sugar contains up to 6.5% molasses. Based on weight, regular commercial brown sugar contains up to 10% molasses. It is considered soft, as it is naturally moist from the molasses.
So, it is no surprise that you will notice one is lighter in color, while the other is darker in color. Dark brown sugar does have a slightly richer flavor, similar to caramel or toffee.
Can you use light brown sugar and dark brown sugar interchangeably?
For the most part, yes. While dark brown sugar has more moisture, it is such a small difference that you would unlikely ever notice the difference and there is no need to alter any of the other ingredient measurements.
However, you will notice a slight difference in color, taste, and texture. The color will either be lighter or darker, have a deeper toffee flavor or less of that rich flavor, and might either rise slightly more or slightly less, depending on which you use in place of the other.
How is brown sugar different from raw sugar, cane sugar, muscovado, and turbinado sugar?
Raw sugar is made by refining sugar cane. It is an added sugar, not a natural sugar, and in the U.S., is mostly produced in Florida. Raw sugar is less refined, therefore containing more of the natural molasses that is present in sugar cane and is light brown in color.
Cane sugar is the sugar made from sugar cane. The molecules that make up sugar cane are identical to the molecular makeup of white granulated sugar, so they are essentially the same product. However, white granulated sugar can be made from either sugar cane or sugar beets.
Cane sugar is lighter in color than brown sugar and isn't moist like brown sugar, but both come from the sugar cane plant.
Muscovado is another sugar that is brown in color but is different from standard "brown sugar." It is the most unrefined cane sugar, contains its natural molasses, and is rich, moist (moister than brown sugar), sticky, coarse, has a toffee-like flavor.
It even contains some minerals and antioxidants. It is considered to be more artisanal due to the more laborious process of making it.
Turbinado sugar is also made from cane sugar, is light brown in color, and has larger crystals. It's actually the same thing as raw sugar, and gets its name from minimal processing, in which much of the natural molasses remains in the product.
So, the difference between brown sugar and many other sugars is the process that it goes through, which determines color, taste, granule size, moisture levels, and ultimately, your final product!
12 Best Substitutes for Light Brown Sugar and Dark Brown Sugar
1. Make Your Own
Make your own! Brown sugar is just white sugar that still has molasses in it. Even if you don't have molasses, you can still make your own brown sugar using maple syrup, agave, or honey. Who knew it was that easy?!
***(See the recipe card at the bottom of the page for how to make your own dark or light brown sugar.)
2. White Sugar
Use the same amount of white sugar than the recipe calls for and you will still have a delicious outcome. The only difference you might notice is a crisper cookie or baked good, as white sugar has less moisture than its brown counterpart.
3. Muscovado Sugar
Muscovado is brown in color and has a higher molasses content, so you can replace light brown sugar with a 1:1 ratio. It also comes in a light and dark version, but it is still a bit more flavorful than brown sugar.
4. Jaggery
Jaggery is common in many South Asian cuisines and often found in a hard, block-like form. It works well with savory recipes, as it has an earthy flavor, and can be used as a substitute with a 1:1 ratio for both light and dark brown sugar.
5. Coconut Sugar
Coconut sugar is made from the sap of coconut palm and is very similar in flavor to brown sugar. Substitute with a 1:1 ratio in your recipes.
6. Turbinado Sugar
Turbinado can be used in place of brown sugar, although it is typically mild, has large granules, and is light in color. It is best used as finishing sugar, adding crunch and sparkle to the texture, as it is hard to mix into many recipes.
Still, you can use a 1:1 ratio if you are in a pinch!
7. Raw Sugar
Raw sugar, although brown in color, is more like white sugar than brown sugar. It contains very little molasses, so if you are replacing brown sugar with raw sugar, add extra liquid to make up for the missing moisture.
8. Molasses
Since brown sugar gets its claim to fame from it's molasses content, it would be shameful to leave it out of the substitution list.
Substitute using a 1:1 ratio, but be mindful that molasses is a liquid, so you will want to either reduce liquids elsewhere in the recipe or slightly increase dry ingredients.
9. Date Sugar or Date Paste
Made from grated dehydrated dates, date sugar is a natural sweetener than is highly esteemed as a healthier alternative to processed sugar. Use equal parts.
10. Palm Sugar
Palm Sugar (or sometimes referred to as palm date sugar) comes in hard cones or blocks. It requires being shaved or chopped before using but is a natural sweetener that can be used in place of brown sugar.
11. Maple Syrup, Honey, Agave
These liquid sweeteners will add great flavor but are best used in non-baked recipes, like sauces and glazes, as they are completely liquid, and brown sugar is solid.
If you opt for these liquids, use about 75% of what the recipe calls for, and reduce other liquids in the instructions. That means if the recipe calls for 1 cup of brown sugar, use just ¾ of a cup liquid sweetener.
12. Applesauce
Not exactly similar to brown sugar, applesauce can be used in a pinch as a sweetener in baked goods. Applesauce is especially suited for use in banana bread, cakes, or similar baked goods.
Substitutes for Oatmeal
Maple syrup is a great substitute for brown sugar when making oatmeal because of its liquid texture and rich flavor. The amount you should use depends on how sweet you want the oatmeal to be. Start small and taste test until you get the desired outcome.
In case you don't have brown sugar, you can use white sugar, using a 1:1 ratio.
If you want to sweeten your oatmeal naturally, without adding sugar, try using fruit (bananas, berries, mango, stone fruit, applesauce), dates or coconut, butters (nut or seed), nectars (agave, coconut), syrups (maple, date, sorghum, barley malt, yacon), spices (cinnamon, nutmeg), extracts (vanilla, peppermint, almond), milk (almond, soy, cows), or sweeteners like stevia, xylitol, or erythritol.
Really, the options are endless!
Substitutes for Meatloaf
Brown sugar is often used for meatloaf glazes. In the event that you don't have brown sugar, you can still make a delicious meatloaf by substituting white sugar in its place, using the same amount. It may change the texture and flavor, but only slightly.
If you have molasses on hand, you can always add molasses to the white sugar (or combine directly with ketchup or bbq sauce). Follow the recipe below!
Substitutes for Cinnamon Rolls
Again, white sugar is a perfectly acceptable alternative to brown sugar when making cinnamon rolls. If you use white sugar, you will have light, golden, fluffy cinnamon rolls that are still sweet. The final taste might be less sweet, which some people prefer.
❓ FAQ
What does brown sugar do in cookies?
Brown sugar is often used in cookies. Due to the high moisture content from the retained molasses, the cookies will be chewier, moister, and since it is acidic and activates the baking soda, they will be puffier.
Using other sugars will result in a crispier, flatter cookie, which isn't necessarily a bad thing, it's just a matter of preference!
Which is more expensive, white sugar or brown sugar?
Typically, brown sugar is more expensive than white sugar. This is either because of how it's processed or where it's sourced from. Brown sugar is processed with molasses, which used to be less expensive than refined sugar, but has become almost double the price.
Additionally, brown sugar may be made in small batches, shipped to other countries around the world, driving up the cost of the coveted product.
More great substitute pages to help you out with all of your cooking and baking!
📋 Recipe
Print Recipe
Leave A Comment
Love This Recipe?
Click On A Star To Rate It!
Best Brown Sugar Substitute: Homemade Brown Sugar (+ More!)
When you need the best brown sugar substitute to make an amazing recipe, check out this complete list of great brown sugar alternatives! Everything you need to know about which substitute to choose for specific types of foods, and how to use them!
Pin Recipe
Share on Facebook
Instructions
Combine sugar and molasses in a mixing bowl and use your fingertips to rub the ingredients together until they are well incorporated, continue until the sugar turns brown.

1 cup sugar,

1 tablespoon molasses

Your homemade brown sugar can be kept in an airtight container for several months.
Notes
If you want to make brown sugar with jaggery instead of molasses, you can boil jaggery and water to make a sweet syrup-like product, trying 1 cup of jaggery with ¼ cup water. This liquid technically could be rubbed with white sugar, as described above, to make brown sugar.
However, you might just want to use jaggery instead of brown sugar, using ⅓ more than the recipe calls for.
Nutrition
Calories:
832
kcal
(42%)
|
Carbohydrates:
215
g
(72%)
|
Fat:
1
g
(2%)
|
Polyunsaturated Fat:
1
g
|
Monounsaturated Fat:
1
g
|
Sodium:
9
mg
|
Potassium:
297
mg
(8%)
|
Sugar:
215
g
(239%)
|
Calcium:
43
mg
(4%)
|
Iron:
1
mg
(6%)
Brown Sugar Substitute, Homemade Brown Sugar, how to make brown sugar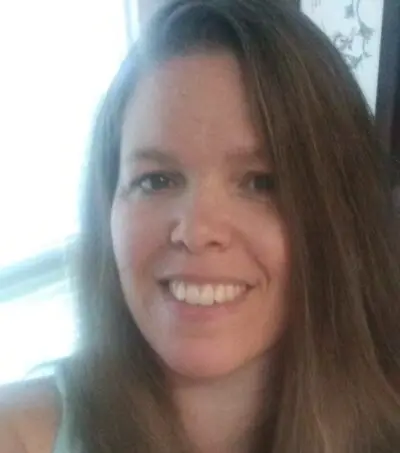 Angela is an at home chef that developed a passion for all things cooking and baking at a young age in her Grandma's kitchen. After many years in the food service industry, she now enjoys sharing all of her family favorite recipes and creating tasty dinner and amazing dessert recipes here at Bake It With Love!