All of my easiest Cornmeal Substitute options including which ones work best to keep that amazing corn flavor or a nice texture! Substitutions that include other corn products, as well as wheat, and gluten-free choices plus how to make your own homemade cornmeal!

More Substitute Pages: Buttermilk Substitute, Cream Cheese Substitute
13 Super Easy (and some surprising!) Cornmeal Substitutes
I think that all of us have experienced shortages in this past year. Whether it was a matter of store shelves being empty, or you simply ran out of cornmeal at home, I have compiled my list of fave substitutions!
My preference is to use other corn-based substitutes when I can to maintain flavor. However, if your dietary restrictions keep you from enjoying corn I have you covered too!
Jump to:
What is Cornmeal?
Cornmeal is nothing more than ground yellow or white corn, and occasionally blue corn. 'Field corn' is what most cornmeal is made from, rather than tastier sweet corn varieties. The cornmeal texture can vary from finely ground, to medium, to larger/coarser dried corn granules.
During the milling process, bran and germ are removed which increases the shelf life of cornmeal to as much as 1 year. For a richer flavor and more nutrients, look for stone-ground or whole-grain cornmeal.
Cornmeal is frequently used for:
Baked cornbread, Johnnycakes, hushpuppies, and corn fritters.
Crust coating for fried fish or chicken.
Tortillas.
And as a thickener for certain dishes.
What you choose as a substitute for cornmeal in your recipes will depend upon two things: the desired flavor and texture.
Corn-Based Substitutes
These are the best substitutes for cornmeal if you're looking to match both flavor and texture! The plus side is that a bunch of these may be conveniently on hand and ready to use!
1. Cornflour (or Polenta flour)
This corn product is basically just very finely ground cornmeal. If you don't like the crunch of cornmeal, this provides the same corn flavor but is finer textured.
Use cornflour in a 1:1 ratio in your recipes that call for fine cornmeal. Note that when you use cornflour your dishes will be lighter and less dense, and you will need to reduce the cooking time slightly.
2. Corn grits
Grittier than cornmeal so not going to be your best choice for lighter airier recipes, but are excellent for pancakes or cornbread. Either regular grits or hominy grits can be used.
Grits are very popular in Southern states as a side dish for breakfast. Grits are made from dent corn which has a different level of starch firmness than the sweet corn that we eat off the cob.
3. Polenta
Similar to grits but a little sweeter, polenta is basically just coarsely ground cornmeal. The main difference is that polenta is made only from yellow corn, specifically Italian eight-row flint corn.
Polenta actually is the name of the dish, similar to porridge, that originated in Northern Italy. *You can read more about corn and how it got to Italy plus the revival of the much more nutrient-dense eight-row flint heirloom corn here!
4. Corn flakes
Very likely to be in the cupboard and ready for a cornmeal emergency. Once crushed, these will stand in very nicely for cornmeal in recipes that need a little crunch and a nice corn flavor.
5. Tortilla chips
Sounds a bit bizarre, but what could be easier? After all, they are made from corn. Just pop into your food processor and grind. They will work in a pinch!
6. Masa harina
Another type of cornmeal made from corn kernels that have been cooked in lime water to remove the outer hull prior to grinding ( dried and ground hominy ). This process gives it a different flavor than regular cornmeal.
In Spanish masa harina means "dough flour" and is a staple in homemade tortillas.
7. Hominy grits
Similar in flavor and texture but slightly coarser than cornmeal. During the milling process, the corn is treated with lye (nixtamalization) which softens the kernels and aids in removing the hull.
You would use approximately ¾ of the amount of cornmeal called for in your recipe.
8. How To Make Homemade Cornmeal
You can also make homemade cornmeal using popcorn, fresh, or frozen corn! If you don't have a dehydrator, the plain popcorn will work best for you. Choose yellow or white popcorn to suit your desired recipe.
To dehydrate fresh corn, choose your favorite cooking method and cook for approximately ¾ of the usual cooking time. Your corn should not be completely cooked before dehydrating. Cut the corn from the cob and transfer the kernels to a parchment paper-lined dehydrator tray.
To dehydrate frozen corn, simply arrange the frozen kernels on a parchment paper-lined dehydrator tray.
Set your dehydrator to 135ºF ( 57ºC ) and allow both fresh or frozen corn to run between 8 - 12 hours.
Check at about the 6-hour mark, break apart any large chunks of corn, and give it a quick shake or flip to help the corn dehydrate evenly.
The corn is ready when they are firm enough that you can't squeeze them ( like popcorn ). If you were to hammer a kernel with a meat mallet, it should break rather than turning to mush.
Process your dehydrated corn or popcorn in a spice grinder, food processor, grain mill, or whatever you have with blades strong enough to do the job. 🙂 Continue until the cornmeal reaches your desired level of fineness. *Work in batches if needed.
Some dehydrators do not have a heat setting. In this case, simply turn the dehydrator on and check the corn about every 3 hours.
Non-Corn Substitutes
Another great set of options for cornmeal substitution don't even have corn in them! Here are all of my 'next best' ideas for what to use when you're out of cornmeal.
9. Semolina
This is my absolute favorite non-corn-based substitute to use for so many reasons! Semolina is a high-protein ( and high-gluten ) flour made from hard durum wheat middlings. It's coarser than typical flour.
The course texture means that semolina can replicate the texture of cornmeal but also adds a wonderfully earthy, nutty flavor. You will need to slightly increase the amount called for in your recipe.
10. Ground oats
If you don't necessarily want the corn flavor, this would be a perfect substitute for texture.
11. Wheat flour
You can easily substitute wheat flour for texture, but the flavor will not be the same as corn products.
12. Rice flour
The fine texture of rice flour makes it a great option to thicken soups, stews, and sauces. Similar to corn, rice flour has the advantage of being Gluten-free for those with restricted diets.
13. Ground flaxseed
Ground flaxseed can provide a crunchy texture, but will have a completely different and slightly bitter taste. The plus here? You can gain health benefits from the high protein content and rich fatty acids that flaxseed is known for.
Common Questions ( FAQs )
Q. Can I use cornstarch to replace cornmeal?
A. Yes, if you are looking for something to thicken soups and sauces. It is preferred by some as it is translucent vs other thickeners being opaque.
Q. What can I use on pizza pans to replace cornmeal?
A: Parchment paper would be your best choice but you could also use polenta or grits. Avoid using flour as it has a tendency to burn.
Q. What can I use when I bake English muffins?
A: Just omit the dusting of cornmeal and use butter to grease your baking sheet so muffins don't stick.
Q. Can I use breadcrumbs to replace cornmeal?
A: You can use breadcrumbs if you are coating or breading the outside of fried foods or a crunch topping However, breadcrumbs would not be as good in other applications.
Recipe
Print Recipe
Cornmeal Substitute
All of my easiest Cornmeal Substitute options including which ones work best to keep that amazing corn flavor or a nice texture! Substitutions that include other corn products, as well as wheat, and gluten-free choices plus how to make your own homemade cornmeal!
Ingredients
Corn-Based Substitutes
1

Cornflour or Polenta Flour

1

Corn Grits

1

Polenta

1

Corn Flakes

1

Tortilla Chips

1

Masa Harina

1

Hominy Grits

1

Homemade Cornmeal
Non-Corn Based Substitutes
1

Semolina

1

Ground Oats or Oat Flour

1

Wheat Flour

1

Rice Flour

1

Ground Flaxseed
Instructions
Choose a substitution that will work for your recipe flavor and texture, as well as any dietary considerations.

Make the recipe using your chosen substitution, noting any amount and cooking time adjustments necessary.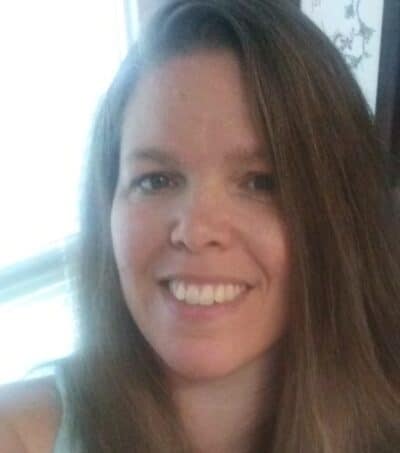 Angela is an at home chef that developed a passion for all things cooking and baking at a young age in her Grandma's kitchen. After many years in the food service industry, she now enjoys sharing all of her family favorite recipes and creating tasty dinner and amazing dessert recipes here at Bake It With Love!