All of the best shortening substitute options including which are best for your recipe whether you're baking pies, cookies, or other baked goods! All you need is to pick out what you have on hand from my list below!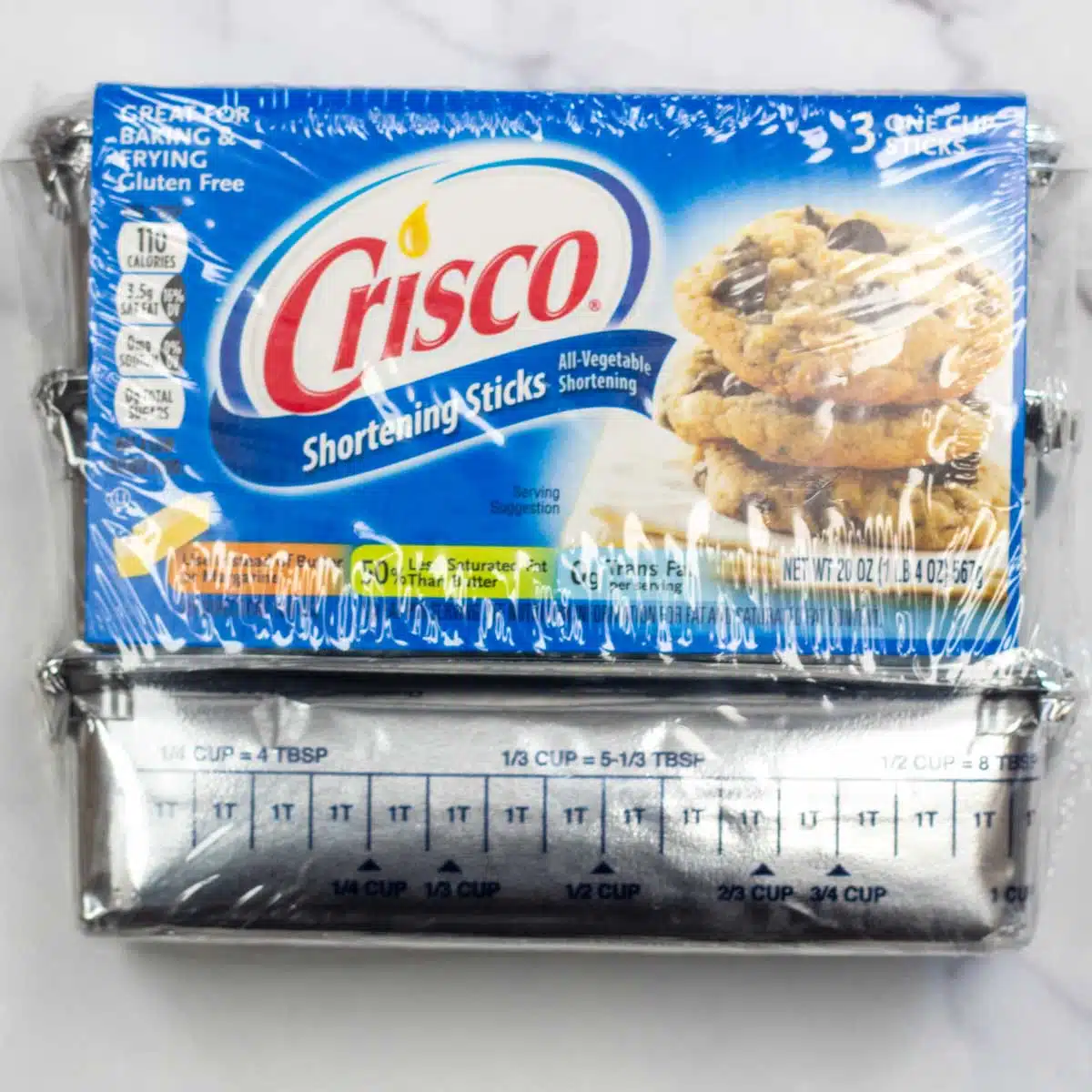 One reason you may be looking for a shortening substitute is simply that you ran out of shortening. However, another reason you may be looking is that you have questions about shortening.
Questions like, what is this oily white stuff that comes in a can? What is it made of, and why would I want to use it?
Jump to:
These are all fair questions! Shortening is one of the more mysterious ingredients recipes call for, while also being one of the most used.
Sometimes taking the mystery out of something can make it easier to use. Let's take a quick look at the history of shortening and what it is made of.
What is Shortening?
Shortening was created in the early 1900s, specifically around 1910. After its first introduction to cooking, it grew in popularity throughout the early and mid-1900s. As a result, you see shortening as the primary type of fat in many vintage recipes.
One reason for its huge success was because it can stay at room temperature without spoiling. This made it economically a smart choice for many households because they could keep it in their cabinets in large quantities and always have it on hand.
The reason for shortening's long shelf life is because it is made from 100% vegetable oil. The vegetable oil goes through a process called hydrogenation that turns the oil into a solid.
The result is solid fat that is 100% fat with little to zero water content (this is important to remember when making substitutions). Since there are zero animal byproducts in shortening, it won't spoil at room temperature.
Why Is Shortening Used In Baking?
Shortening may have gained popularity for being an economically sound kitchen staple. However, it wasn't just economics that kept it around. Shortening provides a specific type of result when used in baking. It is specifically used for creating "short doughs."
Short doughs are doughs that don't need to be stretched. For example, pie crusts. Pie crusts are an example of a short dough that has a crumblier or flakier texture. This is a result of the lack of water in the dough.
Shortening is 100% fat; therefore, there is no water content to activate the gluten during baking in. When making substitutes, the water content in other ingredients is the key thing to make note of – as it will have the most impact on your recipe.
What Are The Best 10 Substitutes For Shortening?
Butter and lard are the two most common substitutes for shortening. We are all familiar with butter – it may even be a kitchen staple in your home. What about lard though?
Long before shortening came onto the market in the 1900s, lard was the most common form of fat used in people's homes. However, today lard is not as commonly used in homes. Due to its history in the kitchen, lard is still one of the best substitutes for shortening.
1. Butter
One of the main reasons for using butter instead of shortening is for the taste. Who doesn't love a rich buttery baked good! Butter can be used in a 1:1 ratio for shortening. However, there are some things to consider before making this swap.
Unlike shortening that is 100% fat, butter is only about 80% fat and 20% moisture. This 20% is a result is due to the dairy that butter is made from. The 20% moisture from butter activates the gluten that gives you a moister or bread-like texture in many recipes.
While the water content in butter will change the texture slightly, it is still an excellent and easy substitute for cookies, pie crusts, biscuits, and quick bread. Sometimes that bold buttery taste is more important than the texture.
2. Lard
Lard is the closest substitute to shortening. It is also a 100% fat and remains solid at room temperature. While lard can be substituted in a 1:1 ratio for shortening, some bakers suggest using slightly less lard in a ⅞ cup lard to 1 cup of shortening.
If you plan on using lard regularly, play around with these measurements. However, for a one-time swap the 1:1 ratio is great.
Lard will provide a similar short dough consistency of shortening. Therefore, it is best used as a substitute for pie crusts, biscuits, and even bread (that call for shortening). However, remember lard is the original fat of the kitchen so it can truly be used in any recipe that calls for shortening.
3. Margarine
Popularized for its low-fat butter taste, margarine was big in the late 1980s. Like shortening, it is made from vegetable oil. Like butter, it has water content. Margarine is kind of like if butter and shortening had a baby. However, margarine was created as a low-fat food. Therefore, the lower fat content needs to be considered when making substitutions for its 100% fat parent shortening.
To make up for the lower fat in margarine, add an extra tablespoon of margarine for every 1 cup of shortening in a recipe. Using this ratio you can use margarine for shortening in recipes where you want a butter taste with a similar texture to shortening.
4. Coconut Oil
Coconut oil is like nature's shortening. It is solid at room temperature and 100% fat. This makes it an easy swap for shortening with a clear 1:1 ratio. However, unlike shortening that has a bland (if any) taste coconut oil has a distinct flavor.
Depending on what you are baking, you may not mind this hint of flavor. It may even be a fun spin on your cookies, frosting, or banana bread! If you want to try coconut oil without the coconut flavor though, try refined coconut oil. Refined coconut oil will still have a hint of flavor but it is milder than its unrefined counterpart.
5. Vegetable Oil
Since shortening is made from vegetable oil, it makes sense that vegetable oil can be used as a substitute. While you can use an equal 1:1 ratio it is best to use this as a substitute for recipes that call for melted shortening.
Vegetable oil has a similar bland taste as shortening so it will not impact the overall taste. However, since vegetable oil is still in its liquid it will change the texture. Vegetable oil will yield denser baked goods. Therefore, it is best for things like quick breads. It is not a great option for pie crusts, scones or biscuits.
6. Vegan butter
Made from a variety of different oils, vegan butter is similar in nature to margarine. Therefore, follow the same directions for substituting it for shortening. Add 1 tablespoon of vegan butter to every 1 cup you substitute for shortening.
Depending on the desired texture, you may increase this to 2 tablespoons. If you plan to use vegan butter as a regular substitute, begin with 1 tablespoon and then experiment over time to see if 1-2 extra tablespoons is best.
7. Ghee
Ghee is clarified butter. This means it has gone through a process to remove some of the milk solids; therefore, it has less water than butter.
With less water, ghee is a great substitute when you want to maintain a similar texture to the original shortening recipe but with a buttery flavor.
Ghee can is a simple 1:1 ratio substitute for shortening. While this is an easy swap, it can also be quite expensive. A 32 ounce of Ghee is priced at around $32.00 while a 48 ounce of shortening is about $5.00.
8. Bacon Grease
Don't through away that bacon grease! Pour it into a glass jar and let it cool, then use it in place of shortening in your next recipe. A 100% fat, just like the rendered fat of the pig that you buy as lard, bacon grease can be used in a 1:1 ratio for shortening.
The main difference in using bacon grease is taste. You will have a more savory or smoky taste in the fat. Therefore, it is suggested that you try this in savory recipes like a savory bread or biscuit recipe. If you want to get creative though, feel free to swap out that shortening in your next batch of chocolate chip cookies!
9. Applesauce
A lesser-known substitute for shortening is applesauce. It seems a bit contradictory since applesauce is essentially 0% fat and shortening is 100% fat.
In addition to the contrast in fat content, is the sweetness of applesauce. These two things make applesauce only suitable for baked goods that are naturally sweet and have a cake-like texture: quick bread (like banana bread) and cookies.
Applesauce is denser than shortening; therefore, you will only use ½ cup of applesauce for 1 cup of shortening.
10. Mashed Bananas
Similar to applesauce, ripe bananas can replace the shortening in a quick bread or cookie recipe. Again, this will make a difference in texture as there is zero fat in the bananas. However, it can be a fun way to experiment with your recipes!
Different from applesauce, you will use a 1:1 ratio of mashed bananas for shortening.
Specific Shortening Substitutes For Baking
With so many different options to choose from you may wonder what is the BEST substitute for shortening? This depends on what you are making! Below are popular recipes that call for shortening and the best substitutes to use for each.
Cookies
Butter, coconut oil, and margarine are all great options for cookies. Each of these will provide a more distinct flavor than shortening. The butter has a lower melting point than shortening, so it will result in a flatter cookie. A great option for cookies is to use a 50/50 split. Use half butter and then half of a higher fat such as coconut oil (or shortening).
For a dense cookie that is low-fat, try experimenting with applesauce or mashed bananas.
Pie Crusts
Butter and lard are the best options for pie crusts. Choose butter if you want a more distinct flavor in your crust. However, if a flaky crust is your goal – use lard.
Biscuits
Lard, margarine, butter, and even coconut oil can all be substituted in a 1:1 ratio when making biscuits. Each one will give you slight variations in flavor and texture. If you want a clear buttery taste, stick with 100% butter in place of the shortening. However, if you want to explore a more traditional biscuit you may experiment with lard or margarine.
Bread
Only use a fat substitute if the bread already calls for shortening, especially with yeast bread. Lard or even bacon grease are your best options for bread as they have the closest fat content to shortening. The water content in butter can impact the reaction with the yeast and how the bread rises.
On the other hand, quick bread like banana and zucchini bread do better with butter and even vegetable or coconut oil. The butter will create a moist and light bread, while the oils will result in a denser but also moist bread.
Frosting
Frosting all comes down to taste and texture. If the goal is a delicious tasting frosting, use butter. Butter will give you a creamy and delicious buttercream frosting.
However, that tastiness does not do well in the heat. Remember how shortening got popular because it can sit out at room temperature? If your frosting is going to be outside or at room temp for any length of time, and you don't have shortening, swap it out with margarine or even coconut oil.
Remember to account for how this may change the flavor and do a taste-test before making a full batch.
Fondant
Fondant is all about the texture and very little about the taste. Therefore, butter is too unstable for fondant. Shortening will always be the best choice for fondant. However, if you don't have shortening, lard is the second-best option.
Choose the Substitute You Prefer
While there are some important considerations for texture in a recipe, the best substitute for shortening often comes down to personal preference. Therefore, feel free to try out what you have on hand in your kitchen or are curious to try. You may even decide to try the original and mysterious ingredient the recipe calls for – shortening!
Do you love a recipe you tried? Please leave a 5-star 🌟rating in the recipe card below and/or a review in the comments section further down the page.
Stay in touch with me through social media @ Pinterest, Facebook, Instagram, or Twitter! Subscribe to the newsletter today (no spam, I promise)! Don't forget to tag me when you try one of my recipes!
📖 Recipe Card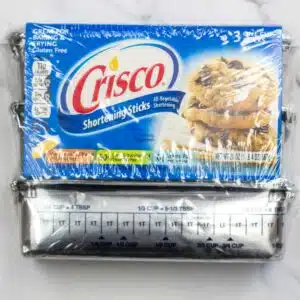 Print Recipe
Leave A Comment
Love This Recipe?
Click On A Star To Rate It!
Best Shortening Substitutes: Butter & How To Use It
All of the best shortening substitute options including which are best for your recipe whether you're baking pies, cookies, or other baked goods! All you need is to pick out what you have on hand from my list below!
Pin Recipe
Share on Facebook
Help Us Out!
If you love a recipe, be sure to come back and share your ratings. This helps future users, and allows me to continue sharing free recipes! Angela
Instructions
To substitute butter for shortening, you can use equal parts butter. Do note that due to the higher liquid content of butter, you may need to make a minor adjustment to increase your dry ingredients.

To substitute lard for shortening, use it in a 1:1 ratio of equal parts.
Nutrition
Calories:
410
kcal
(21%)
|
Carbohydrates:
1
g
|
Protein:
1
g
(2%)
|
Fat:
46
g
(71%)
|
Saturated Fat:
29
g
(181%)
|
Polyunsaturated Fat:
2
g
|
Monounsaturated Fat:
12
g
|
Trans Fat:
2
g
|
Cholesterol:
122
mg
(41%)
|
Sodium:
407
mg
(18%)
|
Potassium:
33
mg
(1%)
|
Fiber:
1
g
(4%)
|
Sugar:
1
g
(1%)
|
Vitamin A:
1870
IU
(37%)
|
Vitamin C:
3
mg
(4%)
|
Calcium:
35
mg
(4%)
|
Iron:
1
mg
(6%)
Shortening Substitute, substitutions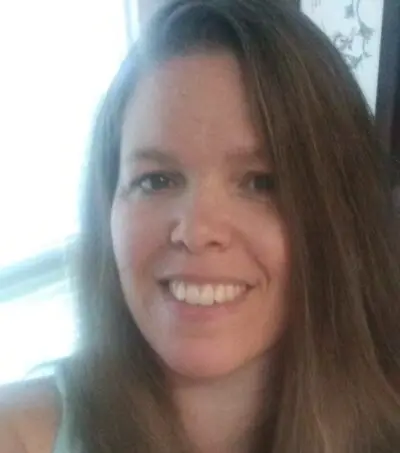 Angela is an at home chef that developed a passion for all things cooking and baking at a young age in her Grandma's kitchen. After many years in the food service industry, she now enjoys sharing all of her family favorite recipes and creating tasty dinner and amazing dessert recipes here at Bake It With Love!