Choosing the very best turmeric substitute is easy to do with my comprehensive list for all of your substitution needs! Whether you want to mimic the coloring, taste, or get the best of both in your recipe I have exactly what you need and how to use it!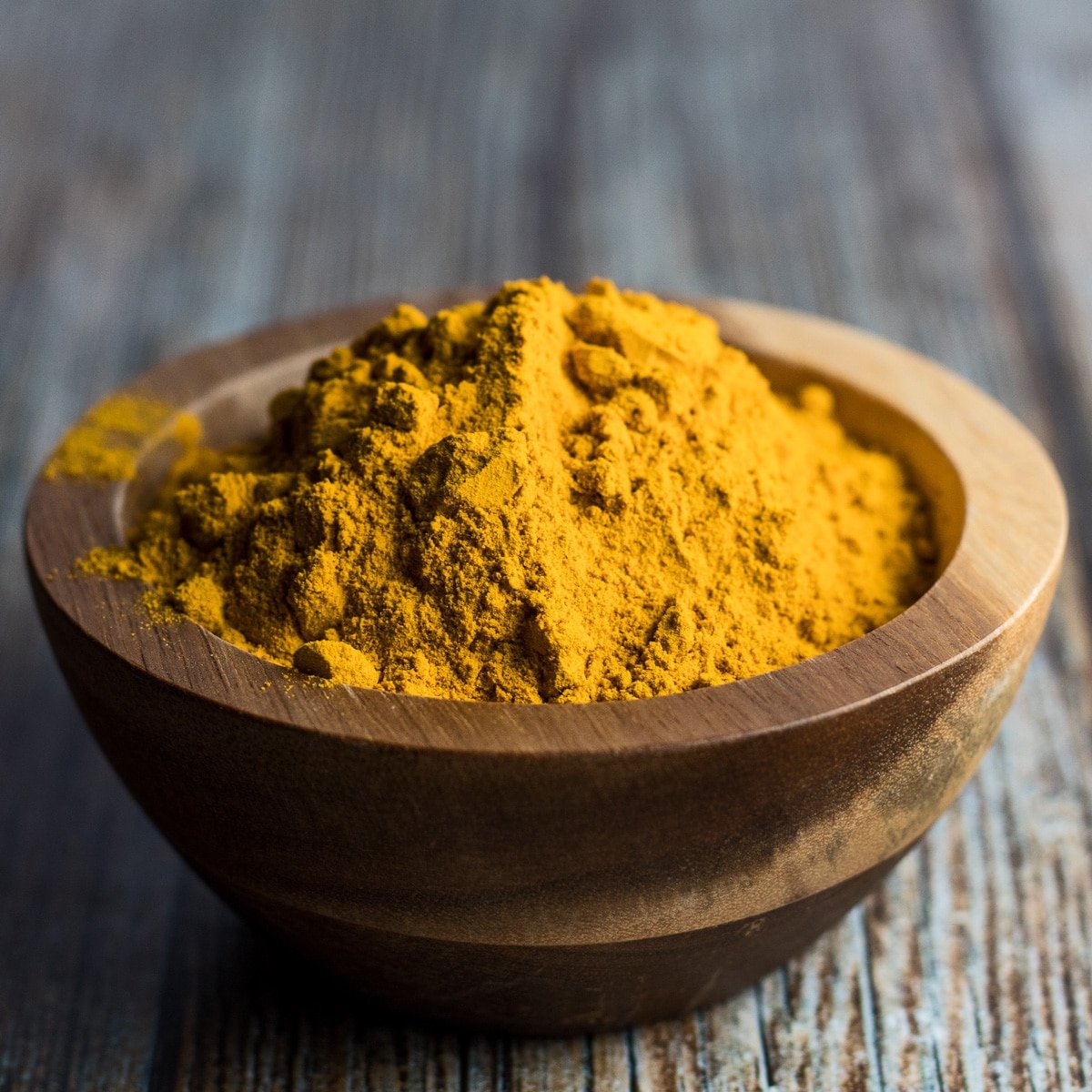 The 14 Best Turmeric Alternatives to Use For Your Every Cooking Need
Whether you've run out of turmeric or don't usually keep it in your spice cabinet, here's an amazing list of what else you can use! There are, of course, a couple of things to consider like how much turmeric is called for in a recipe.
In small amounts, the chances are that you can simply omit the turmeric. However, if it is a wonderfully flavorful curry that you are making you may want to hold off until you can get your hands on some turmeric to really nail that recipe!
My family and I absolutely love using turmeric and keep it handy not only for making Indian dishes that we love, but also for seasoning roasted veggies. Plus, it's a required topping for all of our baked or roasted potatoes too!
What is Turmeric?
Turmeric is a rhizome, just like ginger. This fleshy, root-like ingredient is native to Southeast Asia and India, is a staple ingredient in many Asian and Indian pantries and is almost always grounded into the form of a golden yellow powder, unless it is raw, in which it will look a cross between ginger and a sweet potato.
It is important to note that turmeric will stain just about anything, so be careful with your favorite apron, white cutting board, or wooden spoon!
Fresh Turmeric vs. Ground Turmeric
Fresh turmeric is milder than its ground form because the process of making turmeric powder dehydrates the root, removing all of its water. Because of this, if you are cooking with fresh turmeric, you should consider quadrupling the amount needed to get the same bold flavor.
Fresh turmeric looks like ginger that is orange on the inside and ground turmeric looks like an orange-yellow powder. In the United States, fresh turmeric isn't commonly found at local grocery stores and supermarkets.
Other differences between the two forms are the shelf life and texture. Fresh turmeric lasts about a few weeks if refrigerated while ground turmeric can last over two years when stored properly in an airtight container away from sunlight.
Texture-wise, ground turmeric is generally smooth, while fresh turmeric can be gritty. As a simple guideline, fresh turmeric is great for raw recipes (smoothies, juices, and pickles) and ground turmeric is best for recipes that need to be cooked (curries, rice, and stews).
Turmeric Substitutes for General Cooking
Ideally, you can simply use an alternate form of turmeric like swapping fresh for turmeric powder. If that's not the case, turmeric paste is your next best bet!
1. Dried or Fresh Turmeric
Dried (ground turmeric or turmeric powder) and fresh turmeric can be substituted for each other. A good rule of thumb is that ½ inch of raw turmeric equals about 1 teaspoon of ground turmeric, and that ground turmeric generally has a stronger flavor.
2. Turmeric Paste
Turmeric paste is an easy alternative to turmeric powder or fresh turmeric but is proven to be difficult to find in regular grocery stores. If you are using turmeric paste, add a little more than the recipe calls for to make up for its weaker flavor.
3. Saffron
Saffron is the perfect alternative for trying to match the beautiful, bold color of turmeric, but is notoriously one of the most expensive spices. If substituting saffron for turmeric, use less than the recipe calls for so that the dish doesn't become sweet.
4. Safflower
Safflower looks just like saffron, except is more affordable! This Egypt-native alternative is great for keeping the yellow color of the recipe. Incorporate it into the recipe as you would saffron.
5. Paprika
A common pantry ingredient, sweet, hot, or smoked paprika will work as alternatives for turmeric. Based on your flavor preferences, you can use any of the options as a substitution.
For someone who doesn't love spice, sweet paprika would be a great option!
6. Annatto Seeds
Annatto seeds, which come from achiote trees, have a nutty, peppery, sweet flavor profile, but are a great alternative when trying to match the color of turmeric. To use this substitution, use a 1:2 ratio of seeds in vegetable oil, and then add the infused oil into your recipe.
For example, mix ¼ cup of annatto seeds with ½ cup of vegetable oil.
7. Madras Curry Powder
Madras curry powder is a mixture of spices, generally including turmeric powder, chili powder, cumin, and fenugreek. This alternative keeps the flavor close, but will also add some heat, and a darker, red color.
It is a very appropriate substitution when cooking South Asian or Indian recipes but might yield unwanted results for dishes from other cuisines. To use this substitution, add less madras curry powder than your recipe requires.
8. Yellow Mustard Seeds
This substitution will provide a yellow color but doesn't exactly match the flavor composition of turmeric. It is important to note that yellow mustard seeds are a spice and mustard, the condiment, should not be used.
Because yellow mustard seeds can be sweet and spicy, be sure to use less than the recipe calls for.
9. Mace and Smoked Paprika
Combining mace and smoked paprika has proven to be a successful substitution for turmeric. The flavors and coloring make this a versatile alternative for any savory recipe.
Just be mindful that this combination can be spicy, so base your substitution amount on your desired heat level. Taste and season!
10. Ginger Powder
Ginger powder can be used as an alternative to turmeric in some instances like smoothies and juices. However, it may not be the best for savory recipes because of its dynamic flavor complex (pungent, sweet, and spicy).
11. Galangal Powder
Although Galangal powder has a sharp flavor that resembles pine, it can be used in place of turmeric in Indian or South Asian dishes. Note that galangal powder will not provide the rich, yellow color that turmeric leaves, and has a notably powerful flavor.
To substitute, use a SMALL AMOUNT and adjust based on your preference.
12. Cumin Seeds
Cumin seeds have a similar earthy flavor but are generally stronger than turmeric. For savory recipes, like curry and rice dishes, consider combining cumin with galangal for an authentic taste.
13. Garam Masala
Garam Masala is a combination of cumin, cardamom, cinnamon, clove, and black pepper. It is very flavorful and is notably spicier than turmeric, so if using garam masala in place of turmeric, reduce the amount considerably.
14. Dry Mustard or Ground Mustard Powder
These are a good alternative for color and taste, however, I suggest that you use a little less than the recipe calls for so that the result is not altered too much.
Substitutes For Pickles
Interestingly, pickles would be brown without turmeric! Good alternatives for turmeric in pickling are saffron, annatto, and safflower.
Substitute For Soups
A mixture of smoked paprika and mace for color, taste, and texture, or mustard powder.
Substitutes For Curries
Saffron, madras curry powder, yellow curry powder, a mixture of mace and smoked paprika, or garam masala are all viable alternatives.
Substitute for Paella or Yellow Rice
Saffron, which will yield the same color without changing the flavor too much.
More Great Substitutes!
More great substitute pages to help you out with all of your cooking and baking!
FAQ
What does turmeric taste like?
Turmeric is known for its earthy yet bitter taste, which is no surprise, considering it grows underground! It also has a reputation of being pungent, slightly sweet, and having a bit of a peppery flavor as well.
Is turmeric the same as curry powder?
Turmeric and curry powder are different spices, but both are commonly used in South Asian and Indian cooking. Turmeric is a single ingredient, while curry powder is a blend of multiple spices combined. They are similar in the color that they provide, but turmeric doesn't offer nearly as complex and robust of a flavor profile.
Can you substitute turmeric for cumin or saffron?
If you don't have saffron but do have turmeric, you can substitute the two almost seamlessly, and will likely save some money in the process, because turmeric is far more affordable than saffron. On the other hand, turmeric is not a great replacement for cumin, because the flavors are far too different.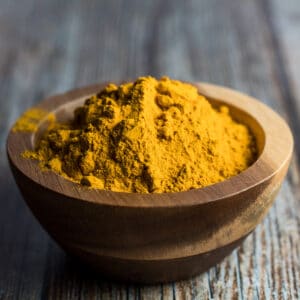 Print Recipe
Leave A Comment
Love This Recipe?
Click On A Star To Rate It!
Homemade Ground Turmeric
This easy-to-make DIY ground turmeric powder is a great alternative if you happen to have fresh turmeric on hand! No need to let that turmeric go bad when you can simply dry it and save for up to a year!
Total Time
2
hours
10
minutes
Pin Recipe
Share on Facebook
Ingredients
1

lb

turmeric root

1

teaspoon

salt
Instructions
Preheat your oven to 200 degrees F (93 degrees C) and line a baking sheet with parchment paper.

Prepare your turmeric root, peel and slice the root thinly. Keep the slices as thin and even in size as possible so that they dehydrate quickly and at the same rate. *I suggest wearing gloves when preparing your turmeric as it will stain everything yellow. Similarly, a sheet of parchment paper over your cutting board will also spare it the staining.

Arrange the sliced turmeric in a single layer on your prepared baking sheet, keeping the slices from overlapping or touching.

Bake in your oven at 200 degrees F (93 degrees C) for about 2 hours, checking in on the turmeric at about 1 ½ hours to see if the slices are ready. *Times will vary depending on the thickness of your slices, water content, your oven, etc.Dehydrator times: If using a dehydrator, set the temperature to 100 degrees F (38 degrees C) and dehydrate for 4-5 hours.

Once your turmeric slices have reached the point where they are completely dried (they will snap, not bend) use a food processor to grind the dried root to a fine powder. Sift the powder and remove and remaining chunks, then grind the chunks again.

Store your ground turmeric in an air tight container (preferably a glass spice jar) in a pantry or cabinet away from sunlight.
Notes
1 pound of raw turmeric root yields approximately 2 ounces of dried turmeric.
Properly stored homemade ground turmeric will last for up to 1 year.
Nutrition
Calories:
88
kcal
(4%)
|
Carbohydrates:
11
g
(4%)
|
Protein:
1
g
(2%)
|
Fat:
2
g
(3%)
|
Potassium:
563
mg
(16%)
|
Fiber:
5
g
(21%)
|
Sugar:
1
g
(1%)
|
Vitamin C:
11
mg
(13%)
|
Iron:
11
mg
(61%)
homemade ground turmeric, turmeric substitute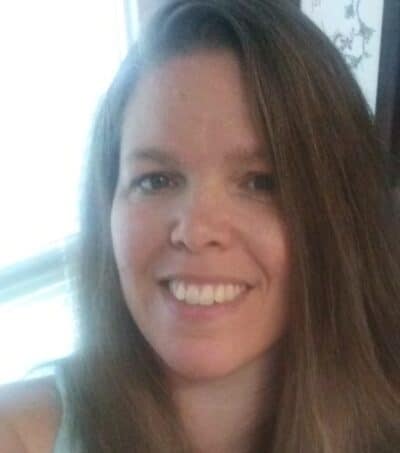 Angela is an at home chef that developed a passion for all things cooking and baking at a young age in her Grandma's kitchen. After many years in the food service industry, she now enjoys sharing all of her family favorite recipes and creating tasty dinner and amazing dessert recipes here at Bake It With Love!