Best annatto seed substitute: All of the best replacement options for when you don't have any annatto on hand! These substitutes are easy to find at your local grocery store and even include common household spices! Whichever one you choose, you're sure to be pleased with the results!
Best Substitutes For Annatto Seed
Annatto seeds can be found at some traditional grocery stores, but not all of them. If you can't find them, don't worry! You can try out some of these fantastic replacements!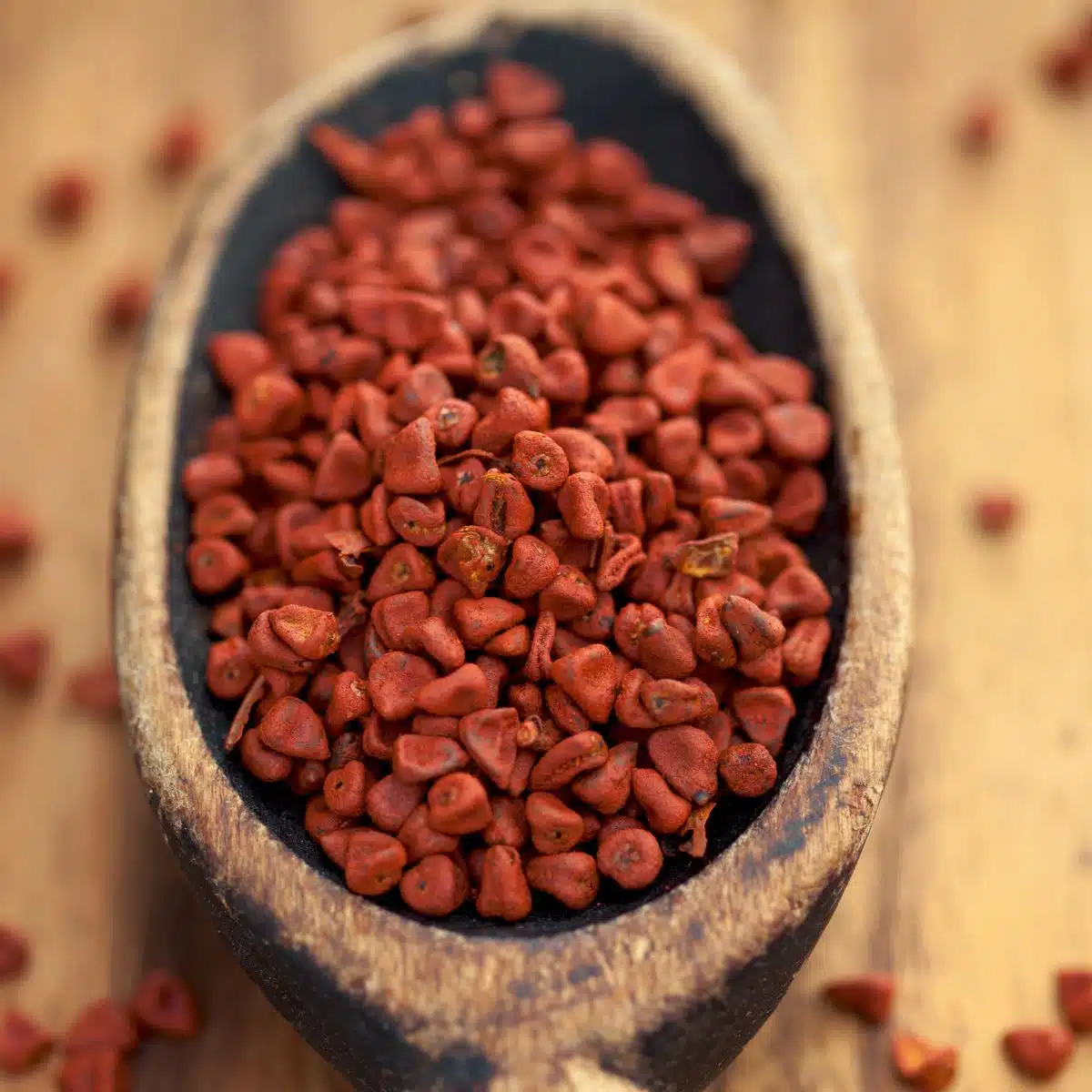 Jump to:
What Is Annatto Seed
Annatto is a spice that is made from the seeds of the achiote tree. It provides a sweet and subtle peppery flavor to dishes as well as lends a vibrant red-orange color.
It is also commonly used as a food coloring agent in foods such as cheese, some varieties of mustard, and popular orange snack crackers.
You can purchase whole annatto seeds, ground (powdered) annatto, annatto paste, or annatto-infused oil.
What To Use If You Don't Have Annatto Seed
1. Paprika & Turmeric
Simply combine equal parts of sweet paprika and turmeric and swap them out for your ground annatto seeds. The turmeric will add a yellow color and an earthy and nutty flavor, while the paprika will contribute red hues and a subtle spicy yet sweet flavor.
Of course, you could also use these spices as standalone replacements, but I find that the combination of the two yields the best results.
You can swap your mixture of paprika and turmeric for ground annatto in a 1:1 exchange or use paprika or turmeric individually in a 1:1 exchange.
2. Safflower
Safflower has a mild flavor that won't overpower your dish or clash with any of the other flavors present. It is actually a perfect option if your goal is to add some vibrant color while only contributing a little flavor, as it yields a bright yellow color.
You can use ground annatto and safflower in a 1:1 exchange.
3. Saffron
Saffron is the most expensive spice in the world, but it does make a decent replacement for annatto. However, it is very pungent, so you will only need a small amount and will still benefit from the beautiful orange color.
When using saffron, start off with just a pinch and adjust as needed.
>>>>See all of my recipes HERE<<<<
4. Cumin
Cumin has a similar flavor profile to annatto but is much stronger. It is earthy and peppery but slightly spicier.
While the color won't be a perfect match, cumin can work if you are more focused on the flavor.
Use ½ teaspoon of cumin for every 1 tablespoon of annatto seeds.
5. Beet Powder
Beet powder is a natural source of color and relatively easy to find. It will add a beautiful red hue to your dishes and an earthy sweet taste.
Use half as much beet powder as annatto seed powder when substituting.
6. Nutmeg
Nutmeg is a spice commonly found in most households. It is warm and sweet and easily complements both sweet and savory dishes. However, it is definitely on the stronger side, and a little goes a long way.
When swapping annatto seed for nutmeg, begin with only a pitch and adjust as needed.
Sazon seasoning is a mix of spices that contains annatto seed as an ingredient. You can commonly find it on the Mexican or Latin aisles of the grocery store. It has a vibrant red-orange color and a versatile flavor that can complement a wide variety of dishes.
Use your sazon seasoning as a 1:1 replacement.
Tips For Choosing An Annatto Seed Substitute
Choosing a suitable annatto substitute can depend on the specific recipe and your flavor preferences.
Consider Flavor Profile: Think about the flavor you want to achieve in your dish. Annatto provides a mild, earthy taste, so choose a substitute that complements your recipe.
Color Needs: Determine whether you're using Annatto primarily for its color or flavor. Some substitutes are better for color, while others can mimic the taste of annatto.
Experiment: Don't hesitate to experiment with combinations of substitutes to achieve the desired color and flavor. Start with small amounts and adjust to taste.
Consider Dietary Restrictions: If you have dietary restrictions, make sure your chosen substitute aligns with them. For example, annatto is naturally vegan and gluten-free, so choose substitutes that meet your dietary needs.
Availability: Choose a substitute that is readily available in your area or online.
Check for Allergens: Be mindful of any allergies or sensitivities when selecting a substitute. Some substitutes may contain allergenic ingredients.
Taste Testing: Before adding the substitute to your entire dish, do a small taste test to ensure it complements your recipe.
Which substitute works best for your dish? Leave a comment down below and let me know what you think!
📖 More Cooking Substitutions
More great guides to substitutions to help you out with all of your cooking!
Do you love a recipe you tried? Please leave a 5-star 🌟rating in the recipe card below and/or a review in the comments section further down the page.
Stay in touch with me through social media @ Pinterest, Facebook, Instagram, or Twitter! Subscribe to the newsletter today (no spam, I promise)! Don't forget to tag me when you try one of my recipes!
📋 Recipe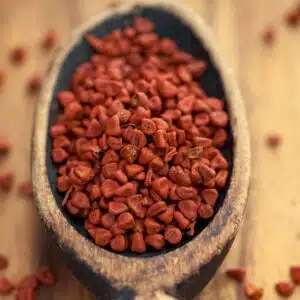 Print Recipe
Leave A Comment
Love This Recipe?
Click On A Star To Rate It!
Annatto Seed Substitute
Best annatto seed substitute: All of the best replacement options for when you don't have any annatto on hand! These substitutes are easy to find at your local grocery store and even include common household spices! Whichever one you choose, you're sure to be pleased with the results!
Pin Recipe
Share on Facebook
Help Us Out!
If you love a recipe, be sure to come back and share your ratings. This helps future users, and allows me to continue sharing free recipes! Angela
Instructions
Mix together

½ teaspoon paprika

and

½ teaspoon turmeric

and use as a replacement for annatto in a 1:1 swap.

½ teaspoon paprika,

½ teaspoon turmeric

Use

1 teaspoon safflower

for a 1:1 replacement for annatto.

Use

1 pinch saffron

of saffron instead of annatto and add more as needed.
Equipment You May Need
Notes
*Nutrition information is calculated for paprika and turmeric only. 
Nutrition
Calories:
6
kcal
|
Carbohydrates:
1
g
|
Protein:
0.2
g
|
Fat:
0.2
g
|
Saturated Fat:
0.1
g
(1%)
|
Polyunsaturated Fat:
0.1
g
|
Monounsaturated Fat:
0.04
g
|
Sodium:
1
mg
|
Potassium:
48
mg
(1%)
|
Fiber:
1
g
(4%)
|
Sugar:
0.1
g
|
Vitamin A:
493
IU
(10%)
|
Vitamin C:
0.3
mg
|
Calcium:
4
mg
|
Iron:
1
mg
(6%)
annatto seed substitute, annatto substitute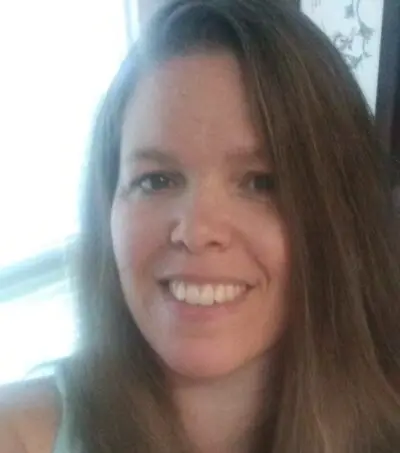 Angela is an at home chef that developed a passion for all things cooking and baking at a young age in her Grandma's kitchen. After many years in the food service industry, she now enjoys sharing all of her family favorite recipes and creating tasty dinner and amazing dessert recipes here at Bake It With Love!