A good celery substitute will surely come in handy because celery is one of the most versatile and well-used vegetables in cooking! Whether you are looking to add some crunch to a dish or you need a substitute for celery's mild flavor, there are plenty of easy options to choose from. The perfect celery substitute simply depends on the recipe!
Best Celery Substitutes
Celery is one of the most common vegetables used in cooking. Whether used in stuffing for Thanksgiving or to add a bit of crunch to a salad, its texture and taste are essential in many recipes. However, sometimes even the essentials are not available.
The wonderful thing about vegetables is that many are interchangeable. Therefore, reach for one of these great celery substitutes next time you're in a pinch.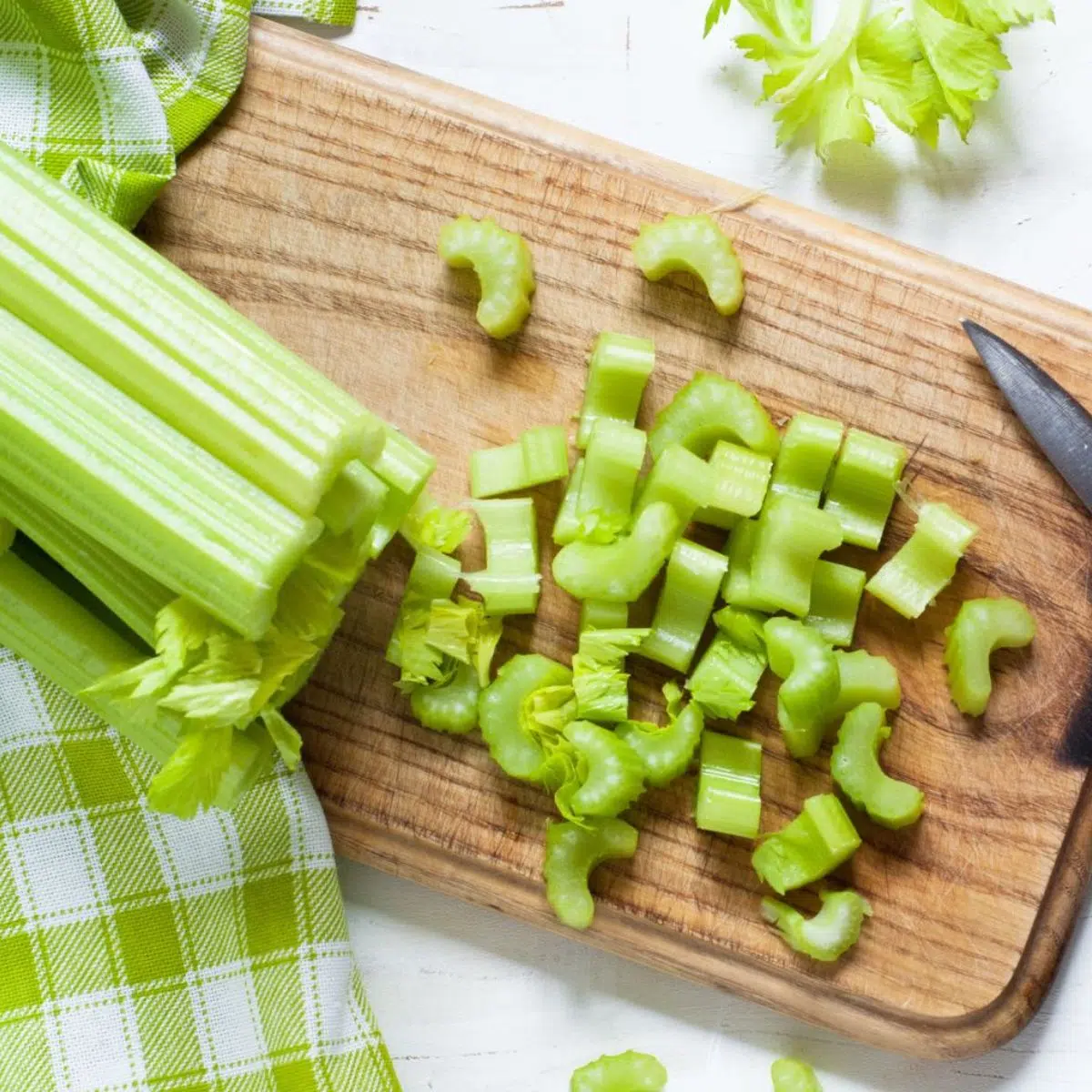 Jump to:
1. Fennel
Fennel is not as commonly used as celery in home kitchens. However, it is a wonderful vegetable to cook with. It has a wonderful and rich earthy taste that is like an enhanced celery flavor. In addition, there are notes of licorice. Therefore, while it is one of the best celery substitutes if you don't enjoy the taste of licorice you may want to skip this option.
When substituting fennel for celery you can use both the bulb and the green stalks. Go ahead and chop them up for a mixture of texture and flavor. Raw, it will lend a similar texture to celery. Cooked, it will soften into a similar texture as well. Cooked fennel is also milder in flavor.
If you enjoy the flavor of fennel, go ahead and start with a 1:1 ratio. If you are unsure of the flavor, begin with half.
2. Celeriac
Celeriac is a root vegetable that is sometimes called celery root. While it is not technically the root of a celery stalk, it has similar qualities. The flavor of celery root is earthy like celery; however, it is much stronger. It also has a crunchy texture.
While the crunchiness is good in some recipes, the taste of celeriac is best when cooked. When it is cooked the flavor is softer and more closely resembles celery. If using celeriac raw, simply slice it thinly to get the best texture.
Start with half the measurement of chopped celeriac and add more if needed.
3. Bok Choy
Bok Choy is also referred to as Chinese cabbage. It has a similar texture to cabbage which is nice and crunchy. Moreover, it can be cooked. Qualities that are great as a substitute for celery.
When it comes to flavor, Bok Choy has an overall mildly earthy taste. The green leaves are often compared to spinach. While this is not an exact flavor match for celery, it has the same elements that will pair well with any recipe calling for celery. Both cooked and raw.
Bok Choy can be chopped up and used in a 1:1 ratio for celery.
4. Cabbage
The overall flavor of cabbage is mild, yet distinct. It will blend well with most recipes that call for celery. This is also a vegetable that can be used raw or cooked.
If using cabbage in a hot dish though, be mindful that cooked cabbage has a more distinct flavor than raw cabbage. Therefore, avoid using cooked cabbage unless you know you enjoy the taste.
Chopped cabbage can be used in a 1:1 swap for celery.
5. Jicama
If your recipe relies on the distinct crunch of raw celery, then jicama is a great alternative. Especially if you want the celery crunch without the stringiness.
Jicama is a vegetable that comes from Mexico. Once peeled, the white inside can be used in many recipes. While jicama resembles the texture of celery it has a sweeter taste. The mild apple-like sweetness of jicama is a lovely addition to many recipes that call for celery. It adds a mild contrast to savory dishes.
Due to the flavor difference, begin with half the measurement. In many recipes, you will use a full 1:1 substitution but it's always best, to begin with less.
6. Apple
While jicama will give you a slight apple sweetness, fresh apple will give you the real thing. The crunch of an apple is similar to celery and can be a fun flavor substitute in many recipes. Apple can even be cooked, although it will lose some of its crunch (depending on how long you cook it).
Celery is typically used in savory recipes; however, many savory dishes are wonderful when combined with a bit of sweetness. Stuffing, casseroles, and even some stews. Next time you run out of celery consider grabbing an apple to try.
Start with half the amount and add more if desired.
7. Carrots
Celery and carrots are used alongside one another in many recipes. Therefore, you know that they both pair well with the same foods. Keep in mind the obvious color difference. While carrots will lend a lovely crunch to a raw dish or soften up in the same way celery does when cooked, they will add a pop of color. Therefore, if the color will impact the overall look of the dish consider a different substitute.
If you run out of celery, you can often swap in carrots in a simple 1:1 swap.
In recipes that call for both carrots and celery, you can use extra carrots or just leave out the celery and stick with the original amount of carrots.
8. Cardoon
A lesser-known vegetable than celery or carrots is cardoon. Cardoon has a similar look to celery with green stalks and leafy tops. The texture of cardoon is a great replacement for celery in cooked dishes. However, the flavor of cardoon is more bitter. It also has a nuttier flavor profile.
To get the best flavor from cardoon soak it in salt water before using it. This will help soften the flavor and bitterness.
Cardoon can be used in place of celery in a 1:1 ratio in soups, sauces, and other similar dishes. If you have never cooked with cardoon before, consider using half the amount to first test the flavor.
9. Radishes
If you are looking for a bit more bite to your dish, then grab some radishes. These little red and white vegetables have a spicy flavor that will enhance many dishes. This can be a great flavor boost for salads or other cold dishes.
Moreover, the crunchiness of radishes is just as satisfying as celery. Since the shape of celery stalks and radishes are quite different, it is easiest to substitute by cup measurements.
10. Celery seeds
When looking to stick with the original flavor of a recipe then a spice may be the best choice. Moreover, spices are easy to keep on hand since they have a long shelf life. Therefore, if you don't often buy celery but like the taste of it, you may consider buying celery seeds.
Celery seeds are a spice that has an earthy flavor that resembles celery. However, it is more bitter than fresh celery. As a substitute, it is a great choice for adding a rich flavor to stews, soups, stuffing, and casseroles.
There is not one exact ratio exchange of fresh celery to celery seeds as it will vary depending on the recipe and taste preference. Start with a very small amount and then slowly add more.
11. Celery Salt
Another spice choice is celery salt. Celery salt is made by combining ground celery seeds with salt. Therefore, you will get the same earthy flavor notes as celery root, but a bit more subdued due to it being balanced by the salt.
However, the addition of salt is important to be aware of. When using celery salt as a substitute leave out any extra salt from the recipe.
As with celery seeds, start with a small amount of celery salt and slowly add more as you taste it along the way. Celery salt is great in soups, stews, sauces, and other hot dishes.
12. Water Chestnuts
While celery seeds and celery salt will enhance the flavor of the original dish, they will not add the texture of celery. If you want texture but are not concerned with the flavor, then water chestnuts are a good choice.
These small button-shaped vegetables are also easy to keep on hand as they are canned and have a long shelf life. Water chestnuts can be used in hot and cold dishes. In fact, they are one of the vegetables that will maintain quite a bit of crunch when cooked.
Water chestnuts have a mild flavor and will not overpower a dish. You can swap out celery for water chestnuts in a 1:1 ratio.
13. Cucumber
Another mildly flavored vegetable that can replace celery is cucumber. Cucumbers have a lovely texture with a slight crunch and soft flavor. However, they are not ideal for cooking.
Chopped cucumber is best used as a substitute for celery in cold dishes like salads. It will add a similar crunch and mild veggie flavor.
Use chopped cucumber in a 1:1 substitution for chopped celery.
14. Green Bell Pepper
Green bell pepper is another vegetable that falls into the group of texture but not taste. The mild flavor of green bell pepper is easy to pair with many foods. However, its taste will be sweeter and less earthy than celery.
Like water chestnuts, bell peppers can also be used cooked or raw. They will soften when cooked and be mildly crunchy when raw.
An easy 1:1 swap can be used with this substitute. If you don't want to shift the overall flavor of the recipe too much, start with half the amount.
15. Broccoli
Broccoli has its own distinct qualities in both flavor and texture. It is a great choice to sub in for celery though. Especially if you love broccoli but are not a fan of celery.
Most people prefer cooked broccoli, but it is also a great raw vegetable. Therefore, it can be used in place of celery in many recipes. Soups and sauces are especially great choices. Be mindful that broccoli may not be a great choice in something like stuffing though.
The texture difference will not lend itself to an exact 1:1 ratio, but you can begin with the same measurements of chopped broccoli for celery and adjust if needed.
16. Green Beans
Green beans fall into the broccoli category. They are not an exact swap for celery, but they are a good vegetable alternative. Like broccoli, they are also best when cooked. Although, many people enjoy the earthy tones and texture of raw green beans.
The flavor of green beans will not disperse throughout a soup or sauce the way celery does. You will find that you will notice the green bean flavor mostly when you bite into it while eating.
Start with an approximate 1:1 measurement of green beans in place of celery. Adjust as needed.
17. Green Onions
While quite different in taste and texture than celery, green onions are still a great choice as a substitute. Green onions are a delightful way to enhance the flavor of a dish. Therefore, if you don't have celery and enjoy a stronger flavor try green onions.
Raw green onions are delicious when added to salads. You can even cook with green onions. This will not be an exact 1:1 exchange because of the bolder flavor of green onions.
Start with about ¼ the measurement of green onions compared to celery. You can always add more if desired.
18. Leeks
Leeks look like large green onions. This is fitting since they are both members of the same vegetable family. As with green onions, leeks will not have the same texture or taste as celery. They are a delightful flavor substitute though.
The flavor of leeks is milder than green onions, but still with a slight onion taste. Unlike green onions, leeks are firmer in texture. Therefore, they will be slightly closer to the texture of celery – especially if used raw in a salad.
The exact ratio substitution of leeks for celery will vary from recipe to recipe. Moreover, varying depending on personal taste.
Begin with a small amount, about ¼ of what the recipe calls for. Then experiment adding more until you find the perfect flavor.
More great substitute pages to help you out with all of your cooking and baking!
You never know when a celery substitute will come in handy! Let us know which of these celery substitutes you chose to use in the comments below!
📋 Recipe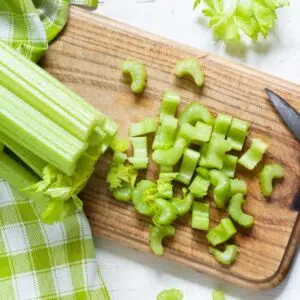 Print Recipe
Leave A Comment
Love This Recipe?
Click On A Star To Rate It!
Best Celery Substitute: Fennel, Celeriac, Bok Choy (+More Great Alternatives!)
A good celery substitute will surely come in handy because celery is one of the most versatile and well-used vegetables in cooking! Whether you are looking to add some crunch to a dish or you need a substitute for celery's mild flavor, there are plenty of easy options to choose from. The perfect celery substitute simply depends on the recipe!
Pin Recipe
Share on Facebook
Ingredients
Best Celery Substitutes
1

cup

fennel

(chopped, stalks and bulb)

1

cup

celeriac

(chopped)

1

cup

bok choy

(chopped)
Easiest Celery Substitution
Instructions
Best Celery Substitutes
When using fennel, it is best to already be familiar with the flavor (both raw and cooked) before using it as a celery substitute. If you know that you enjoy fennel's licorice taste, go right ahead and use it in an equal 1:1 ratio.

Use half the amount of celeriac when substituting for celery. Add more to taste.

Bok choy can be used in an equal 1:1 ratio for celery in any recipe.
Easiest Celery Substitute
When you're using carrots in combination with celery anyway, you can simply increase the amount of carrot in your recipe to make up for the missing celery.
Equipment You May Need
Notes
*Nutritional information is calculated for the fennel only.
Nutrition
Calories:
27
kcal
(1%)
|
Carbohydrates:
6
g
(2%)
|
Protein:
1
g
(2%)
|
Fat:
0.2
g
|
Saturated Fat:
0.1
g
(1%)
|
Polyunsaturated Fat:
0.1
g
|
Monounsaturated Fat:
0.1
g
|
Sodium:
45
mg
(2%)
|
Potassium:
360
mg
(10%)
|
Fiber:
3
g
(13%)
|
Sugar:
3
g
(3%)
|
Vitamin A:
117
IU
(2%)
|
Vitamin C:
10
mg
(12%)
|
Calcium:
43
mg
(4%)
|
Iron:
1
mg
(6%)
best celery alternatives, Celery Substitute, substitutions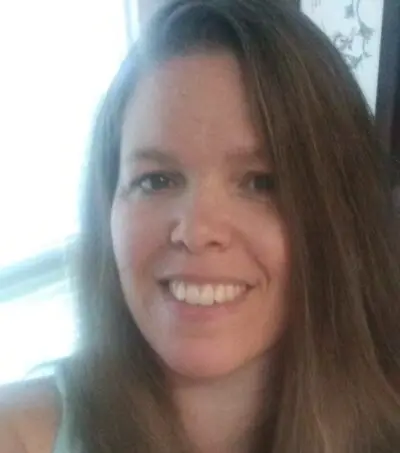 Angela is an at home chef that developed a passion for all things cooking and baking at a young age in her Grandma's kitchen. After many years in the food service industry, she now enjoys sharing all of her family favorite recipes and creating tasty dinner and amazing dessert recipes here at Bake It With Love!