All of my best potato starch substitute options and how to use them in this great guide! With 14 alternatives you're sure to find something you can easily use!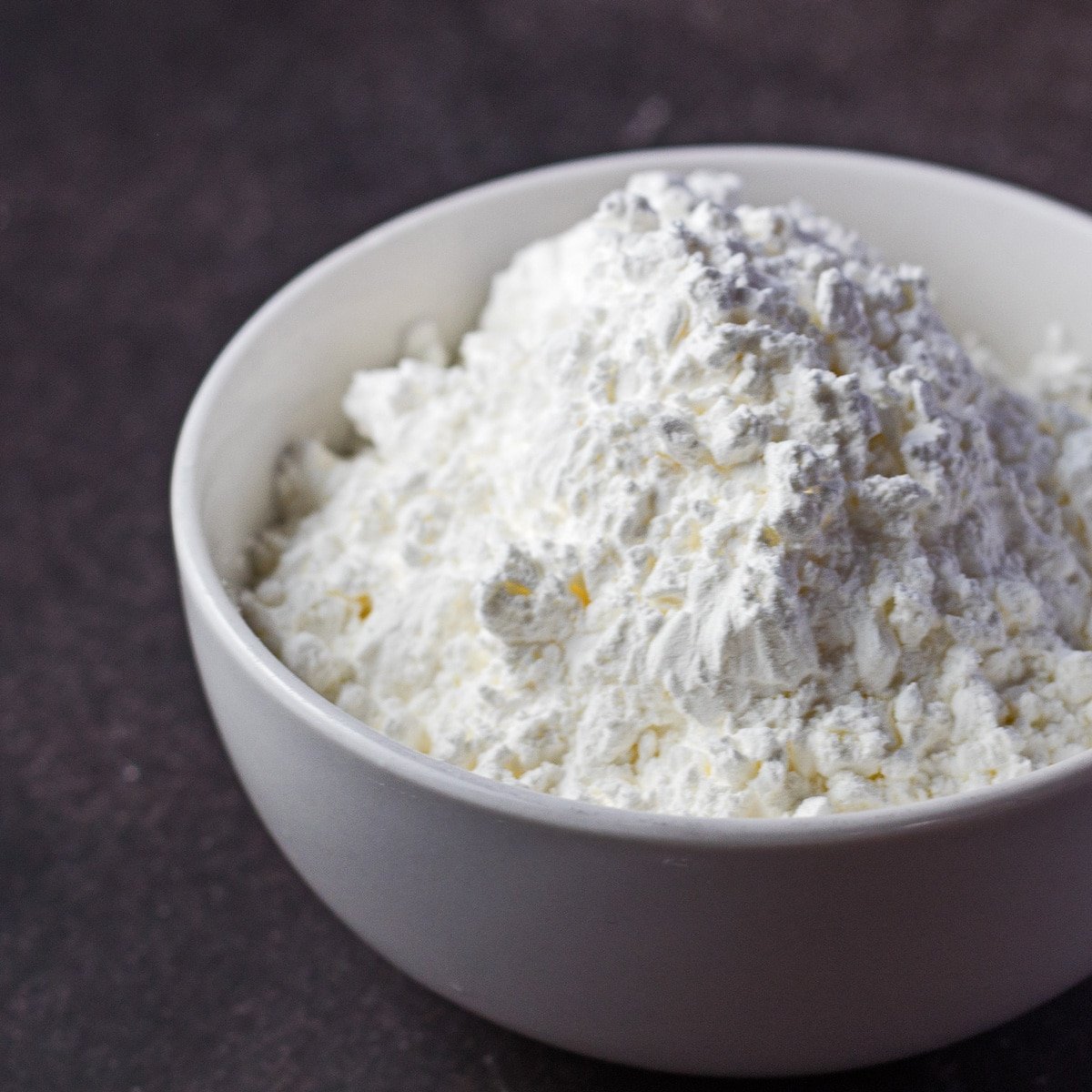 14 Best Potato Starch Substitutes, For Baking & Frying
Wondering what potato starch is? Or how to use it? Maybe you're making some homemade gluten-free flour and have run out of your potato starch or simply don't have any on hand.
Whatever your question, or whichever purpose you have in mind for your potato starch, I've got the answers here! Along with the very best potato starch substitutes with recommendations for their uses, whether they'll work for cooking, baking, or frying, and how to use them!
What is Potato Starch?
Unsurprisingly, potato starch comes from potatoes! During this extraction process, potatoes are crushed, which releases starch grains, called leucoplasts.
The starch grains then get washed and dried until a powder can be formed, which then becomes potato starch. It doesn't have a smell or taste, is soft white, and becomes a mostly clear, thick, gel-like paste.
Potato starch is also gluten free! Which is one of the reasons it has become so popular in cooking, baking, and frying foods lately.
What is Potato Starch Used For?
Potato starch is commonly used in cooking and baking. It can be used as a thickening agent for sweet and savory, hot and cold recipes, such as soups, gravies, pie fillings, sauces, stews, and casseroles.
It is also a gluten-free substitution for flour in muffin and bread recipes, and an excellent choice when frying meat, fish, and vegetables to get a perfectly crispy, golden layer. This versatile GF thickening agent is the perfect pantry staple and is especially helpful during Passover or any other occasion where wheat cannot be consumed.
You've already enjoyed potato starch products if you like instant soups, hot dogs, noodles, potato chips, and sponge cakes (potato starch adds that lovely, soft texture). Plus, potato starch is one of the ingredients used in packaging shredded cheese to keep it from clumping.
Potato Starch vs. Potato Flour
Potato starch is made in a process where just the starch is removed from the potato. None of the actual potato is in the potato starch.
Potato flour, on the other hand, is made from potato pieces that have been peeled, cut, dried, and dehydrated. Unlike potato starch, potato flour usually tastes like potatoes and has a wheat-like appearance in both color (white and off-white) and texture.
While both are made from the potato, they should not be used interchangeably or as substitutes for one another. Doing so might risk the color, taste, and texture of your recipe. After spending time (and money!) on your creation, it is best to use a trusted substitution.
So, if your recipe calls for potato starch and you don't have any on hand, don't panic! Check out the list below for a guide to alternatives.
Substitutes for Potato Starch
In general, cornstarch is my number one choice for a quick potato starch alternate. However, for gluten-free cooking I would suggest arrowroot powder as your best thickening agent and baking ingredient.
1. Cornstarch
Just like potato starch, cornstarch doesn't have a taste or color. This commonly used thickening agent is known to make any dish shiny and glossy and can be used in a 1:1 ratio.
Most cornstarch, made purely from corn, is also gluten free. Just check the label to make sure there is no risk of cross contamination.
2. Arrowroot Powder
Arrowroot powder comes from the arrowroot plant, native to Central America, South America, and the West Indies. Also colorless, arrowroot can be used in any recipe that potato starch might be needed for.
A great pantry staple, it has a shelf life of 3-4 years and is also gluten-free and paleo-approved. To substitute, replace 1 tablespoon of potato starch with 2 teaspoons of arrowroot starch.
You can read about Arrowroot Powder Substitutes here!
3. Tapioca Starch
Tapioca starch is like arrowroot in that both come from the root of a plant found in Central and South America. If you've ever heard of cassava or yucca, then you're familiar with tapioca because it is the same thing!
For smaller substitutions, such as thickening a sauce or stew, you can do a 1 to 1 ratio. For larger substitutions, like cake or bread mix, try adding 25-50% more than the recipe calls for and reduce a bit more of the flour-like ingredients so that total volume remains accurate. Just be cautious not to add too much tapioca starch, or the finished product may become too sticky or dense.
I also have a guide to tapioca starch substitutes!
4. Potato Flour
Although potato flour is very different than potato starch (see above), you can still use it as a substitute by doing a 1:1 ratio. Be careful of the earthy, potato flavor that it might add to your finished dish, perhaps best for savory recipes or frying as opposed to baking.
5. Instant Mashed Potatoes
A creative substitution! Use good old-fashioned instant mashed potato mix in place of potato starch. Simply pulse in a food processor to make a finer powder, and use a 1:1 ratio.
6. Rice Flour
Rice flour can be gritty but is otherwise like potato starch because it has no taste, works well as a thickening agent, and is also gluten-free. While rice flour can be used in baked goods and for frying, it is best for soups and stews because it is heavier than alternatives like arrowroot and tapioca starch.
When substituting with rice flour, combine 2 tablespoons with a cup of liquid, and use in the early stages of the recipe.
7. Sweet Rice Flour
Sweet rice flour, glutinous rice flour or sweet white rice flour, is an excellent potato starch substitute, most especially in baking where its slightly sweet flavor will add to your recipe. It should be noted that sweet rice flour will add more of a 'chew' to your baking than regular rice flour would.
You can use sweet rice flour in a 1:1 ratio in your recipe.
8. Mochi Flour
Mochi flour is a more glutinous rice flour, used mostly for baking, but also for cooking. It does vary from sweet rice flour as it is made from a short grain rice that yields a slightly different texture and flavor.
Mochi flour has a slightly sweet, milky flavor, although is relatively tasteless. To use this soft, sticky, gluten-free alternative, use in an equal 1 to 1 ratio.
Look for Mochiko (Japanese Sweet Rice Flour) brand in your grocery store to get a good mochi flour.
9. Coconut Flour
Also known to have a little bit of a sweeter flavor, similar to mochi flour, coconut flour is another suitable substitution. Reduce the quantity by 15% to avoid an overly hard finished dish.
10. All Purpose Flour, Wheat Flour
All-purpose flour and wheat flour aren't the best alternatives but will do the job in a pinch. Use double the amount of flour in place of potato starch, and your recipe will thicken in no time. Of course, this is not a gluten-free alternative.
11. Almond Flour and Oat Flour
Like all-purpose flour and wheat flour, these can be used at the same 1:1 ratio. This alternative is gluten-free, with a nutty, sweet flavor perfect to use when baking.
12. Quinoa Flour
Made from ground quinoa seeds, this alternative can be used for cooking, baking, and frying alike, but may leave you with a bitter taste in your mouth. Use cautiously or if no other alternatives are readily available.
13. Water Chestnut Flour
As the name implies, this flour is made from ground water chestnuts. Unlike other flours, it is actually a starch and therefore very suitable for using as a potato starch substitute!
Using water chestnut flour, or singhara, will add a slight sweet, slightly smoky flavor to your cooking so I suggest using it as a thickening agent in cooking. Combine the water chestnut flour with water to make a slurry, and add more as needed until your desired consistency is reached.
14. Ground Matzo
Matzo, or matza, is hard, flat bread that resembles a cracker. It is a traditional part of Jewish cuisine and culture because it is unleavened, made from just flour and water. This is not a traditional potato starch substitute but can be ground and used as a thickening agent if necessary, like breadcrumbs.
Ground matzo does have a flavor, absorbs more liquid, and is therefore heavier, making it one of the least recommended potato starch substitutions.
More Great Substitutes!
More great substitute pages to help you out with all of your cooking and baking!
Print Recipe
Leave A Comment
Love This Recipe?
Click On A Star To Rate It!
Potato Starch Substitute
All of my best potato starch substitute options and how to use them in this great guide! With 14 alternatives you're sure to find something you can easily use!
Share on Facebook
Ingredients
1

tablespoon

cornstarch

2

teaspoon

arrowroot powder

1

tablespoon

tapioca starch

(in most recipes)

1

tablespoon

potato flour

1

tablespoon

instant mashed potatoes

(finely ground)

2

tablespoon

rice flour

(best for soups and stews - combine with water)

1

tablespoon

sweet rice flour

1

tablespoon

mochi flour

2 ½

teaspoon

coconut flour

(reduced by 15%)

2

tablespoon

all-purpose flour or wheat flour

1

tablespoon

almond flour or oat flour

½

tablespoon

quinoa flour

(least preferred alternate - use sparingly and to taste)

1

tablespoon

water chestnut flour

(combine with equal parts water to make a slurry)

1

tablespoon

ground matzo

(least preferred alternate - start with less and add more)
Instructions
Use cornstarch in a 1:1 ratio as you would potato starch.

Use 2 teaspoons of arrowroot powder for every 1 tablespoon of potato starch.

Use tapioca starch in a 1:1 ratio as you would potato starch.

Use potato flour in a 1:1 ratio as you would potato starch.

Use instant mashed potatoes in a 1:1 ratio as you would potato starch. Grind the flakes to a fine powder using a food processor.
Equipment You May Need
Nutrition
Calories:
30
kcal
(2%)
|
Carbohydrates:
7
g
(2%)
|
Protein:
1
g
(2%)
|
Sodium:
1
mg
|
Potassium:
1
mg
|
Fiber:
1
g
(4%)
|
Calcium:
1
mg
|
Iron:
1
mg
(6%)
Potato Starch Substitute, substitutions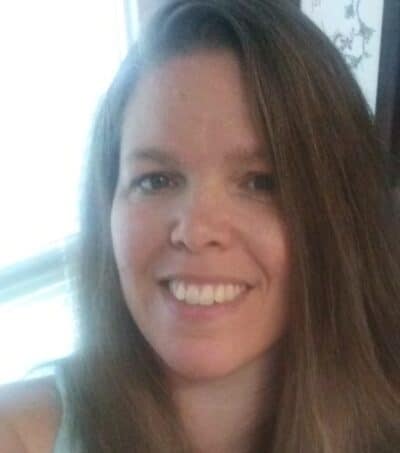 Angela is an at home chef that developed a passion for all things cooking and baking at a young age in her Grandma's kitchen. After many years in the food service industry, she now enjoys sharing all of her family favorite recipes and creating tasty dinner and amazing dessert recipes here at Bake It With Love!