My very best Dijon Mustard substitute ideas as well as an easy homemade Dijon mustard recipe to help you out when you're in need of Dijon! I have no doubt that you'll have something on hand in my list below that will suit your needs perfectly!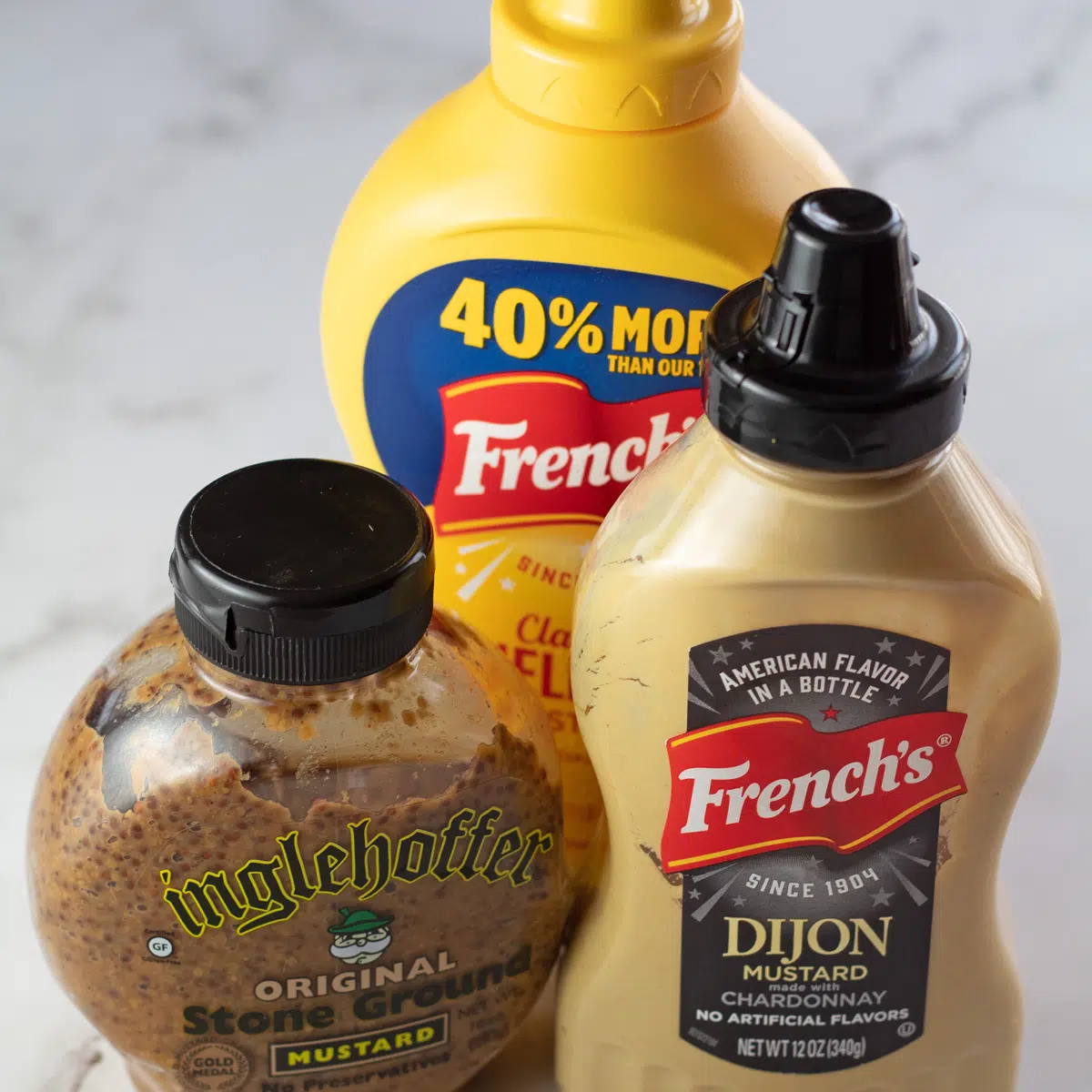 Wondering what you can use instead of Dijon mustard? I'll share all of the best substitutes for Dijon mustard!
Have you run out of Dijon mustard in the middle of a recipe? Or did you find the bottle or jar empty when you have some amazing deli meat that's begging for some tasty, creamy Dijon??
No worries! There are quite a few tasty Dijon mustard alternatives to match any recipe you're making! Or make this staple French mustard at home with my recipe below!
Dijon Mustard vs. Mustard
Dijon mustard is a type of mustard that is unique in flavor and composition compared to yellow mustard. Yellow mustard is typically bright yellow and is made from white and yellow mustard seeds.
Dijon mustard is made with black mustard seeds, which makes it spicier than yellow mustard. It also has less vinegar, is creamier, and is a paler yellow color than yellow mustard.
What is Dijon mustard?
Dijon mustard is a French variety of mustard that is used as a condiment for sandwiches, sauces, glazes, dressings, seasoning, and more. It has a pale yellow color and is creamy and pasty in texture.
Don't worry about shaking Dijon mustard! There is less vinegar than your standard yellow mustard, so you won't get that watery liquid that is common with other types.
You will find it either in a glass jar or in a plastic bottle. Once you open a Dijon mustard container, it is best to store it refrigerated and use it within six months.
Dijon mustard is made with brown and black mustard seeds, which creates a kick of spice, and is flavored with either white wine and vinegar or verjuice, a very acidic juice made from unripe grapes, crab apples, or another kind of sour fruit.
Many coarse mustards use a process of grinding mustard seeds with two stones, like a mortar and pestle. They are referred to as coarse mustards because many of the mustard seeds remain whole, leaving more texture and deep flavor.
Some common coarse mustard varieties are creole mustard, stone ground mustard, whole-grain Dijon, and more.
Best Dijon Mustard Substitute
The best Dijon mustard substitute is easily stone ground mustard. It's so very similar to Dijon but with a milder flavor. The next best, simply due to the fact that it is pretty much a household staple everywhere, is yellow mustard. *See my FAQ to modify your yellow mustard for use as a Dijon substitution.
1. Stone Ground Mustard
Stone ground mustard is also made from brown mustard seeds, like Dijon. It has many whole mustard seeds and is, therefore, milder in flavor compared to Dijon.
With all of the similarities, stone-ground mustard is a great substitution for Dijon mustard! Especially for dressings and marinades, in which the flavor profiles match seamlessly.
Use stone ground mustard in a 1:1 ratio to the amount of Dijon mustard called for in a recipe.
2. Yellow Mustard
Yellow mustard is sweeter, tarter, and more acidic than Dijon but is a staple household ingredient. It's affordable, too! You can use yellow mustard in place of Dijon with a 1:1 ratio.
3. Whole Grain Mustard
The flavor of whole-grain mustard is very close to Dijon mustard. The major difference is in texture, as the mustard seeds have not been crushed and are whole, resulting in a coarse mustard paste.
Use whole grain mustard in place of Dijon when cooking meats, making sandwiches, dressings, dips, and marinades, as long as you don't mind the texture difference.
4. Hot English Mustard
Hot English mustard is made from white, black, and brown mustard seeds and is a cross between Dijon and yellow mustard. It's spicy hot and goes well with meat roasts, sandwiches, and is a great addition to sauces and gravies.
5. Spicy Brown Mustard
Spicy brown mustard has a more intense flavor and texture than Dijon but is a great alternative in cooking and making marinades, dressings, and topping bagels. Because of its zesty, bold flavor, use less than your original recipe calls for.
6. Wasabi
To substitute wasabi for Dijon, use less than a 1:1 ratio, as wasabi is known for its incredible spice. You can substitute it for Dijon when cooking meats and on sandwiches alike!
7. Horseradish Sauce
Horseradish sauce is very similar to Dijon mustard in that they're both creamy and tangy. If you like horseradish, you can use horseradish sauce as a substitute and might even mix it with honey and cream, which will match the flavor even more.
This alternative is great for dishes that feature fish, beef, and lamb as a side sauce or dip.
8. Honey Mustard
Honey mustard is noticeably sweeter than Dijon mustard but pairs well with chicken and pork. This makes it an excellent Dijon mustard alternative when paired with either protein!
Best used in dips, sauces, marinades, pork rubs, and dressings, with vegetables and salads.
9. Egg Yolks or Egg Yolk Powder
Egg yolks or egg yolk powder is a good substitute for Dijon when Dijon is used to thicken something. Both egg yolks or egg yolk powder can be used in dressings to add a creamy thickness and will also keep the pale-yellow color that Dijon is known for.
To substitute, use a spoonful of egg yolk powder or a couple of fresh egg yolks to the recipe. To deepen the flavor profile, consider adding some smashed garlic or fresh chopped herbs.
10. German Mustard
German mustard can be spicier than Dijon mustard and has many whole or partially crushed mustard seeds, giving it lots of texture. It's made with brown mustard seeds, vinegar, and spices, and is great paired with meats, sausages, wursts, hotdogs, and baked pretzels.
11. Beer Mustard
Beer mustard is actually made with an acidic beer, instead of wine or verjuice. It has a deep flavor that is mild in spice. It's a good substitution for Dijon mustard as a dipping sauce, where its flavor won't be lost.
12. Mayonnaise
Mayonnaise is a versatile Dijon mustard substitute. It is creamy, sweet, tangy, and has some acidity from the vinegar. This is a good alternative for those who prefer a milder flavor than Dijon offers, as mayonnaise really isn't complex in flavor.
You can use mayonnaise in just about anything - from a dip for French fries, salad dressings, marinades, meats, and burgers.
13. Worcestershire Sauce
Worcestershire sauce is generally made from fermented molasses, vinegar, garlic, tamarind paste, anchovies, other condiments, onion, and sugar. It's tangy and bold in flavor and can mimic the taste of Dijon.
Since Worcestershire sauce has a higher liquid content, be mindful of how the extra liquid will affect the outcome of your dish. It's great for marinades and cooking meat, or can be mixed with mayonnaise or yogurt in dishes that aim for an ingredient that's creamy.
14. Lecithin Powder
Lecithin powder isn't necessarily a common pantry staple but is a great vegan alternative when thickening a Dijon substitute, especially for salad dressings and sauces. Because lecithin powder doesn't add much flavor, be sure to grab your favorite spices to boost its flavor.
Don't forget to check out all of my other great substitutes when you find yourself short of an ingredient!
More great substitute pages to help you out with all of your cooking and baking!
❓ FAQ
Are Dijon mustard and stone-ground mustard the same?
Both Dijon and stone-ground mustard are made from the same type of brown mustard seeds, but many of the seeds in stone ground mustard are left whole during the mortar-and-pestle-like grinding process, which results in a milder spice mustard. The seeds in Dijon mustard are completely crushed, which yields a bolder flavor.
Can you make Dijon mustard out of regular mustard?
Dijon mustard and regular, yellow, "American" mustard are quite different, so you can't truly make Dijon mustard out of regular mustard. Read below for what you can add to yellow mustard to make it more like Dijon.
What can I add to yellow mustard to make it Dijon?
You can't actually make Dijon mustard from yellow mustard because they are made from different ingredients. If you only have regular, yellow mustard on hand and need or want Dijon mustard, try adding a little mayonnaise to the yellow mustard. This will mimic the creaminess of Dijon, especially for the purposes of cooking.
What is a good whole-grain Dijon mustard substitute?
Whole grain Dijon mustard, or country Dijon, is Dijon mustard that has been made the traditional French method but also has whole grain mustard seeds. If you don't have whole grain Dijon mustard on hand, you can use regular Dijon mustard. It will offer a similar flavor, without the texture.
Do you love a recipe you tried? Please leave a 5-star 🌟rating in the recipe card below and/or a review in the comments section further down the page.
Stay in touch with me through social media @ Pinterest, Facebook, Instagram, or Twitter! Subscribe to the newsletter today (no spam, I promise)! Don't forget to tag me when you try one of my recipes!
📖 Recipe Card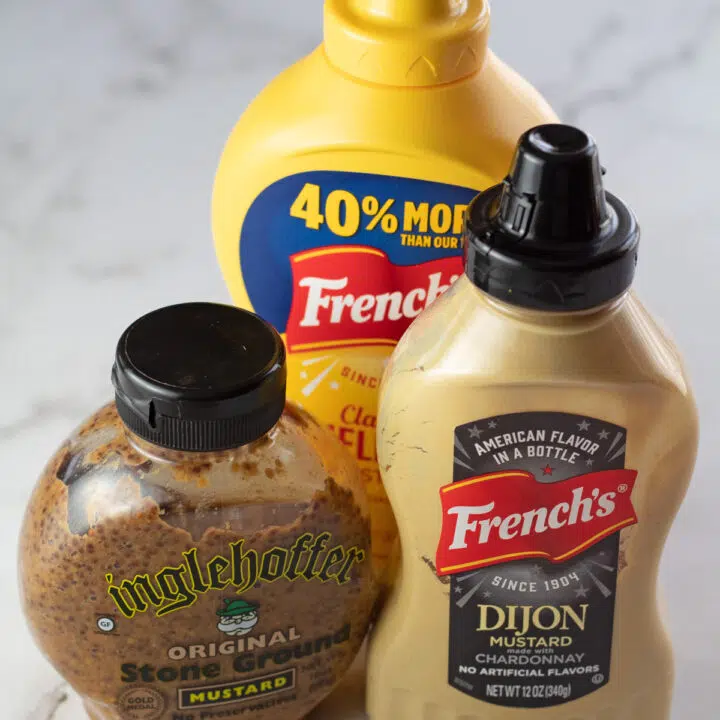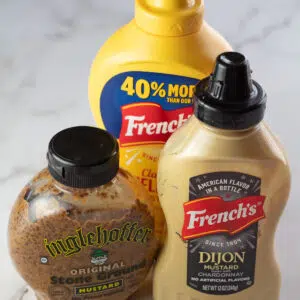 Print Recipe
Leave A Comment
Love This Recipe?
Click On A Star To Rate It!
Homemade Dijon Mustard
My very best Dijon Mustard substitute ideas as well as an easy homemade Dijon mustard recipe to help you out when you're in need of Dijon! I have no doubt that you'll have something on hand in my list below that will suit your needs perfectly! Try my handy and extremely tasty, homemade Dijon mustard recipe shared here too!!
Total Time
8

days
40

minutes
Pin Recipe
Share on Facebook
Ingredients
¾

cup

white wine

(use a dry white wine that is not a sweet variety)

½

cup

water

(use more if needed)

⅓

cup

white wine vinegar

(or distilled white vinegar)

1

cup

shallots

(chopped - or use yellow or white onion)

1

clove

garlic

(minced, or 1 teaspoon)

½

cup

whole yellow mustard seeds

2

tablespoon

dry mustard

½

tablespoon

garlic powder

½

teaspoon

salt

(to taste)
Help Us Out!
If you love a recipe, be sure to come back and share your ratings. This helps future users, and allows me to continue sharing free recipes! Angela
Instructions
Add the dry white wine, water, white wine vinegar, shallots (or onions), and garlic to a saucepan. Bring them to a boil over medium-high heat, then reduce the heat and simmer for 15 minutes. Remove from heat and allow to cool to room temperature.

¾ cup white wine,

½ cup water,

⅓ cup white wine vinegar,

1 cup shallots,

1 clove garlic

Strain the cooled mixture through a fine mesh sieve into a medium bowl, then discard the onions and garlic. Add the mustard seeds, dry mustard, garlic powder, and salt into the white wine base. Stir then cover the bowl with plastic cling film wrap and leave the mixture out at room temperature for 1-2 days. The mixture will thicken as it sits out.

½ cup whole yellow mustard seeds,

2 tablespoon dry mustard,

½ tablespoon garlic powder,

½ teaspoon salt

Blend the thickened mixture using a blender, immersion blender, or food processor until it reaches your desired consistency (smooth or coarse).

Transfer the mustard to a saucepan, add water (as needed) until your mustard is thinned out a bit, and cook over medium-high heat until the sauce begins to bubble. Reduce heat to medium or medium-low and simmer, stirring constantly. Simmer for 8-10 minutes to let the flavors combine, then remove from heat and allow to cool completely before storing.

Store your Dijon in airtight containers (hot, sterilized glass jars are best). Leave ¼-inch space between the top of the mustard and the lid. Gently tamp the jars down to remove any bubbles. Store in the refrigerator for at least 1 week before using.
Notes
To omit the dry white wine, increase the water and white wine vinegar (or distilled white vinegar) amounts to equal and replace the ¾ cup of dry white wine that is called for in the recipe
Once your homemade Dijon mustard starts drying out, darkening in color, or separating, it is time to discard the mustard.
Nutrition
Calories:
28
kcal
(1%)
|
Carbohydrates:
3
g
(1%)
|
Protein:
1
g
(2%)
|
Fat:
1
g
(2%)
|
Saturated Fat:
1
g
(6%)
|
Polyunsaturated Fat:
1
g
|
Monounsaturated Fat:
1
g
|
Sodium:
41
mg
(2%)
|
Potassium:
58
mg
(2%)
|
Fiber:
1
g
(4%)
|
Sugar:
1
g
(1%)
|
Vitamin A:
1
IU
|
Vitamin C:
1
mg
(1%)
|
Calcium:
13
mg
(1%)
|
Iron:
1
mg
(6%)
Dijon Mustard Substitute, Homemade Dijon Mustard, how to make Dijon mustard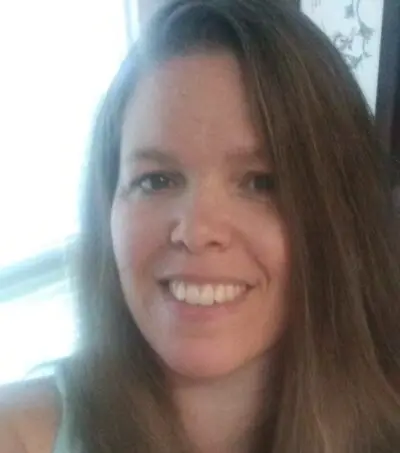 Angela is an at home chef that developed a passion for all things cooking and baking at a young age in her Grandma's kitchen. After many years in the food service industry, she now enjoys sharing all of her family favorite recipes and creating tasty dinner and amazing dessert recipes here at Bake It With Love!