When you're looking for the best masa harina substitute, there's no need to worry when you have this complete collection of great alternatives! Whether you're mid-recipe and have to think of something quickly or you're planning a meal and want to skip a trip to the store - there's a great substitution for everything!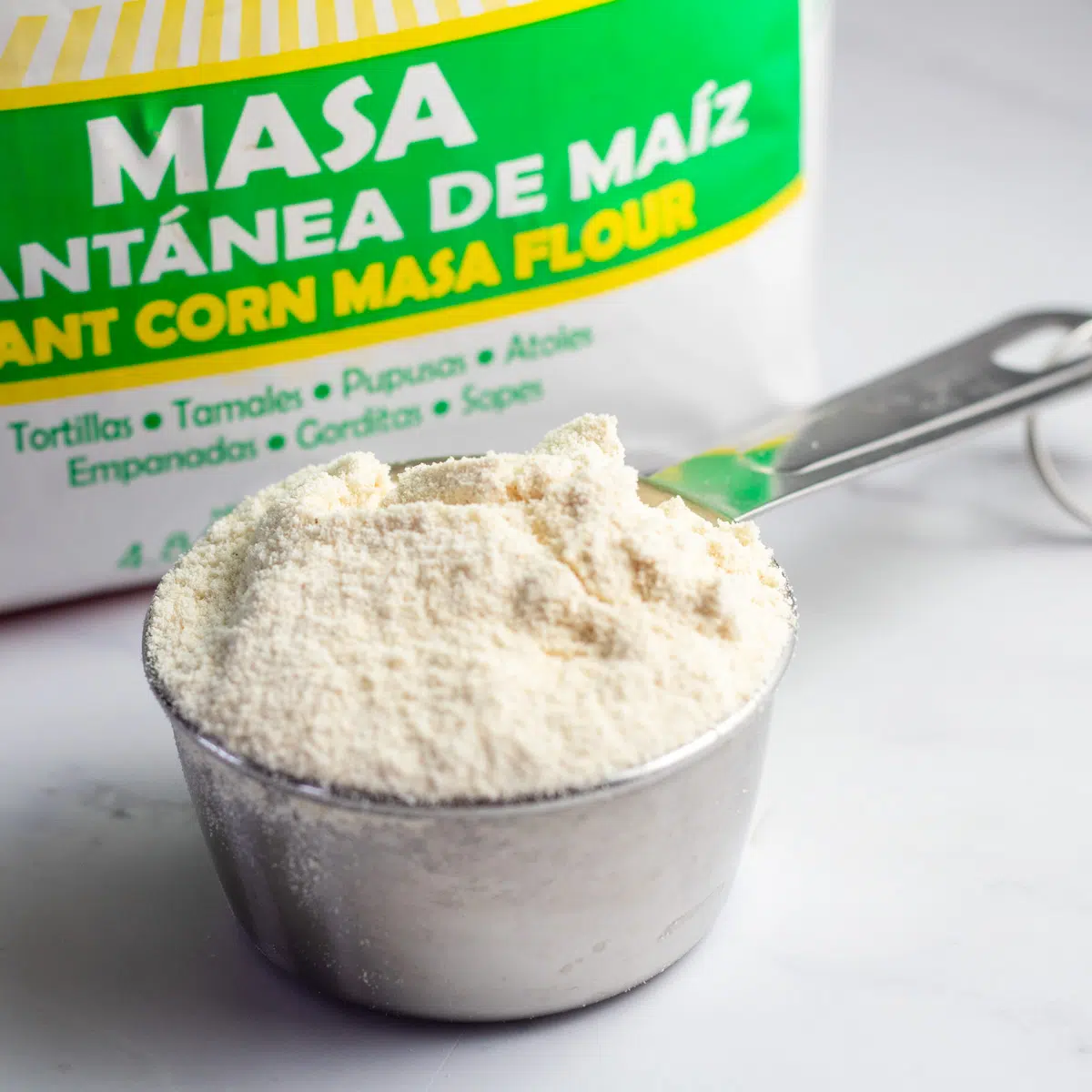 caption: Masa harina adds great flavor and texture to so many dishes, but it's also easily worked around when needed!
The incredibly versatile pantry staple, masa harina, is easy to swap out!
Have you been inspired to try and make your favorite Mexican or Latin American dishes at home? Maybe you want to try and recreate the delicious tamales you had at your favorite restaurant, or you simply want to make fresh corn tortillas.
If so, you have probably come across an ingredient you may not be familiar with - masa harina. Masa harina is a key ingredient in many traditional Mexican dishes.
Not sure if you have masa harina at your grocery store? Ready to jump in and start cooking without going to look? Not a problem!
There are 13 great substitutes for masa harina! The best substitute for masa harina will depend on what you are cooking, so keep reading to find the best one for you.
Jump to:
What is Masa Harina?
Masa harina is also known as Mexican flour. It is mostly used in Mexican and Latin American dishes. Masa means dough in Spanish and harina is flour in Spanish; therefore, Masa harina is literally dough flour.
Masa is made from corn; however, it is not just corn flour. The corn used to make masa harina is treated in limewater before it is turned into flour. This process breaks down the hull that creates the texture of masa harina.
The limewater treatment also creates a unique flavor that is clearly attributed to your favorite Mexican dishes.
What is Masa Harina Used For?
Masa harina is commonly used for thickening soups and sauces, similar to how you may use cornstarch or wheat flour in other recipes.
Masa harina is also the main ingredient in making corn tortillas, taco shells, and tamales.
Where Can You Buy Masa Harina?
Where do you find this versatile ingredient? If you have a Latin American grocery store in your town, you can easily find masa harina in the store.
As more mainstream grocery stores begin to diversify their products, you may also find it at your local grocer. With ordering groceries online becoming more and more common, you can also order masa harina from places like Amazon.
What if you can't find masa harina, or you only need a small amount and don't want to buy a large bag? Try a substitute, you may already have one or more substitutes in your kitchen.
13 Best Masa Harina Substitutes
Choosing the best substitute for your recipe will depend on the purpose of masa harina in the dish. The best substitute for thickening a sauce or soup will be different than the best substitute for making tortillas or tamales.
Read through the following list to see what the best option is for you, depending on what you are making and what ingredients you have available.
1. Masa Preparada
Masa preparada is simply masa harina that is already prepared. You will find this in a Latin American grocery store in the refrigerator section. It is often more expensive than masa harina because it is already prepared, but it saves you time in the kitchen.
Use masa preparada for making dishes like tamales and tortillas. Just skip the steps in your recipe for making the dough and jump straight to adding the fillings and baking.
2. Dried Hominy
Hominy is used in its whole kernel form in many Latin American dishes, as well as Southern dishes in the United States. Hominy is hulled corn - meaning the husk of the kernel has been removed.
How is it removed? In a limewater soak. Therefore, hominy is basically masa harina in its pre-ground form.
To make masa harina, take the whole hominy kernels and grind them in a food processor. Measure the ground hominy in a 1:1 ratio for the recipe. You can use ground hominy as a substitute in any dish that calls for masa harina.
3. Canned Hominy
Canned hominy is hominy that is preserved in water. The kernels will be similar to the consistency of canned beans. Similar to dried hominy, you can toss canned hominy into the food processor to grind it up.
Canned hominy will be a softer dough-like texture when blended, in contrast to the dried hominy. However, you can use it the same way as dried hominy for a 1:1 substitute for masa harina.
If using for tamales or tortillas, begin by using less water than the recipe calls for - eventually using all the water if needed.
4. Corn Grits
Another popular staple in the South that makes a good substitute is grits. Grits can be made from hominy or milled corn. If it is made from hominy, it will have a similar taste to masa harina.
However, if it is made from milled corn, it will taste more like cornmeal.
The main difference between masa harina and grits is the texture. Grits are often more course than masa harina. Depending on the recipe, you may want to toss the dry grits in a food processor first to make it a finer texture.
Then, simply measure the grits in a 1:1 ratio for the masa harina.
5. Cornflour
While masa harina is made from corn, it is slightly different than cornflour due to hulling process. Corn flour does not go through the limewater treatment that gives masa harina its unique taste.
Due to the difference in how the corn is processed, substituting cornflour will change the flavor of the dish slightly. However, it does have a similar texture and makes a great substitute for thickening soups and sauces that call for masa harina.
6. Corn Meal
Cornmeal is like corn flour – they are both made from milled corn. It also does not go through the process of alkalizing the kernels with limewater. Therefore, it will also not be an exact taste substitute.
However, the texture of cornmeal is a bit grainier than cornflour and more similar to the texture of masa harina. This grainy texture makes cornmeal a good 1:1 substitute for dough-like recipes that use masa harina.
7. Dry Polenta
Polenta is the Italian version of cornmeal. It is ground yellow flint corn that is used to make a porridge dish like grits. It offers a similar texture for masa harina and can easily be substituted in a 1:1 ratio in any recipe.
In some instances, the standard cornmeal may be mixed with other grains such as farro, millet, and even chestnuts. This may not change the texture but may provide a different flavor.
Double-check the ingredients on the bag and consider trying a taste test in a small batch before using it for the final dish.
8. Prepared Polenta
Similar to dry hominy and canned hominy, there is dry polenta and prepared polenta. Prepared polenta is sold in a tube in the refrigerator section. It is already mixed with water.
You can substitute prepared polenta in a 1:1 ratio in any recipe that calls for masa harina.
For doughs, such as tamales, begin with using less water than the recipe calls for since the prepared polenta already has water in it. You can always use the full amount if needed, but it's best to begin with less.
9. Corn Starch
Cornstarch is a common thickening agent in many recipes. If you are making an authentic Mexican dish such as a sauce or soup that requires thickening, cornstarch can be used in place of the masa harina.
Cornstarch has a mild flavor; therefore, it should not impact the taste of the sauce or soup too much.
Cornstarch needs to be mixed with water prior to adding it to the dish. Following the measurements for masa harina, mix equal parts of cold water and cornstarch in a small bowl to make a slurry.
Slowly add the slurry to the sauce or soup, taking time to see how quickly it thickens – you may not need the entire bowl of slurry.
10. Arrowroot Flour
Arrowroot is a starchy substance is made from the roots of several tropical plants. The roots are ground into a very fine powder.
It is too finely ground to make dough on its own; therefore, it's not suggested for using in large quantities. However, it is great in small quantities for sauces or soups.
Arrowroot provides a similar texture in sauces or soups and can be easily substituted in a 1:1 ratio for masa harina.
The taste of arrowroot is quite different than masa harina; therefore, it's encouraged that you test a small batch with arrowroot first to see if you like the taste.
11. Corn Tortilla
The main ingredient in corn tortillas is masa harina; therefore, if you deconstruct the tortilla, you have masa! This is a great way to get an authentic taste and texture in your dish.
The easiest way to create masa harina is to drop a few corn tortillas into a food processor or blender and blend until it creates a flour-like texture. Blend more tortillas as needed.
Measure the ground meal in a 1:1 ratio to masa harina. You can use this substitute in any recipe that calls for masa harina.
12. Corn Tortilla Chips + Taco Shells + Tostada Shells
If corn tortillas work, then their crunch counterparts will also work. Similar to preparing the corn tortillas simply grind corn tortilla chips, taco shells, or tostada shells into a fine flour-like consistency.
The big difference in using these three substitutes is that they have all been baked or fried. Using baked chips or shells is the best option to get the closest original texture.
Ground corn chips or shells are best used in a 1:1 ratio for adding authentic taste and texture to soups or sauces.
13. Flour
Remember that the unique quality of how masa harina is processed is where you get the authentic flavor of a dish. However, masa harina is essentially corn flour; therefore, you can substitute other types of flour in some dishes.
It's best to use a flour substitute for thickening a sauce or a soup. Every flour has a different consistency and absorption rate; therefore, how much you use will vary depending on if you use wheat flour, rice flour, or another type.
It's best to begin with about half of what the recipe calls for and then slowly add it, paying attention to how it thickens. It may take more or less depending on the flour you substitute.
If you have access to masa harina and want a real authentic taste and texture of a Mexican dish, I recommend trying it out at least once. When you don't have any on hand though, these substitutes are all great options when you want homemade Mexican food at home.
You may even create a new take on a favorite dish using a delicious substitute!
More great substitute pages to help you out with all of your cooking and baking!
📋 Recipe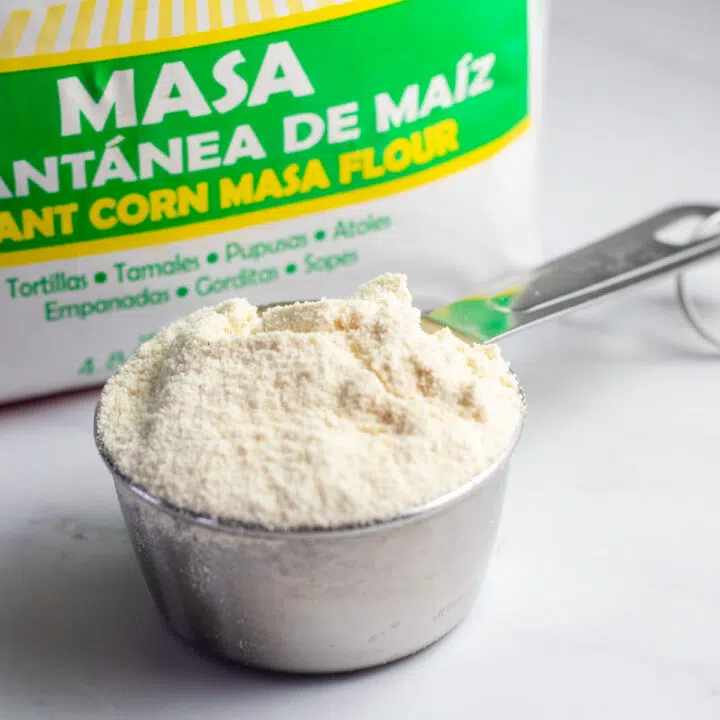 Print Recipe
Leave A Comment
Love This Recipe?
Click On A Star To Rate It!
Best Masa Harina Substitute: Homemade Corn Meal + More!
When you're looking for the best masa harina substitute, there's no need to worry when you have this complete collection of great alternatives! Whether you're mid-recipe and have to think of something quickly or you're planning a meal and want to skip a trip to the store - there's a great substitution for everything!
Total Time
8
hours
10
minutes
Pin Recipe
Share on Facebook
Ingredients
4

cups

corn

(fresh, frozen, or canned)

1

teaspoon

salt

(optional)
Instructions
To dehydrate fresh corn, choose your preferred cooking method and cook for approximately ¾ of the usual cooking time. Your corn should not be completely cooked before dehydrating. Cut the corn from the cob and transfer the kernels to a parchment paper-lined dehydrator tray.To dehydrate frozen corn, simply arrange the frozen kernels on a parchment paper-lined dehydrator tray.*Drained canned corn does not work as well for dehydrating!

Set your dehydrator to 135ºF (57ºC) and allow both fresh or frozen corn to run between 8-12 hours.

Check at about the 6-hour mark, break apart any large chunks of corn, and give it a quick shake or flip to help the corn dehydrate evenly.

The corn is ready when they are firm enough that you can't squeeze them (like popcorn). If you were to hammer a kernel with a meat mallet, it should break rather than turning to mush.

Process your dehydrated corn or popcorn in a spice grinder, food processor, grain mill, or whatever you have with blades strong enough to do the job. Continue until the cornmeal reaches your desired level of fineness. *Work in batches if needed.
Notes
Some dehydrators do not have a heat setting. In this case, simply turn the dehydrator on and check the corn about every 3 hours.
Store your homemade cornmeal in an airtight container in a cool but dry, dark place.
Nutrition
Calories:
148
kcal
(7%)
|
Carbohydrates:
32
g
(11%)
|
Protein:
5
g
(10%)
|
Fat:
2
g
(3%)
|
Saturated Fat:
1
g
(6%)
|
Polyunsaturated Fat:
1
g
|
Monounsaturated Fat:
1
g
|
Sodium:
2
mg
|
Potassium:
336
mg
(10%)
|
Fiber:
4
g
(17%)
|
Sugar:
7
g
(8%)
|
Vitamin A:
405
IU
(8%)
|
Vitamin C:
8
mg
(10%)
|
Calcium:
5
mg
(1%)
|
Iron:
1
mg
(6%)
Cornmeal Substitute, homemade cornmeal, substitutions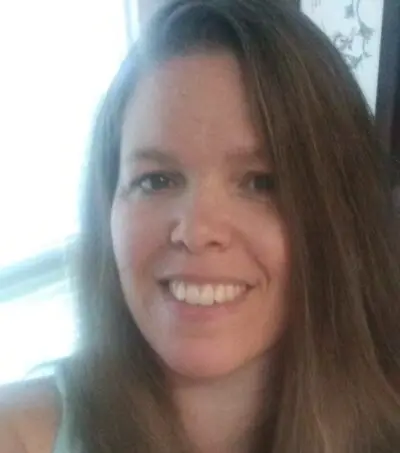 Angela is an at home chef that developed a passion for all things cooking and baking at a young age in her Grandma's kitchen. After many years in the food service industry, she now enjoys sharing all of her family favorite recipes and creating tasty dinner and amazing dessert recipes here at Bake It With Love!