If you'd like to know the best creme fraiche substitute for any cooking or baking recipe that you want to make, look no further! While creme fraiche isn't widely available here in the states yet, it is a wonderful ingredient that offers many unique qualities!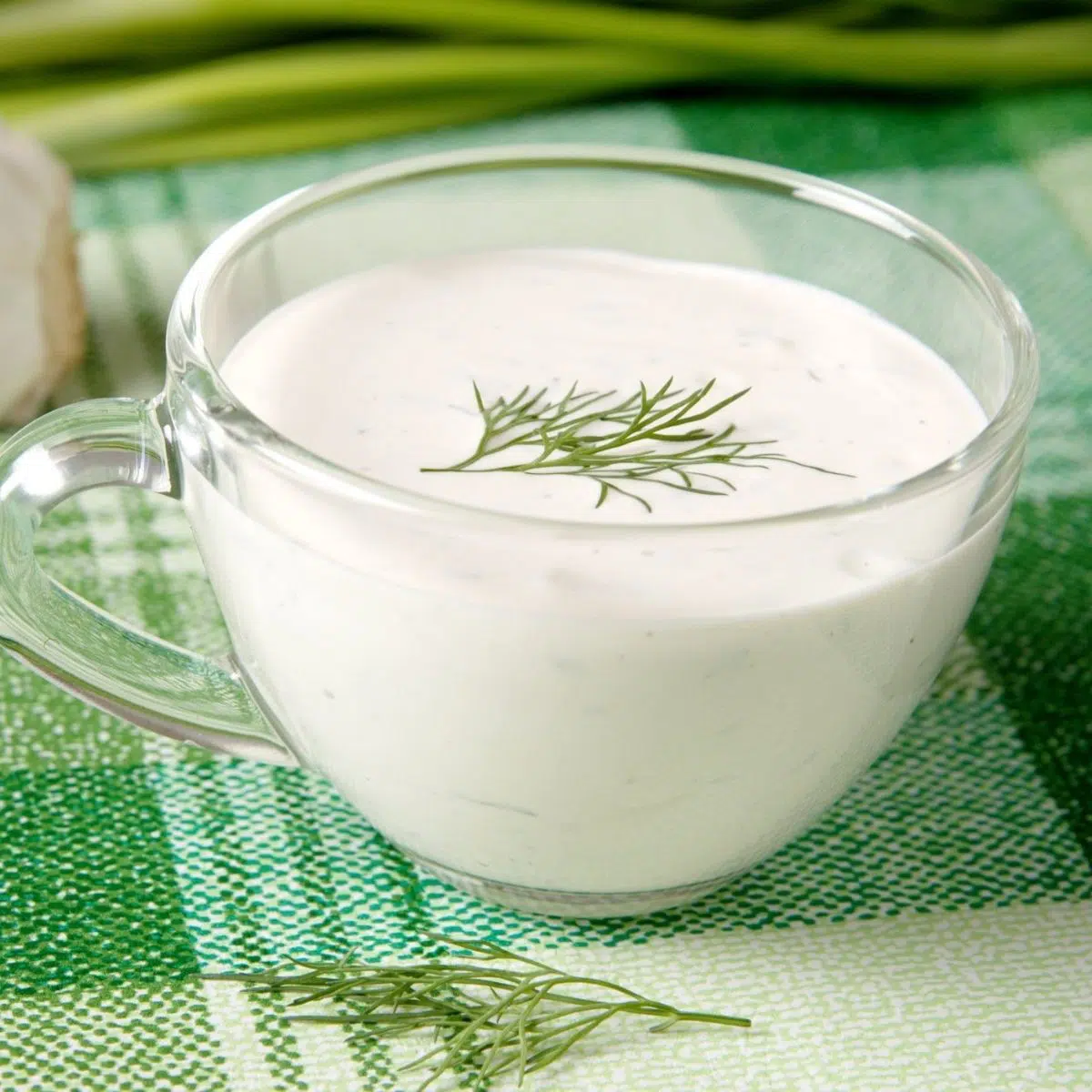 So, you have come across a new recipe that sounds delicious, but it calls for something you've never heard of – creme fraiche. You may be tempted to just move on and forget the recipe, but don't!
Crème fraiche is worth exploring in your cooking and it's easy to find, use, or substitute! Keep reading to learn more about this creamy and tangy ingredient that is perfect for savory soups and sweet desserts.
Jump to:
What Is Creme Fraiche?
Crème fraiche is more commonly used in Europe which may be why you haven't heard of it before. It is a cultured cream that has a thick consistency and a tangy and fresh taste.
When you first see it, you may think "oh, it's sour cream." While it is similar to sour cream in some ways, there are quite a few differences that make creme fraiche its own delicious delight worth trying.
Crème fraiche is thicker than sour cream because of its higher butterfat content that comes from the heavy cream it is made from. It also has a tangier taste, rather than the familiar sour you find in sour cream.
Some even say that creme fraiche tastes fresher than sour cream – this is most likely a result of it being made in smaller batches.
Aside from the differences in taste, creme fraiche is more stable to cook with than sour cream or even yogurt. Unlike sour cream that you must wait to add a dollop of just before serving, creme fraiche can be added directly into a hot soup or sauce during cooking. Crème fraiche creates a nice creamy and thick consistency, without curdling.
Another unique trait of creme fraiche is how versatile it is. In addition to its use in savory sauces and soups, its tart and tangy flavor is perfect to pair with sweet dishes.
It can be used during baking or more commonly as a topping. Add a dollop on top of fresh fruit or toast with jam to enjoy a nice contrast of sweet and sour.
Crème fraiche is readily available in Europe and is becoming more readily available in the United States. Most large grocery stores carry it, but as it becomes more popular you may find it sold out.
Not to worry though, there are plenty of easy substitutes for this European delight! You can even make your own with two common ingredients. (See below for instructions.)
What Do You Do When You Can't Find Creme Fraiche?
What do you do when the creme fraiche is gone? Do you give up and pretend you don't want the delicious dish you were so excited to make? Nope! You just look for a substitute that has all the creme fraiche qualities you need.
Not into substitutes? Simply scroll to number 7 and find out how to make your own creme fraiche (it's so easy you may end up making your own all the time).
The Best 7 Substitutes For Creme Fraiche
Due to how many ways creme fraiche can be used in cooking, one substitute may work better than another depending on the purpose of creme fraiche in your recipe. Make sure you read through all of them to find the best option!
1. Sour Cream
Even though sour cream and creme fraiche have many differences, there are enough similarities to make this a great substitute for both sweet and savory recipes. If using for a soup or sauce, remember that sour cream cannot be heated the same way creme fraiche can.
Therefore, if your recipe calls for the creme fraiche to be stirred in during cooking, wait until the soup/sauce is fully finished cooking when using sour cream. Take it off the heat and stir in the sour cream.
Sour Cream can be substituted in a 1:1 ratio for creme fraiche.
2. Full Fat Greek Yogurt
Full-fat Greek yogurt is a good option for when you want a similar tangy taste in the recipe. It will add some creaminess, but not the same thickness as creme fraiche. Like sour cream, it will need to be added after any sauces or soups have been removed from the heat.
Greek yogurt is also a good option if you are looking for something with less fat. Greek Yogurt can be substituted in a 1:1 ratio.
3. Coconut Cream
Looking for a vegan option? Coconut cream is a great vegan substitute for creme fraiche. Coconut cream has a high-fat content like creme fraiche so it will give you a similar consistency. However, coconut cream has a strong flavor that will come through in the recipe.
This can be a nice variation to creamy soups like red pepper or butternut squash soup, or for a coconut-inspired dessert. Coconut cream is the thick layer that you scoop off the top of the can (this is different than coconut milk or water) and can be substituted in a 1:1 ratio.
4. Mascarpone
Mascarpone is Italian-style cream cheese. It is much softer than American cream cheese and has a similar thick and creamy consistency to creme fraiche. Mascarpone is commonly used in Italian desserts, so it is a bit sweeter than crème fraiche.
If using Mascarpone it is best to use it in recipes that are naturally sweeter, such as a dessert (just like the Italians do). Replace it with a 1:1 ratio.
5. Mexican Crema
Crème Fraiche can be thinned to replace Mexican Crema in recipes, so it makes sense that you could use Mexican Crema as a substitute for Creme Fraiche. The taste is quite similar between these two, but the one thing Mexican Crema can't offer is the thick consistency of Crème Fraiche.
Therefore, use this as a substitute in recipes that call for a dollop or drizzle of crème fraiche before serving. When replacing creme fraiche as a topping, you can approximate a 1:1 ratio such as "a dollop."
It is not recommended that you replace a full 1:1 ratio in a recipe that calls for larger quantities, like "1 cup of crème fraiche."
6. Cream Cheese
In contrast to Mexican crema, cream cheese will work for thickening or adding creaminess to a sauce or soup, but not for a drizzle or dollop. Cream cheese is much denser than crème fraiche and not as tangy, so it won't be an exact flavor exchange, but is still a good option in a pinch.
For a similar creme fraiche substitute, use cream cheese that comes in a plastic container (it's softer) and add a squeeze of lemon juice. Due to the density of the cream cheese, begin with half of what the recipe calls for in crème fraiche.
Fully incorporate it into the soup or sauce. Add more if needed, up to a full 1:1 ratio if desired. You can also mix the cream cheese with milk in a bowl to make it less dense and then measure a 1:1 ratio to use in your recipe.
7. Homemade Crème Fraiche
Want to make sure you always have creme fraiche available? Make your own! All you need is heavy cream and buttermilk.
Pour 2 cups pasteurized heavy cream and 3 tablespoon cultured buttermilk into a glass jar, stir, cover with cheesecloth, and let sit for up to 24 hours. It needs to be at room temperature for the cultures to activate, so make sure to leave it on the counter.
Due to the cultures of the buttermilk, it won't spoil while it is fermenting – promise! Once the creme fraiche reaches the desired consistency, move it to the refrigerator.
Now you have your own fresh creme fraiche to use in all the recipes you want to try! Your homemade creme fraiche will stay fresh for up to two weeks if properly refrigerated.
More great substitute pages to help you out with all of your cooking and baking!
📋 Recipe
Print Recipe
Leave A Comment
Love This Recipe?
Click On A Star To Rate It!
Creme Fraiche Substitute (Homemade Creme Fraiche)
If you'd like to know the best creme fraiche substitute for any cooking or baking recipe that you want to make, look no further! While creme fraiche isn't widely available here in the states yet, it is a wonderful ingredient that offers many unique qualities!
Resting & Refrigeration
2
days
Total Time
2
days
5
minutes
Pin Recipe
Share on Facebook
Ingredients
2

cups

pasteurized heavy whipping cream

(pasteurized not ultra pasteurized if possible)

3

tablespoon

buttermilk

(must be cultured buttermilk)
Instructions
In a mason jar or one of your choosing combine the pasteurized heavy whipping cream with the cultured buttermilk.

2 cups pasteurized heavy whipping cream,

3 tablespoon buttermilk

Cover the jar with cheese cloth using twine or a rubber band to secure it over the top.

Mix, and allow to sit at room temperature for up to 24 hours to allow the mixture to thicken.

When the creme fraiche has thickened to your liking, place the jar lid on and seal securely. Put it in the refrigerator for another 24 hours before use.
Notes
This recipe will yield about 2 cups/1 pint of creme fraiche.
Be sure to use cultured buttermilk or it will not thicken.
Will last in the refrigerator jarred for up to 2 weeks.
Nutrition
Calories:
52
kcal
(3%)
|
Carbohydrates:
1
g
|
Protein:
1
g
(2%)
|
Fat:
6
g
(9%)
|
Saturated Fat:
3
g
(19%)
|
Polyunsaturated Fat:
1
g
|
Monounsaturated Fat:
2
g
|
Cholesterol:
21
mg
(7%)
|
Sodium:
7
mg
|
Potassium:
13
mg
|
Sugar:
1
g
(1%)
|
Vitamin A:
221
IU
(4%)
|
Vitamin C:
1
mg
(1%)
|
Calcium:
11
mg
(1%)
|
Iron:
1
mg
(6%)
creme fraiche substitutes, homemade creme fraiche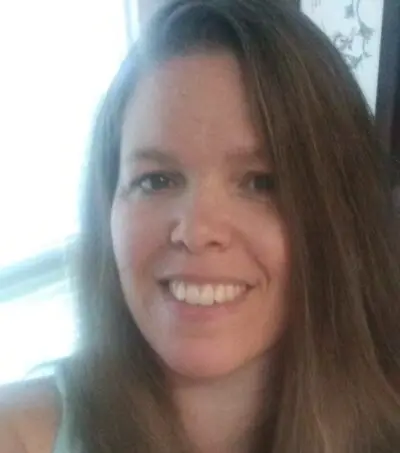 Angela is an at home chef that developed a passion for all things cooking and baking at a young age in her Grandma's kitchen. After many years in the food service industry, she now enjoys sharing all of her family favorite recipes and creating tasty dinner and amazing dessert recipes here at Bake It With Love!