When you need a perfect vanilla extract substitute option, look no further as I have everything you could use plus how to make homemade vanilla! They're all delightfully tasty swaps for your pantry staple vanilla extract!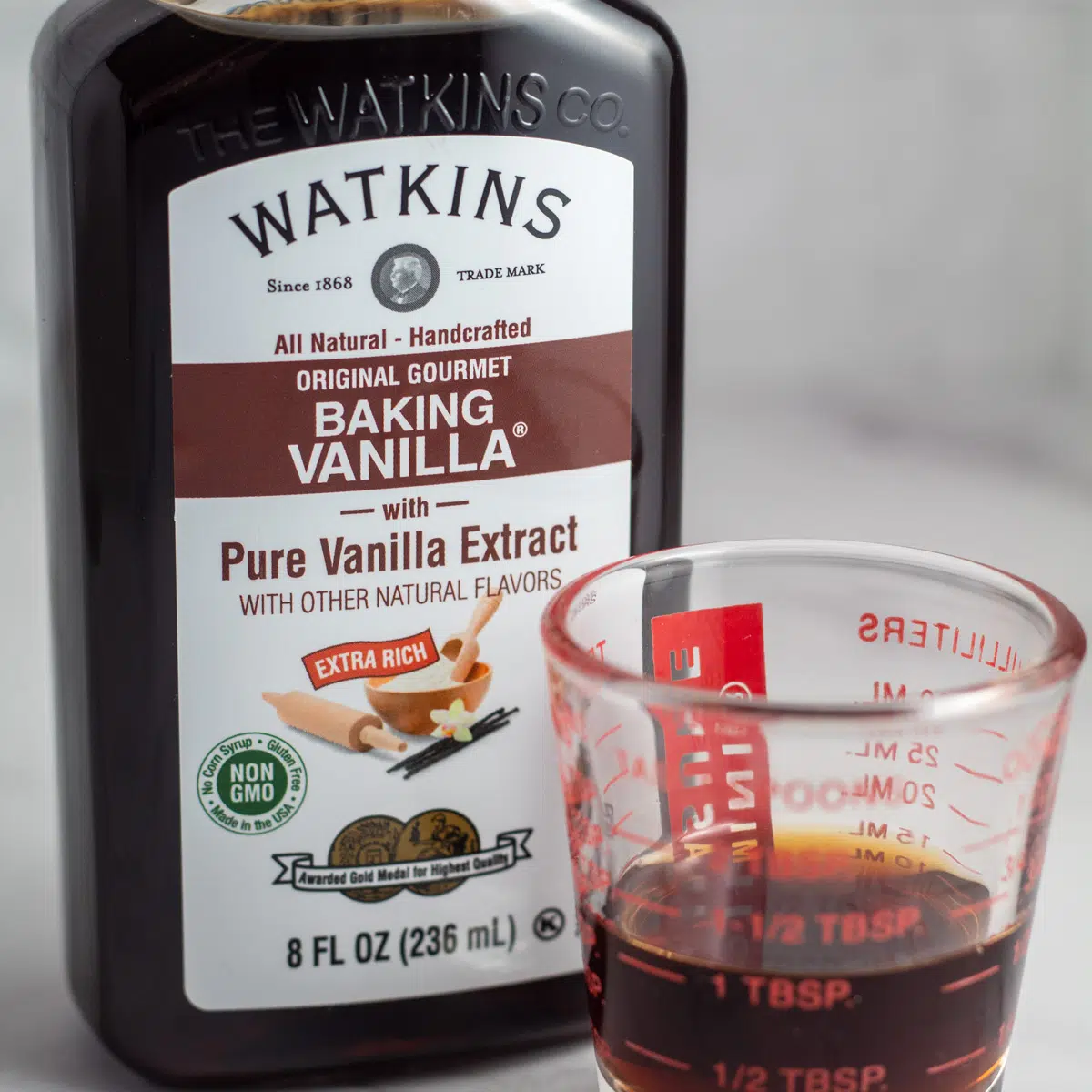 With so many ways to enhance the flavor of your baked goods, there's no need to panic if you run out of your vanilla!
This pantry staple is everyone's favorite flavor to add into baked goods! But what happens when you run out in the middle of a recipe?
Do you panic? Nope! Definitely not, since everything you need to know is right here! Plus my homemade vanilla recipe (which is AWESOME)!
Jump to:
What is vanilla extract? What is vanilla essence?
Vanilla beans contain a molecule called vanillin, which gives vanilla extract its flavor. To make vanilla extract, the vanilla beans must be soaked in a mixture of water and ethyl alcohol.
There are sometimes small amounts of sweetener added, like sugar, corn syrup, or dextrose. Check the ingredients section of the label to see what's in the extract you use!
In the United States, the Food and Drug Administration, or the FDA, set guidelines for vanilla extract, in that the product must have at least 35% alcohol and 13.35 ounces of vanilla beans per gallon.
Vanilla extract is not the same ingredient as vanilla essence, which is a more processed ingredient, containing artificial flavors and colors, made with ingredients like ethanol, propylene glycol, and emulsifiers.
It is no surprise that vanilla extract produces the best, most authentic vanilla flavor when baking!
You can use imitation vanilla but the flavor is still, hands down, best with the real deal. 🙂
Where does vanilla come from?
Vanilla is grown on a vine and comes from the vanilla orchid, a plant that is native to Mexico. Now, it's grown all over the world, and most of the world's vanilla actually comes from Madagascar.
The vanilla plant is very interesting. It takes several years for the plant to reach maturity and begin flowering, and once it flowers, the flower is only in bloom for a single day, which must be pollinated.
Once the flower is pollinated, it will produce one six-to-eight-inch pod, which takes 8-9 months to ripen before it can be harvested and cured.
19 Best Vanilla Extract Substitutes
---
All of these wonderfully flavorful vanilla extract substitute options will work in a pinch - or even regularly if you find that you prefer them!
1. Homemade Vanilla Extract
You are seriously missing out if you have never tried some homemade vanilla extract. The flavor is unrivaled and you won't regret starting your own batch with some vanilla beans and vodka (or bourbon, brandy, or even rum)!
Make extra while you're at it, as the tastiest vanilla extract ever is also a wonderful gift!
See the recipe card below to make your own, then use just as you would store-bought vanilla extract.
2. Vanilla Bean
If you have vanilla bean, you can use the inside, soft pods in place of vanilla extract. To do this, slice the bean in half (the long way) and scrape out the soft interior (this is the vanilla bean caviar) with a spoon or knife.
Consider 1 whole bean pod to equal 1 tablespoon of vanilla extract. Be sure to save the bean for later, as you can make vanilla extract out of it!
3. Vanilla Powder
Vanilla powder is pure vanilla bean, which has been dehydrated and ground. It can be expensive, but lasts a long time, and provides rich vanilla flavor.
Substitute 1:1 for the flavor since most of the alcohol in vanilla extract evaporates during the baking process, but keep in mind that the recipe may be a little on the dry side, since you are not adding liquid.
4. Vanilla Essence
As a rule of thumb, vanilla essence is far less strong than vanilla extract. You can substitute by using twice the amount of vanilla essence than the recipe calls for.
So, if the recipe calls for 1 teaspoon of vanilla extract, use 2 teaspoons of essence. If a recipe has other strong ingredients, like carrot cake or chocolate chip cookies, you likely won't taste the difference between the two, but if you are baking something in which the primary flavor is vanilla, it's best to use the real deal extract.
5. Vanilla Infused Milk
If you have milk and vanilla beans on hand, you can make your own homemade concoction! Simmer milk and vanilla beans on low, and as soon as the milk starts to bubble, remove from heat.
Let the mixture cool and taste for flavor. If it is too strong, add some milk until you reach the desired flavor. Strain the beans, which you can save for later use, and refrigerate the mixture until you are ready to use it. Substitute at a 1:1 ratio.
6. Vanilla Almond Milk
This substitution cuts out the extra work mentioned above. If you have vanilla flavored almond milk, or can buy it, you can add great vanilla flavor your recipe.
To do this, replace any milk or water that the recipe calls for with vanilla almond milk.
7. Vanilla Sugar
This is one of the most common substitutions, and some people even put vanilla sugar in their coffee for some extra decadence. If you use vanilla sugar to replace vanilla extract, reduce the amount of sugar used in other stages of the recipe, and use 3x more than the recipe calls for extract.
For example, if the recipe calls for 1 teaspoon of vanilla extract, use 3 teaspoons of vanilla sugar. *Save any vanilla bean pods that you use and leave them in your sugar jar for extra special everyday baked goods!
8. Almond Extract
If you and your audience like almond extract, you can replace the vanilla extract with it. It's stronger and does have an almond flavor, which I personally love.
Use ½ the amount that you would use for vanilla extract. So, if the recipe calls for 1 teaspoon of vanilla extract, use ½ teaspoon of almond extract, which has a stronger flavor.
9. Other Flavored Extracts
If you have other flavored extracts available, you can choose which you'd like to use, and substitute with a 1:1 ratio.
Pair the extract flavor with your desired recipe for best results (ie. orange extract in carrot cake).
10. Citrus Zest
If you don't mind changing the flavor of your finished product, you can replace the flavor gained from vanilla extract with the flavor of citrus zest.
Try lemon, orange, grapefruit, or even lime zest, using about 1 or 2 tablespoons of the fruit zest of your choice.
11. Maple Syrup
Maple syrup is a common pantry item and is a suitable replacement for vanilla extract. Since only small amounts of vanilla extract are usually used in a recipe, it is unlikely that anybody will notice the difference. Use a substitution ratio of 1:1.
12. Honey
Honey is another common pantry item that most bakers are bound to have. Just like maple syrup, it is unlikely that anyone will notice the difference or miss the vanilla extract. Again, use equal parts for substitution in a ratio of 1:1.
13. Vanilla-Flavored Liquor
Since vanilla extract is vanilla beans and alcohol, this should be no surprise that you can substitute vanilla-flavored liquor for vanilla extract, as the alcohol content will "cook off" while baking, just like extract.
Use a 1:1 ratio and have fun using some bartending skills!
14. Vanilla-Flavored Syrup
It works for coffee, right?! However, flavored syrups are generally super sweet, so reduce the amount of sugar that you use in the recipe, possibly by a lot.
This substitute works best in liquid recipes or with items like brownies, puddings, or no bake items, since baking is precise, and this will result in a wetter batter.
15. Vanilla Ice Cream
This substitution works best if you are making another frozen recipe like frozen yogurt, milkshakes, floats, or smoothies, but you can indeed use vanilla ice cream as a source of delicious vanilla flavor.
For baking, vanilla ice cream can be your 'secret ingredient' to make some basic recipes a 3-ingredient recipe (or 4, or 5) like blueberry muffins.
Of course, it will make the recipe milky and creamy, so watch out for people who may be lactose intolerant.
16. Bourbon
Bourbon actually has a flavor complex similar to vanilla. They're both complex, smoky, and strong. This would be a good substitution for rich recipes, like pecan pie, chocolate cake, ginger, or molasses cookies.
Use a 2:1 ratio, doubling the amount of bourbon than the recipe calls for.
17. Brandy
Sweeter than bourbon and vanilla extract, brandy can be used for flavoring in recipes that use banana or pumpkin. Like bourbon, use a 2:1 ratio.
18. Rum
As mentioned above, if you are baking something rich, rum can be an alternative to vanilla extract, using the aforementioned 2:1 ratio.
This is a great choice for chocolate based desserts!
19. Common Dessert Spices
Many spices are commonly used in dessert recipes. The whole point of vanilla extract is to add flavor, but other ingredients can do that, too.
Think about cinnamon, nutmeg, cloves, mixed spice, pumpkin pie spice, chai spice mix, or cardamom. All are fine options!
Use one or a mixture of them for a deliciously spiced dessert and add another liquid if the recipe is missing a wet ingredient.
Vanilla Extract Substitute In Baking
---
Wondering what to use in some specific baked goods? Check out the details and specifics for cookies, French toast, frosting, brownies, and banana bread below!
Substitutions for Cookies
For cookies, you can substitute maple syrup, honey, almond extract, vanilla essence, vanilla powder, vanilla sugar, or alcohol like bourbon.
If you have none of those options, you can completely omit vanilla extract or a substitute from cookies, since the chocolate chip flavor is what the cookies are all about.
Just be mindful that some of the substitutions just mentioned, like almond extract, honey, maple syrup, and alcohol will change the final flavor.
Substitutions for French Toast
Again, vanilla extract is used to add flavor to French toast. So, you can simply skip the vanilla extract and have a more plain-tasting breakfast.
If you want to add a rich, robust flavor, but don't have vanilla extract, try using maple syrup, bourbon, or almond extract.
Substitutions for Frosting
There are many substitutes you can use in place of vanilla extract when making frosting, it just depends on what you are frosting and what flavor you want to achieve.
Consider trying another flavor extract, like almond, peppermint, or lemon, or changing it up completely, and using an alcohol, like bourbon.
Or mix in citruses like orange or lemon juice, espresso, coffee liquor, or anything else that matches the flavor palate of what you are frosting.
Substitutions for Brownies
Vanilla extract does make the chocolate flavor of brownies stand out more, but you can use other alternatives in place of it. Think: rum, brandy, vanilla flavored almond milk, or vanilla flavored syrup.
Substitutions for Banana Bread
Brandy pairs really well with bananas, so it is recommended that you use brandy in place of vanilla extract when making banana bread.
Use double the amount of brandy than the vanilla that the recipe calls for, and it will be rich and delicious!
Substitutions for Clear Vanilla
Clear vanilla is synthetic vanilla flavor that is, as you may guess, a clear liquid. If you need to preserve the color of your recipe and are looking for a clear substitute, look for a vanilla flavored syrup that is clear, vanilla sugar, or vanilla powder that is light in color.
Substitutions for Dry Vanilla
Dry vanilla is vanilla powder, or beans that have been ground up. If you need liquid-free vanilla, use vanilla powder, vanilla sugar, or a different spice, like cinnamon, nutmeg, pumpkin pie spice, clove, or chai spice mix, depending on your desired flavor.
❓ FAQ
Can vanilla extract be omitted? How important is it?
Vanilla extract is extremely important to a recipe, as it is a source of deep flavor. If you don't have vanilla extract on hand, you can definitely use one of the above substitutions.
However, don't just omit the ingredient because the recipe will likely lack flavor. You want to do the best you can to ensure your baked goods will taste great!
What happens when you skip vanilla extract (or another flavoring) in a cake?
Baking is all about balancing flavors. If you skip vanilla extract, or another flavoring in cake, the cake will likely taste like butter, sugar, and eggs, since that is the base of the recipe. Some say that it will taste "eggy." But it depends on what kind of cake you are making, because vanilla is simply a flavor.
For vanilla cake, vanilla (or a substitute) makes all the difference, but if it is a rich chocolate cake, or a carrot cake, it might be less obvious. No matter what kind of cake you are making, there are plenty of substitutes you can use so that your cake is guaranteed to have your audience coming back for seconds! See the list of substitutions above, especially for what is best for different kinds of cakes.
Can I put vanilla extract in my hot cereal?
Yes! If you want to add some extra flavor to hot cereal (like cream of wheat or oatmeal), you can add vanilla extract! Start by adding 2 drops and doing a taste test to see if you like the outcome.
If you are interest in experimenting, consider also adding maple syrup or spices, like nutmeg, cinnamon, or even the zest of an orange.
Can I use vanilla essence instead of vanilla extract?
Yes! It's not entirely recommended, because it's a more processed, less authentic flavor, but you can use vanilla essence if that's what you have on hand. Use half the amount of essence than the recipe calls for.
More great substitute pages to help you out with all of your cooking and baking!
📖 Recipe Card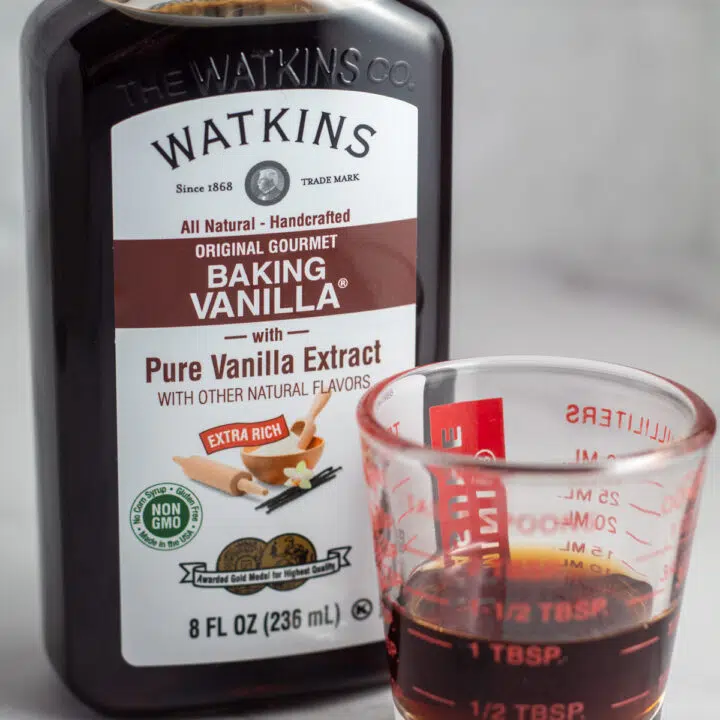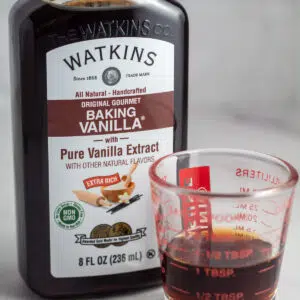 Print Recipe
Leave A Comment
Love This Recipe?
Click On A Star To Rate It!
Best Vanilla Extract Substitute: Homemade Vanilla (+More!)
When you need a perfect vanilla extract substitute option, look no further as I have everything you could use plus how to make homemade vanilla! They're all delightfully tasty swaps for your pantry staple vanilla extract!
Total Time
56

days
5

minutes
Pin Recipe
Share on Facebook
Ingredients
8

oz

bottle

(or jar, you just need a tight seal - do not use cork lids)

1

cup

vodka

(8 ounces, use 80 proof vodka - or brandy, bourbon, or rum)
Help Us Out!
If you love a recipe, be sure to come back and share your ratings. This helps future users, and allows me to continue sharing free recipes! Angela
Instructions
Clean your bottle or jar before using. Wash and sanitize carefully then allow to dry.

Use a sharp knife to cut down the center of your vanilla beans making a slit so that the vanilla essence can work its magic. *This doesn't need to be any special cut through to a certain depth, you don't need to scrape the vanilla caviar. Just make a cut into expose the center of the vanilla beans.

If your vanilla beans are taller than your bottle or jar, cut them in half lengthwise (or smaller) to make them fit. Transfer all of the vanilla beans into your container.

Pour the vodka (or brandy, bourbon, or rum) into your bottle with the vanilla beans until they are completely submerged in the vodka (this may take a bit extra). Close the bottle securely, gently shake, and store at room temperature out of direct sunlight.
Notes
A small funnel works great for filling small bottles with your vodka.
Let the vanilla beans soak in the liquor for at least 8 weeks, but your best results are yielded after 6-12 months of infusing the vanilla into vodka.
Plain, unflavored vodka is the best liquor to use as it is flavorless and will give a truer vanilla flavor when done.
Gently shake the bottle of vanilla while letting the flavors soak into the vodka (I usually give the bottle a shake weekly) and also before using the vanilla.
Your homemade vanilla extract can be used in the same quantities as store-bought vanilla in any recipe.
Nutrition
Calories:
625
kcal
(31%)
|
Carbohydrates:
8
g
(3%)
|
Fat:
5
g
(8%)
|
Sodium:
2
mg
|
Potassium:
2
mg
|
Iron:
1
mg
(6%)
Homemade Vanilla Extract, vanilla extract substitutes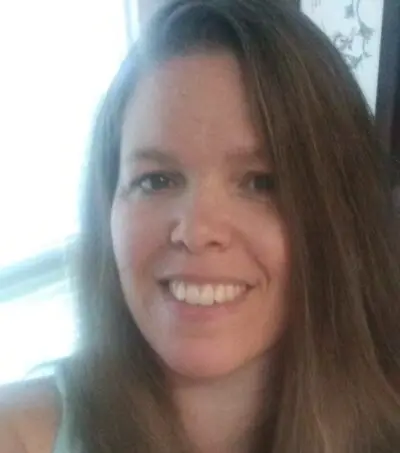 Angela is an at home chef that developed a passion for all things cooking and baking at a young age in her Grandma's kitchen. After many years in the food service industry, she now enjoys sharing all of her family favorite recipes and creating tasty dinner and amazing dessert recipes here at Bake It With Love!