All of the very best Worcestershire sauce substitute options shared here are going to give you a flavorful alternative to use in any recipe! From quick ingredient swaps to a homemade sauce recipe, there's something to fit every need!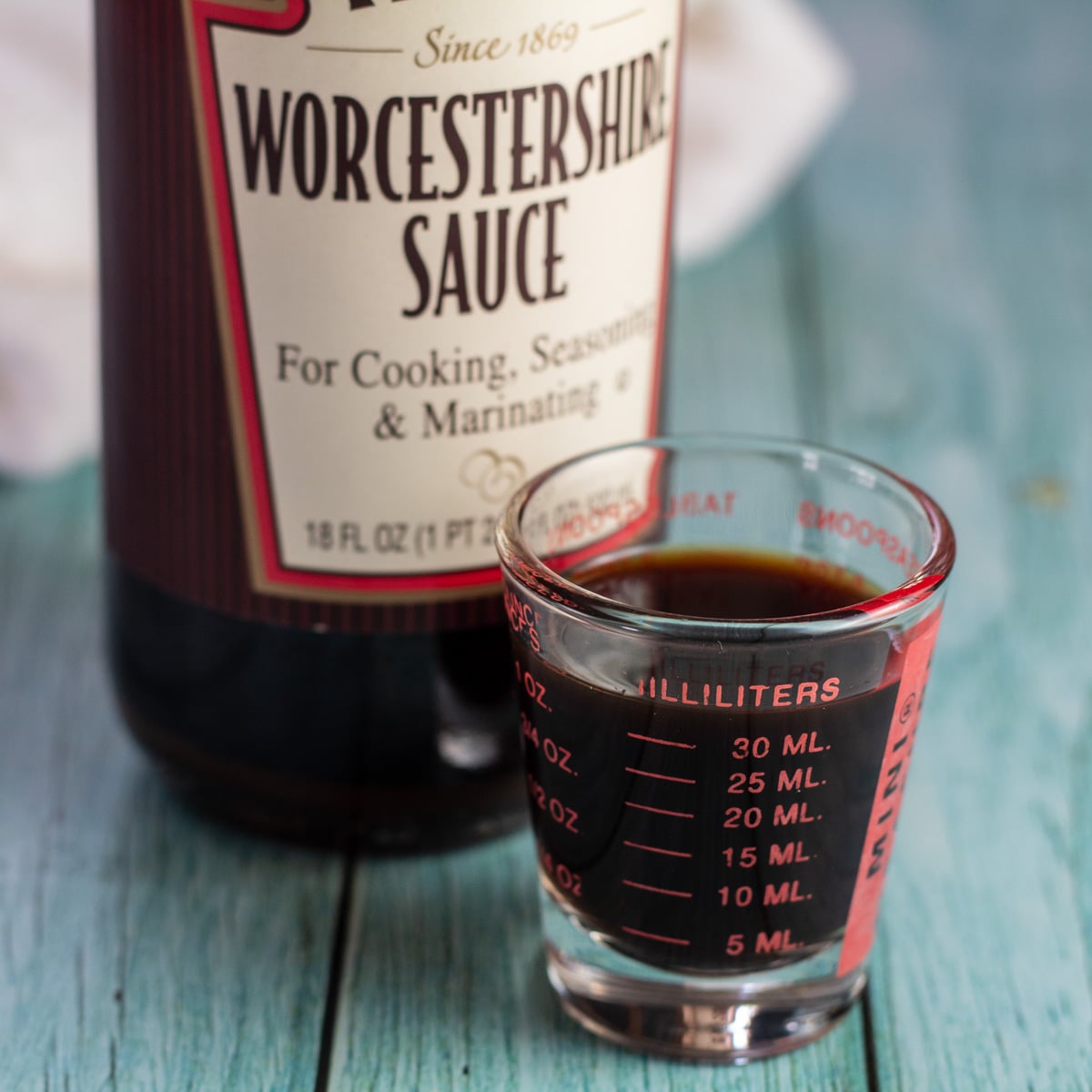 Flavorful Worcestershire sauce is a staple ingredient to make dishes amazing!
There are so many great recipes that just wouldn't be the same without the characteristic flavor of Worcestershire! Versatile, flavorful, and easy to access, Worcestershire sauce is a kitchen pantry staple!
Jump to:
What is Worcestershire sauce?
Worcestershire sauce is commonly used to add a rich, dynamic flavor to a variety of different recipes, including in things like stocks, broths, braising liquids for meat, vegetables, chowders, pot pies, in salad dressings, marinades, Bloody Mary's, and more.
In essence, it adds umami (one of the five basic tastes, meaning savoriness), acid, and sweetness, and can be used similarly to soy sauce or fish sauce.
Because anchovy is a common ingredient, people who follow a vegan diet should be mindful of ingredients and read the label or find a vegan-friendly version of the popular sauce.
But don't panic if you reach for this handy sauce and find you've run out - there are some easy substitutes listed here that will also deliver great flavor!
General Worcestershire Sauce Substitutes
Keep in mind the basic ingredients of Worcestershire sauce: vinegar, fermented onions, fermented garlic, molasses, tamarind paste, salt, sugar, cured anchovies, and spices like coriander, mustard seed, cloves, pepper, and citrus peel.
Think about the recipe you are making.
Would citrus compliment the other ingredients in the dish?
Is spice or heat a critical element of the dish?
Use the basic substitutions below and feel free to experiment, tasting as you go along. You can always add red chili pepper flakes or hot sauce if you feel the substitution is missing an element of heat, or you can always add some citrus if it is missing something tangy.
1. Balsamic Vinegar
This vinegar has many of the same properties as Worcestershire sauce, including sweetness, tartness, acidity, and tanginess.
It's also dark in color and made from fermented ingredients, too.
Use in place of Worcestershire sauce for bold flavor and consider mixing equal parts with tamarind paste to achieve a more accurate, thicker texture.
Best used for marinades and dressings.
2. Sherry Vinegar
Sherry vinegar is lighter in color and less spicy than Worcestershire but can be used as a great alternative, as the flavors are very similar.
Use a 1:1 ratio if substituting!
3. Red Wine Vinegar and Tamarind Paste
Mix equal parts of red wine vinegar and tamarind paste and mix until both ingredients are well-combined.
To substitute for Worcestershire sauce, use half of the amount of this combination, as the flavors will be sweeter, tarter, and tangier than Worcestershire.
4. Soy Sauce
Soy sauce is known for its umami flavor and is therefore very interchangeable with Worcestershire sauce.
It's a great substitute for meat dishes, such as steaks, hamburgers, pies, and marinades.
Consider mixing equal parts soy sauce and ketchup to mimic Worcestershire.
Soy Sauce and Sugar
This is a great combination for rich pasta dishes or beef stew.
Use half the amount of soy sauce as the recipe calls for and add a little pinch of brown sugar, resulting in salty, savory, sweetness. For example, if the recipe calls for 1 tablespoon of Worcestershire, use ½ tablespoon of soy sauce and that pinch of brown sugar.
Soy Sauce and Ketchup
Best for meatloaf, burgers, stews, and other things that will be cooked, combine equal parts of soy sauce and ketchup, which will give you a salty, sour, sweet sauce that will be not too thin but not too thick.
Soy Sauce with Apple Juice
Adding apple juice to soy sauce adds the sweetness that is missing from using just soy sauce alone.
Mix equal parts together and use them in place of Worcestershire!
Soy Sauce with Hoisin Sauce and Apple Cider Vinegar
Mixing equal parts soy and hoisin sauce is a common combination to achieve a flavor close to Worcestershire.
The final touch to this combination is the addition of apple cider vinegar. Use just a splash to add a bit of tartness and thin out the mixture.
5. Coconut Aminos
Great for vegans, vegetarians, or those opposed to fish, coconut aminos are made from fermented sea salt and coconut palm sap.
This umami sauce is salty and savory, great in soups, dips, and marinades, with a 1:1 ratio.
6. Fish Sauce
Made from fermented anchovies, this salty, savory sauce is a great substitute for Worcestershire.
It's not as sweet, but can be mixed with equal parts soy sauce, fish sauce, and tamarind concentrate to yield a copy-cat Worcestershire sauce.
Fish Sauce with Soy Sauce and Brown Sugar
If you are making something that will be cooked, this alternative to Worcestershire is for you!
Use equal parts fish sauce and soy sauce, mix together, and add a large pinch of brown sugar, stirring until dissolved.
Once cooked, the sugar will melt into the recipe, creating a Worcestershire sauce flavor.
Fish Sauce with Lemon Juice and Cranberry Juice
This combination of ingredients really mixes salty, savory, tart, fruity, and tangy all together.
Mix an equal amount of each ingredient together and use it as a 1:1 replacement for Worcestershire.
7. Barbecue Sauce
A common household pantry ingredient, barbecue sauce can be used as an alternative to Worcestershire sauce. Note that it is sweeter than Worcestershire, but otherwise, has a similar flavor and can be used the same way.
8. Shaoxing Cooking Wine
This Chinese rice wine is salted, which qualifies it for a Worcestershire sauce alternative.
It does have a high alcohol content that needs to be cooked off, so only use in dishes that will be cooked with heat.
9. A1 Steak Sauce
A1 steak sauce is made from tomato puree, vinegar, corn syrup, raisin paste, orange puree, and salt, resulting in many of the same flavor notes as Worcestershire.
While it is less spicy, it is a great alternative and can be used with a 1:1 ratio.
10. Oyster Sauce
Oyster sauce, another umami flavor, is made from soy sauce, cornstarch, and caramelized oyster juice.
Use in place of Worcestershire, with a 1:1 ratio.
11. Anchovy Paste with Water
Since anchovies are the main ingredient in Worcestershire sauce, this combination is not so far off.
Anchovy paste is made from salt-cured anchovies, olive oil, vinegar, and sugar.
Add the amount of water that the recipe calls for Worcestershire sauce to anchovy paste, or alternatively, puree whole anchovy fillets from a jar and add water to that.
Please note that this alternative is best used in cooked dishes.
12. Miso Paste and Water
Since miso paste is fermented, this is a great alternative for Worcestershire sauce. Add equal parts water and miso paste, mix well, and enjoy this flavorful combo.
Specific Worcestershire Substitutions For Cooking
For Beef Broth
If you are making beef broth and need to add Worcestershire sauce but don't have it, you can use the soy sauce alternatives listed above, like soy sauce and sugar or soy sauce and ketchup, as this conjures up rich, beef brothy flavors.
For Shepard's Pie
Many of the above combinations would be suitable alternatives for Worcestershire sauce in Shepard's Pie, but thinking about the ingredients in this recipe, the best alternatives are A1 Steak Sauce, coconut aminos, fish sauce with soy sauce and brown sugar, or any of the soy sauce combinations, allowing for the simple elements of Shepard's Pie to shine.
For Meatloaf
Because meatloaf is made with beef, like Shepard's Pie and beef broth, similar alternatives are suggested.
You can use any of the soy sauce and vinegar substitutes, along with A1 sauce, BBQ sauce, coconut aminos, or miso paste and water alternatives, which will still give your meatloaf a dynamic kick of tangy, full-bodied flavor.
❓ FAQ
Should Worcestershire sauce be refrigerated once opened?
Yes and no, it depends! Unopened Worcestershire sauce should be stored in a dry, dark place, like the pantry or in a cabinet. Once Worcestershire sauce is opened, you can still store it in the pantry (or cabinet), or you can store it in the refrigerator.
The main ingredients in Worcestershire, like vinegar, molasses, and soy sauce, won't spoil without refrigeration, but they won't last as long.
So, if you use Worcestershire sauce frequently, you don't have to refrigerate it and it will last for about 6-12 months, but if you don't use it very often, put it in the refrigerator so it will last longer. Remember, the most important thing about properly storing Worcestershire sauce is tightly sealing the lid.
Can Worcestershire work as a meat tenderizer?
Absolutely! Worcestershire sauce has a lot of vinegar in it, which breaks down fibrous meat, therefore deeming it a meat tenderizer. It's concentrated and has a dynamic umami flavor, with salty, sweet, and tangy characteristics that make a perfect marinade, preparing tender meat.
While proper food handling guidelines say you can marinate the meat for up to five days, keep in mind that it is possible to over marinade meat, in which it will become too flavorful and mushy. Try marinating meat in the morning to eat later that night, or overnight to eat the next day.
More great substitute pages to help you out with all of your cooking and baking!
📋 Recipe
Print Recipe
Leave A Comment
Love This Recipe?
Click On A Star To Rate It!
Worcestershire Sauce Substitute: Homemade Worcestershire Sauce (+More!)
All of the very best Worcestershire sauce substitute options shared here are going to give you a flavorful alternative to use in any recipe! From quick ingredient swaps to a homemade sauce recipe, there's something to fit every need!
Total Time
14
days
20
minutes
Pin Recipe
Share on Facebook
Ingredients
1

cup

malt vinegar

¼

cup

molasses

¼

cup

soy sauce

2

tablespoon

browning sauce

2

tablespoon

tamarind paste

1 ½

tablespoon

mustard seeds

1

tablespoon

salt

1

tablespoon

yellow onion

(chopped)

1

teaspoon

garlic

(minced)

1

teaspoon

anchovy fillets

(chopped - 1 to 2 fillets)

½

teaspoon

whole black peppercorns

½

teaspoon

whole cloves

½

teaspoon

ginger

(fresh, diced)

¼

teaspoon

curry powder

1

pinch

ground cinnamon

2

whole

cardamom pods

(crushed)

2

whole

chiles de arbol

(hand torn or chopped)
Instructions
In a large saucepan combine all of the sauce ingredients (malt vinegar, molasses, soy sauce, browning sauce, tamarind paste, mustard seeds, salt, yellow onion, minced garlic, anchovy fillets, whole black peppercorns, whole cloves, fresh minced ginger, curry powder, ground cinnamon, crushed cardamom pods, and chopped chiles de arbol).

1 cup malt vinegar,

¼ cup molasses,

¼ cup soy sauce,

2 tablespoon tamarind paste,

1 ½ tablespoon mustard seeds,

1 tablespoon salt,

1 tablespoon yellow onion,

1 teaspoon garlic,

1 teaspoon anchovy fillets,

½ teaspoon whole black peppercorns,

½ teaspoon whole cloves,

½ teaspoon ginger,

¼ teaspoon curry powder,

1 pinch ground cinnamon,

2 whole cardamom pods,

2 whole chiles de arbol,

2 tablespoon browning sauce

Bring the sauce to a boil over medium heat. Once boiling, reduce the heat to low and simmer for 15 minutes. Remove from heat and allow to cool, then transfer to a sanitized jar and seal securely.

Refrigerate and allow the sauce flavors to come together for at least 2 weeks, preferably 3-4 weeks. Before using, strain the sauce into a clean bowl and discard the solids.

Return the Worcestershire sauce to a clean jar and store refrigerated for up to 8 months.
Notes
Makes approximately 1 cup of Worcestershire sauce.
Nutrition
Calories:
41
kcal
(2%)
|
Carbohydrates:
8
g
(3%)
|
Protein:
1
g
(2%)
|
Fat:
1
g
(2%)
|
Saturated Fat:
1
g
(6%)
|
Polyunsaturated Fat:
1
g
|
Monounsaturated Fat:
1
g
|
Cholesterol:
1
mg
|
Sodium:
642
mg
(28%)
|
Potassium:
112
mg
(3%)
|
Fiber:
1
g
(4%)
|
Sugar:
8
g
(9%)
|
Vitamin A:
2
IU
|
Vitamin C:
1
mg
(1%)
|
Calcium:
19
mg
(2%)
|
Iron:
1
mg
(6%)
Homemade, substitutions, Worcestershire Sauce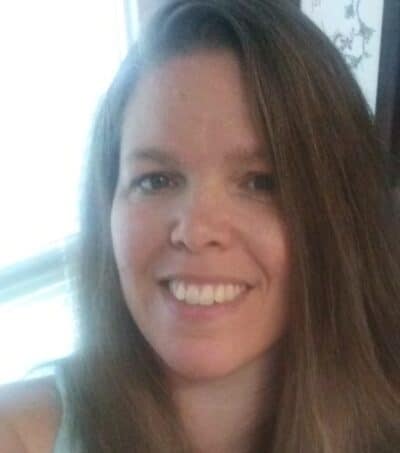 Angela is an at home chef that developed a passion for all things cooking and baking at a young age in her Grandma's kitchen. After many years in the food service industry, she now enjoys sharing all of her family favorite recipes and creating tasty dinner and amazing dessert recipes here at Bake It With Love!