A molasses substitute may seem far-fetched since it has such a distinct flavor, but there are plenty of worthy alternatives you can try! This list is full of many easy options if you don't have any molasses on hand!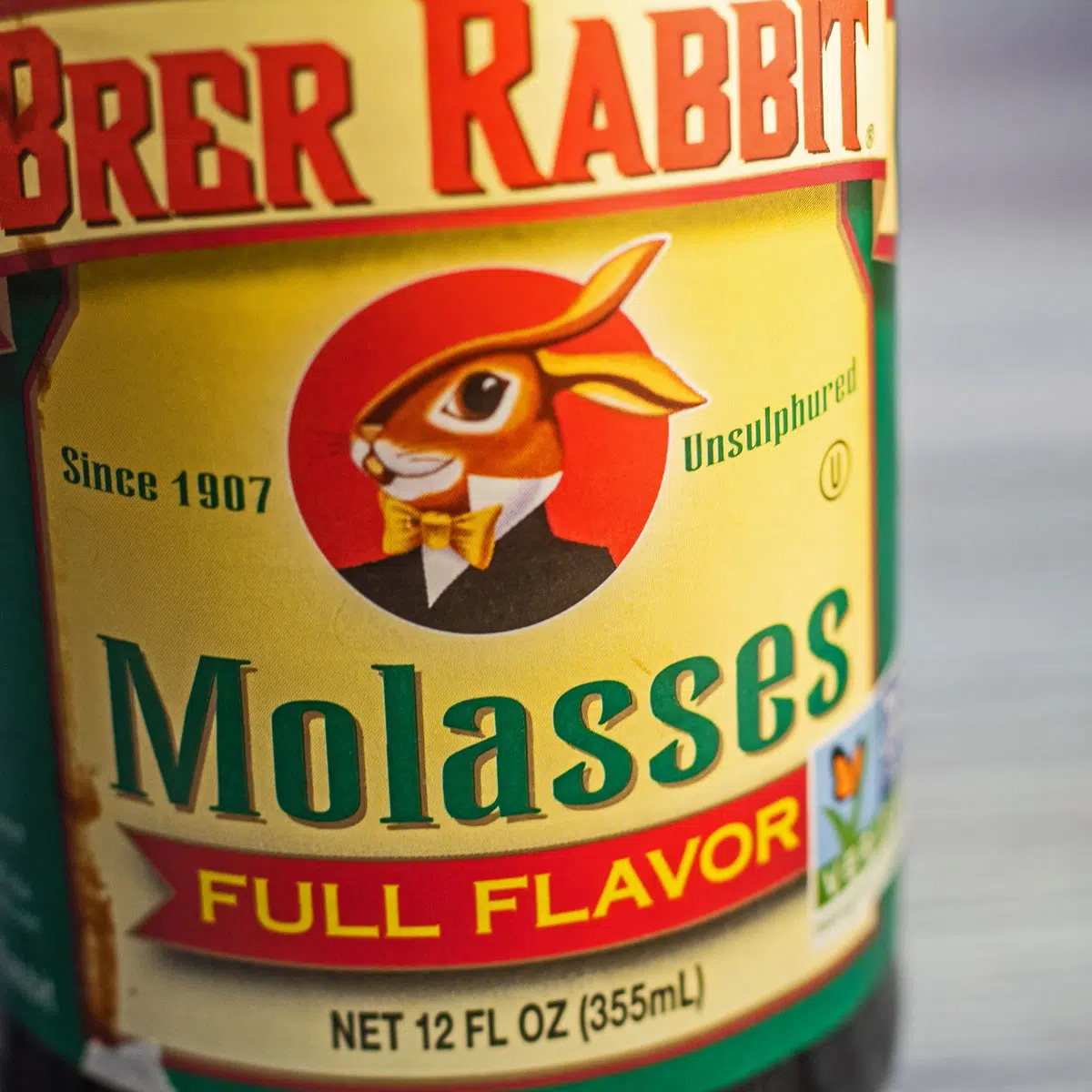 A list of ingredients that can hold their own against the distinct flavor of molasses!
Molasses is a unique ingredient. In fact, it is possible that unless you are an avid baker you may have never used molasses! Even if you have used molasses before you may still have questions about why it is used and what to use for a substitute if you ever run out.
One of the unique things about molasses is the different types available. Another unique quality is the presence of sulfites that result from the process of making molasses.
Jump to:
Let's explore molasses a bit further and then I'll share with you my favorite substitutes.
What Is Molasses?
---
Molasses is a dark, sticky, and sweet substance that is made from refining sugar. In general, it has a deep rich flavor that is perfect for baking and even for adding richness to dishes like baked beans. Molasses is even used in the distilling process of rum!
Molasses can be made from sugar cane or sugar beets; however, molasses made from sugar cane is the type most used for food products. It is also sweeter than sugar beet molasses, although molasses in general is not as sweet as its original sugar counterpart.
The refining process that produces molasses goes through different phases. In a commercial setting, this may be done by spinning the sugar in a centrifuge.
At home, the refining process is completed by boiling sugar. Once the sugar crystals separate, the dark syrup left behind is molasses.
In the early steps of refining sugar, light molasses is produced. The longer the process, the darker the molasses becomes.
Types Of Molasses
---
Unsulfured vs. sulfured molasses
One of the things to be mindful of when buying molasses is if it is sulfites in it. Whether or not molasses has been made with sulfites depends on how ripe the sugar cane was when it was made.
If the sugar cane is ripe, then the sugars naturally separate during the process. This results in unsulfured molasses. However, if the sugar cane is not yet ripe then sulfites are added during the refining process to help.
In addition to unsulfured or sulfured molasses, there are different colors available.
Light Molasses
Light molasses is a result of the first round of boiling or spinning the sugar. This is the sweetest type of molasses. It also has a milder taste than darker molasses.
Due to its sweetness and mild taste, light molasses can be used as a sugar or syrup substitute.
Dark Molasses
Dark Molasses is a result of a second round of processing the sugar. This results in a molasses that is darker and thicker than light molasses. It is also less sweet and has a more distinct taste.
The sugar content in dark molasses is lower than light molasses, and sugar! Therefore, dark molasses is sometimes used as a substitute for those who want or need a lower sugar content in their baked goods.
This is the most popular type of molasses for baked goods that have a rich sweet flavor, like gingerbread.
Blackstrap Molasses
Blackstrap molasses is a result of a third boiling! This last round of boiling the sugar provides the darkest and thickest type of molasses. It is also quite bitter in taste.
However, it is also the healthiest version of molasses as the sugar content is quite low. Due to its deep rich flavor and lack of sweetness, it is used in savory cooking more than in baking.
Why You May Need a Substitute for Molasses
---
As you can see, not all molasses is the same. Therefore, even though you may have one type of molasses in your cupboard, it may not be the right kind of molasses. In this case, a substitute may work better than the real thing.
Another reason you may choose to look for a substitute is because of the sulfites in molasses. If you are not allergic to sulfites, then this is probably not a concern.
If you know that you and sulfites don't mix after a bad experience with wine sulfates, then you probably want an alternative to molasses!
The Best Molasses Substitutes in your Kitchen
---
Whether it's a simple lack of the right kind of molasses or a more serious health concern, there are a dozen different substitutes you can use to still enjoy all your favorite rich molasses flavored foods.
While these substitutes are sure to provide delicious results, I still must remind you – they are substitutes! Therefore, the flavor won't be exactly like the original. However, some will be pretty close, and you may even find you like some a bit more than the original.
1. Brown Sugar
Do you know how brown sugar gets its brown color? Molasses! That's right, brown sugar is simply good ol' granulated white sugar that got a molasses makeover. Therefore, brown sugar is one of the best substitutes for molasses.
Substitute ¾ cup of *firmly packed brown sugar for every 1 cup of molasses. *Make sure to firmly pack the sugar! Unlike white sugar you need to pack the brown sugar into the measuring cup to get the most accurate measurement.
Due to the difference in texture between brown sugar and molasses, you may need to add some additional moisture. For example, if you are making cookies and the dough looks too dry, or you are making a sauce and it looks too thick, then you may some extra moisture. If this is the case, then add a ¼ cup of water to your recipe.
2. Maple Syrup
In the same way that light molasses is used in place of maple syrup, maple syrup can be used as a substitute for molasses. Due to its sweetness, maple syrup is best used as a substitute for light molasses.
However, depending on the recipe it can also be used for dark molasses. Just be mindful that it will be a bit sweeter.
I recommend using real maple syrup that has not been processed as it is less sweet than process syrups. This will provide the best flavor profile for a substitute.
You can easily replace molasses with equal parts maple syrup in a 1:1 ratio.
3. Honey
Honey does not have the caramel flavor that some find in light molasses or even dark molasses. Honey also has its own distinct flavor, which will impact the overall flavor of the dish.
Therefore, it can help to increase any spices in the recipe to help balance the flavor. For example, adding an extra half-teaspoon of cinnamon if the recipe calls for a teaspoon.
Like maple syrup, honey has the sweetness and consistency of molasses. This makes it a good substitute for recipes that are meant to be sweet.
If the color of molasses is important to the recipe, such as for a glaze, sauce, or dressing – then you can also use a darker colored honey,
Use a 1:1 ratio of honey for molasses.
4. Dark Corn Syrup
Dark corn syrup is a sweetener made from corn instead of sugar cane. It has a sweet and sticky consistency that is similar to light molasses. This makes it a great substitute for cookies, cakes, or other sweets that call for molasses.
Dark corn syrup also offers a similar golden color to molasses, making it great for adding that rich color to your dish.
Be mindful that corn syrup is quite sweet, so if replacing dark molasses with dark corn syrup your final treat may be a bit sweeter. Like honey, you can also add in a few extra spices to help balance out the sweetness.
Use a 1:1 ratio of dark corn syrup for molasses.
5. Granulated Sugar
While brown sugar is your best sugar substitute, you can use regular granulated white sugar if needed. This substitute is best for recipes that call for light molasses and are not reliant on the rich caramel color of molasses.
Just like brown sugar, you will use ¾ cup of sugar for 1 cup of molasses. This is to help with not overpowering the recipe since granulated sugar is quite a bit sweeter than molasses.
I recommend adding a ¼ cup water to the sugar as well. You may even mix the ¾ cup sugar with ¼ cup water first – making a liquid sugar first and then adding it to the recipe. This can help with the consistency of the recipe.
6. Golden Syrup (not available in the US)
Golden syrup has a mild caramel-butter flavor. It will not provide the same flavor profile as molasses but will still provide a yummy taste in baked goods. Use golden syrup in a 1:1 ratio for light molasses.
7. Barley Malt Syrup
There are a lot of sweet substitutes for light molasses, but what about less sweet options? Barley malt syrup is the answer!
Barley malt syrup is made from malted barley and has a similar consistency to dark molasses. It is a great substitute for dishes that call for dark molasses.
For more sweetness use 1 cup of barley malt syrup for ⅔ cup molasses.
For less sweetness use a 1:1 ratio of barley malt syrup for molasses.
Gluten-Free and Natural Substitutes for Molasses
---
If you want a substitute that is far away from the sugar and possible sulfites of molasses, but will still give you a delicious tasting treat, try some of these options.
8. Brown Rice Syrup
Brown rice syrup is a great option for those who want a guaranteed gluten-free option. It is less sweet than sugar. Therefore, it can be a good option for when you want to substitute dark molasses.
For a less sweet option use a 1:1 ratio of brown rice syrup for light or dark molasses.
For more sweetness use a 2:1 ratio of brown rice syrup for molasses – ½ cup brown rice syrup for 1 cup molasses.
9. Coconut Nectar
If you want a gluten-free and all-natural sweetener, that is also vegan. Coconut nectar is your best option. Made from the sap of coconut palm flowers it offers a similar flavor to light or dark molasses.
Use it in a 1:1 ratio for molasses.
10. Yacon Root Syrup
Made from the caramelized sugars of the root of the Yacon plant. This provides a similar texture and color to molasses. However, Yacon root syrup does not hold up well under high heat.
Therefore, it is best used in its natural state as a syrup. Use it as a substitute for molasses in a 1:1 ratio for dishes that don't call for heating the molasses, such as smoothies and no-bake desserts.
11. Dandelion Syrup
Straight from the earth, dandelion syrup is made from boiling the petals of dandelion flowers. Often, this includes adding additional flavors such as lemon and sugar. Therefore, make sure you check the bottle if those are things you are avoiding.
Dandelion syrup has a distinct floral flavor that is quite different from molasses. However, it provides a nice thick consistency that is good as a topping for simple baked goods like pancakes. It can be used in a 1:1 ratio for molasses.
12. Sorghum Syrup
Sorghum syrup is probably the least familiar of the substitutes. It is made from the sorghum plant, specifically by extracting the juice from the stalks of the plant.
Sorghum syrup is one of the less closely related in taste and texture to molasses. However, it is a good option for recipes that call for molasses to help add sweetness to a sauce or dressing. It is much sweeter than molasses so only use ⅓ cup of sorghum syrup for 1 cup molasses.
How To Choose The Right Substitute
---
The main thing to consider when swapping out molasses for another option is the type of molasses the recipe calls for. Most recipes will call for light or dark molasses.
Any of the options above will make great substitutes, just be mindful of how sweet the substitute is compared to the goal of the recipe. Consider adding additional spices to balance out flavors.
While blackstrap molasses is more difficult to substitute, it is also not as commonly used for baking or cooking.
If you do find yourself needing a substitute for blackstrap molasses, begin by using less than a 1:1 ratio of some of the more common substitutes. For example, ½ cup of brown sugar for 1 cup molasses. You may also try barley malt syrup.
❓ FAQ
Why are baked goods made with molasses more dense?
Molasses has hygroscopic properties, meaning it attracts moisture. If you've noticed desserts made with molasses seem more fudgy and dense, that is why.
How can I keep molasses from sticking to my measuring spoon or cup?
To prevent molasses from sticking and to get all it out of the measuring utensil, spray it with nonstick spray first! This works for any sticky syrup-like substance.
Alternatively, if your recipe also calls for oil, make sure that you get the oil measured first and then measure out your molasses.
A number of useful substitutes to use in a pinch!
Do you love a recipe you tried? Please leave a 5-star 🌟rating in the recipe card below and/or a review in the comments section further down the page.
Stay in touch with me through social media @ Pinterest, Facebook, Instagram, or Twitter! Subscribe to the newsletter today (no spam, I promise)! Don't forget to tag me when you try one of my recipes!
📋 Recipe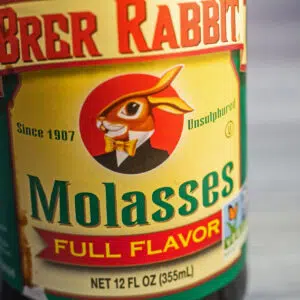 Print Recipe
Leave A Comment
Love This Recipe?
Click On A Star To Rate It!
Molasses Substitute: The Best Substitute for Cooking & Baking (+ More!)
A molasses substitute may seem far-fetched since it has such a distinct flavor, but there are plenty of worthy alternatives you can try! This list is full of many easy options if you don't have any molasses on hand!
Pin Recipe
Share on Facebook
Ingredients
¾

cup

light brown sugar

(firmly packed)

1

tablespoon

water

(optional, may or may not be needed for moisture)
Help Us Out!
If you love a recipe, be sure to come back and share your ratings. This helps future users, and allows me to continue sharing free recipes! Angela
Instructions
Use ¾ cup of firmly packed light (or dark) brown sugar as a molasses substitute in your recipe.

Add water, starting with 1 tablespoon and up to ¼ cup, as needed to add moisture to your recipe.
Notes
Dark brown sugar has a higher molasses content and works better as a substitute for molasses. However, light brown sugar is more commonly stored in pantries so I have used it here as my example for my best and favorite molasses substitute.
Nutrition
Calories:
627
kcal
(31%)
|
Carbohydrates:
162
g
(54%)
|
Protein:
1
g
(2%)
|
Sodium:
47
mg
(2%)
|
Potassium:
219
mg
(6%)
|
Sugar:
160
g
(178%)
|
Calcium:
137
mg
(14%)
|
Iron:
1
mg
(6%)
best molasses substitutions, Molasses Substitute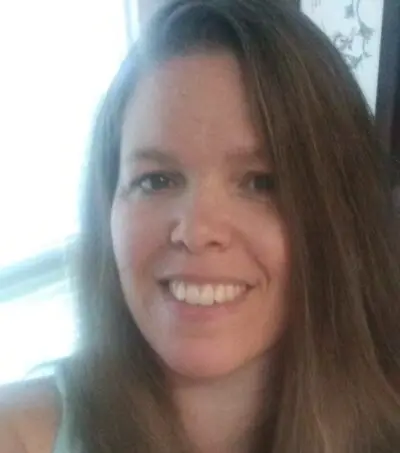 Angela is an at home chef that developed a passion for all things cooking and baking at a young age in her Grandma's kitchen. After many years in the food service industry, she now enjoys sharing all of her family favorite recipes and creating tasty dinner and amazing dessert recipes here at Bake It With Love!