No need for a fancy steakhouse when you can create a perfectly pan seared Wagyu ribeye steak from the comfort of your own kitchen! This simple method of pan searing is guaranteed to result in a flawlessly cooked Wagyu Ribeye straight out of any steak lover's dreams!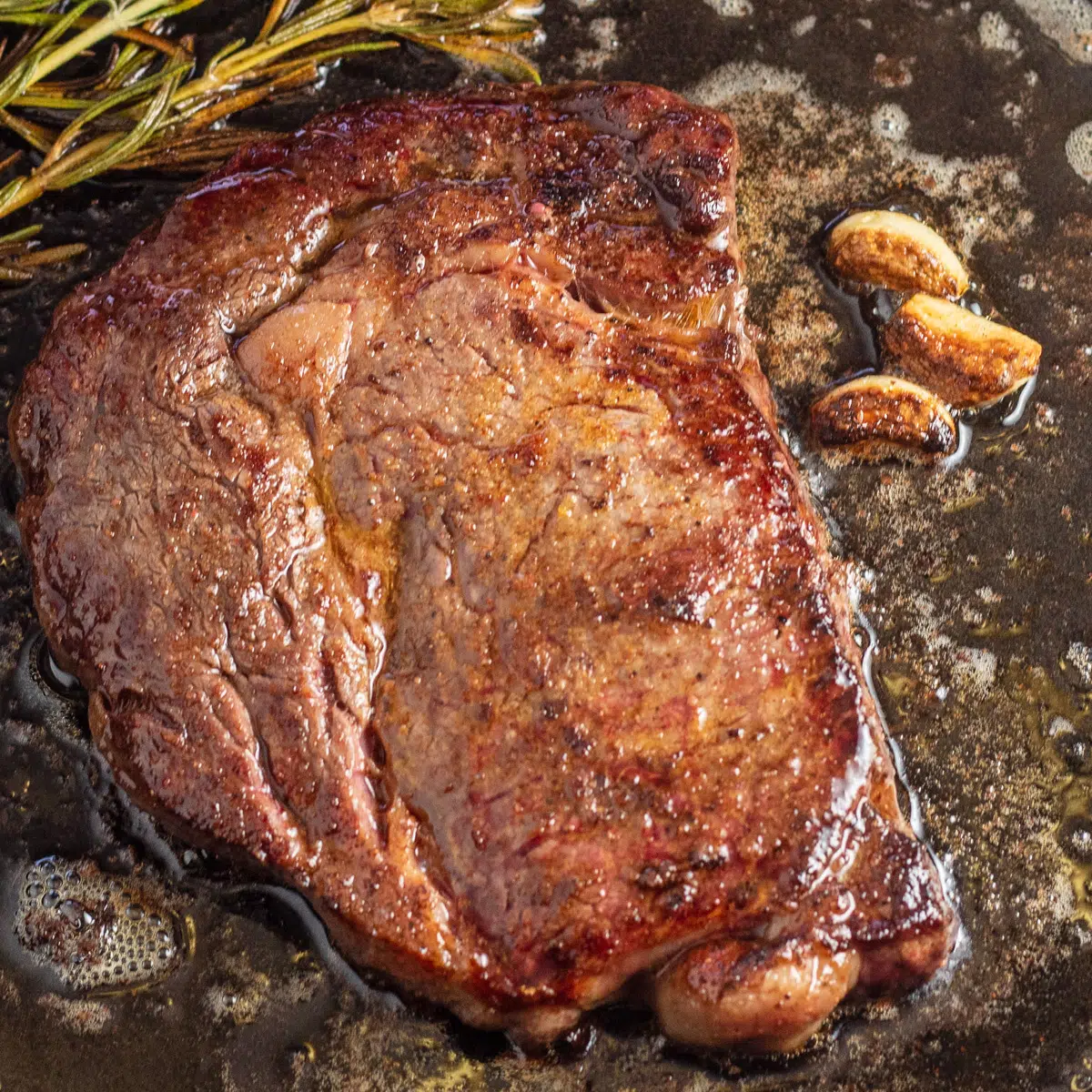 A perfect sear on the outside and the fat melts like butter, nothing beats a Wagyu ribeye!
A Wagyu ribeye is not your run-of-the-mill steak. Wagyu beef is considered a premium meat and it makes for some of the best steaks due to its high levels of marbling. In fact, true Wagyu cattle have the highest levels of marbling of any cattle in the world!
The marbling present in your cut of steak directly correlates with how tender and juicy it will be because the fat melts down as it cooks. That's why it is highly recommended to serve a Wagyu steak cooked to medium-rare, just when the fat has melted throughout the steak.
Jump to:
This will leave your steak perfectly tender. That's also why a nice fatty ribeye cut is my personal favorite!
You've may have spent a small chunk of change on these gorgeous steaks but don't be afraid to cook them! It's surprisingly simple. With a little care and a few easy steps, you will be serving up your Wagyu ribeye like a pro.
❤️ Why You'll Love This Recipe!
It's quick! Once you start cooking, it's going to go fast. Seriously, it only takes a few minutes to prep and cook your ribeye.
Super Easy! If you follow a few tips and tricks I've listed below, this method is practically foolproof.
It's decadent! That's right, a steak can be decadent. This ribeye will be downright melt-in-your-mouth delicious and you'll want to savor every bite.
🥘 Ingredients
Since you'll be taking a trip to the store to pick up the perfect steak, grab a few of these simple ingredients while you're there. Pick up some fresh rosemary and thyme on your way out for a little added flavor while you baste. I often use rosemary to garnish if you really want your steak picture-perfect!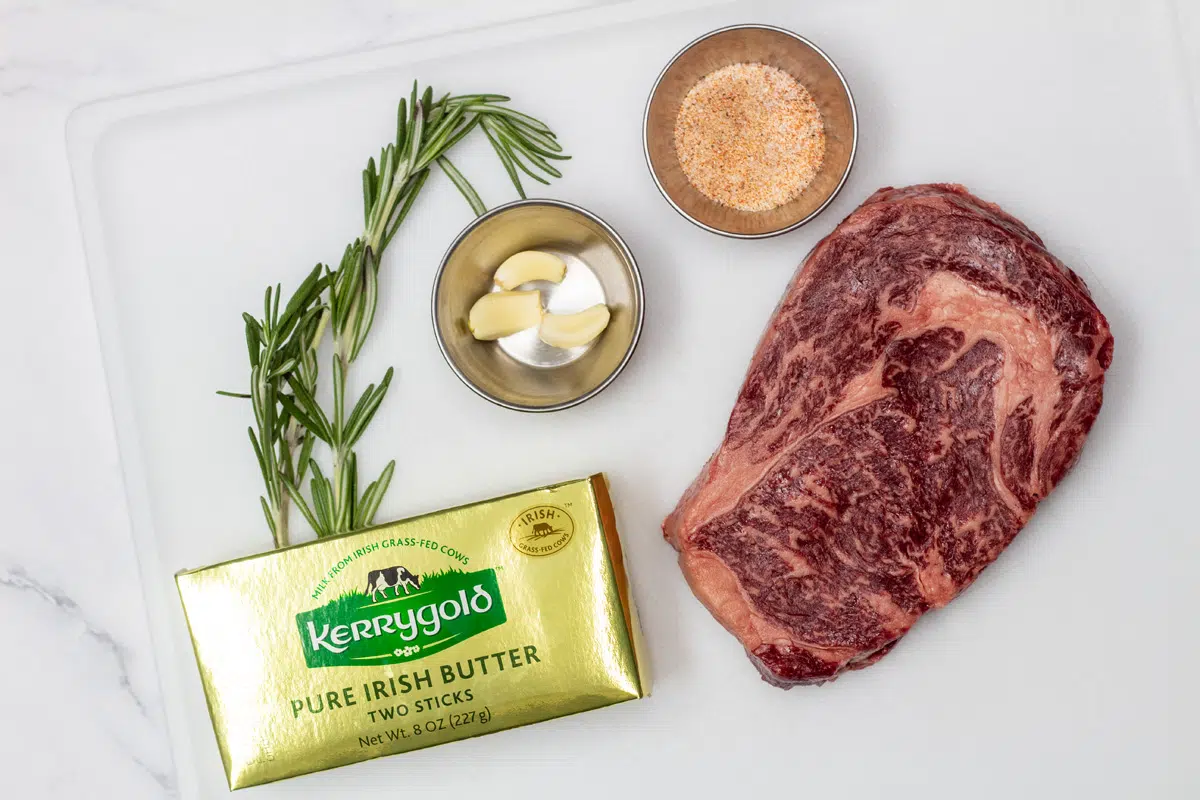 2 tablespoons Olive Oil- Extra virgin olive oil ( EVOO) is preferred but you can use another kind of oil if need be.
8-ounce Wagyu Ribeye- The star of the show! Look for heavy marbling when selecting your steak at the store. A good cut of Wagyu beef tends to be a bright cherry color when fresh.
½ tablespoon Steak Seasoning- Whip up my super simple steak seasoning at home, or use your favorite store bought brand.
1 tablespoon butter- You will baste your steak by spooning the butter over top when it's almost done cooking, adding both flavor and moisture so it doesn't dry out.
2 Garlic Cloves (Optional)- Peel the garlic but don't chop it. Whole cloves will add flavor without burning like minced garlic will.
Fresh Herbs (Optional)- Throw in some fresh herbs for added flavor. My first choice would be a little rosemary and thyme.
*Be sure to see the free printable recipe card below for ingredients, exact amounts & instructions with tips!*
🔪 Step-By-Step Instructions
Set your ribeye out on the counter for at least 30 minutes prior to cooking to allow it to come up to room temperature. This is a good habit to make when cooking steak in general because a cold steak will affect how evenly it cooks. After that, it will go quickly as this steak should be perfectly medium-rare in about 6-8 minutes.
Heat your skillet. Add 2 tablespoons of olive oil to your cast iron skillet or frying pan and bring it to medium-high heat. Make sure the oil is shimmering and the pan is really hot before adding your steak(s).
Season. Take a ½ tablespoon of steak seasoning and use half to season the side of the steak that is facing up. Press the seasoning into the steak to firmly set it. (Season the fatty sides for added flavor!)
Pan sear. Place your steak in your skillet, seasoned side down, and season the remaining side. Do not move the steak until you are ready to flip (this helps it get that perfect caramelized sear). If your ribeye is roughly 1" thick, cook it for 3-4 minutes before flipping. If it is thicker, roughly 1½", cook for about 5 minutes before flipping.
Baste. Flip your steak and cook it the same amount of time as the first side, depending on thickness. Add 1 tablespoon of butter to the skillet, and the 2 garlic cloves and fresh herbs if using them. Once the butter has melted, repeatedly spoon it over your steak as it finishes cooking. Check for an internal temp of 135℉ (57℃) for medium rare.
Finish the ribeye steak. Remove your steak(s) from the skillet and place it on a cutting board or plate. Loosely tent a piece of foil over the steak and allow it to rest for 5-10 minutes before serving.
My perfectly pan-seared Wagyu ribeye is caramelized to perfection. Serve it with a hearty smoked baked potato, some sauteed asparagus with cherry tomatoes, or any of your favorite steakhouse classics. Enjoy!
💭 Angela's Tips & Recipe Notes
I highly recommend using a cast iron skillet when pan searing steak! The cast iron will help caramelize the outside of the steak to that perfect golden-brown color, resulting in better overall flavor. This is just my personal preference, any large skillet or frying pan will suffice.
If you are cooking multiple steaks make sure you are not crowding the pan or they will cook unevenly. Use multiple skillets or work in batches if you need to.
For an even more distinct flavor, you can add the garlic and herbs at any time during the cooking process. Add them when you start cooking, when you flip the steak, as well as near the end to really infuse the melting butter with more flavor.
Try not to overcook your steak. The more you cook it, the fat will melt and you will begin to lose its delicious, buttery flavor.
If you bought your Wagyu in advance and need to freeze it, do so immediately once you return home from purchasing your steak. Freezer burn is caused by air exposure, so the quicker you get it into the freezer and the less air it is exposed to prior to freezing, the better.
Use a meat thermometer! It takes all the guess work out of cooking a steak so you'll know when you've got it just right.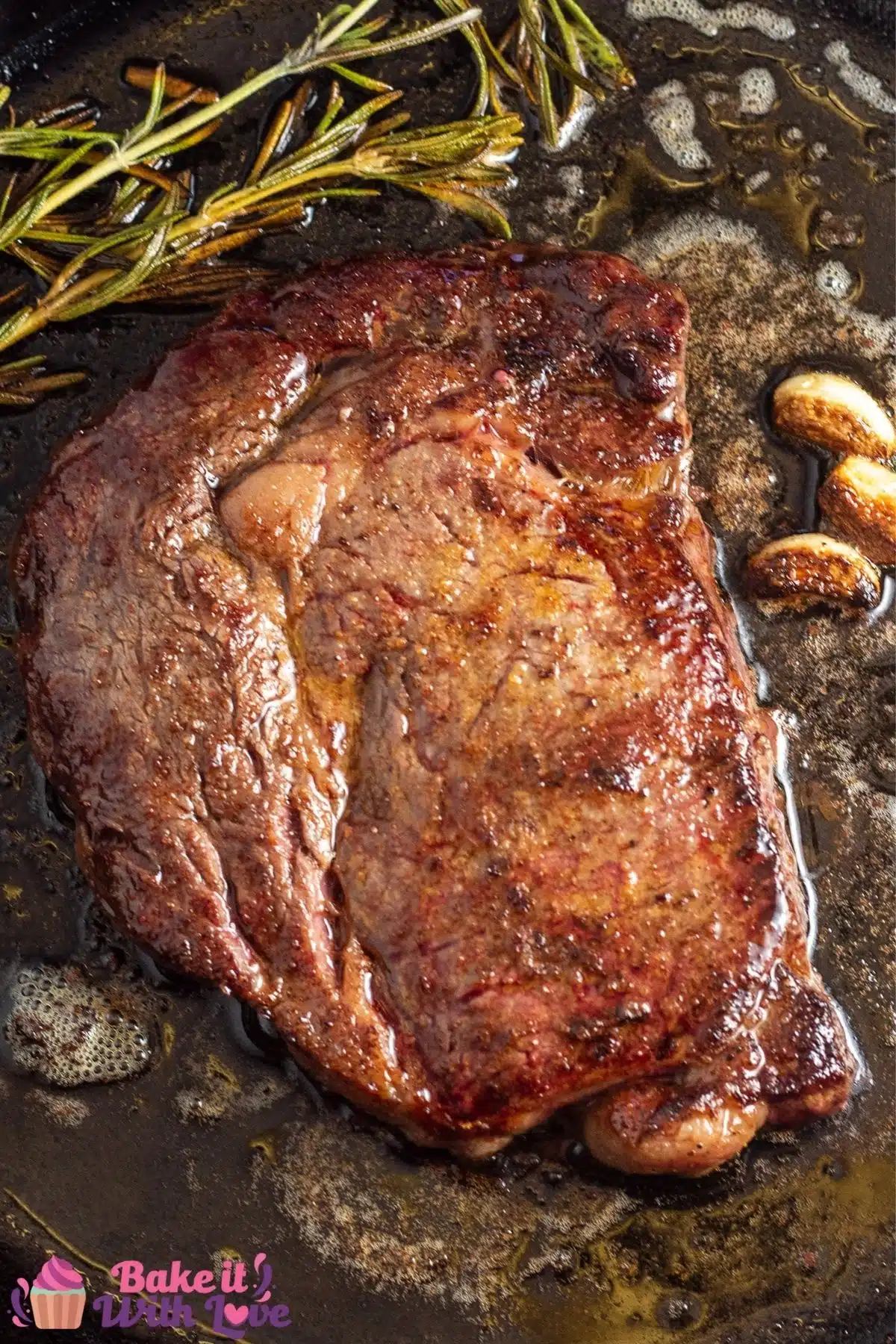 🥡 Storing & Reheating
In the off chance you have steak left over, you can keep it refrigerated in a shallow air-tight container, or wrapped tightly in foil, for about 3 days! Make sure your steak is cooled before putting it into a container.
If you're trying to extend the shelf-life of your left over steak, it can be frozen! Tightly wrap each individual steak with plastic wrap. Then, place it in a heavy-duty freezer bag or wrap it tightly with heavy-duty foil.
Your steaks will keep frozen for about 3 months. Make sure to label them with the date!
Reheating Wagyu Ribeye Steak
I've found the best way to reheat steak is right in the oven! Preheat your oven to 250℉ (121℃). Place your steak on a baking sheet with a cooling rack if you have one.
Bake for 20-25 minutes, or until your steak reaches your desired temperature.
🥩 Side Dishes For Steak
---
❓ FAQ
What makes it "Wagyu" beef?
The term "Wagyu" actually refers to a specific breed of cattle from Japan with particular genetic attributes that make for tender, fatty meat. In fact, the word "Wagyu" (pronounced 'wag-you') translates into "Japanese cow". Wagyu farmers have since popped up in different countries around the world. The high amounts of intra-muscular fat and the finer texture of the meat is what makes these cattle so desirable.
Why is it important to tent a steak?
"Tenting" a steak just means to make a small tent out of foil and loosely cover your steak while it rests. While resting, your steak reabsorbs some of its juices. Tenting is important because it helps your steak retain that perfect golden-brown sear without getting soggy.
Can I use salt in pepper in place of steak seasoning?
You can! The steak seasoning is going to have more distinct flavor, but a Wagyu steak is flavorful on its own. If you prefer to season your steaks with just a bit of salt and pepper so you can really enjoy the flavor of the meat, go right ahead! The cooking method will remain exactly the same.
📋 Recipe
Print Recipe
Leave A Comment
Love This Recipe?
Click On A Star To Rate It!
Wagyu Ribeye Steak (Perfectly Pan Seared)
No need for a fancy steakhouse when you can create a perfectly pan seared Wagyu ribeye steak from the comfort of your own kitchen! This simple method of pan searing is guaranteed to result in a flawlessly cooked Wagyu Ribeye straight out of any steak lover's dreams!
Pin Recipe
Share on Facebook
Ingredients
2

tablespoon

olive oil

(extra virgin)

8

oz

wagyu ribeye steak

½

tablespoon

steak seasoning

(see recipe or use your favorite brand)

1

tablespoon

butter

2

garlic cloves

(optional, peeled and left whole)

fresh herbs

(optional, rosemary and thyme are my first choice)
Instructions
Bring a medium to a large skillet or frying pan to medium-high heat with the olive oil, making sure that it is really HOT before you place your steak(s) in the pan.

Season the wagyu steak side facing up with my steak seasoning, using your fingertips to press the seasoning in to set it firmly - season the fatty sides for extra flavor!

8 oz wagyu ribeye steak,

½ tablespoon steak seasoning

Place the steak in the pan, seasoned side down, and then season the side of the steak that is facing upward. Do not move the steak until you are ready to flip it over to cook the other side. If your steak is about 1" thick, cook the first side for 3-4 minutes, if it is 1 ½" thick let it cook for about 5 minutes (for medium-rare).

Turn the steak and cook for the same amount of time, depending on the steak thickness ( 3-4 minutes for 1" thick steak, or 5 minutes for a 1 ½" thick steak ). The fat should all be rendered from the steak when done, and the internal temperature should be about 135°F (57°C).

Place the butter, garlic, and herbs into the pan once you have turned your steak(s), let it melt, then spoon over the cooked side of your steak (basting or 'arroser') while you finish cooking.

1 tablespoon butter,

2 garlic cloves,

fresh herbs

Remove the cooked steak from the frying pan or skillet and tent a square of aluminum foil over it, allowing the steak to rest for about 5-10 minutes before serving.

Equipment You May Need
Notes
I do recommend cast iron pans for cooking any pan-seared steak. The cast iron caramelizes the steaks and results in a better flavor. However, that is a personal preference so any medium to large skillet or frying pan will work.
If you are cooking more than one ribeye steak at a time, it is important not to crowd your frying pan or skillet. If you need to, use multiple pans or cook your steaks in batches.
The garlic and herbs can be placed into the frying pan at the start of cooking your wagyu steak, or when you turn the steak, as well as at the end to infuse the melting butter with more flavor.
Nutrition
Calories:
825
kcal
(41%)
|
Carbohydrates:
1
g
|
Protein:
46
g
(92%)
|
Fat:
72
g
(111%)
|
Saturated Fat:
25
g
(156%)
|
Cholesterol:
168
mg
(56%)
|
Sodium:
2545
mg
(111%)
|
Potassium:
653
mg
(19%)
|
Fiber:
1
g
(4%)
|
Sugar:
1
g
(1%)
|
Vitamin A:
1335
IU
(27%)
|
Calcium:
16
mg
(2%)
|
Iron:
4
mg
(22%)
pan seared, perfect pan seared ribeye steak, ribeye steak, wagyu beef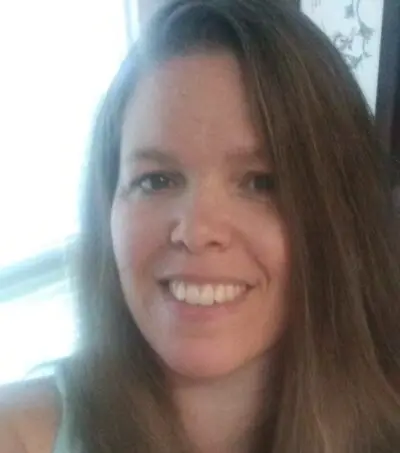 Angela is an at home chef that developed a passion for all things cooking and baking at a young age in her Grandma's kitchen. After many years in the food service industry, she now enjoys sharing all of her family favorite recipes and creating tasty dinner and amazing dessert recipes here at Bake It With Love!