Sauteed broccolini is a vegetable side dish that is easy to make. Everyone in the family will love to have with dinner! The tasty, tender veggie can be hard to find in stores but is totally worth grabbing every bunch on the shelves when you do find it!
Best Sauteed Broccolini Recipe
Fresh broccolini with a light, citrus flavored bite followed by rich, salty Parmesan makes this a refreshingly tasty part of any family meal! It doesn't get any more flavorful than this!
The tender broccolini only needs a short cooking time to turn out perfectly! Season lightly and let the wonderful flavor of this versatile veggie shine!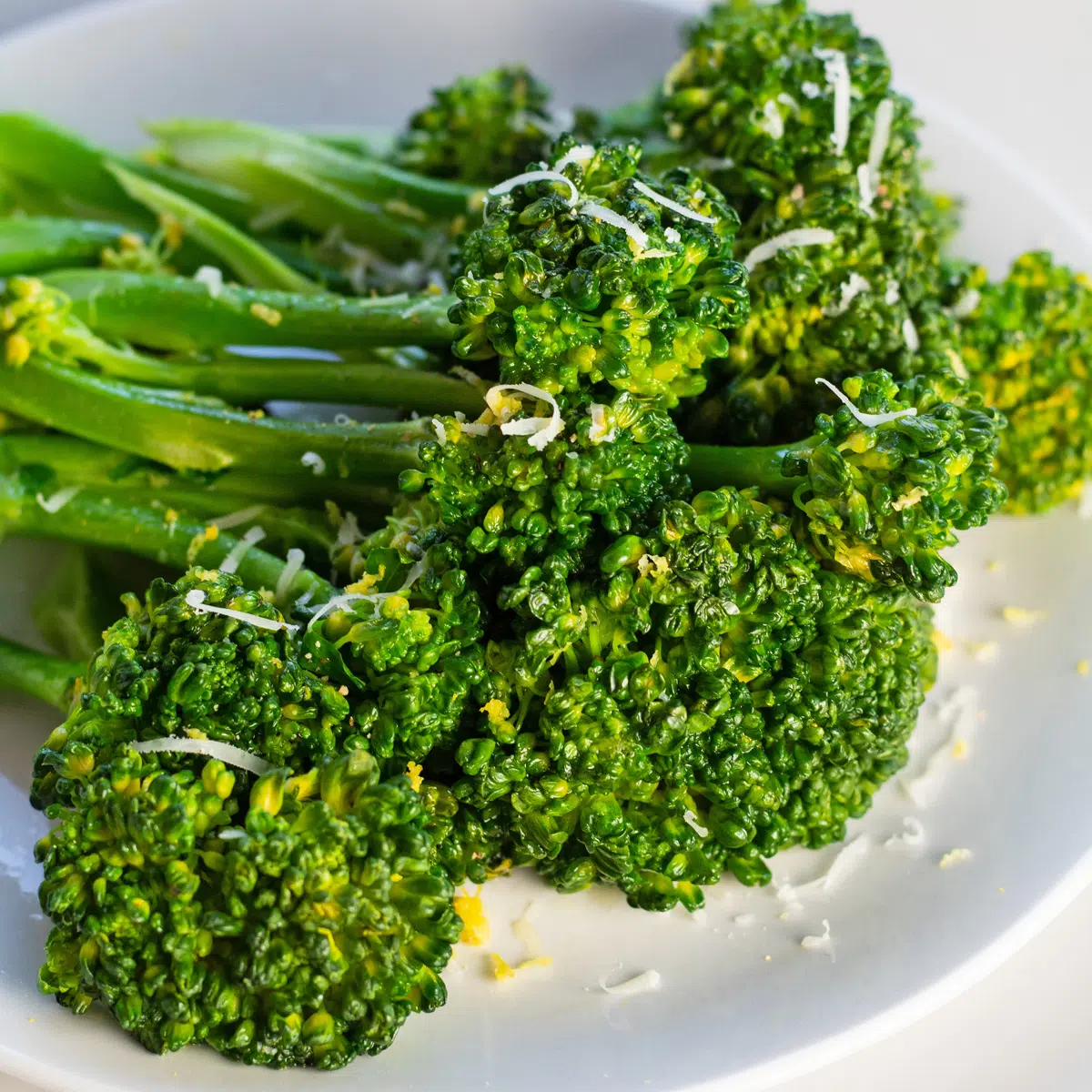 Zesty Sauteed Broccolini Everyone Will Love!
Jump to:
🤔 What is Broccolini?
It sounds like a diminutive version of broccoli, but that's not quite right. There are multiple names for this hearty vegetable including tenderstem broccoli and baby broccoli.
While they look similar, broccolini has a milder taste than it's more widely known cousin. In fact, it's a hybrid of broccoli and Chinese broccoli, or gai lan.
Broccolini has long, lean stems that are fantastic when sauteed in the manner explained in this recipe! If you're new to this vegetable, this is a great place to start. It's a real crowd-pleaser that complements virtually any dish you care to serve as a main course.
❤️ Why You'll Love This Recipe!
It's fresh! The citrus is a perfect touch to punch up the flavor!
It's simple! There's no long list of ingredients for this easy recipe!
It's healthy! If you have kids who pick around their vegetables, try adding sauteed broccolini to their plates. The mild flavor of broccolini also makes this dish extremely versatile!
🥘 Ingredients
There are only a few ingredients in this dish, and you are likely to already have most on hand - if not all of them. The lemon is the secret that takes this easy side dish to the next level!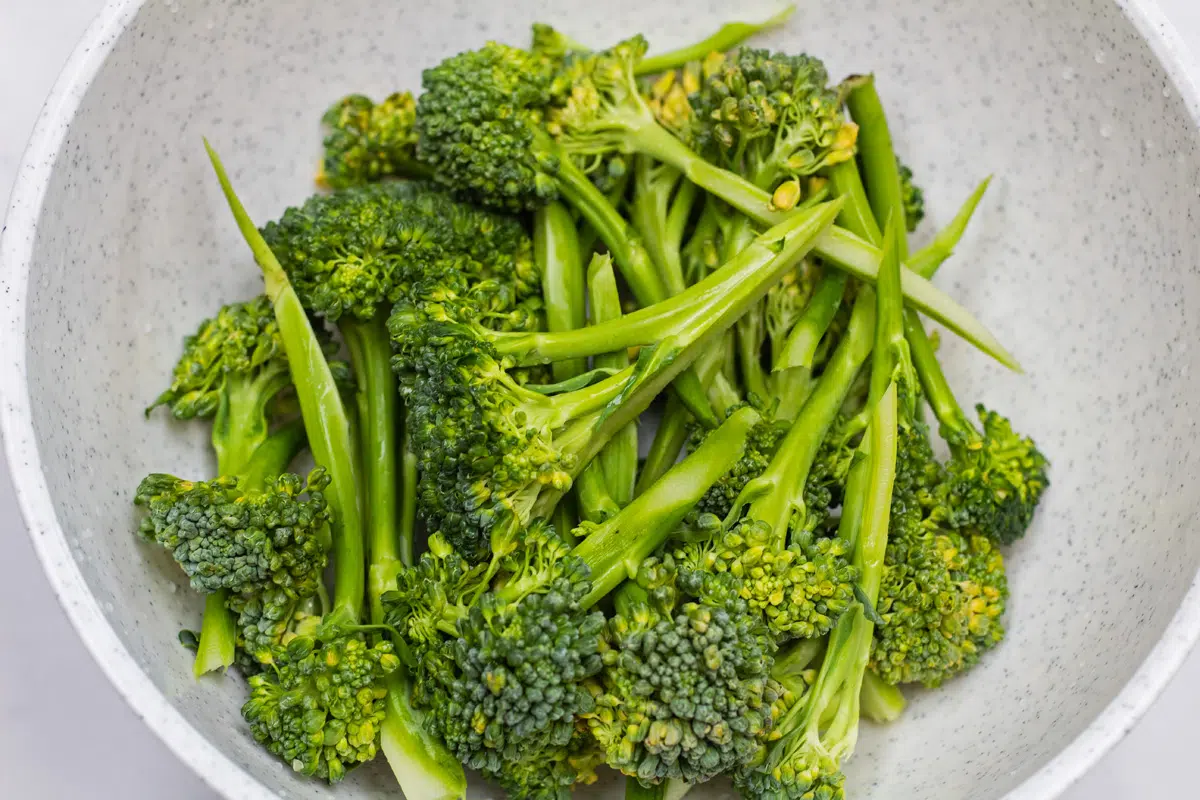 Broccolini - When buying this, look for the same signs of freshness you would look for in broccoli. You want vibrantly colored florets that are firm.
Olive Oil - Unrefined extra virgin olive oil (EVOO) is the best you can get.
Lemons - You'll need both the zest and the juice, so make sure you opt for whole lemons.
Kosher Salt - This has larger flakes than regular salt that dissolve well.
Black Pepper - Try freshly grinding black peppercorns this for an explosion of flavor.
Parmesan Cheese - Adds a great nutty flavor to the veggies.
🔪 How To Cook Broccolini
Don't be intimidated if you haven't blanched vegetables before. Just follow the simple steps below for an outstanding side you'll return to again and again.
Saute The Broccolini
Trim the broccolini. Under cold water, wash 12 ounces of broccolini and trim off the ends of the stems. Cut off about ¼ of an inch.
Blanch in boiling water. In a large pot of salted water, blanch the broccolini for 2 minutes. When it's cooked, drain the boiling water containing the broccolini into a colander before putting the whole thing in a large bowl full of ice. Make sure the broccolini is completely submerged in order to cool it as fast as possible.
Saute. Heat up 1 tablespoon of extra virgin olive oil in a large skillet or frying pan over medium-high heat. When the oil is shimmering, it's ready to go. Transfer the blanched broccolini into the pan along with zest from half a lemon. Add ½ teaspoon Kosher salt and ¼ teaspoon pepper and toss to distribute the seasonings. Saute for 2 to 3 minutes. When your broccolini is tender, it's finished. Use a fork to check the tenderness.
Finish and serve. Once the broccolini has reached your desired level of tenderness, add 2 tablespoons lemon juice (according to taste) and 1 tablespoon of Parmesan cheese over the top.
No need for a garnish when it's topped with Parmesan! You can serve sauteed broccolini as a side with pretty much anything. Perfect for my hearty prime rib or any dinner. Enjoy!
💭 Angela's Tips & Recipe Notes
Always zest your lemons before you juice them. Even if you aren't planning on using the zest right away, it's worth freezing for later use. It's great in smoothies, baked goods, or to flavor various cooked sides like in this recipe. Make use of the whole fruit, and you'll open yourself up to a world of flavor. Just remember to zest before you juice. Zesting is difficult with a deflated lemon.
There's no need to remove the small leaves on the broccolini if you see them. Every part is edible. It won't harm you to ingest the leaves, but if the texture bothers you, they're easy to take off. Sometimes, you might even get a yellow flower, and that's edible, too!
To correctly blanch and shock your broccolini, there are a few key things to remember. Don't add them to your pot of water until it is fully boiling. The idea is to cook them in very hot water for a short amount of time, and a simmer won't do the job. Secondly, if you find it easier, you can also drain the boiling water from the pot of broccolini and put them directly into icy water. If you use a pot that has a strainer in the lid, this can sometimes be a quicker option. Regardless of how you choose to do it, cool your vegetables down as quickly as possible for the best results.
🥡 Storing & Reheating
If you have extras, plan on eating them 3 to 5 days from the day they were cooked. Store leftovers in a shallow, airtight container in the refrigerator.
To store in the freezer, transfer the fully cooled sauteed broccolini into an airtight container, zipped into heavy-duty freezer bags, or wrapped up tight with foil or cling wrap. You can keep the broccolini frozen for up to 10 to 12 months. After that, quality will decline despite still being safe to eat.
Reheating Broccolini
If your sauteed broccolini is frozen, let it thaw in the fridge overnight. Then, pour approximately 1 teaspoon of olive oil in a skillet over medium heat.
Add your leftovers and toss them until they're fully coated. Cook covered for 5 to 6 minutes or until they're at your desired temperature.
❓ FAQ
What does it mean to "blanch" vegetables?
Blanching is a method of cooking where you quickly cook something in very hot water before shocking it, or dipping it into an ice bath. The ice bath stops them from continuing to cook almost immediately.
This process helps make hard vegetables like cauliflower or carrots more tender.  It also gets rid of any bitterness before a second cooking method is used to finish them off.
Is broccoli or broccolini a healthier option?
There is lots of talk about broccoli being a super-food. It's often called that because of its high concentration of vitamins and minerals. Both broccoli and broccolini are low carb while containing fiber and protein. Broccoli, however, is noted for having higher amounts of folate and vitamin B12.
You can't go wrong with either one, as they're both highly nutritious, not to mention absolutely delicious!
Is broccolini the same as broccoli rabe?
While it's easy to get these two confused, they're not actually the same. Broccoli rabe is not actually related to broccoli or broccolini at all but is actually more closely related to a turnip. When comparing the two side-by-side you'd notice that broccoli rabe is quite a bit leafier than broccolini.
But it does have little broccoli-like florets! I know. It's odd. Both are often blanched, but due to the extra bitterness of broccoli rabe, it's often cooked with fatty elements like generous amounts of butter or served in a rich pasta recipe.
What else can I do with broccolini?
Good question. They're also great roasted or with a bit of garlic butter or balsamic vinegar. Once you become familiar with the unique taste, you'll get a better idea of seasonings you prefer.
You can also cook them in an air fryer for a slightly different texture. Broccolini is great in pasta dishes or salads. The options are endless!
🥦 Other Amazing Vegetable Sides
📋 Recipe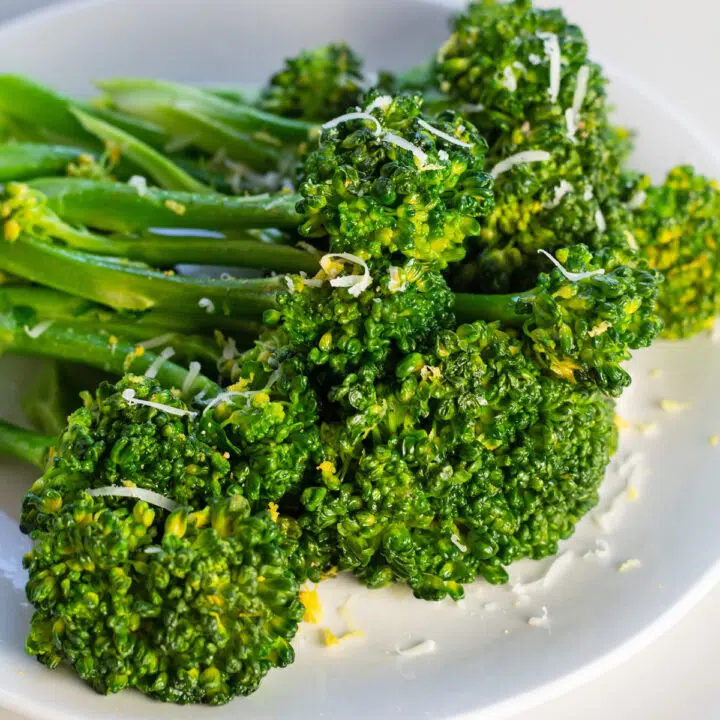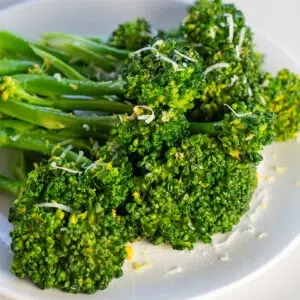 Print Recipe
Leave A Comment
Love This Recipe?
Click On A Star To Rate It!
Sauteed Broccolini
Sauteed broccolini is a vegetable side dish that is easy to make. Everyone in the family will love to have with dinner! The tasty, tender veggie can be hard to find in stores but is totally worth grabbing every bunch on the shelves when you do find it!
Pin Recipe
Share on Facebook
Ingredients
12

oz

broccolini

(2 bunches - washed and trimmed)

1

tablespoon

olive oil

(extra virgin)

1

small

lemon

(zest and juice, reserve 2 tablespoons of the fresh lemon juice)

½

teaspoon

Kosher salt

¼

teaspoon

black pepper

(freshly ground)

1

tablespoon

Parmesan cheese

(freshly grated)
Instructions
Wash your broccolini and trim the ends of the stems. Remove any leaves, if needed.

Bring a large pot of salted water to a boil, then blanch the broccolini for 2 minutes. Remove from the boiling water and transfer into a bowl of ice water. *The easiest way to do this is to drain the boiling water with broccolini into a colander then transfer the colander directly into a bowl large to hold it (plus the ice).

Heat a large skillet or frying pan with olive oil to medium-high heat. Once the oil is shimmering, add the blanched broccolini and lemon zest (from about half the lemon). Season with salt and pepper, then saute for 2-3 minutes or until the broccolini reaches your desired level of tenderness.

1 tablespoon olive oil,

1 small lemon,

½ teaspoon Kosher salt,

¼ teaspoon black pepper

Remove from heat when done, add the lemon juice and grated Parmesan cheese and serve.

1 tablespoon Parmesan cheese
Nutrition
Calories:
79
kcal
(4%)
|
Carbohydrates:
9
g
(3%)
|
Protein:
4
g
(8%)
|
Fat:
4
g
(6%)
|
Saturated Fat:
1
g
(6%)
|
Polyunsaturated Fat:
1
g
|
Monounsaturated Fat:
3
g
|
Cholesterol:
1
mg
|
Sodium:
336
mg
(15%)
|
Potassium:
40
mg
(1%)
|
Fiber:
2
g
(8%)
|
Sugar:
3
g
(3%)
|
Vitamin A:
1517
IU
(30%)
|
Vitamin C:
92
mg
(112%)
|
Calcium:
83
mg
(8%)
|
Iron:
1
mg
(6%)
Sauteed Broccolini, tenderstem broccoli, vegetable side dish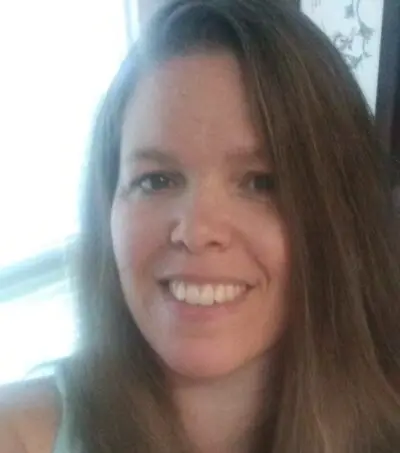 Angela is an at home chef that developed a passion for all things cooking and baking at a young age in her Grandma's kitchen. After many years in the food service industry, she now enjoys sharing all of her family favorite recipes and creating tasty dinner and amazing dessert recipes here at Bake It With Love!