These fall breakfast recipes range from perfectly sweet to wonderfully savory and are the best way to kickstart a fantastic day! They are all comforting, delicious, and super easy to make! Whether you make these breakfasts just for yourself, for the whole family, or even for house guests, no one will be disappointed!
Best Breakfasts To Make During Autumn
When you wake up in the morning and the air is getting chilly, what's better than a delicious, comforting breakfast? These breakfasts are all easy to make and inspired by warm autumn flavors.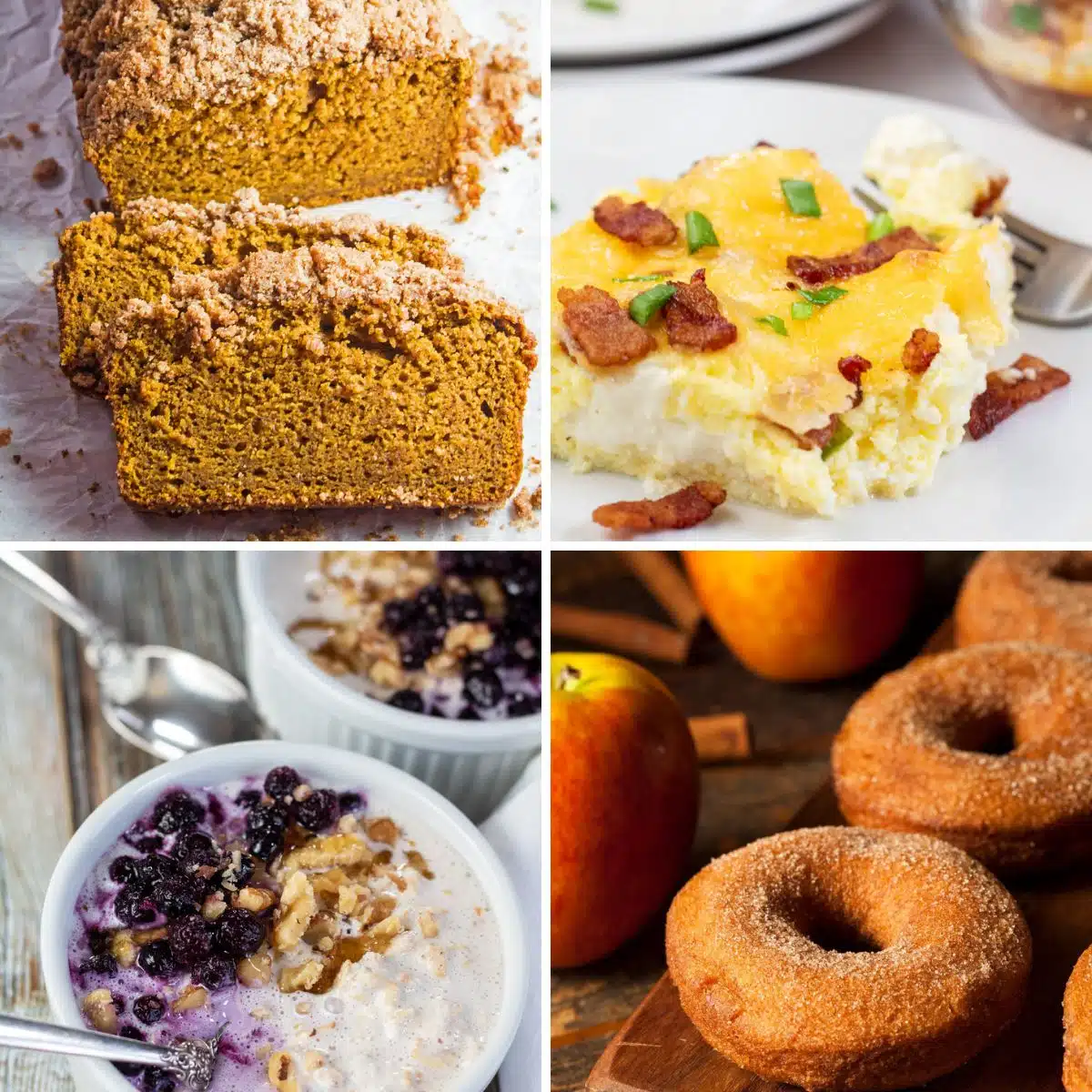 Jump to:
1. Apple Cider Donuts
Everyone loves donuts, and these homemade baked donuts are extra special! The dough itself is full of boiled apple cider for a wonderfully delicious fall flavor.
After baking, they are coated in cinnamon sugar to make them even more amazing! Trust me when I say you won't find anything this tasty at the local donut shop!
2. Apple Oatmeal Muffins
Perfect for an on-the-go treat on a busy weekday morning, these muffins combine apples and granola for an extra tasty baked good. They are packed with warm spices and applesauce to make them perfectly moist.
They do contain some sugar but are still much healthier than store-bought muffins!
3. Pumpkin Streusel Bread
I don't know about you, but cool weather makes me want to enjoy everything pumpkin! Flavorful pumpkin, homemade pumpkin pie spice, and an absolutely irresistible streusel topping make this bread hard to beat!
4. Apple Cider Pancakes
Fluffy and tender pancakes that are infused with tasty apple cider! As if that didn't sound good enough, they are also topped off with cinnamon apples and drizzled with a simple apple cider syrup!
You can have this entire breakfast ready to go in about 30 minutes, but it is certainly special enough for holidays and birthdays, too!
5. Hashbrown Sausage Bacon Egg Casserole
This hearty and savory casserole is perfect for a large family! To make it even easier, you can assemble your casserole the night before so that in the morning, all you have to do is pop it into the oven!
6. Apple Pie French Toast Casserole
Take everything you love about apple pie, combine it with the delicious flavors of French toast, and then load it all into a simple casserole! This indulgent (and ridiculously delicious) French toast casserole is so sophisticated that it makes a great breakfast choice for special occasions (but is easy enough for any typical day, too!)
You can even prepare it in advance so that it only needs to be baked in the morning!
7. Baked French Toast Muffins
If you're a fan of French toast, then these muffins are for you! Loaded with cinnamon, vanilla, and egg-soaked bread, these muffins are perfect for fall!
Plus, there aren't any complicated ingredients in them, so you can make them at the last minute without making a trip to the store!
8. Cinnamon Apple Bread
An easy-to-make bread that doesn't require yeast, kneading, or rolling! Simply mix everything together and toss it in the oven- it is practically effortless!
The batter itself is packed with tons of sugar-coated apples, so you'll be able to enjoy them in every single bite! The glaze is totally optional, depending on how indulgent you want it to be!
>>>>See all of my recipes HERE<<<<
9. Bacon Breakfast Casserole
If your family is a fan of eggs, this casserole is about to make your mornings so much easier! It has everything you need in a well-rounded breakfast loaded into one simple and delicious casserole.
10. Pumpkin Zucchini Muffins
Don't let the zucchini throw you off, as it adds tons of moisture and healthy nutrients (and it doesn't make the muffins taste like zucchini!) Mixing in some pumpkin puree and pumpkin pie spice makes this the ultimate nutritious and flavorful fall-time breakfast treat!
11. Sweet Potato Coffee Cake
This sweet potato coffee cake will instantly put you in the spirit of the season. There's not actually any coffee in it, but it is loaded with mashed sweet potatoes, warm spices, and a touch of honey.
It has a wonderful brown sugar oat topping that really takes it up a notch, too! Even if you aren't a fan of sweet potatoes, I promise that you'll love this tasty breakfast cake!
12. Cinnamon Roll Casserole
Get ready to enjoy the flavors of cinnamon rolls without having to mess around with making them from scratch! This is the perfect recipe if you have some leftover cinnamon rolls, but you can also prepare this casserole using refrigerated cinnamon roll dough!
In short, it is very easy to make yet so tasty that the entire family will love it.
13. Sweet Potato Muffins
Sweet potatoes are a classic fall-time produce that is nutritious and has just the right amount of sweetness! I like to make a batch of these muffins and freeze any extras, so I always have them ready to go!
14. Overnight French Toast Bake
What makes this French toast recipe extra special is that it is prepared the night before! The egg mixture is poured over the bread in the baking dish, so it has all night to soak up that rich, creamy flavor!
When you wake up in the morning, the only thing that you need to do is transfer the baking dish to the oven and let it cook!
15. Quiche Florentine
This quiche Florentine is an elegant and impressive breakfast that is remarkably easy to make! The flaky pie crust is filled with a creamy egg mixture as well as some spinach and melted cheese.
It will keep you satisfied and full, plus it is packed with protein!
16. Overnight Oats
These overnight oats make a fantastic nutrient-packed breakfast that is ready to eat as soon as you wake up! Everything is prepared the night before so you can enjoy your warm and cozy bed for a few extra minutes.
17. Chocolate Pancakes
If you're looking for a sweet treat in the mornings but aren't really in the mood for apple and pumpkin flavors, these rich chocolate pancakes are definitely going to knock your socks off!
Enjoy them as-is, or upgrade them with a drizzle of chocolate syrup, homemade whipped cream, marshmallows, and more! They are bound to be a family favorite!
💭 Tips For Making Fall Breakfasts
There are so many ways to easily transform any ordinary breakfast into a delicious fall-time treat! Here are some tips for making wonderfully cozy and comforting autumn breakfasts.
Incorporate seasonal ingredients: Use seasonal fruits like apples, pears, cranberries, and pumpkin in your recipes.
Embrace warm flavors: Use warm spices like cinnamon, nutmeg, cloves, and ginger to add a comforting flavor.
Experiment with pumpkin: Pumpkin is a quintessential fall ingredient. Use it in pancakes, waffles, muffins, or even a pumpkin spice latte.
Add whole grains: Use whole grain ingredients like whole wheat flour, oats, or quinoa for added fiber and nutrients.
Prepare in advance: Make your mornings easier by prepping ingredients or even whole dishes the night before.
What are your favorite fall breakfast recipes? Leave a comment down below, and let me know what you think!
📋 Recipe