My pumpkin recipes are the best dishes to make, featuring fresh pumpkin or canned pumpkin puree, or pumpkin seeds! This list is a tasty and sweet way to satisfy your craving for all your favorite fall flavors! Once you start your fall and holiday baking, you'll want to test out each of these recipes!
Best Pumpkin Recipes
Pumpkin is the most notable fall flavor that everyone seems to love! I have gathered my favorite pumpkin recipes in one fantastic list for you!
These recipes capture the warm, cozy pumpkin essence that reminds us that the holidays are coming! If you're a pumpkin lover, you'll want to try all of them!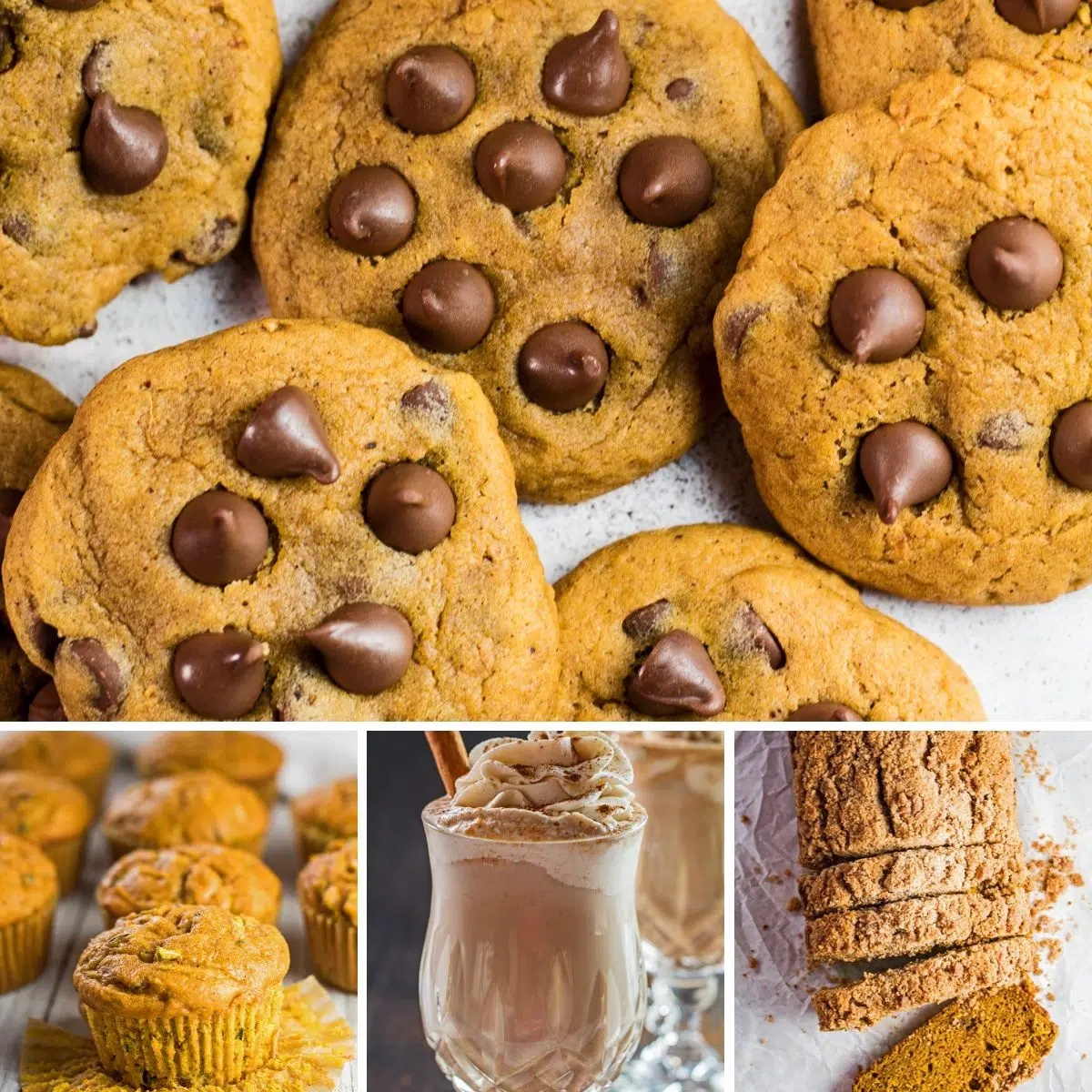 Jump to:
1. Pumpkin Pie
No other pumpkin recipe is more classic or well-loved than pumpkin pie! There's a reason it has a permanent spot on everyone's holiday dessert table.
This delicious and beautiful pie is easy to make! Plus, you can use fresh or canned pumpkin puree! In addition to being completely decadent, when this is baking in your oven, your house will smell heavenly.
2. Pumpkin Chocolate Chip Cookies
I love the combination of pumpkin and chocolate in baked goods. These cookies are soft, chewy, and filled with deliciously sweet chocolate chips.
Make these cookies in advance or eat them when they're warm and gooey from the oven- they taste phenomenal either way! Go ahead and make a double batch, because you won't have any cookies left over!
3. Pumpkin Streusel Bread
This pumpkin streusel bread is loved by both kids and adults alike. It has the iconic fall-inspired pumpkin flavor, topped with a brown sugar streusel topping to take the flavor to another level!
This versatile treat could be eaten as breakfast, a snack, or dessert because it's just that good! It also makes a perfect gift basket addition or baked item to send to your neighbor's house for the holidays.
4. Pumpkin Zucchini Muffins
The pumpkin puree and pumpkin spice bring the flavor while the zucchini packs in some fantastic moisture to make these muffins super soft! Plus, they are the best way to have a quick, on-the-go breakfast!
5. Iced Pumpkin Spiced Latte
We all know Starbucks pumpkin spiced latte is a huge hit, so how about making a version at home that tastes even better? My iced pumpkin spiced latte is so easy to make and irresistibly tasty that you'll want to drink it daily!
It is so creamy and rich that you'll forget all about the Starbucks drink. (Plus, you'll save some money!) Top it off with some whipped cream and a sprinkle of pumpkin pie spice, and you'll have the best DIY latte ever!
6. Pumpkin Seed Butter
Pumpkin seed butter is a perfect alternative to your favorite nut butter! It is creamy, tasty, and allergen-friendly!
You can use this seed butter as an alternative to peanut butter (or any nut butter) for absolutely anything! It is amazingly versatile and packed with flavor!
7. Pumpkin Streusel Bars
These delightfully decadent pumpkin streusel bars are a fall treat to remember! They're wonderfully easy to make and truly a great dessert!
8. Pumpkin Fluff Dip
Fluff dip of any flavor is a quick treat, and this pumpkin version packs a ton of flavor! They're exceptionally suited to pairing with graham crackers for dipping!
>>>>See all of my recipes HERE<<<<
9. Pumpkin Pie Without Evaporated Milk
This work-around recipe is a great way to serve your favorite Thanksgiving pie to dairy-free friends and family!
10. Pumpkin Dump Cake
Dump cakes deliver tasty desserts with few ingredients and even fewer steps! Bake this decadent pumpkin dessert up in no time for a fantastic after-dinner treat!
11. Pumpkin Flan
This pumpkin flan is everything you love about flan but loaded with all the best flavors and spices of fall!
12. Pumpkin Pecan Tart
Pair some fantastic fall flavors in this family-favorite pastry!
13. Chocolate Pumpkin Pie
Another great flavor combo! This chocolatey pumpkin pie will surely be a hit with all your chocoholics!
14. No Bake Pumpkin Pie
This effortless no-bake dessert is just what every novice baker needs if they want to impress when hosting their first Thanksgiving!
15. No Bake Pumpkin Cheesecake
A rich, flavorful, no-bake cheesecake that combines a creamy pumpkin filling with an easy chocolate Oreo crust.
16. No Bake Pumpkin Cookies
I love no-bake cookies! That's why I had to combine my pumpkin spice with pumpkin puree and oats in these tasty cookies!
17. Pumpkin Roll
My pumpkin roll is an amazingly flavorful combination of tender pumpkin spiced cake and cream cheese everyone loves!
18. Ranch Roasted Pumpkin Seeds
One of the easiest ways to pack a ton of flavor into your roasted pumpkin seeds! Your kids are sure to love these!
19. Pumpkin Snickerdoodles
Snickerdoodles are a childhood fave cookie for me, so adding pumpkin makes these classic cookies even more amazing! Completely addictive!!
20. Pumpkin Bars
My family loves pumpkin desserts, and these easy bars take the cake! They're topped off with a delicious cinnamon frosting to make a winning combo everyone loves!
21. Pumpkin Cheesecake Cookies
These cookies are another great combination of tasty pumpkin and cream cheese to make a sweet and tangy pairing!
I hope this collection of pumpkin recipes has inspired you to make some tasty fall treats! Leave a comment below and let me know your favorite pumpkin recipe to cook or bake!
📖 Recipe Card