Casserole recipes are the ultimate one-pan family dinner because they come in so many different varieties! They are perfect for busy weeknights since most casseroles take very little prep time, and leftovers make great lunches the next day! Give these casserole recipes a try and find your family's new favorite meal!
Easy Casserole Recipe Ideas
Casseroles are the best all-in-one dish. They offer a variety of flavor combinations and layers of wonderful textures that blend together perfectly.
There are plenty of unique casserole recipes available, and we wanted to put our favorites all together in one place. This article features all of the best casserole recipes for sharing with family and friends!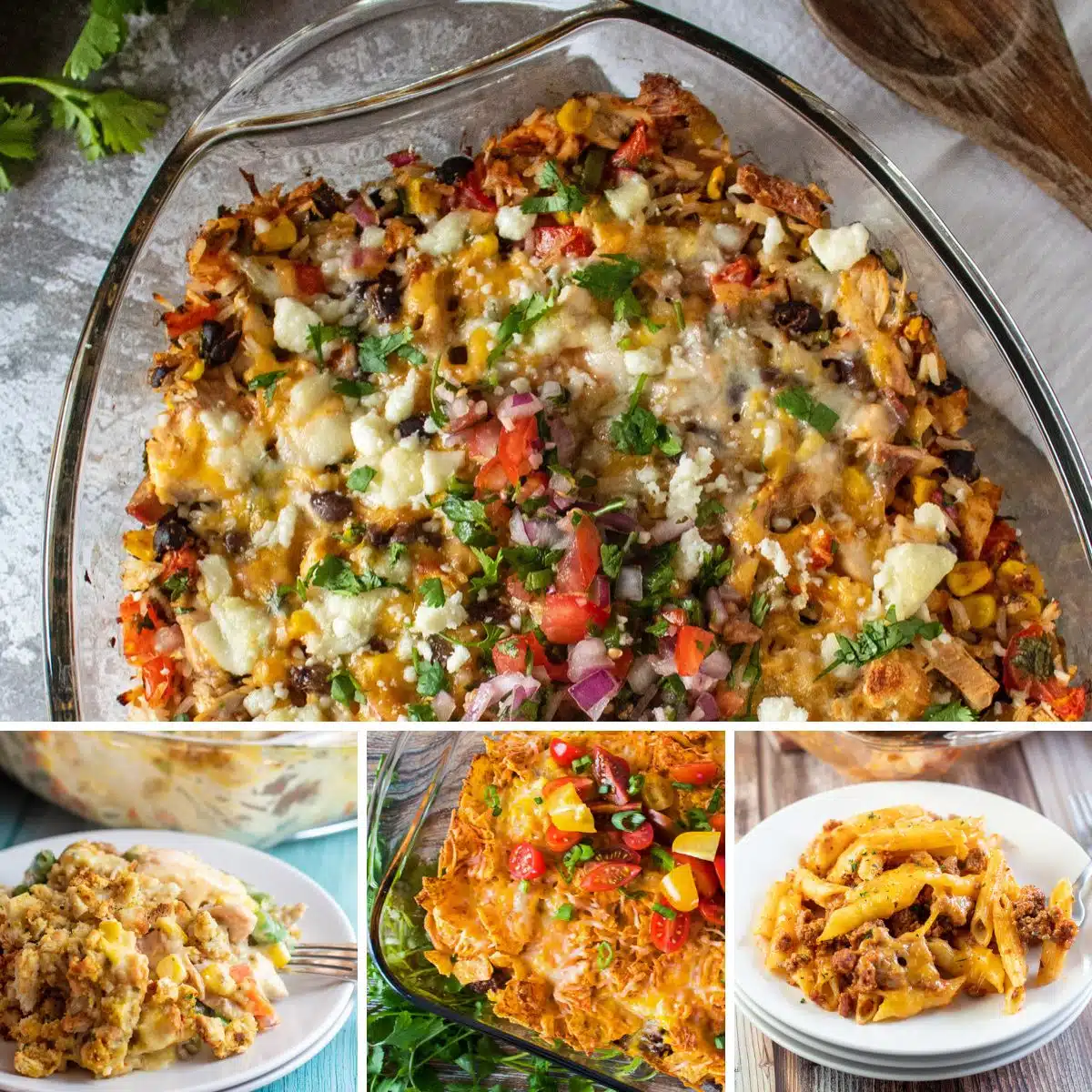 Jump to:
For more delicious dinner ideas for feeding your family, check out our Sunday dinner recipes!
1. Beef & Cheese Casserole
Beef and cheese casserole is more than just a casserole, it is an Italian feast! This hearty dish is full of delicious ingredients that will have your stomach full, and your family will be happy!
2. Doritos Casserole
If you are a Doritos fanatic like me, then you will love this Doritos casserole recipe. This recipe is great to make with your kids because it is easy and fun for everyone involved.
3. Cheesy Tater Tot Hamburger Casserole
Tater tot hamburger casserole is a unique casserole that you never knew you needed in your life! Make this casserole for your friends and family at your next gathering, and they will all want a second helping.
4. Easy Tuna Noodle Casserole
Tuna noodle casserole is creamy and not too heavy. You will love the crunchy layer of Ruffles potato chips added to the top!
5. Chicken Divan Casserole
Chicken divan casserole with white rice, broccoli florets, and cheddar cheese is a great choice for busy nights! It is easy to whip together, and your stomach will thank you for such a delicious meal!
6. Walking Taco Casserole
Walking taco casserole is a great way to switch up taco night! This casserole is completely customizable and can be made with your favorite taco ingredients!
I personally love creamy guacamole, pickled red onions, and spicy salsa!
7. Jiffy Corn Casserole
Jiffy corn casserole is a hearty dish that you will gobble up by the spoonful. This dish is great by itself or topped with creamy butter, ground beef, shredded chicken, or even BBQ pulled pork!
8. Ground Beef Mexican Casserole
This Mexican casserole has much more than just delicious ground beef. It also has black beans, cheddar cheese, creamed corn, and crunchy tortilla chips!
9. Zucchini & Squash Casserole
Zucchini squash casserole almost looks too beautiful to eat! This zucchini squash casserole has layers of flavors that blend perfectly into the best recipe for Sunday dinner.
10. Hamburger Pie
Hamburger pie casserole is a whole meal in one complete dish! This recipe has layers of seasoned ground beef, juicy green beans, and creamy roasted garlic mashed potatoes.
11. Baked Spaghetti & Meatballs
Instead of spaghetti night, have spaghetti casserole night! Spaghetti noodles, sauce, meatballs, and cheese are all layered into one incredible dish and baked in the oven.
You can even whip this casserole up using leftover spaghetti!
12. Cauliflower Mac & Cheese
Cauliflower mac & cheese is a low-carb alternative to pasta that even the kids will enjoy! Serve it as a side dish, or enjoy it as a light main course!
13. Southern Baked Mac and Cheese
If carbs aren't a concern, try this rich and creamy Southern baked mac and cheese! This recipe is home-cooking at its finest.
14. Shepherd's Pie
Follow Gordon Ramsay's lead with this classic shepherd's pie recipe. If you aren't a fan of lamb, swap it for ground beef, and you have a delicious cottage pie!
15. Pastel De Choclo
Pastel de choclo is a fabulous casserole recipe straight out of Chile. It features corn pudding, eggs, ground beef, olives, and raisins!
Hear me out, it sounds...different, but you and your family will fall in love with the flavors!
16. Chicken Spaghetti with Rotel
Chicken spaghetti is a great last-minute dinner idea! Loaded with creamy, cheesy goodness, you can make this casserole in just about 30 minutes!
17. Italian Sausage Bake
If you are looking for some hearty comfort food, this Italian sausage bake is for you. Best of all, there are only 5 ingredients required!
18. Biscuit Chicken Pot Pie
Ditch the pie crust and top some creamy, classic pot pie filling with a layer of flaky homemade biscuits! It's so much easier than the traditional version but just as tasty!
19. Bacon Cheddar Green Bean Casserole
This Thanksgiving classic is delicious year-round! Crispy bacon, creamy mushroom soup, tender green beans, and grated cheddar are a match made in heaven.
>>>>See all of my recipes HERE<<<<
20. Chicken Stuffing Casserole
Chicken stuffing casserole is absolutely perfect any day of the week. It's creamy, comforting, and leaves you fully satisfied and happy.
21. Sausage Hash Brown Breakfast Casserole
This sausage hash brown breakfast casserole is perfect for breakfast or brunch! Have all your guests lining up for an extra scoop of this hearty dish.
22. Creamy Tuna Noodle Casserole
Pop this fantastic casserole into the oven while you enjoy the company of your best friends and family. Then enjoy this creamy comfort food while you gather around the table.
23. Keto Green Bean Casserole
This keto green bean casserole recipe is creamy and absolutely wonderful. It's so delicious with the cream cheese, cheddar, and bacon that you won't even miss the carbs!
24. Baked Mac & Cheese with Smoked Sausage and Broccoli
This recipe is 100% kid-approved! Baked mac & cheese with smoked sausage and broccoli is an entire meal in one bowl. No side dishes are needed!
25. Baked Corn Casserole
Creamy baked corn is an incredibly quick and easy side dish suitable for any occasion! It calls for canned corn, so there is barely any prep time!
26. Chicken Cordon Bleu Casserole
This mock chicken cordon bleu is just as good as the traditional one with chicken, ham, Swiss cheese, and the like. But the incredible Dijon sauce is the piece that ties it all together!
27. Bechamel Pasta Bake
This pasta bake is layered with a savory beef filling, delicious pasta, and rich bechamel sauce! It's so good you will want to add it to your rotation of weekly dinners!
28. Turkey Southwestern Casserole
Leftover turkey southwestern casserole is a great dish to make after the holidays when you have tons of leftover turkey. Your family will love how you reinvent your leftovers into this amazing meal.
29. Turkey & Rice Casserole
This leftover turkey rice casserole recipe is creamy with just the right amount of crunch. It is a great casserole to make on days when you want a simple and easy meal that you can throw together with the leftovers you already have in the refrigerator.
30. Ham Casserole With Broccoli & Cheese
Leftover ham casserole with broccoli and cheese is a great dish to make when you want something that everyone will love. This multi-layered casserole recipe has so much flavor that you won't be able to choose which one is your favorite.
31. Turkey Tetrazzini
Turkey tetrazzini is a great way to use up leftover turkey from the holidays! In fact, you might like it better the second time around!
32. Au Gratin Potatoes With Ham
Au gratin potatoes are creamy, cheesy, and delicious. Add some salty diced ham, and they are even better!
33. Pepperoni Pizza Casserole
This kid-favorite weeknight pizza pasta casserole is also super easy to make! You'll only need to grab a few ingredients to mix with some cooked pasta, then let your oven do the rest.
34. Beef Enchilada Casserole
Everything you love about beef enchiladas in a hearty layered casserole! This tasty ground beef recipe is sure to be a family favorite dinner any night of the week!
35. Cracker Barrel Hashbrown Casserole
Your favorite hash brown side dish at Cracker Barrel is easy to make at home! This creamy, tasty potato recipe is so versatile that you can serve it with anything - for any meal!
36. Chicken Broccoli Rice
Creamy, cheesy chicken broccoli rice casserole that's topped with a delightfully crunchy breadcrumb topping is a classic recipe! It's a staple family dinner that everyone should know how to make!
37. Cauliflower Ham Casserole
Use up your holiday ham in this light yet flavorful casserole that combines pasta with cauliflower and diced ham. It's a great way to get kids to eat some veggies too!!
38. Chili Dog Casserole
If you're a fan of chili dogs, this casserole will definitely hit the spot! It's made by combining buttery crescent rolls, hot dogs, cheese, and plenty of homemade chili!
39. Cowboy Casserole
Cowboy casserole is a family favorite dinner consisting of crispy tater tots, ground beef, corn, bacon, and lots of cheese. Once you brown the ground beef, you just mix everything in a casserole dish and pop it in the oven!
40. Million Dollar Spaghetti Casserole
If you're tired of the same old spaghetti dinners, this million-dollar spaghetti casserole is the perfect way to switch things up! The spaghetti is layered with a cheesy cream cheese filling and coated with meaty marinara sauce before being baked to perfection.
41. Million Dollar Chicken Casserole
Similar to the million-dollar spaghetti casserole, this chicken casserole features tender chicken and layers of creamy, cheesy goodness. A buttery and crunchy Ritz cracker topping is sprinkled over the top before you pop it into the oven!
42. Chicken Tater Tot Casserole
This kid-favorite dinner is made with tender chicken, tater tots, peas, carrots, and a cheesy, creamy sauce. It's ready to eat in just 30 minutes, so it's great for those days you need an easy dinner in a flash!
43. Crockpot Chicken Enchilada Casserole
This slow cooker casserole has all the flavor of chicken enchiladas but with almost none of the effort it takes to make them! You can add all of the ingredients to the crockpot in the morning, and it will be ready by dinnertime!
44. Bacon Breakfast Casserole
This hearty breakfast casserole is a breeze to throw together, you can even prepare it the night before! Not to mention, the leftovers reheat beautifully!
45. Hamburger Hashbrown Casserole
Tasty hamburger meat, frozen peas and carrots, crispy hashbrowns, and lots of cheese come together in one delicious casserole!
46. Ritz Chicken Casserole
Ritz chicken casserole is an easy one-dish meal that is made with just 7 ingredients! It features a creamy mixture of chicken, cream of chicken soup, and sour cream baked with a crunchy Ritz cracker coating!
47. Cinnamon Roll Casserole
You can use baked or unbaked cinnamon rolls to make this easy breakfast casserole. Once you take it out of the oven, drizzle it with vanilla icing and a little maple syrup, and enjoy!
48. Mexican Cornbread Casserole
Taco-seasoned ground beef, tomatoes, chiles, and cheese sandwiched between two soft layers of cornbread! It's absolutely delicious with a dash of hot sauce too!
49. Sweet Potato Casserole with Marshmallows
Sweet potato casserole with marshmallows doesn't have to be saved for Thanksgiving! It's an easy-to-make side dish that is perfect any time of year!
50. Green Bean Potato Sausage Casserole
This casserole has veggies, potatoes, and sausage, so it's a full meal in one pot! It also makes a delicious side dish for fish, chicken, beef, pork, and more!
51. Mashed Potato Casserole
Repurpose your leftover mashed potatoes by making this delectable mashed potato casserole! The potatoes are combined with cheese, butter, milk, and sour cream, then topped with breadcrumbs and baked until golden.
52. Apple Pie French Toast Casserole
Two tasty treats come together to make this sweet breakfast casserole! I love to use my homemade apple pie filling, but you can use store-bought to save even more time.
Tips For Making Casseroles Easier
Casseroles are a convenient way to make a meal without having to prepare multiple recipes! Here are a few tips and tricks to get the most out of your casseroles:
Prep in advance: You can chop vegetables and cook and season meat 1-2 days before you plan on making your casserole. The ingredients can be refrigerated until needed, which will save you tons of time!
Utilize your freezer: Many casseroles can be frozen before or after cooking. That way, you can grab it out of the freezer and pop it in the oven for an easy last-minute dinner!
Plan for leftovers: Consider making larger casseroles than you need for the current meal. Leftovers are delicious and can make for a great lunch or dinner the next day!
Use the right baking dish: Make sure you choose the appropriate size baking dish for your casserole recipe to ensure even cooking and prevent it from bubbling over. If you're planning to freeze the casserole, opt for freezer-safe and oven-safe containers to make reheating hassle-free!
Let it rest: Not only will your casserole be super hot right out of the oven, but letting it rest and cool slightly will make it easier to slice!
If you want to try something different for dinner this week, I suggest that you try one of our amazing casserole recipes! Let me know which casserole recipe you loved the most in the comments below!
📋 Recipe