Delightfully rich, creamy, and tasty cauliflower mac and cheese can give any macaroni and cheese recipe a run for its money! Pasta or not, this hearty baked cauliflower mac is pure indulgence and just as good (if not better) than any other mac!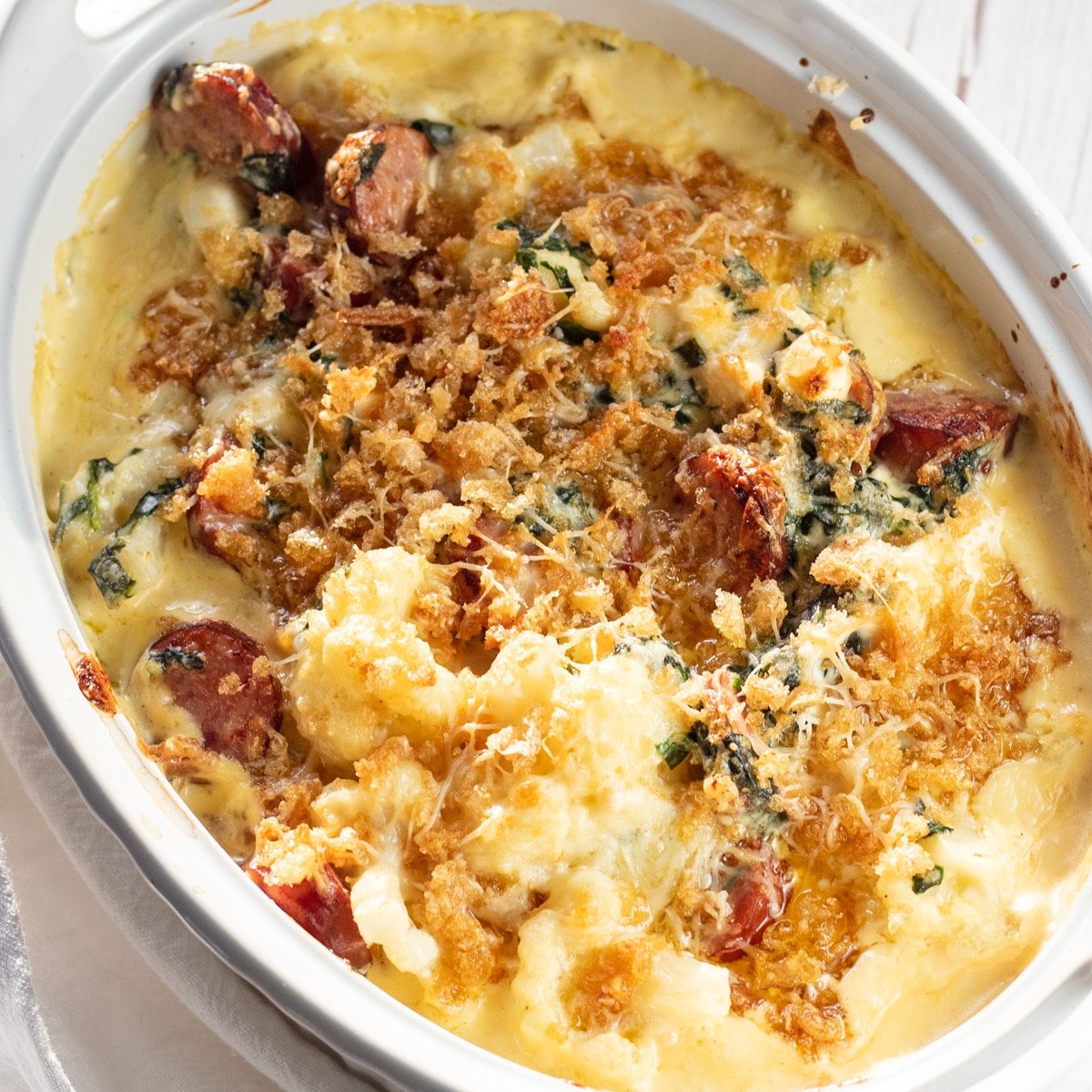 Mac and Cheese so rich and delicious you'll forget it's made of cauliflower!
Macaroni and cheese is a staple of American childhood and a fixture of southern cuisine. With the indulgent, buttery, tangy cheese sauce it's easy to forget the star of this recipe is cauliflower, not pasta!
The savory taste of garlic, spicy black pepper, and fresh baby spinach balance out the richness of the cream cheese and cheddar. Cauliflower adds a subtle, earthy taste that blends really well in this dish.
Jump to:
Get everyone in the family excited for dinner, and sneak some extra vegetables on the menu. This is comfort food I can get behind!
❤️ Why You'll Love This Recipe!
Modern take on a classic! Cauliflower is an amazingly versatile veggie! Why not use it to change up a traditional dish?
Kid-friendly! I don't know a single child who doesn't like mac and cheese.
It's Comfort Food! Despite the lack of noodles, make no mistake, this is as comforting as it gets!
Low Carb & Keto Friendly! Only 7 net grams of carbs per serving plus loaded with fats and healthy cauliflower!
🥘 Ingredients
You might need to run to the store for this one. With multiple kinds of dairy and fresh veggies, there will be things on the list that aren't just hanging out in your pantry or fridge.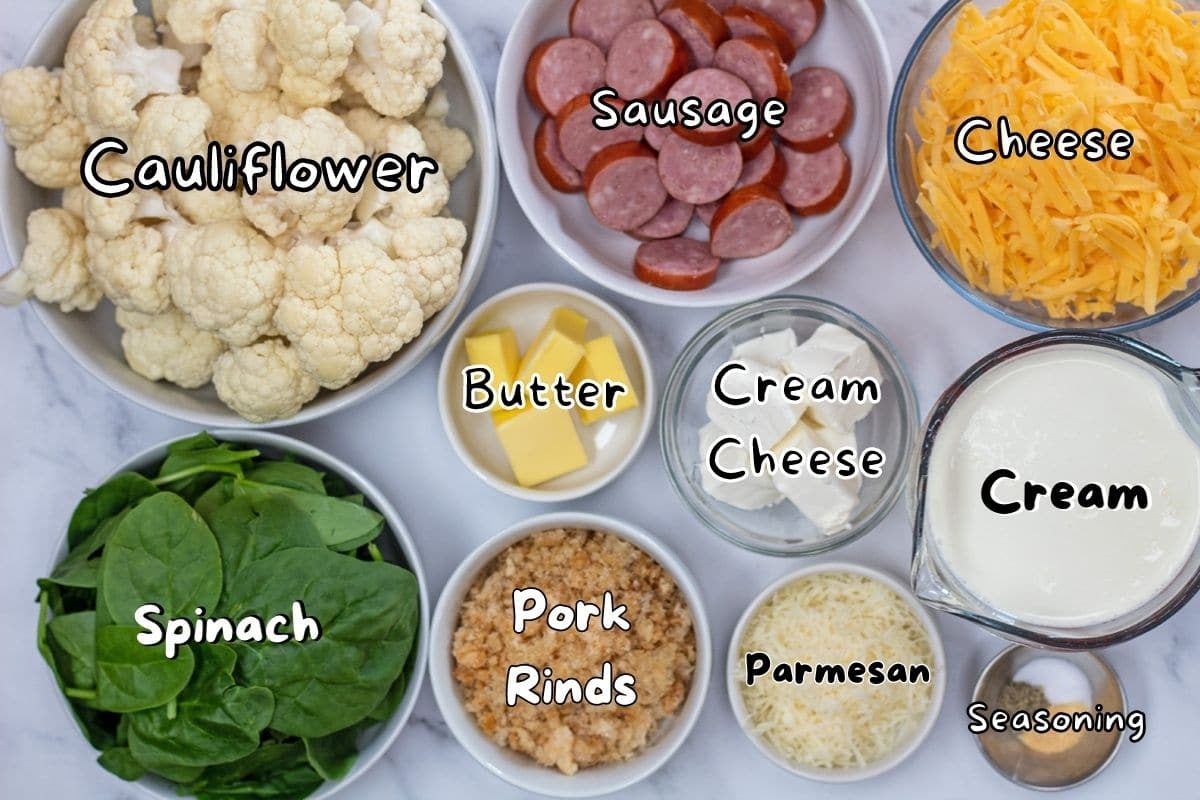 Baked Cauliflower Mac & Cheese
Cauliflower - Whether you're gluten-free, looking for keto-friendly meals, cutting carbs, or just love cauliflower, you'll love this new take on the dish!
Butter - Rich and creamy butter is part of your base cheese sauce. Use a great grass-fed butter or European butter for higher-fat content and more flavor!
Heavy Cream - If you don't usually cook with heavy cream, you'll be amazed at the difference it makes to the creaminess factor. It's also a great way to skip flour entirely when making cheese sauces.
Cream Cheese - Cream cheese adds a specific tang that helps cut through the richness and brings out the flavor of more subtle ingredients.
Seasoning - The staple salt and pepper are used to highlight all of your ingredients. Stir in some granulated garlic powder to add that unique flavor.
Baby Spinach - Roughly chop this for small pieces that add texture and nutrients to the dish.
Sharp Cheddar Cheese - When it comes to cheddar, the sharper the better! The rich flavor of aged cheddar works wonderfully in this cauliflower mac, but mild and medium cheddar will also yield tasty results.
Smoked Sausage - Slice up your favorite smoked sausage brand to add some protein to this cauliflower mac.
Topping (optional)
Pork Rinds - Crush these up or use breadcrumbs for the same–albeit slightly less flavorful–effect.
Parmesan Cheese - All the best mac and cheese recipes have more than one kind of cheese. This is the third!
Butter - Just a touch of melted butter to pull everything together and make the topping crisp and delicious!
📖 Variations
Swap cheddar varieties to change things up. - We've all seen things like habanero cheddar, port-infused and cracked peppercorn varieties, but even plain cheddar made in different regional styles can add a twist to your mac and cheese. Wisconsin, New York, Vermont!
You can't go wrong. Better yet, find a farmer who is experimenting and buy directly from him or her!
Add mushrooms and peas for a more veggie-forward take on things. - If you're as big a mushroom fan as I am, go crazy! There are tons of different kinds you could use here.
Toss with pulled pork! - I got this idea from a sandwich I had in college that combined the two. It was pretty life-changing. We often eat mac and cheese with barbecue, so why not combine the two?
Spice it up! - If you're not using a cheddar with habaneros, try mixing in some hot pepper flakes or cayenne pepper! Maybe even try some minced jalapeños and bacon pieces for a southwest take. 

There are lots of options, so be creative!
🔪 Step-By-Step Instructions
With just a few easy steps, you'll be amazed at what you can make. You'll need a saucepan, a 9x13 baking dish, a microwavable bowl, and a grater.
Baked Cauliflower Mac and Cheese
Preheat the oven. Set the temperature to 400℉ (205℃). While you're waiting for it to heat up, grease your baking dish with butter or non-stick cooking spray.
Next, steam the cauliflower. Chop 8 cups (about 2 heads) of cauliflower into florets or open 2 packages of the steamable cauliflower. The quickest, easiest way to cook this is to place it in a microwave-safe bowl with 2 tablespoons of water.
Microwave on high power for 5-6 minutes. When it's tender-crisp, drain off the water and move it to your baking dish.
*Note that if using the steam in big cauliflower, you want to cook both packages together for about 6 minutes on high so that they are warm but not cooked.
Make the cheese sauce. Add 2 tablespoons butter and 1 ½ cups heavy cream to a large saucepan and heat until butter is melted. Be sure to stir occasionally to prevent the cream from burning. Then, whisk in 4 ounces cream cheese, ½ salt, ½ teaspoon pepper, and 1⁄4 teaspoon garlic powder. Whisk continuously until it becomes smooth.
Add spinach and cheddar. Take the pan off the heat and stir in 2 cups roughly chopped baby spinach then 2 cups grated sharp cheddar cheese. Keep stirring until everything is melted together.
Combine. Spread out 4 ounces of sliced, smoked sausage over the cauliflower in your baking dish and evenly pour the cheese sauce over everything. Mix to coat or leave it as-is.
Topping (optional):
Add the toppings. In a small bowl, combine ½ cup crushed pork rinds (or breadcrumbs), 2 tablespoons Parmesan cheese, and 2 tablespoons melted butter. Mix thoroughly and sprinkle on the top of the cheesy cauliflower to finish.
Bake. Put the baking dish in the oven and cook at 400°F (205°C) for 20-25 minutes. The cheese sauce should be bubbling around the edges of the pan. To make the top golden brown, broil for 2-3 minutes if desired. 
Serve. Remove from the oven when done and serve immediately.
This is another fantastic lunch or dinner. It works well served with sauteed broccolini or smoked asparagus. Garnish with a sprig of fresh parsley. Enjoy!
💭 Angela's Tips & Recipe Notes
Use any type of sausage for this recipe that makes sense to eat with cheese.
I'm a fan of apple and cheddar, so a sausage with granny smith pieces added is one of my favorites. For anyone who likes heat, a spicy Italian variety or chorizo smoked pork version would also be delicious.
Use panko in place of pork rinds or regular breadcrumbs.
Another option to use as a topping is panko. If you like a little crunch on your mac and cheese, this is the way to go. Panko is a Japanese breadcrumb that contains bigger flakes than the typical breadcrumbs you find at the grocery store.
Trim the cauliflower before creating florets.
If you've never broken down cauliflower, know that it's similar to broccoli. First, cut off any leaves. Then, cut out the heavy stem at the base. It's OK to leave a bit of it, but try to remove the really hard stalk, as it's not great for eating.
Rinse the whole thing thoroughly. And finally, cut the remaining part into florets–aka little "trees". Or just chop roughly. It will taste the same regardless of how it looks. Just try to keep the pieces of similar size so it will cook evenly.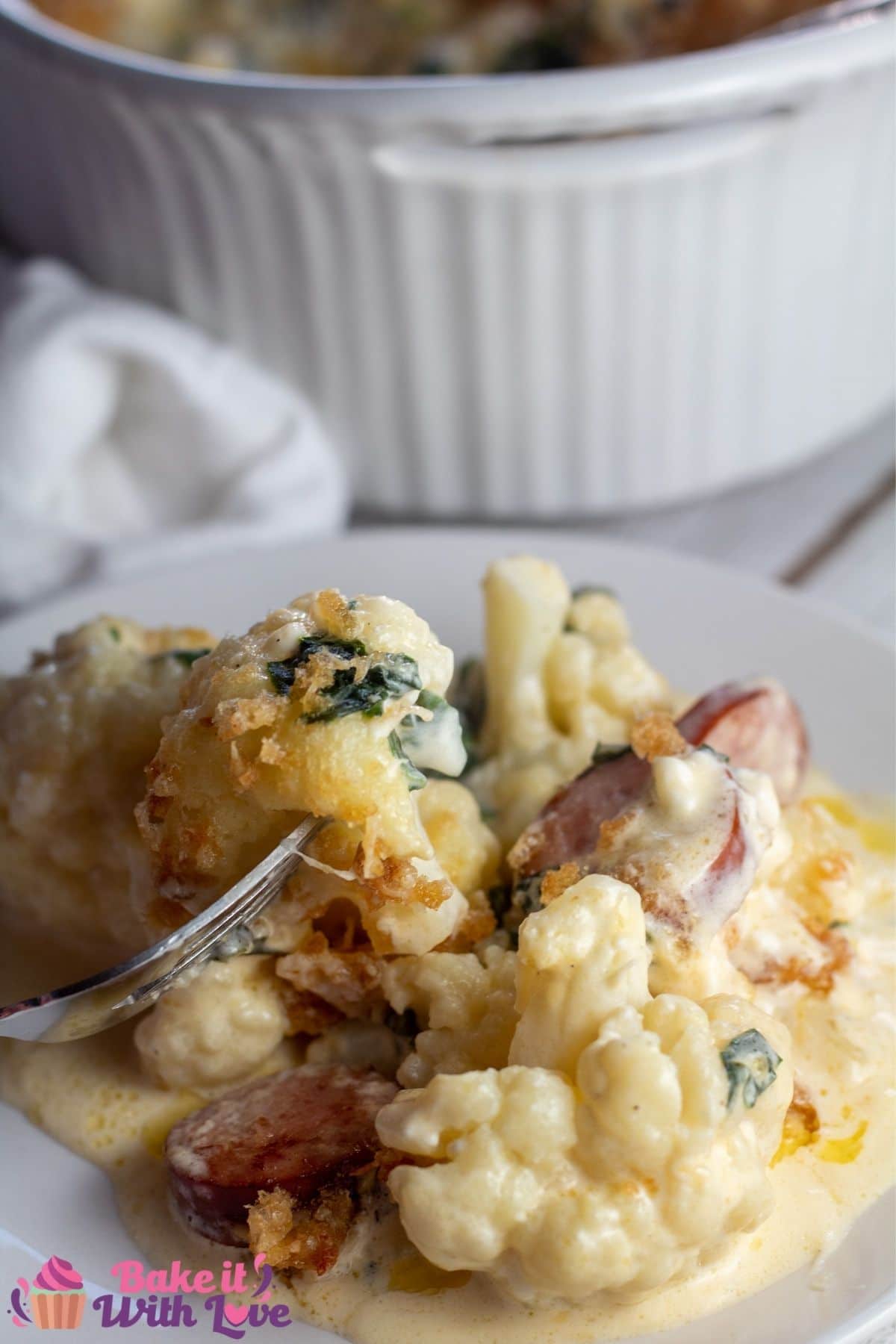 🥡 Storing & Reheating
Store any cauliflower mac and cheese leftovers in an airtight storage container. Properly stored, the leftovers will last for up to 3-5 days but are best enjoyed within the first 1-2 days.
I don't recommend freezing the cauliflower mac, even though it can be done.
Place your leftovers in an airtight freezer container or freezer storage bag and remove as much air as possible. Freeze for up to 3 months.
Allow to thaw in the refrigerator overnight before reheating.
Reheating
To reheat large amounts, bake in a foil-covered dish at 350℉ (176℃) for 20-25 minutes. For smaller portions, put them in a saucepan over medium heat and stir often until hot. Add some more heavy cream or even a drizzle of water to maintain a creamy, smooth sauce.
😋 More Great Mac & Cheese Recipes
---
❓ FAQ
Why would I use cauliflower instead of pasta?
Sometimes, people just love the earthy taste of cauliflower, or maybe they want to change things up a little. Other times, cooks are trying to add more vegetables–and the vitamins and minerals they provide–to their life.
For people on certain diets looking for ways to reduce their carbs, swapping pasta for cauliflower will do the trick. As an added bonus, there is even some extra fiber!
How can I keep my cauliflower mac and cheese from getting watery?
There are two reasons cauliflower can get watery. First, it's overcooked. When it's cooked too long, it releases water. You're aiming for tender-crisp. In other words, not quite as fully cooked as you would like if you were just eating it plain. You'll have to watch carefully when you put the whole dish in the oven as well. Start at the lower end of the cook time range and add extra time if needed.
The second reason cauliflower might get watery is that it's not fully cool when you add the cheese sauce. As it's cooling, it releases steam. Cheese sauce will trap it in the pan, leaving the water nowhere to go but the pan. When you're letting it cool after steaming, spread it out in a single layer on a towel-covered baking sheet if you want to be extra careful.
📋 Recipe
Print Recipe
Leave A Comment
Love This Recipe?
Click On A Star To Rate It!
Cauliflower Mac and Cheese
Delightfully rich, creamy, and tasty cauliflower mac and cheese can give any macaroni and cheese recipe a run for its money! Pasta or not, this hearty baked cauliflower mac is pure indulgence and just as good (if not better) than any other mac!
Pin Recipe
Share on Facebook
Ingredients
Baked Cauliflower Mac & Cheese
8

cups

cauliflower

(2 heads chopped into florets or 2 packages steamable cauliflower)

4

tablespoon

butter

(divided - 2 portions of 2 tablespoons each)

1 ½

cups

heavy cream

4

oz

cream cheese

(softened, cubed)

½

teaspoon

each, salt & pepper

¼

teaspoon

garlic powder

2

cups

baby spinach

(rough chopped)

2

cups

sharp cheddar cheese

(grated)

4

oz

smoked sausage

(sliced)
Topping (optional)
½

cup

pork rinds

(crushed, or use breadcrumbs)

2

tablespoon

Parmesan cheese

(grated)

butter

(use the 2nd 2 tablespoon portion of butter)
Instructions
Preheat your oven to 400°F (205°C) and lightly butter or grease your baking dish.

Steam your cauliflower until tender-crisp. Place the cauliflower in a microwave-safe bowl with 2 tablespoons of water and heat on high for 5-6 minutes. Drain off the excess water and transfer it into your prepared baking dish.

In a large saucepan, heat the heavy cream with butter over medium heat, stirring occasionally. Once the butter is melted, whisk in the cream cheese and seasoning (salt, pepper, and garlic powder) until smooth.

4 tablespoon butter,

1 ½ cups heavy cream,

4 oz cream cheese,

½ teaspoon each, salt & pepper,

¼ teaspoon garlic powder

Remove from heat and add the baby spinach, stir, then add the grated sharp cheddar cheese. Stir until melted.

2 cups baby spinach,

2 cups sharp cheddar cheese

Spread the sliced smoked sausage over the steamed cauliflower in your baking dish, then pour the sauce over both, Stir to mix if desired.

Mix the toppings ingredients in a small bowl (pork rinds or breadcrumbs, Parmesan cheese, and melted butter). Stir to combine then sprinkle over the cheesy cauliflower.

½ cup pork rinds,

2 tablespoon Parmesan cheese,

butter

Bake at 400°F (205°C) for 20-25 minutes until the cheese sauce is bubbling around the edges. Broil for 2-3 minutes to brown the top if desired. Serve immediately.
Nutrition
Calories:
601
kcal
(30%)
|
Carbohydrates:
10
g
(3%)
|
Protein:
19
g
(38%)
|
Fat:
55
g
(85%)
|
Saturated Fat:
32
g
(200%)
|
Polyunsaturated Fat:
2
g
|
Monounsaturated Fat:
16
g
|
Trans Fat:
1
g
|
Cholesterol:
179
mg
(60%)
|
Sodium:
855
mg
(37%)
|
Potassium:
603
mg
(17%)
|
Fiber:
3
g
(13%)
|
Sugar:
3
g
(3%)
|
Vitamin A:
2691
IU
(54%)
|
Vitamin C:
67
mg
(81%)
|
Calcium:
392
mg
(39%)
|
Iron:
1
mg
(6%)
baked cheesy cauliflower, Cauliflower Mac and Cheese, keto, vegetable side dish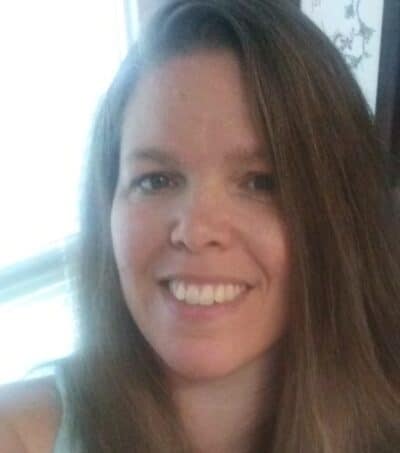 Angela is an at home chef that developed a passion for all things cooking and baking at a young age in her Grandma's kitchen. After many years in the food service industry, she now enjoys sharing all of her family favorite recipes and creating tasty dinner and amazing dessert recipes here at Bake It With Love!