This incredibly tasty Biscuit Chicken Pot Pie is a hearty casserole that combines tender pieces of chicken in classic pot pie filling with homemade cream biscuits! My biscuit-topped version of the well-loved comfort food is an easy dinner that never disappoints!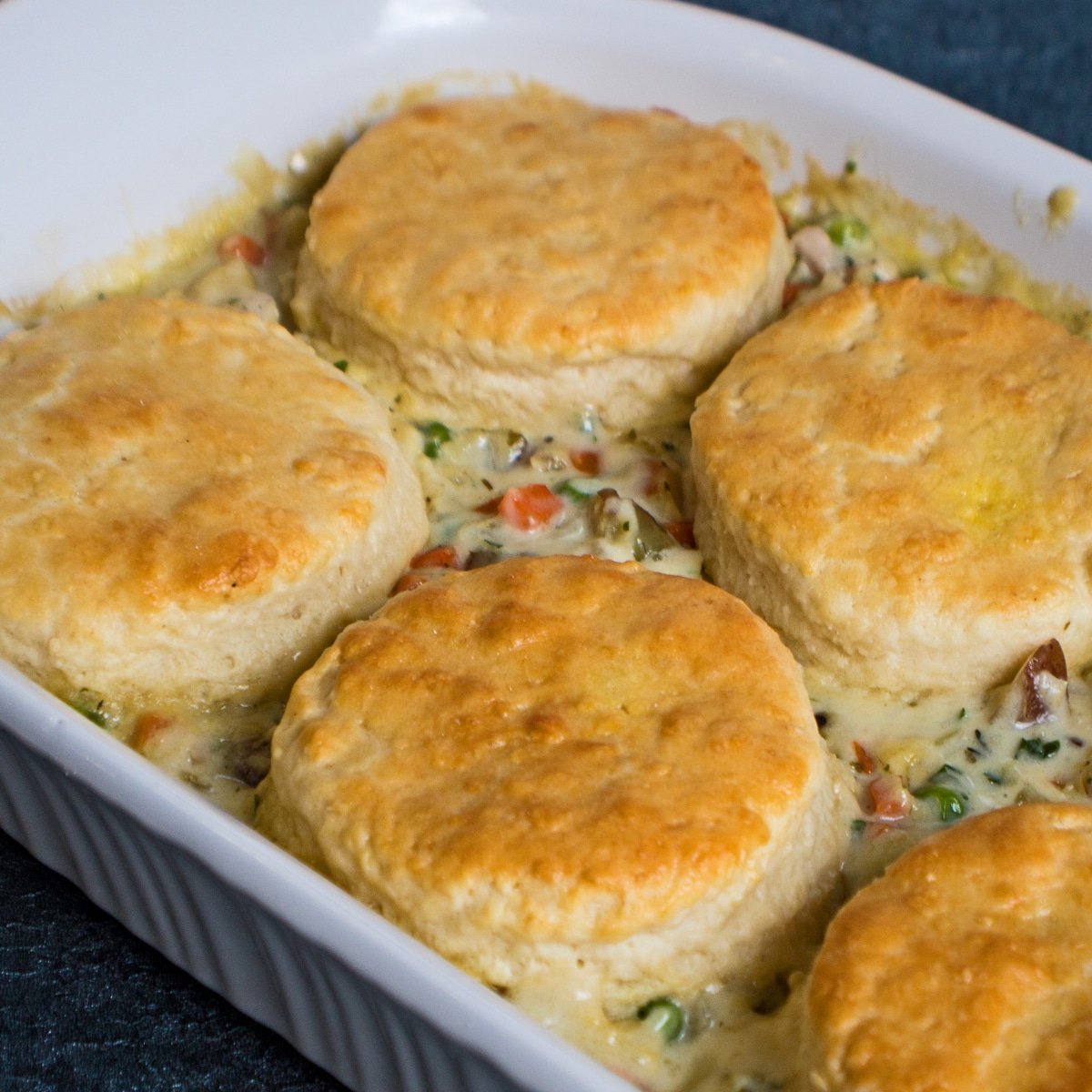 Easy Chicken Pot Pie with Biscuits
What's better than chicken pot pie? BISCUIT chicken pot pie!
Regular pot pie is typically made in a pastry-like pie shell. The topping gets nicely browned and crusty, but the bottom of the pie can end up being another story entirely.
My biscuit chicken pot pie is more like a casserole. You get all of the yummy goodness of traditional pot pie, but there's no bottom crust – just golden, tempting cream biscuits on the top! It's the best comfort food made BETTER!
Jump to:
This pot pie biscuit casserole is such a huge upgrade from traditional pot pie, you will never go back! The creamy filling and flaky biscuits are the ultimate in homemade comfort food goodness - and your family will ask for this casserole again and again!
Save your homemade chicken broth for this comforting family meal and if you're short on time, you can always substitute store-bought biscuits that come in a dough tube, found in the refrigerated section of the grocery store.
What You'll Need
There are quite a few ingredients (don't let that daunt you!), but most are pretty basic, making this biscuit pot pie easy to make any time!
Chicken Pot Pie Filling
Olive Oil – Extra Virgin is the best for flavor, but do use whatever you have on hand.
Yellow Onion – A white onion works well also, or shallot if you're looking for a milder onion flavor.
Garlic - Freshly peeled garlic is always the way to go, but the jarred version, garlic paste in a tube, or powdered garlic are all fine.
Celery – I love celery hearts best because they have more flavor than the outer stalks!
Carrot – These add flavor and a satisfying bit of crunch if they aren't overcooked.
Butter – You'll use this to make the "roux" or sauce thickener. You can mix any kind of fat with the flour to make a roux, but butter is the ultimate choice for maximum flavor.
All-Purpose Flour – You only need a little bit to create a wonderful gravy to surround the chicken and veggies.
Salt & Pepper – To taste, both are basic spices used to highlight all of your fabulous ingredients!
Thyme – Savory thyme, with notes of pepper and lemon, is a great flavor enhancer for this dish. It really complements the chicken. The dried version is perfect here.
Oregano – I would hardly ever choose a dried herb over fresh, but dried Oregano is incredibly flavorful, without dominating the dish. Rub the herb in your fingers a bit to release the flavor.
Parsley – Fresh is best for pot pie, mostly because the vibrant green color adds a spark to the dish and is perfect with chicken. However, if you don't like the taste, parsley is optional.
Chicken Broth – I always make broth after I serve a whole chicken to my family. Then I freeze it in 1-2 cup containers to use in recipes like this! You can use the canned or boxed version, but it won't beat homemade broth.
Chicken Breast – choose your favorite brand of boneless, skinless chicken – chicken thighs are great in this pie too!
Baby Red Potatoes – Keep the skin on so you get all the amazing nutrients in this root veggie!
Peas – Frozen peas are best. Canned peas tend to be mushy and less flavorful.
Heavy cream – Adds richness and makes the gravy delightfully creamy. You can also use Half & Half or milk, you just may need to make a slurry of flour and cold water to thicken the gravy more!
Cream Biscuits
These basic ingredients combine to make the most heavenly biscuits!
All-purpose flour – Also known as pastry flour, this is the best for making biscuits.
Baking powder - You can substitute with baking soda and some vinegar but cut the amount in half.
Salt – Flavor enhancer!!
Sugar - This ingredient may come as a surprise for a savory biscuit, but when a small amount of sugar interacts with the other ingredients, it enhances the overall flavor.
Heavy cream – The butterfat in heavy cream makes your biscuits tender and full of flavor.
Egg – One large egg but you can also use 2 small eggs if necessary.
How to Make Your Chicken Pot Pie
Just a few minutes of prep time to chop the chicken and veggies up and your pot pie casserole will come together in no time!
Homemade Chicken Pot Pie Filling
Add the olive oil to a large pot or a Dutch Oven on medium-high heat. Once the oil is shimmering and begins to smoke slightly, you can add the onion and garlic. Sauté until onion is translucent - approximately 2 - 3 minutes. *You can add the garlic at the last minute of cooking to prevent burning.
Add the chopped carrot and celery and stir continuously for another minute or two.
Next, add the butter and stir with the veggies until it melts.
Sprinkle the flour in slowly, stirring until everything is nicely combined.
Now it's time to slowly add the chicken broth, starting with a small amount, until the flour is fully integrated into the gravy. Then add all the herbs and spices (oregano, thyme, parsley, salt, and pepper). Keep stirring continuously and then add the remaining chicken broth.
Stir in the diced chicken and potatoes and bring it all to a simmer for about 2 minutes. Throw the peas in and simmer for 2 more minutes.
While stirring, add in the heavy cream. Now is a great time to taste and adjust spices as necessary.
Set aside while you prepare the biscuits.
Cream Biscuits from Scratch
Using a large bowl, combine the sugar, flour, baking soda, and salt. Whisk until they are all combined. Add the cream to the dry mixture and mix until it is a crumbly dough.
Place the dough on a lightly floured surface and squeeze all the dough pieces into a ball.
Press the dough flat into a disc shape, then fold, repeat, and fold in half again. Cover with a warm, damp towel (cling film works also) and set aside for 30 minutes.
After the dough has rested, form it into desired thickness and use a knife, a cookie-cutter, or a glass to cut out the biscuits.
Assemble and Bake
Grease a 2-quart baking dish and preheat your oven to 400ºF (205ºC).
Spoon the chicken pot pie filling into the casserole dish and place the biscuits on top. Brush the biscuits with an egg wash.
Bake for 12 to 15 minutes, or until the biscuits look golden brown and you see the pie filling bubbling at the edges. Serve immediately.
Storing & Reheating Leftovers
Your leftover biscuit chicken pot pie casserole can be stored in an airtight container for 2 - 3 days in the refrigerator. Make sure that the casserole is fully cooled before storing.
To reheat your pot pie, place your desired portion into an oven-safe dish and heat at 350ºF (175ºC) for approximately 10 minutes, or until fully warmed. You can also microwave your casserole portion(s) on high for 1 minute, then in 30-second increments until it reaches your desired temperature.
📋 Recipe
Print Recipe
Leave A Comment
Love This Recipe?
Click On A Star To Rate It!
Biscuit Chicken Pot Pie
This incredibly tasty Biscuit Chicken Pot Pie is a hearty casserole that combines tender pieces of chicken in classic pot pie filling with homemade cream biscuits! My biscuit-topped version of the well-loved comfort food is an easy dinner that never disappoints!
Pin Recipe
Share on Facebook
Ingredients
Chicken Pot Pie Filling
1

tablespoon

olive oil

(extra virgin)

¼

cup

yellow onion

(finely diced - or white onion, or shallot)

1

teaspoon

garlic

(minced - or use ½ teaspoon garlic powder)

½

cup

celery

(chopped - 1 to 2 ribs celery)

½

cup

carrot

(chopped - ½ to 1 carrot)

1

tablespoon

butter

1

tablespoon

all-purpose flour

½

teaspoon

each, salt & pepper

(to taste)

½

teaspoon

thyme

¼

teaspoon

oregano

2

tablespoon

parsley

(fresh, chopped - optional)

¾

cup

chicken broth

½

lb

chicken breast

(breast or thigh meat, diced into small pieces)

3

baby red potatoes

(diced into small pieces)

½

cup

peas

(thawed)

⅓

cup

heavy cream
Instructions
Make the Chicken Pot Pie Filling
Bring a stockpot or Dutch oven to medium-high heat with the olive oil. Once the olive oil shimmers, add the onion and garlic. Saute until fragrant and the onion is starting to get tender and translucent, about 2-3 minutes.

Add the chopped celery and carrot and continue to saute with the onions and garlic for an additional 1-2 minutes.

Add the butter and stir it in with the sauteed base while it melts. Next, stir the flour into the melted butter and vegetable combination.

Gradually add the chicken broth. Add a small amount at first and mix until the flour is thoroughly incorporated into the 'gravy' base. Add the seasoning including salt, pepper, thyme, oregano, and parsley. Stir to combine, then add the remaining chicken broth.

Add the diced chicken meat and diced potatoes, stir to combine, and bring to a simmer. Simmer for 2 minutes, then add the thawed peas and continue to simmer for an additional 1-2 minutes.

Add the heavy cream and stir. Taste and adjust seasoning as needed. Remove from heat while you make the biscuits.
Make the Cream Biscuits
In a large mixing bowl, combine the all-purpose flour, baking powder, salt, and sugar. Whisk or run a fork through to combine. Add the heavy cream to the dry mixture, then mix until a crumbly dough is formed.

Turn the dough out onto a lightly floured working surface. Pull all of the pieces together and start squeezing them into a round ball of dough.

Press the dough out to a flattened disc and fold in half, repeat, and fold in half again. Cover with cling film or a warm, damp tea towel and allow to rest for 30 minutes.

Uncover the dough and use your hands to press out to your desired biscuit thickness. Cut into biscuits.
Assemble the Biscuit Chicken Pot Pie
Preheat your oven to 400 degrees F (205 degrees C) and lightly grease your 2-quart baking dish.

Transfer the chicken pot pie filling into your prepared casserole dish. Top with the cut biscuits, then brush the biscuits with egg wash using a pastry brush.

Bake the casserole at 400 degrees F (205 degrees C) for 12-15 minutes, or until the biscuits are golden and the pot pie filling is bubbly around the edges. Remove from the oven when done and serve immediately.
Video
Notes
This casserole is ideal for using up leftover chicken pot pie filling, which can be refrigerated for 2-3 days so that you and your family get a pot pie break in the week!
---
To make this tasty casserole easier, you can also use store-bought Grands biscuits or Bisquick for making your biscuits.
---
If using Half & Half or milk, make a slurry of 1-2 tablespoons of flour with an equal amount of cool or cold water. Mix until smooth and add until your desired gravy thickness is reached.
Nutrition
Calories:
594
kcal
(30%)
|
Carbohydrates:
60
g
(20%)
|
Protein:
17
g
(34%)
|
Fat:
33
g
(51%)
|
Saturated Fat:
19
g
(119%)
|
Trans Fat:
1
g
|
Cholesterol:
129
mg
(43%)
|
Sodium:
817
mg
(36%)
|
Potassium:
1258
mg
(36%)
|
Fiber:
4
g
(17%)
|
Sugar:
5
g
(6%)
|
Vitamin A:
3175
IU
(64%)
|
Vitamin C:
20
mg
(24%)
|
Calcium:
258
mg
(26%)
|
Iron:
4
mg
(22%)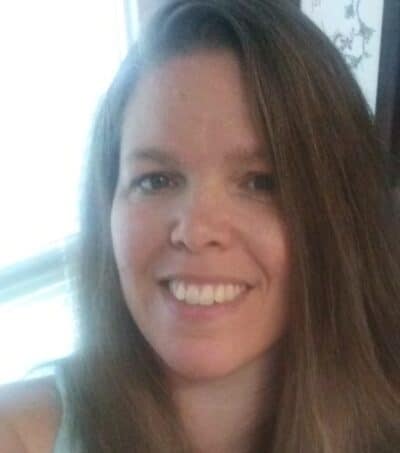 Angela is an at home chef that developed a passion for all things cooking and baking at a young age in her Grandma's kitchen. After many years in the food service industry, she now enjoys sharing all of her family favorite recipes and creating tasty dinner and amazing dessert recipes here at Bake It With Love!