Here is a useful list of options if you're looking for a thyme substitute but not sure what ingredients to use! No matter the dish, there is an easy alternative to replace thyme!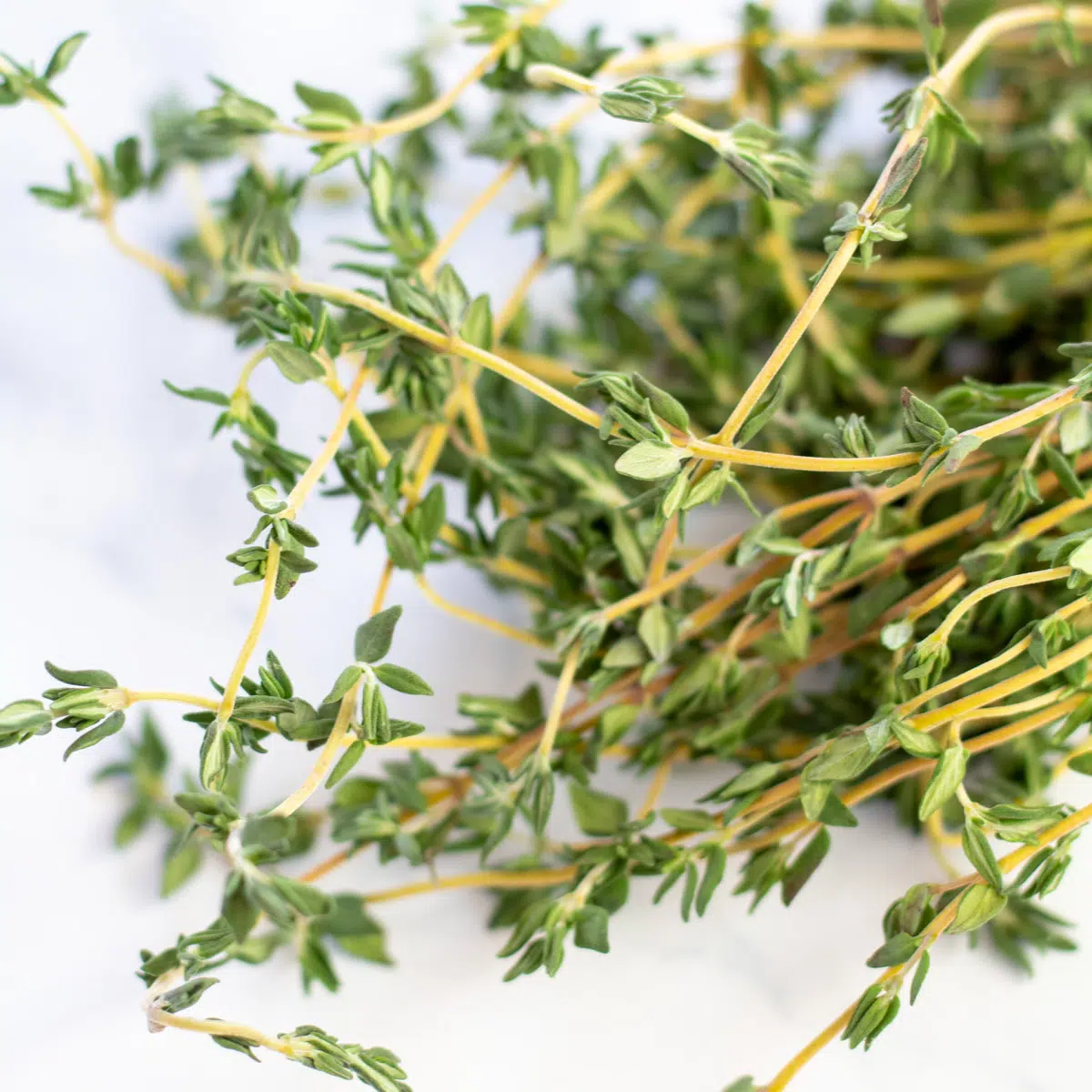 A list of simple substitutions for cooking without Thyme!
In the kitchen there are several ingredients that you know must find a substitute for if you run out. Eggs, milk, even chicken broth.
These ingredients are often the base for an entire recipe and if you leave them out, or don't find an appropriate substitute, then it is unlikely you will be able to successfully execute your dish.
Jump to:
What about seasonings though? It may seem tempting to skip the seasoning if you don't have it on hand.
In some cases, it may not impact the flavor all that much. However, skipping certain seasonings may leave you with a rather bland-tasting dish.
Thyme is one of those seasonings. An aromatic herb, thyme is used to add a distinct flavor when used in a recipe. So, rather than skipping it all together when you run out - find a similar aromatic substitute.
What is Thyme?
Thyme is a member of the mint family. This may give you a good idea of the fresh aroma and taste thyme offers to a dish, and how leaving it out with no substitution can lead to a rather boring taste.
Thyme is an herb that is commonly used to season savory dishes. It can be used alone and alongside other herbs. Common herbs to mix with thyme are sage, oregano, and rosemary.
Like many herbs, you can use thyme as a fresh herb or dried. Many recipes call for dried thyme, making it an important herb to keep on hand in your pantry or spice cupboard.
While it won't last quite as long, fresh thyme will stay fresh in the refrigerator for up to several weeks. If you always want fresh thyme on hand, you can even grow your own at home!
What does Thyme taste like?
Even if you don't frequently cook with thyme in your own kitchen, you will probably recognize the smell and taste simply because of its frequent use.
Even though it is a member of the mint family, it has a more bitter and earthy flavor profile than common mint. It is described as having hints of wood, grass, and floral notes.
How is Thyme Used?
Thyme has a wide range of uses and is not specific to one type of cuisine. You will find it used in many dishes in the United States, as well as European, Mediterranean, Latin American, Central American, and African cuisine.
The most common dishes that call for thyme are savory dishes that include meat and vegetables, including certain seafood. It is also a popular addition to certain soups, stews, and savory sauces.
Two unique places you may be surprised to find thyme, but where it adds a beautiful floral herb flavor, is in savory baking and craft cocktails!
Fresh Thyme vs. Dried Thyme
While some herbs are preferred in their fresh form for the best flavor, thyme provides a similar flavor profile both dried and fresh. This makes it easy to use dried or fresh thyme interchangeably in recipes.
The main difference is that to get the most flavor from the thyme, you want to add it to a recipe with some moisture to rehydrate it and activate the flavor. Rehydrating dried thyme is easy as most recipes include a sauce, broth, water, or dairy base that naturally activates the dried herb.
When cooking or baking with fresh thyme it is best to focus on using the leaves. You can add the fresh leaves whole or chopped up.
While the stems do offer flavor, they will not break down during cooking to an edible form. Therefore, they work best to use in a sauce or soup that needs to simmer and in which you can easily remove them before serving.
While dried thyme works equally as well as fresh in cooked dishes, one place you may find fresh thyme is better suited is in cold dishes – or a cocktail!
How to Substitute for Thyme
Since fresh and dried thyme are easily used in place of one another, it is equally as easy to substitute another herb for either one. Most herbs can be substituted in a simple 1:1 exchange if using a fresh herb for fresh thyme or a different dried herb for dried thyme.
Keep in mind that many dried herbs have a stronger profile than their fresh counterparts. Therefore, you may need to cut the amount in half when swapping dried herbs for fresh thyme or double the fresh herbs you swap for dried thyme.
The Best Substitutes for Thyme in Savory Cooking
Even though thyme is versatile on its own, from cooking to baking to the bar, not all substitutes are as versatile.
When choosing a substitute, make sure to select one based on not only what you have in your kitchen cabinet but that will best complement the type of recipe you are making.
For savory dishes such as slow-roasted or braised beef, soups, stews, and other similar dishes – select a substitute from the list below. If you are looking for a substitute for baking or crafting cocktails, jump to the list at the bottom.
1. Oregano
Oregano is one of the best substitutes for Thyme, as it has one of the closest flavor profiles. It is also one of the more popular herbs that you may already have at home.
When substituting oregano for thyme, you will get the best results from substituting fresh oregano for fresh thyme or dried oregano for dried thyme. You can make a simple 1:1 swap for either of these.
If you only have dried oregano and the recipe calls for fresh thyme, then use half the amount of dried oregano. For example, if the recipe calls for 1 teaspoon of fresh thyme use ½ teaspoon of dried oregano.
2. Marjoram
Marjoram is one of those herbs that many home cooks do not use frequently and may not even know about. However, it is a versatile herb like both oregano and thyme and a great addition to any spice cabinet.
Marjoram provides the same woodsy and floral aromas of thyme and oregano, but it is milder than oregano. It is also slightly sweeter.
This makes it a good substitute for a dish where you still want to substitute for the thyme, but you don't want the strong aroma of oregano.
If using fresh for fresh or dried for dried, you can do a simple 1:1 swap.
When substituting dried marjoram for fresh thyme, use half the amount.
On the other hand, if you are swapping fresh marjoram for dried thyme you will want to use double what the recipe calls for.
For example, 2 teaspoons of fresh marjoram for 1 teaspoon of dried thyme.
3. Marjoram + Parsley
Some may find marjoram to be a bit too sweet for a savory dish. In this case, you can balance out the sweet notes by adding parsley.
Follow the same ratio above for substituting marjoram for thyme and then add ½ the amount of chopped parsley.
For example, Add ½ teaspoon of chopped parsley to 1 teaspoon of marjoram in place of 1 teaspoon of thyme.
4. Fresh Parsley
While parsley has a brighter taste and is less earthy than thyme, it can also work on its own as a substitute. It is a good option for when you need a substitute for fresh thyme in a cold dish, such as a dip or salad.
You can replace fresh thyme with fresh parsley in a 1:1 ratio.
5. Rosemary
Rosemary is a delightful herb that is also extremely versatile. While it has its own distinct flavor, it is a delicious substitute for thyme.
It is especially tasty on potatoes and chicken but can also be the perfect addition to savory breads and even salads.
Replace dried or fresh thyme with dried or fresh rosemary in a 1:1 substitution.
Rosemary is also a perfect herb to pair with thyme. If you have a little bit of thyme, but not enough for a recipe, try replacing the portion you are missing with rosemary.
You can also try this out if you just want a new twist on a thyme-flavored dish!
6. Sage
Sage is an herb that gets a lot of attention around Thanksgiving (think of your favorite stuffing) but has a lot to offer year-round. As a substitute for thyme, it offers a similar earthy taste.
However, sage is one substitute that has its own distinct flavor; therefore, be mindful that it will change the overall taste a bit.
Sage is also known for bringing out the other flavors it is surrounded by. Therefore, it is a great option when you need a substitute in a dish with several other seasonings.
7. Basil
When looking for a substitute for fresh thyme, fresh basil is a great option. This fresh herb has a bright flavor profile that is a delightful addition to many dishes. (It is also a great choice for replacing thyme in savory cocktails.)
Basil has the addition of a licorice-like taste that should be considered when using it as a substitute, as it will provide a distinctly different final flavor than thyme.
Fresh basil is stronger in flavor than fresh thyme. Therefore, use half the amount of fresh basil in place of fresh thyme.
Dried basil loses quite a bit of flavor though, so you can use equal parts dried basil for dried thyme in a 1:1 ratio.
8. Savory
When you need a replacement for thyme in a savory dish, consider an herb called savory! Less common in most kitchens, this herb is a member of the same herb family as the others listed above.
Savory offers a milder overall flavor profile compared to thyme but offers a nice complex earthy and peppery taste that elevates other flavors in a dish.
Use an equal 1:1 ratio of savory for thyme in any dish.
9. Tarragon
Popular in French cuisine, tarragon can be used in place of thyme in any recipe. It provides many similar qualities to thyme but is a bit milder in the overall flavor.
In France, it is a popular addition to chicken or fish dishes so the next time you need a thyme substitute try tarragon for a French-inspired taste!
Use tarragon in a 1:1 ratio for thyme in any recipe. It is best to replace dried tarragon for dried thyme or fresh tarragon for fresh thyme.
Dried Seasoning Substitutes
When looking for a substitute for dried thyme there are some additional dried herb blends that can be used for similar flavors.
Many of these blends include thyme which makes them a great choice for dishes where you want to taste the thyme.
These four herb blends are great for seasoning meat, vegetables, casseroles, soups, sauces, or other hot dishes.
10. Italian Seasoning
Italian seasoning includes thyme, oregano, basil, marjoram, rosemary, tarragon, plus bay leaf, and sometimes even a bit of lavender.
While it is perfect for any Italian-inspired dish, it can also be used in other dishes that call for thyme.
Use Italian Seasoning in a 1:1 ratio for dried thyme.
11. Herbs de Provence
Herbes de Provence is a similar blend to Italian seasoning. It contains a blend of many of the same herbs, but in different quantities.
One of those key herbs is thyme. Popularly used in French cooking, this blend is a great choice for Mediterranean dishes that include fish or chicken.
Use Herbs De Provence in a 1:1 ratio for dried thyme.
12. Poultry Seasoning
Poultry seasoning includes thyme and marjoram, but also has unique ingredients like nutmeg, black pepper, and salt. It is best used to season chicken or chicken dishes.
This blend can be a bit more overpowering than thyme on its own; therefore, start with half the amount that the recipe calls for and then add more as needed.
Due to the salt in the blend, you may also want to omit any additional salt the recipe calls for.
13. Za'Atar
Za'Atar is a popular choice for seasoning Mediterranean dishes. Like the other blends, thyme is a key ingredient. It also contains marjoram, lemony sumac, and sesame seeds.
Like poultry seasoning, it is best to start with half the amount the recipe calls for and then add more to taste. This is a great option for any dish that you want to add a Mediterranean flair to.
Baking and cocktails
When choosing a substitute for thyme in savory baked goods or craft cocktails, use your judgment as to the overall flavor you want to come through. While dried herbs can work well in savory breads, stick to fresh herbs for cocktails.
Here are three favorites for replacing thyme in baking and cocktails.
Choosing the Right Substitute
There is no right or wrong answer here, all of these substitutions serve their purpose. It just depends on the dish or drink that called for thyme in the first place.
As it turns out, many herbs and seasonings used to replace thyme are kitchen staples. You will likely have plenty of options to choose from when you raid your spice cabinet!
Take a look at the options you have available and pick the flavor that would taste best in your dish!
More substitutes to use in the kitchen!
If you try any of these thyme alternatives, let us know how your dish turns out by commenting below!
Do you love a recipe you tried? Please leave a 5-star 🌟rating in the recipe card below and/or a review in the comments section further down the page.
Stay in touch with me through social media @ Pinterest, Facebook, Instagram, or Twitter! Subscribe to the newsletter today (no spam, I promise)! Don't forget to tag me when you try one of my recipes!
📖 Recipe Card
Print Recipe
Leave A Comment
Love This Recipe?
Click On A Star To Rate It!
Best Thyme Substitute (13 Easy To Use Alternatives!)
Here is a handy and useful list of options if you're looking for a thyme substitute but not sure what other herbs or ingredients to use! No matter the dish, there is an easy alternative to replace thyme!
Share on Facebook
Ingredients
Option 1 (Best Overall Substitute) - Oregano
Option 2 (Best Dried Substitutes) - Italian Seasoning or Herbes de Provence
1

teaspoon

Italian seasoning or Herbes de Provence
Help Us Out!
If you love a recipe, be sure to come back and share your ratings. This helps future users, and allows me to continue sharing free recipes! Angela
Instructions
Option 1 (Best Overall Substitute) - Oregano
Use oregano in a 1:1 ratio of equal amounts as the thyme called for in any recipe.
Option 2 (Best Dried Substitutes) - Italian Seasoning or Herbes de Provence
Use Italian seasoning or Herbes de Provence dried herb blends in the same amounts of the thyme that your recipe is calling for.

1 teaspoon Italian seasoning or Herbes de Provence
Notes
*Nutritional information is calculated for oregano only.
Nutrition
Calories:
13
kcal
(1%)
|
Carbohydrates:
3
g
(1%)
|
Protein:
1
g
(2%)
|
Fat:
1
g
(2%)
|
Saturated Fat:
1
g
(6%)
|
Polyunsaturated Fat:
1
g
|
Monounsaturated Fat:
1
g
|
Sodium:
1
mg
|
Potassium:
63
mg
(2%)
|
Fiber:
2
g
(8%)
|
Sugar:
1
g
(1%)
|
Vitamin A:
85
IU
(2%)
|
Vitamin C:
1
mg
(1%)
|
Calcium:
80
mg
(8%)
|
Iron:
2
mg
(11%)
substitutions, Thyme Substitute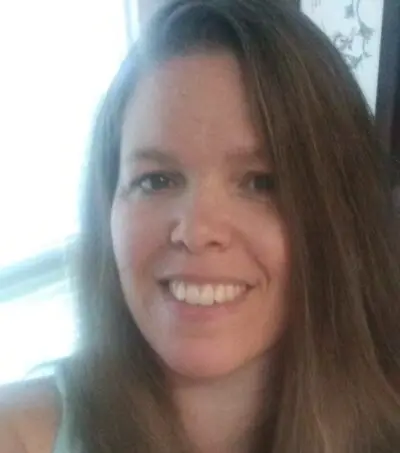 Angela is an at home chef that developed a passion for all things cooking and baking at a young age in her Grandma's kitchen. After many years in the food service industry, she now enjoys sharing all of her family favorite recipes and creating tasty dinner and amazing dessert recipes here at Bake It With Love!