If you are in need of a fish sauce substitute but aren't sure what to use, here is a list of the best simple alternatives you can use in a pinch! Finding a substitution is important because fish sauce adds a certain flavor that many dishes would be lacking without!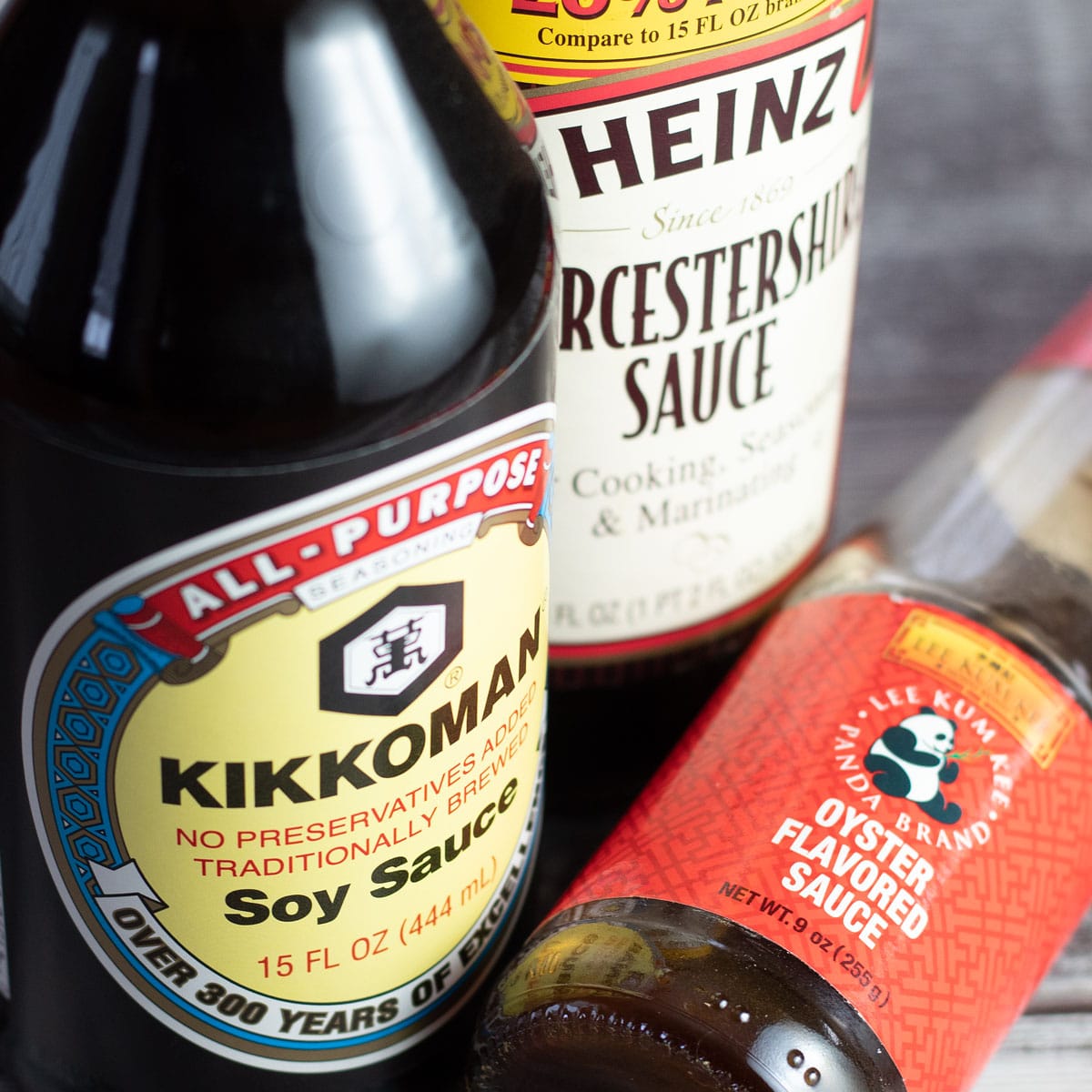 A list of substitutions that come pretty darn close to the umami flavor of fish sauce!
If you are a fan of Thai food or other Asian cuisine, then you have most likely come across fish sauce in a dish or two. You may not have known that it was fish sauce you were tasting. You just knew it tasted delicious!
This rich and flavorful sauce is a rich brown color with a unique and complex flavor. Many describe it as having an umami taste with the slightest bit of sweetness.
Jump to:
Umami is a flavor profile that many describe as savory and earthy. It is a popular flavor profile in Asian dishes (as it derives largely from glutamates, especially monosodium glutamate or MSG).
The flavor specific in fish sauce has its own unique balance of salty, savory (umami), and sweet. It is one of the most common ingredients used for seasoning Southeast Asian cuisine.
It has even been said that for Thai food to be considered Thai food, it must contain fish sauce!
If this ingredient is so important to creating authentic tasting dishes, then you may think there are not any other options. Guess what? There are!
What is Fish Sauce?
While fish sauce is a key ingredient in delivering authentic taste in Southeast cuisine there are many reasons that using fish sauce may not be an option. One of the reasons may be because of what fish sauce is made from.
Fish sauce is made from a combination of shellfish and other small fish that are fermented with salt. Unfortunately, for many people who are allergic to shellfish this means they cannot indulge in the delicious dishes with this sauce.
A shellfish allergy may be the reason you are looking for recipes to make your own Asian recipes at home! Another dietary reason for needing as substitute may be if you or someone you are cooking for is vegan or vegetarian.
While dietary restrictions are a popular reason for needing a substitute, it can also just be that you ran out of fish sauce, can't find it at your grocery store, or you simply want to explore a different taste.
Whatever your reason may for seeking a substitute, any of the alternatives below will provide a tasty alternative.
The Best Substitutes for Fish Sauce
As with any substitute, there is not an exact match in taste for fish sauce. However, fish sauce is one of those ingredients you can get pretty close!
Another great thing about substitutes for fish sauce is that most of them are easy to find in any grocery store. In fact, you may already have some of these in your kitchen.
1. Soy Sauce
Soy sauce is the most popular alternative for fish sauce because it is the easiest to find.
Many people already have this at home or know exactly where to find it at the store. The main difference between soy sauce and fish sauce is that soy sauce has a less complex flavor. Therefore, soy sauce is best used as a substitute in stir-fry, fried rice, or noodle dishes that naturally have a variety of other flavors.
If you are not opposed to adding fish to your recipe you can elevate the soy sauce by adding anchovies. Add 1 finely minced anchovy fillet to every tablespoon of soy sauce used. You can also add a splash of rice vinegar to the soy sauce, instead of anchovies.
Simply replace the fish sauce in your recipe with equal amounts soy sauce in a 1:1 ratio.
Keep in mind that soy sauce does contain wheat and soy. Therefore, if you have a gluten-sensitivity or soy allergy soy sauce will not work for you. Try coconut aminos instead.
2. Tamari
Tamari is a type of soy sauce. Unlike traditional soy sauce though, it is traditionally made without wheat. This makes it a popular alternative for fish sauce for those who need to avoid gluten.
While both tamari and soy sauce contain soybeans, tamari has a slightly higher soy content from the miso paste it is made with. This higher soybean content creates a flavor that is stronger than soy sauce, yet less salty.
Like soy sauce, tamari is best used in dishes that have other strong flavors to pull from; however, both soy sauce and tamari can be used in any recipe.
Replace fish sauce with an equal 1:1 ratio of tamari in any recipe.
While most tamari is completely gluten-free, it can vary from brand to brand. If a gluten-free option is your priority make sure to review the label.
3. Oyster Sauce
Oyster sauce is another popular sauce used for seasoning Asian dishes. It is made in a similar way to fish sauce, except that it is made by cooking oysters. Due to this, oyster sauce is not a suitable substitution for those who have a shellfish allergy.
However, if you do not need an alternative because of an allergy, oyster sauce is a great option for offering a similar rich flavor in stir-fry dishes. Oyster sauce is best used as a substitute in stir-fry dishes and other similar dishes with meat and vegetables.
While oyster sauce can be used in a 1:1 ratio for fish sauce, there are a couple things to keep in mind.
Oyster sauce is thicker than fish sauce so you may want to add a bit of water to thin it out. Oyster sauce is also often made with sugar, making it sweeter than fish sauce.
Thinning the sauce with water before measuring it can help with the consistency and sweetness.
4. Seaweed
While seaweed is not a traditional alternative in the form of a sauce, it does offer many great benefits as a substitute. Especially for those who want a minimally processed, allergy free, and vegan friendly substitute.
The natural taste of seaweed provides a strong earthy umami flavor that is common in many dishes that call for fish sauce. Seaweed is quite a bit stronger though, so if you do not want an elevated umami flavor profile this may not be the best substitute.
Dried or fresh seaweed can be substituted in any recipe that calls for fish sauce. The most difficult thing when swapping the two is finding the correct ratio.
Since seaweed is not a liquid it is tricky to get an exact measurement to compare to the fish sauce. The best approach is to begin with a little bit and add more as needed.
5. Coconut aminos
Coconut aminos are a popular alternative to soy sauce for those who have wheat and soy allergies. Made from the sap of coconut trees, coconut aminos are gluten-free, soy-free, and vegan friendly!
They also provide a deep rich flavor that resembles the umami flavor in fish sauce. This makes them a tasty alternative for any recipe calling for fish sauce.
Since coconut aminos are in liquid form they can be used in a 1:1 ratio for fish sauce.
While coconut aminos can be used in any dish that calls for fish sauce, they are slightly sweeter than both fish sauce and soy sauce.
In many dishes this slightly sweet aftertaste adds some complexity beyond that of soy sauce and can be a nice addition. To get the best of both flavor profiles, add a splash of soy sauce to the dish after adding the coconut aminos.
6. Liquid Aminos
Like coconut aminos, liquid aminos are another popular alternative for fish sauce and soy sauce. They are also gluten-free and vegan friendly; however, they do contain soy.
Made from fermenting soybeans with salt or acidic solution, they provide a similar earthy and savory taste to soy sauce that can be a good substitution for fish sauce.
You can use liquid aminos in a 1:1 ratio for fish sauce.
If you want to create a more complex taste, and you don't mind fish, you can follow the same directions above for adding anchovies to soy sauce.
7. Worcestershire Sauce
Even if you don't use this condiment frequently, you probably have a bottle of this dark savory sauce in somewhere in your kitchen! Originally from England, Worcestershire sauce has become a staple in many kitchens worldwide.
While you have probably used this sauce before, you may not know that it is made in a similar fashion to fish sauce. Worcestershire is also made from fermenting fish.
However, it includes several other ingredients: anchovies, molasses, tamarind, vinegar, cloves, onions, and other seasonings that have all been aged in barrels.
The complex and rich flavor profile of Worcestershire sauce makes is one of the best alternatives for fish sauce. For those who are allergic to shellfish, but not regular fish, this is a great option!
Simply swap your fish sauce for equal amounts Worcestershire sauce in a 1:1 ratio for any recipe.
8. Vegan Fish Sauce
If your main goal for a substitute is to avoid the shellfish or fish in the traditional sauce, then are in luck. There are several vegan fish sauce options!
Often made from a combination of shitake mushrooms, seaweed, water, and either soy sauce or tamari, this combination provides a similar flavor profile to the traditional sauce.
While you can make your own, vegan fish sauce is a popular condiment and becoming easier to find in mainstream grocery stores. You can also order it online.
Use the vegan version exactly as you would the traditional sauce in any recipe with a 1:1 ratio.
9. Mushroom Broth
Mushrooms are known for having an earthy flavor that many describe as umami. Therefore, mushroom broth is a tasty alternative for fish sauce. It is especially great for recipes like soups and sauces.
While mushroom broth is a great option, it does take some extra preparation as it is not a pre-made substitute you'll find in the store.
Follow the directions below to make your own mushroom broth and then use it in a 1:1 ratio for fish sauce:
½ cup shiitake mushrooms
4 cups of water
¼ cup soy sauce (or tamari)
2 ½ tablespoons salt
Put all ingredients in a pot and bring to a boil. Turn the heat to low and let the mixture simmer. It is finished when the liquid has reduced by half. Strain and save!
If you want to increase the flavor profile you can also add 1-2 sheets of dried seaweed.
How to Use Fish Sauce
With so many ways to substitute for fish sauce you can now make all your favorite Southeast Asian dishes at home!
Fish sauce is used to create the flavor of many favorite and well-known dishes like Pad Thai and dipping sauces for spring wraps.
While these traditional dishes are quite easy to make at home, you can also use fish sauce as a quick addition to a simple stir-fry, soup, or fried rice.
Whether you choose to try the original fish sauce or go with an alternative just follow the directions of the recipe.
As you can see above all these substitutes replace fish sauce in equal parts. Just swap and stir!
If you tried any of these great fish sauce substitutions while cooking, let us know which option worked for you by leaving us a comment below!
📋 Recipe
Print Recipe
Leave A Comment
Love This Recipe?
Click On A Star To Rate It!
Fish Sauce Substitute: Homemade Mushroom Broth (+More Great Ideas!)
If you are in need of a fish sauce substitute but aren't sure what to use, here is a list of the best simple alternatives you can use in a pinch! Finding a substitution is important because fish sauce adds a certain flavor that many dishes would be lacking without!
Share on Facebook
Ingredients
½

cup

shitake mushrooms

(sliced)

4

cups

water

¼

cup

soy sauce

(or tamari)

2 ½

teaspoon

salt

(to taste)

dried seaweed sheets

(optional 1 or 2 sheets - aka nori, laver or laverbread, and gim)
Instructions
Combine all of the broth ingredients in a large saucepan (shitake mushrooms, water, soy sauce (or tamari), salt, and optional dried seaweed sheets) and bring to a boil.

½ cup shitake mushrooms,

4 cups water,

¼ cup soy sauce,

2 ½ teaspoon salt,

dried seaweed sheets

Once the broth reaches a boil, reduce the heat to low and simmer until reduced by about half the liquid volume.

Remove from heat and strain through a fine mesh sieve. Serve or store for later use.
Equipment You May Need
Notes
The broth should reduce by about ½ to make roughly 2 cups of broth and several servings. We have calculated the nutrition at 16 servings (2 tablespoons each).
Store in an airtight container and keep refrigerated for up to 5 days or frozen for up to 6 months.
Nutrition
Calories:
5
kcal
|
Carbohydrates:
1
g
|
Protein:
1
g
(2%)
|
Fat:
1
g
(2%)
|
Saturated Fat:
1
g
(6%)
|
Polyunsaturated Fat:
1
g
|
Monounsaturated Fat:
1
g
|
Sodium:
569
mg
(25%)
|
Potassium:
21
mg
(1%)
|
Fiber:
1
g
(4%)
|
Sugar:
1
g
(1%)
|
Vitamin C:
1
mg
(1%)
|
Calcium:
3
mg
|
Iron:
1
mg
(6%)
fish sauce alternatives, Fish Sauce Substitute, substitutions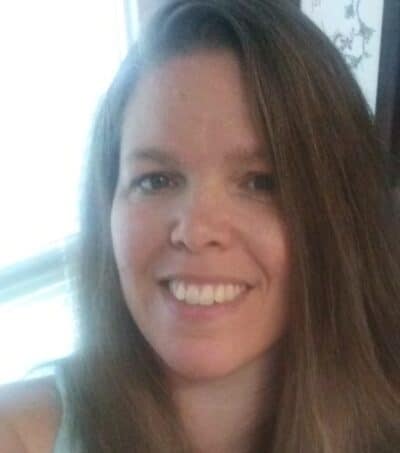 Angela is an at home chef that developed a passion for all things cooking and baking at a young age in her Grandma's kitchen. After many years in the food service industry, she now enjoys sharing all of her family favorite recipes and creating tasty dinner and amazing dessert recipes here at Bake It With Love!