Choosing from this list to pick the best sour cream substitute doesn't have to be hard, it just depends on what you're making! Sour cream is in many different recipes, so knowing how to replace it with the right ingredients is useful information!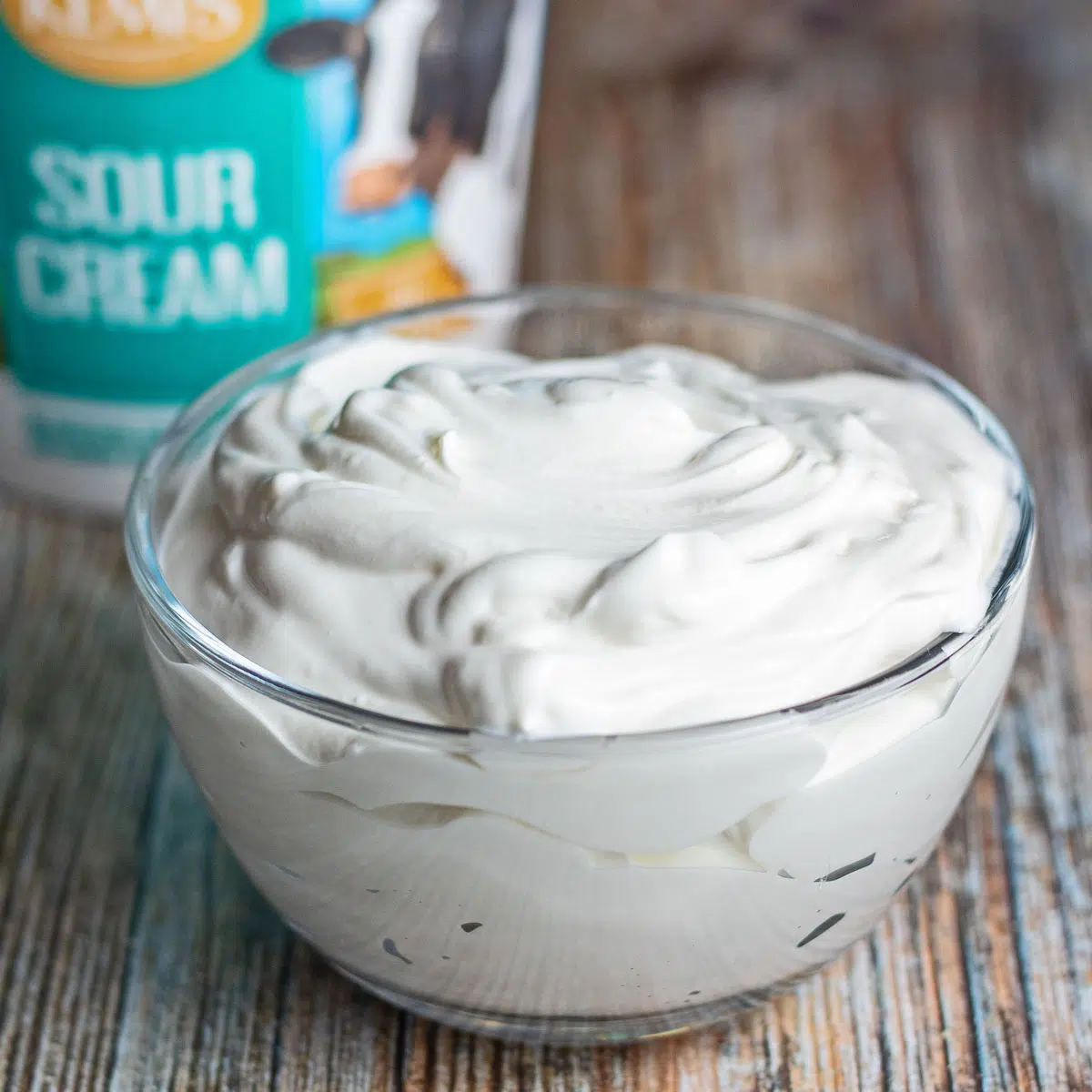 17 different sour cream substitutes so you will know which to use in any situation!
Sour cream is one of those ingredients that when you really think about it, can do almost anything! It is the perfect creamy addition to bring a little extra comfort to foods like baked potatoes or a hot bowl of chili. It is also the tangy topping that you don't want to forget for taco night.
Beyond being the perfect topping, it is also the base for many party favorites like a bowl of onion or ranch dip. Not to mention the creaminess it can offer to soups and sauces.
Jump to:
It is not just a condiment, though. Sour cream is also an amazing baking ingredient!
Yup, that creamy tangy goodness adds a delicious moistness to treats like cookies, cakes, and even breads.
With so many needs for sour cream in the kitchen it is possible that at some point you may run out mid recipe or forget to grab a container amidst party planning.
Rather than running out to the store, take a quick look in your fridge and see if you have one of these substitutes on hand!
The Most Versatile Sour Cream Substitutes
When choosing a substitute for sour cream you want to look for something that will resemble the most important quality of sour cream in that recipe. This could be the tangy taste, the creamy consistency, the moisture, or all three.
Some substitutes offer one element but may be lacking in the other. However, there are a few that do a great job in (almost) any recipe.
1. Plain Greek Yogurt
Plain Greek yogurt is by far the most versatile substitute for sour cream. It provides a consistency, tanginess, and moisture that is quite close to sour cream.
You can even find a regular, low-fat, or fat-free version just like sour cream.
Greek yogurt provides the perfect replacement for any recipe that calls for sour cream. It works as a topping, dip, or in baked goods.
While I recommend using the regular full-fat version (unless a recipe calls for low-fat sour cream) for the best results, a low-fat or even fat-free Greek yogurt will also get the job done.
Use Greek yogurt in 1:1 exchange for sour cream in any recipe.
2. Regular Plain Yogurt
Plain yogurt is also a good replacement for sour cream but does not offer the exact same elements that Greek Yogurt does. Plain yogurt has a thinner consistency than Greek Yogurt.
It can also be more difficult to find the plain version, so make sure you don't end up with vanilla or sweetened yogurt.
Plain yogurt is best used as a substitute for baking or cooking; however, it can also make a good substitute for a dip or topping if you have a full-fat version. The consistency of a low-fat yogurt may be too thin for certain dips but can make a great dressing.
Use plain regular yogurt in 1:1 exchange for sour cream in recipes for cakes, cookies, breads, or dressings.
4. Crème Fraiche
Crème fraiche is a popular condiment in Europe that is slowly gaining more traction in the United States. It translates to fresh cream, and it is delicious!
Offering a similar tangy taste and creaminess to sour cream, it can be used in both baking and for dips. You can even make your own crème fraiche if needed.
Use crème fraiche in a 1:1 substitute for sour cream in any recipe.
4. Cream Cheese
As is, cream cheese is much thicker than sour cream. It also does not provide the same tang that sour cream does.
However, with a few tweaks using other common kitchen staples, you can create a nice substitute that can be used in most recipes.
Measure cream cheese in a 1:1 ratio for the sour cream, then follow these steps before adding it to the recipe:
Add a splash milk to cream cheese in a blender
Blend milk and cream cheese until you reach a consistency that is like sour cream.
Add a squeeze of lemon juice to add the tanginess of sour cream.
If using this as a dip or topping, you may need to tweak the tang from the lemon for a brighter taste.
5. Mascarpone Cheese
Mascarpone cheese is a soft and tasty Italian cheese. It has a similar consistency to cream cheese and is commonly used in making Italian desserts.
Mascarpone cheese often takes on the sweetness of a dish, but it can also be used like cream cheese to make a tangier version to replace sour cream.
This substitution is best used as a replacement for baking.
Measure mascarpone cheese in a 1:1 ratio for the sour cream. Follow the same steps used for cream cheese above.
6. Mayonnaise
Mayonnaise provides a similar consistency, tanginess, and moisture that sour cream provides in both baked goods and in dips and sauces.
So, while you probably don't want to add a dollop of mayonnaise on top of your taco or baked potato, it is an excellent substitute for sour cream in every other way.
Use mayonnaise as a 1:1 substitution for any baked good.
You can also use it in a 1:1 ratio for dips or dressings but mixing it with a bit of yogurt or buttermilk will help smooth out the mayo flavor providing a more balanced taste.
7. Mexican Crema
Mayo may not be a tasty alternative for topping your favorite dishes. If you need the perfect substitute for a topping, Mexican Crema is your best bet.
Thinner than sour cream, it will not provide the consistency needed as a substitute for baking or dips. It can be used in dressings or to add creaminess to a sauce though.
Use in 1:1 ratio for sour cream in dressings or just drizzle it on top your tacos.
The Best Substitutes for Sour Cream in Baking
If the purpose of sour cream is to provide moisture, then you have several more options for substitutions.
The alternatives below do not offer the thickness of sour cream needed for topping potatoes or making dip for chips. What these substitutions will do, is provide the tanginess and moisture needed for your favorite cakes, cookies, or other baked goods.
8. Buttermilk
Buttermilk has a tanginess that can mimic sour cream in certain recipes. It also has thicker consistency than regular milk. However, it is much thinner than sour cream.
Buttermilk works best as a substitute that needs sour cream for moisture, such as a cake or quick bread. Combined with mayonnaise it can also be used as the base for a dip.
Use buttermilk in a 1:1 ratio for sour cream in baked goods.
9. Milk
In a pinch, regular milk can work sour cream in a baking. Depending on the fat content of your milk it may impact the overall texture of the final product, specifically if it is low-fat milk. It will also not provide the tanginess of sour cream.
To elevate the flavor profile, consider making your own buttermilk before using the milk as a sour cream substitute. Place 1 cup milk in a cup and add 1 tablespoon of lemon juice. Let sit for 10 minutes.
Use milk or homemade buttermilk in a 1:1 ratio for cookies, cakes, or quick breads.
10. Heavy Whipping Cream
The thickness of heavy whipping cream is a better alternative than milk as it will add a fat content that is closer to sour cream. You can sour the cream with a little lemon to make it an even better replacement.
Follow the same process as above to make homemade buttermilk, just using heavy cream instead of milk.
Use the final product in a 1:1 ratio for recipes that use sour cream for baking.
You can also use this as a substitute to add creaminess to sauces and soups that call for sour cream.
11. Milk Powder
On the off chance that you have powdered milk in your pantry and you are in a real bind for sour cream, give milk powder a go.
Rehydrate the milk using 1 tablespoon of lemon juice or vinegar for every cup of powdered milk.
Once it is thick you can use it as a 1:1 replacement in small quantities for sauces or soups.
12. Plain Kefir
Kefir is a fermented yogurt drink. It has a nice tanginess that resembles sour cream and high moisture content that is great for baking.
Use kefir in a 1:1 ratio for sour cream in baking. Since it is quite thin compared to sour cream, it works best in small quantities.
The Best Dairy Free Substitutes for Sour Cream
13. Vegan sour cream
If you follow a plant-based or dairy free diet, then looking for a vegan sour cream that you can always keep on hand is the best substitute.
You can use vegan sour cream the same way you would use regular sour cream in most recipes in a 1:1 ratio.
It is always a good idea to double-check the label though to make sure a specific brand doesn't offer more detailed directions.
14. Coconut Cream
Coconut cream is a popular dairy-free ingredient that is great for recipes that use the fat content and consistency of sour cream to add moisture.
Whether you need it for baking or for a cold dish, keep in mind that coconut cream has a distinct flavor and that it will be slightly present. When mixed with several other strong flavors you will not notice the coconut as much, but it's important to keep in mind.
Before using coconut cream pour it into a blender with the natural juice in the can. Blend it to a smooth consistency.
Add a splash of lemon juice. Then use it in a 1:1 ratio for sour cream.
15. Cashew Cream
Cashew nuts have a milder flavor profile than coconut which makes them a popular vegan option in cooking. While you may be able to find cashew cream in a health food store it is super easy to make on your own.
Add 1 cup of raw cashews to a bowl and cover with water.
Let cashews soak for 2 hours.
Drain the water and add cashews to a blender.
Add ⅔ cup water to the blender and blend until smooth.
*if it is too thick, add more water to reach desired consistency
Cashew cream can be used in a 1:1 ratio in place of sour cream in any recipe.
For dips and toppings, consider adding a bit of lemon juice for the tanginess of sour cream.
16. Vegan yogurt
Just like you may run out of sour cream and need a quick substitute, you may run out of vegan sour cream! In that case, you can use vegan yogurt if you have it on hand.
Keep in mind that depending on what the yogurt is made from, whether coconut, almond or another base, it may shift the taste of the recipe. Try to find the most natural and plain tasting yogurt you can.
Vegan yogurt can be used in a 1:1 ratio for sour cream in baked goods. For dips or as a topping, look for a thicker yogurt.
17. Vegan cream cheese
Vegan cream cheese can be used as a substitute for sour cream in the same way regular cream cheese is used. In place of milk to thin the cream cheese, use your favorite plant-based milk.
A touch of lemon is also helpful to get that tanginess of sour cream, especially if using this as a substitute for a dip or topping.
The Best Sour Cream Substitute Depends on the Recipe
Finding the best substitute for sour cream really comes down to what its purpose is in the recipe. If you find yourself without sour cream for baking, almost all the options above will work.
If you need something more specific for a dip or to top baked potatoes, your options are more limited.
Look around your kitchen and see what the options are, then decide if a substitution will work or if you need to make that run to the store. Sometimes a substitution is perfect, but sometimes you may need the real thing.
All of my other handy kitchen substitutions in case you ever need them!
If any of these substitutes helped you finish up a recipe, let us know how it turned out by leaving a comment below!
Do you love a recipe you tried? Please leave a 5-star 🌟rating in the recipe card below and/or a review in the comments section further down the page.
Stay in touch with me through social media @ Pinterest, Facebook, Instagram, or Twitter! Subscribe to the newsletter today (no spam, I promise)! Don't forget to tag me when you try one of my recipes!
📖 Recipe Card
Print Recipe
Leave A Comment
Love This Recipe?
Click On A Star To Rate It!
Sour Cream Substitute: The Very Best Options for Cooking & Baking
Choosing from this list to pick the best sour cream substitute doesn't have to be hard, it just depends on what you're making! Sour cream is in many different recipes, so knowing how to replace it with the right ingredients is useful information!
Pin Recipe
Share on Facebook
Ingredients
Option 1 (Best All-Around Substitute) - Plain Greek Yogurt
Option 2 (2nd Best Choice) - Creme Fraiche
Option 3 (Best Baking Substitute) - Buttermilk
Help Us Out!
If you love a recipe, be sure to come back and share your ratings. This helps future users, and allows me to continue sharing free recipes! Angela
Instructions
Use any of these options (1, 2, or 3) in equal amounts or a 1:1 ration to replace sour cream that is called for in your recipe.

1 cup plain Greek yogurt,

1 cup creme fraiche

For the last option, option 3 - buttermilk, your substitute does not have the same consistency. You may need to adjust your liquid amount by starting with a bit less.
Notes
*Nutritional information is calculated based on the plain Greek yogurt only.
Nutrition
Calories:
172
kcal
(9%)
|
Carbohydrates:
9
g
(3%)
|
Protein:
23
g
(46%)
|
Fat:
5
g
(8%)
|
Saturated Fat:
3
g
(19%)
|
Cholesterol:
13
mg
(4%)
|
Sodium:
93
mg
(4%)
|
Sugar:
9
g
(10%)
|
Vitamin A:
131
IU
(3%)
|
Calcium:
264
mg
(26%)
Sour Cream Substitute, substitutions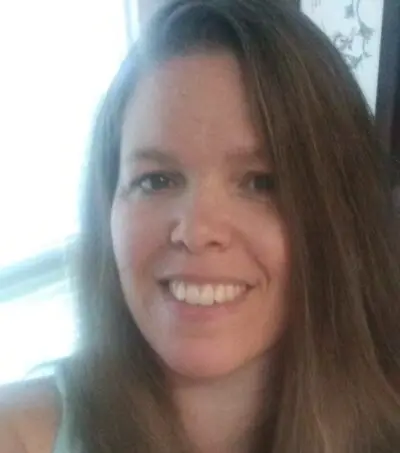 Angela is an at home chef that developed a passion for all things cooking and baking at a young age in her Grandma's kitchen. After many years in the food service industry, she now enjoys sharing all of her family favorite recipes and creating tasty dinner and amazing dessert recipes here at Bake It With Love!