I've gathered all the best options for a honey substitute in one list, so you'll know what to do if a recipe calls for honey and you're out! Honey has a distinct flavor and knowing how to match it will really help you in the kitchen!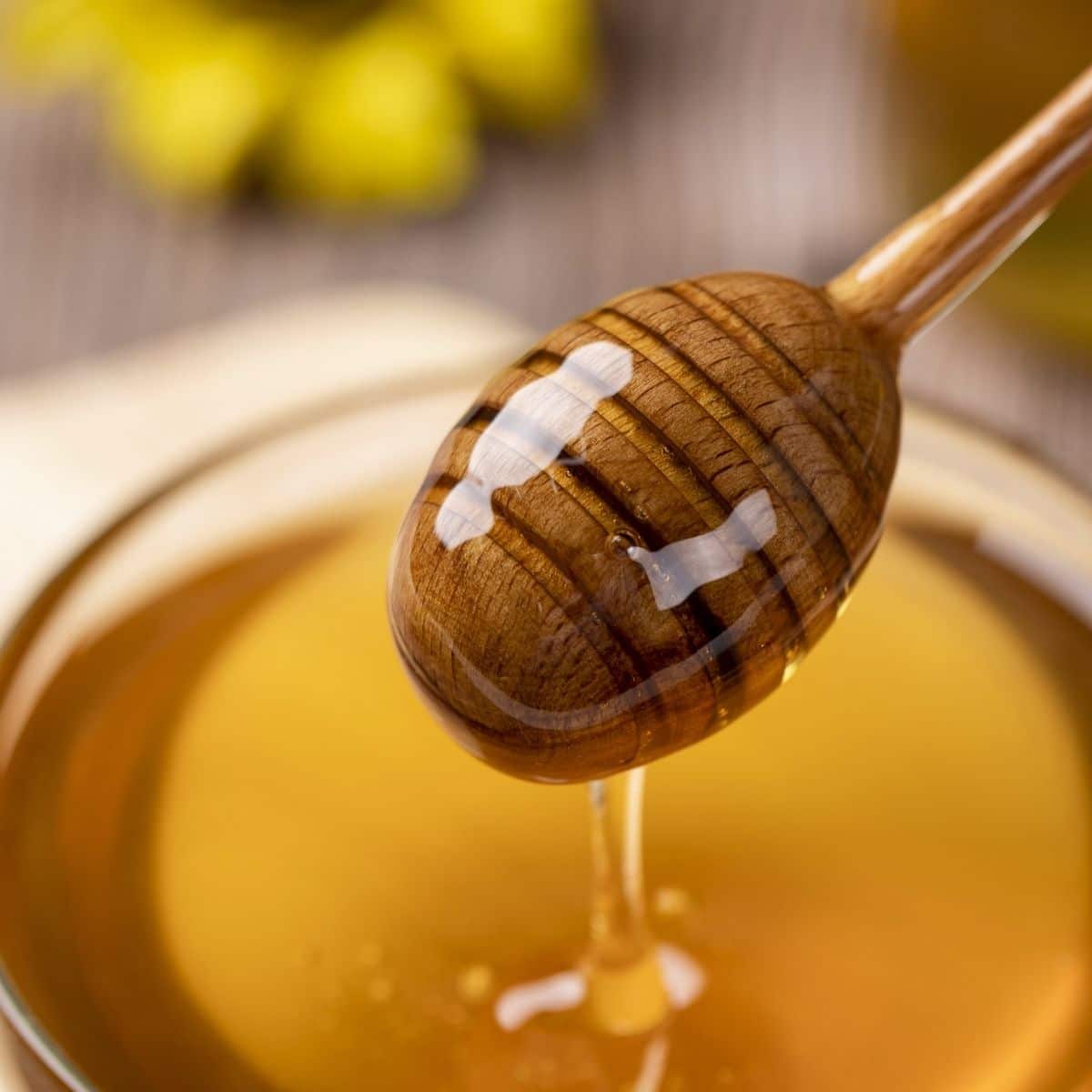 15 ingredients that can be used to best match the distinct flavor and sweetness of honey!
Honey is a versatile sweetener. It can be used in baking to add sweetness or to create a marinade for meat. It can also be used to make a salad dressing or as a final topping on a muffin or piece of cornbread.
With so many needs for honey in the kitchen, knowing the best substitutes for honey can help you make quick replacements when you run out in the middle of a recipe.
Jump to:
That is not the only reason you may need a substitute. You may need a replacement if you can't find real honey at the store OR if you don't want real honey!
Real Honey vs. Fake Honey
If you look at the honey lined up on the store shelf you will probably notice several differences. Color, consistency, and even price. These differences are a result of where the honey comes from, which may not be a beehive.
Real honey comes from the nectar that is collected by honeybees. Real honey may be referred to as raw honey, meaning that it came straight from the beehive and has not been altered.
Beyond raw honey, real honey can also be semi-processed to create a smoother consistency; however, it will still only be honey and will not have any additives.
Fake honey can be honey that has been altered in some way, for example adding extra sugar or preservatives. Fake honey can also be synthetic honey. Synthetic honey looks and tastes like honey but is not made from the nectar that comes from bees.
While many seek out real or raw honey for not only its taste but also its health benefits, fake or synthetic honey does have a place in the kitchen. Especially for those who are vegan!
Best Substitutes for Honey in Baking
The primary reason honey is used in baking is to add sweetness. It can also assist in binding ingredients and sometimes even adds to the moisture content.
Therefore, when choosing a substitute, you want to choose something that will most closely resemble honey in the way it's used in your recipe. You will also want to consider how each substitute may impact the overall consistency or taste of the final baked good.
1. Maple Syrup
100% real maple syrup is one of the best options to replace the sweetness and consistency of honey in any baked good. Maple syrup does have its own distinct taste so it may change the overall taste of your recipe slightly. Overall, when mixed with the other ingredients it should not be too noticeable.
Easily swap equal parts maple syrup for the honey in any of your favorite baked goods.
*Note: Be mindful that you are using the real stuff. Maple syrup that has added flavors or even water will not work quite as well. Simply read the label and look for "100% Real Maple Syrup" on the bottle. Also, avoid manufactured syrups as these are often much too sweet and the consistency does not hold up when baking.
2. Molasses (light or dark)
While molasses is made from sugar, the process it goes through to become molasses breaks down the sugar content. This makes it a popular sweetener for those who want something sweet, but with a bit less sugar.
You can use light or dark molasses as a substitute for honey but avoid blackstrap molasses.
Molasses is a bit thicker than honey and it has its own distinct flavor; however, it will add the desired sweetness and a nice rich flavor to your baked goods.
Easily swap equal parts molasses for the honey in any of your favorite baked goods.
3. Brown Sugar
The rich sweetness of brown sugar, light or dark, is a good flavor substitute for honey. It offers a similar level of sweetness and the caramel flavor is close to that of honey when it is cooked.
The biggest difference is that brown sugar is a dry ingredient, so your final product may be slightly drier. You will also need to use a bit more brown sugar to make up for the honey in a recipe.
Use 1 cup of brown sugar in place of every ¾ cup of honey in your favorite baked goods.
4. Light Corn Syrup
Corn syrup is a common ingredient in making sweet treats like candies and caramels. It is also an ingredient that many people keep in their kitchen. Therefore, it can be a great substitute for honey when you run out mid-recipe.
The consistency of corn syrup is similar to honey and is just as sweet. The main thing missing is the more complex flavor profile that honey offers.
Corn syrup also has a stronger "sugar" flavor than honey; therefore, it works best in baked goods that are meant to be distinctly sweet.
You can replace honey with equal parts corn syrup in your favorite sweet desserts.
*Note: You can also use dark corn syrup, but it will have a more distinct and richer flavor that will shift the original flavor profile of the recipe more than the light corn syrup.
5. Golden Syrup
If you are looking for a honey substitute that looks like honey, then golden syrup may be for you. If you are looking for a replacement that is also a natural product like honey, you may want to skip this since it is made from refined sugar.
This syrup has the same golden color that honey does and a similar sweetness which makes a great alternative for most recipes. Golden syrup is lacking the distinct flavor of honey though, so if you want a richer flavor consider something like maple syrup or rice malt syrup.
You can replace honey with equal parts rice malt syrup in any recipe that calls for honey.
6. Rice Malt Syrup
This substitution may be one you have never heard of; however, if you are looking for an easy replacement to keep in your pantry then consider picking up some rice malt syrup.
While your mainstream grocery store may not carry it you can order it online or look at a health food store.
Rice malt syrup is made from cultured rice and surprisingly does not have any added sugar! Its consistency and taste are very close to honey and it's a great substitute in baked goods and other recipes.
Simply replace the honey in your recipe with the same amount of rice malt syrup.
Brown Rice Syrup
Brown rice syrup is another name for malt rice syrup. It can be used as a substitute for honey in the same ways mentioned above.
7. Barley Malt Syrup
Barley malt syrup is an all-natural sweetener made from soaked and sprouted barley. It has a rich flavor, sweetness, and consistency that resembles honey.
While you may not see it in your mainstream grocery store, it is easy to find in specialty health food stores or stores that have a natural food section.
Simply swap out your honey for the same amount of barley malt syrup in any of your baked goods.
8. Yacon Syrup
Another all-natural option is Yacon Syrup. Made from the root of the yacon plant that is native to Peru, this sweetener is less sweet than honey but offers a similar consistency.
It also has a lot of health benefits if you are looking for a vegan alternative that is still natural.
Yacon syrup can be swapped for honey in a 1:1 ratio of equal amounts in any baked goods.
*Note: Since it is less sweet than honey this is a good option for breads that are not meant to be super sweet.
9. Date Syrup
Dates are a naturally sweet food that are almost as versatile as honey. While the date itself cannot be easily substituted for honey, making a quick homemade date syrup is a great replacement.
To make a date syrup blend dates and water in a blender in 2:1 ratio of water to dates. You can also add a squeeze of lemon to cut some of the sweetness. Blend until smooth.
Date syrup is thicker than honey and best used as a substitution in baking or even spread on top of bread or other baked goods.
In baking, you can use date syrup in a 1:1 ratio for honey.
10. Simple Syrup or Homemade "Honey"
In a pinch, you can make your own fake honey at home by making a simple syrup. Simple syrup is basically just water and sugar that is boiled to make a syrup.
While simple syrup will provide the sweetness needed in some baked recipes, it will not add the depth of flavor that honey offers. If you use brown sugar, it will add more depth to flavor as a homemade "honey."
Both simple syrup and homemade "honey" will be thinner than honey as well.
For each cup of honey you are replacing, you will need 5 cups of sugar and 1 cup of water.
Bring the water and sugar to a slow simmer in a pot on the stove.
Stir it slowly to help the sugar dissolve.
Once the sugar has dissolved let it cool before transferring it to a container with a lid.
Best Substitutes for Honey in Sauces and Marinades
---
11. Agave Nectar
If you are a tequila drinker then you already know about the agave plant. Agave nectar is the sweet syrup that comes from this plant that grows primarily in Mexico.
While agave nectar can be used to replace honey in baked goods it browns faster than honey when heated; therefore, it is better used in recipes that require little or no heat.
Easily swap equal parts agave nectar for the honey in sauces, marinades, dressings, or to sweeten drinks.
*Note: Agave nectar is a bit sweeter than honey so while a 1:1 ratio works in most recipes if you are worried about it being too sweet begin with half the amount of agave and add more if desired.
12. Coconut Nectar
Coconut nectar may not be a substitute that you already have in your kitchen, but if you are looking for a long-term substitute for honey this is one to consider.
Made from the flowers that bloom on coconut trees this sweetener is a popular choice for those who prefer something non-processed and plant-based.
Coconut nectar has a similar sweetness to honey. It does have its own unique flavor profile that is different from honey. If you are not familiar with the taste it is best to give it a little taste before using.
You can use coconut nectar as a 1:1 substitute for honey in many recipes, but it is best used for dressings, marinades, and sauces that are cold or cooked at a very low heat.
In addition to agave and coconut nectar, there are several options from the list above that work well for both baking and cooking.
Use any of the following as a 1:1 replacement in sauces, marinades, dressings, or drinks.
13. Vegan Honey
The best vegan substitute for honey is vegan honey. Vegan honey is synthetic honey that is made from plant-based products such as sugar cane, lemon, and other natural ingredients.
There are several delicious vegan honey brands on the market. If you follow a strict vegan diet and want to have honey on hand for your favorite recipes, consider shopping for a new favorite vegan brand.
You may need to order vegan honey online or visit a special health food store. However, as mentioned earlier, some synthetic honey may also be mixed in with the regular honey bears in the grocery store.
Just make sure to read the label carefully to confirm it does not contain anything from the hive.
If you are not quite ready to invest in vegan honey, then choose any of the substitutions mentioned in this article. All of them are vegan-friendly!
If you want a vegan AND natural substitute, then stick with these options:
Maple Syrup
Rice Malt Syrup
Barley Malt Syrup
Yacon Root
Coconut Nectar
Agave Nectar
Sugar-Free Substitutes for Honey
If your main goal for using honey is to simply add sweetness, but you don't want the sugar that comes from honey, there are two options:
14. Stevia (liquid or powdered)
Stevia is a natural sweetener that comes from the stevia plant. While it will add sweetness it will not resemble honey. It also has a slightly bitter after taste.
While stevia will work in place of honey, it will change the consistency and taste in large quantities. I suggest only using this in small amounts for drinks, sauces, or dressings.
Substitution amounts will vary depending on if you use liquid or powdered stevia. Therefore, check the label.
15. Monk fruit
Monk fruit is also an all-natural sweetener that is considered sugar-free. It has a much closer taste to real sugar and does not have the bitter after taste of stevia. However, it is more expensive.
Monk fruit also adds a powerful punch of sweetness in small quantities, so it is best to read the package for substitutions. It is also recommended that it be used primarily to replace honey in small amounts.
Choosing the Best Honey Substitute
There are almost as many substitutions for honey as there are ways to use honey. So, choose what appeals to your needs and try some out. If you don't find the best substitution at first, there are plenty more to try until you find the perfect fit.
More useful substitutions to use in the kitchen!
We hope this list helped you choose the perfect honey substitute! Let us know what delicious recipes you have created with any of these honey alternatives by leaving us a comment below!
📋 Recipe
Print Recipe
Leave A Comment
Love This Recipe?
Click On A Star To Rate It!
Best Honey Substitute: Easy Swaps & Homemade Simple Syrup
I've gathered all the best options for a honey substitute in one list, so you'll know what to do if a recipe calls for honey and you're out! Honey has a distinct flavor and knowing how to match it will really help you in the kitchen!
Pin Recipe
Share on Facebook
Ingredients
Option 1 (Quick & Easy Swap) - Honey
Option 2 (Homemade Honey) - Simple Syrup
2 ½

cups

sugar

½

cup

water
Instructions
Option 1 (Quick & Easy Swap) - Honey
Use in a 1:1 ratio and swap in equal portions for honey.
Option 2 (Homemade Honey) - Simple Syrup
Make your own homemade 'honey' with this simple syrup combo. Use 2 ½ cups sugar with ½ cup of water to reduce down to a ½ cup portion to replace each ½ cup of honey.

2 ½ cups sugar,

½ cup water

Combine ingredients in a small saucepan and bring to a low boil, stirring occasionally until the sugar is fully melted. Once the water begins to bubble, reduce heat and simmer on low until reduced.

Remove from heat and allow to cool before using or storing.
Notes
*Nutritional information is based on the maple syrup only.
Each option (1 & 2) are for replacing an equal amount of ½ cup of honey.
Nutrition
Calories:
435
kcal
(22%)
|
Carbohydrates:
108
g
(36%)
|
Sodium:
14
mg
(1%)
|
Potassium:
362
mg
(10%)
|
Sugar:
96
g
(107%)
|
Calcium:
175
mg
(18%)
|
Iron:
1
mg
(6%)
Honey Substitute, substitutions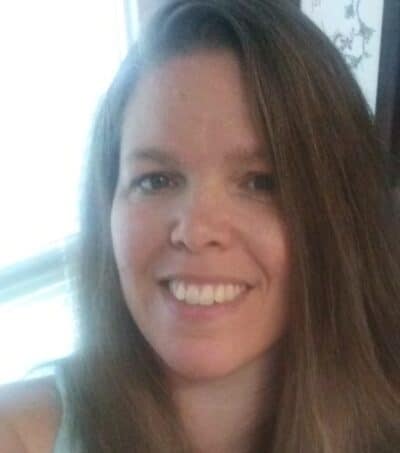 Angela is an at home chef that developed a passion for all things cooking and baking at a young age in her Grandma's kitchen. After many years in the food service industry, she now enjoys sharing all of her family favorite recipes and creating tasty dinner and amazing dessert recipes here at Bake It With Love!