These fall soup recipes are extremely flavorful and exactly what you need for when those chilly evenings start to roll in! My fall soups are perfect for cooler weather and even feature some holiday leftovers! If your family loves the comforting warmth of soup, you're in the right place!
The Best Fall Soup Recipes
Fall is probably my favorite season because of the cool weather and the approaching holidays. It also has the effect of making me want to eat soup all of the time! It is warm, comforting, and loved by my whole family!
These recipes are my most-eaten soup dishes during the fall season because they are just so good! Pick out a few different ones to try during the season!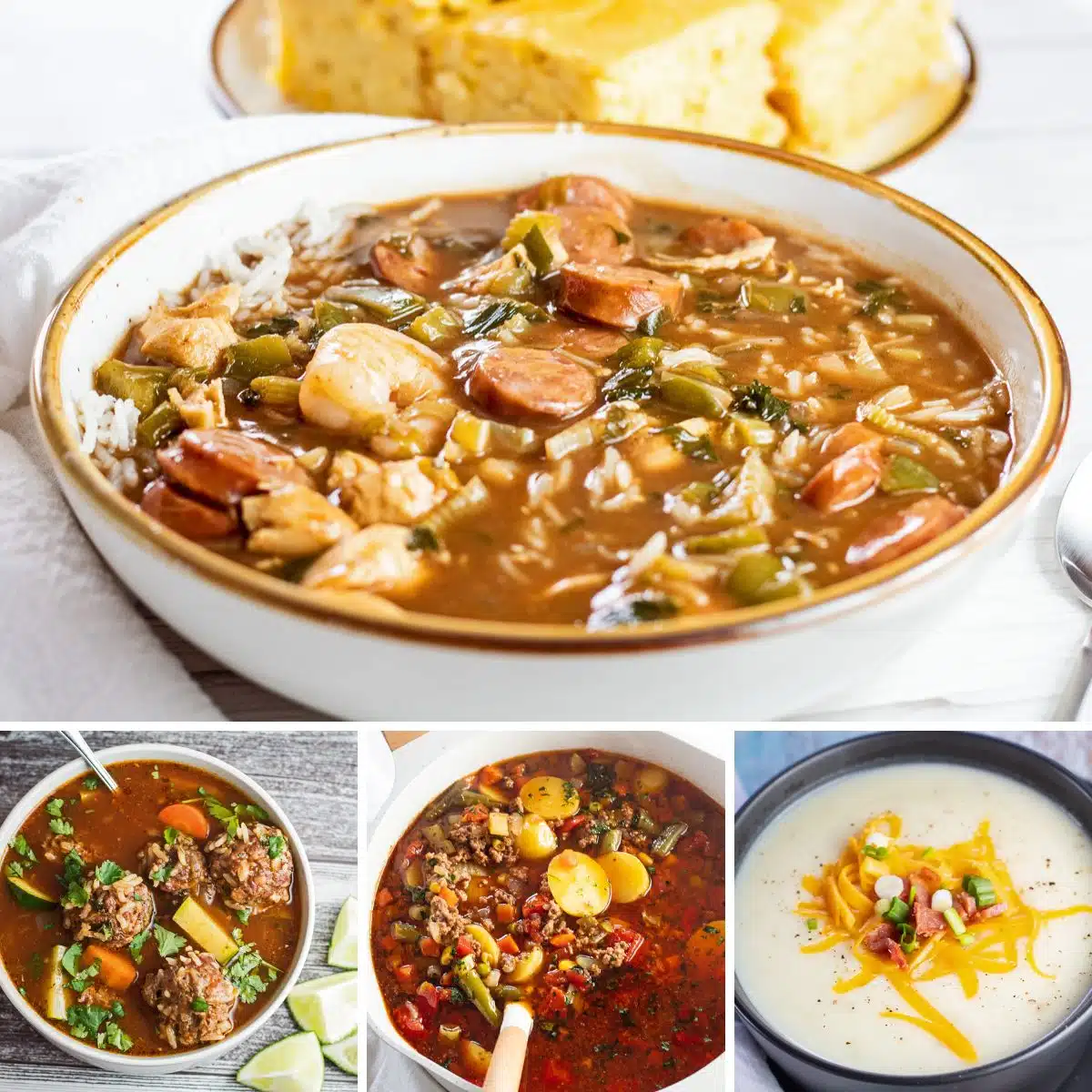 Jump to:
For more delicious fall recipes, take a look at my collection of fall baking recipes, fall dinner recipes, and fall breakfast recipes!
1. Gumbo Soup
This zesty and hearty gumbo is full of fresh veggies and proteins! It is sure to warm you up and leave you feeling cozy and satisfied.
2. Split Pea Soup
This rich and creamy soup is one of my favorite fall-time staple dishes! Split pea soup is savory, meaty, and full of vegetables!
3. Detox Cabbage Soup
My detox cabbage soup is the perfect meal for when you're looking for something on the healthy side! This delicious fall soup has no downfalls as it is nutritious and still extremely tasty!
4. Prime Rib Soup
I love it when I can throw a soup together using leftover ingredients! The prime rib and tender veggies create a savory and hearty soup that the entire family will enjoy!
5. Cabbage Soup with Kielbasa
This warm and healthy soup will be ready to eat in less than an hour! It is loaded with wholesome ingredients that will leave you satisfied and feeling great!
6. Crockpot Creamy Ham Potato Soup
This slow-cooker meal is as easy as it gets! Simply put all of your ingredients into your crockpot, let it cook, and come back to a rich and creamy soup that everyone will love!
7. Hamburger Soup
This one-pot soup is as delicious as it sounds! Take all your favorite flavors from a hamburger and turn it into soup form for a warm and hearty dinner!
8. 4 Ingredient Potato Soup
Potato soup is one of my all-time favorite soups for any time of the year! This recipe only uses 4 ingredients, so it is extra easy to make without losing any of the flavors!
9. Albondigas Soup
This Mexican comfort food is a classic soup that uses ground beef and rice meatballs! Albondigas is so rich and delicious that you will want to eat it for dinner over and over again!
>>>>See all of my recipes HERE<<<<
10. Roasted Tomato Basil Soup
My roasted tomato basil soup is a creamy and rich dish that will warm your soul. Eat it by itself or pair it with a grilled cheese sandwich!
11. Benihana Onion Soup
This onion soup is a classic dish at every Japanese steakhouse! Once you make this hibachi soup at home, you won't even miss the restaurant!
12. Creamy Cauliflower Ham Soup
The best way to use up that leftover ham after the holidays is to make this creamy cauliflower ham soup! It'll be ready to eat in only 35 minutes, so it is perfect for any day of the week!
13. Italian Chicken Pastina Soup
The small pasta, juicy chicken, and fresh veggies come together to make a classic Italian soup that will warm you up! Not only is this delicious, but it will also only take you 20 minutes to make!
14. Creamy Chicken Minnesota Wild Rice Soup
This healthy and hearty soup will have you feeling warmed up and satisfied in no time! Your whole family will love this meal and request it over and over again!
15. Pasta e Fagioli
This Italian soup is a family favorite at my house! It is loaded with staple ingredients that you could already have at home!
16. Leftover Turkey Noodle Soup
This soup is a twist on your classic chicken noodle soup, but involves using up some of those leftovers from the fridge! So when the holidays are over and you have a bunch of leftover turkey pieces, you know what to do with them!
17. Chicken Noodle Soup
I'm pretty sure that chicken noodle soup is the most classic soup there is. This recipe will bring back all of your childhood memories of bundling up and eating some homemade chicken noodle soup!
18. Leftover Prime Rib Beef Barley Soup with Mushrooms
This soup is filled with wholesome ingredients and savory flavors. It is a hearty and extremely satisfying use of those prime rib leftovers!
19. Potato Leek Soup with Bacon and Chives
This soup uses some heavy cream to create an extra creamy and delicious soup! Top it off with some of your favorite toppings!
20. Best Chicken Tortilla Soup
This chicken tortilla soup is better than anything you'll find in a restaurant! This family-favorite, staple soup is a must-have meal for every household!
21. Crab Egg Drop Soup
This unique twist on traditional egg drop soup adds a seafood element that makes this dish mouthwatering! Top it off with some wonton strips to add a little crunch!
22. Caldo de Pollo Mexicano
This delicious Mexican chicken soup is a kid-friendly dish that is great for those fall family dinners. Serve this soup over some rice to make it extra hearty!
23. Sopa de Legumes
This hearty and creamy classic Portuguese soup is perfect for both vegetarians and meat lovers alike! It is rich, flavorful, and perfect for chilly weather!
24. Spanish Garlic Soup
A simple and flavor-packed soup that only takes 30 minutes to make! Not to mention, it uses simple household ingredients!
25. Tomato Rice Soup
A 30-minute vegetarian soup that features rice, fresh vegetables, and canned tomatoes! Not only is it ridiculously easy to make, but it is also super delicious!
26. Broccoli Cauliflower Soup
Another 30-minute vegetarian soup that can be made either creamy or chunky! It's so quick and simple that you can easily enjoy it on a brisk and chilly weekday.
27. Corn Soup
This corn soup uses pantry staples, so you can make it whenever you like without running to the grocery store! It is creamy, slightly sweet, and the ultimate comfort food soup.
28. Instant Pot Minestrone
Pull out your pressure cooker for this easy twist on a classic recipe! The tender pasta makes it perfectly filling, and the tomato-based broth and vegetables add tons of flavor!
29. Vegetable Beef Soup
This cozy soup uses cubed chuck roast as well as some canned and frozen vegetables for a simple yet completely hearty and delicious soup! It will warm you up in a flash!
30. Butternut Squash Soup
Incredibly creamy butternut squash soup is always a fall favorite recipe! The butternut squash is roasted for extra flavor and then blended together with warm spices, broth, cream, and a touch of honey!
31. New England Clam Chowder
This clam chowder is thick, creamy, and packed with tons of flavorful ingredients! Feel free to use fresh, frozen, or canned clams- whatever works best for you!
💭 Tips For Making Cozy Fall Soups
Fall is a wonderful time to enjoy comforting and hearty soups that make the most of the season's fresh vegetables. Here are some tips for making delicious fall soups:
Choose Seasonal Ingredients: Take advantage of the bounty of fall by using seasonal ingredients like butternut squash, pumpkin, sweet potatoes, apples, pears, kale, Brussels sprouts, and mushrooms. These ingredients are at their peak in flavor and freshness during the fall!
Roast or Sauté Vegetables: Enhance the flavor of your soup by roasting or sautéing your vegetables before adding them to the soup pot.
Experiment with Spices: Fall soups are known for their warm and cozy spices. Add a warm flavor with spices like cinnamon, nutmeg, allspice, cloves, and sage.
Use Homemade Broth: Whenever possible, make your own broth. Homemade broth adds a depth of flavor that store-bought versions can't match.
Incorporate Beans and Grains: To make your soups more filling and nutritious, add beans like cannellini, black beans, or lentils, as well as grains like barley, quinoa, or wild rice.
Balance Sweet and Savory: Many fall ingredients have a natural sweetness. Balance this out with savory elements to create a well-rounded flavor profile.
Batch Cooking: Fall soups often taste even better the next day as the flavors have time to meld. Consider making a big batch and freezing portions for later!
These delicious fall soups will warm you up and keep you full on those beautiful fall days! Leave a comment below and let me know which soup is your favorite!
📖 Recipe Card