Knowing the number of tablespoons in an ounce is a handy kitchen conversion that could be useful when you least expect it! Don't risk jeopardizing your recipe by eyeballing ingredients! With my conversion chart and some other useful information, you will know exactly how to calculate how many tablespoons are in an ounce!
Converting Tablespoons To Ounces
The more you dive into the world of cooking, the more there is to learn. Not a bad thing! One of my favorite things about cooking is all the new things I learn.
While some things are more exciting than others, everything is important.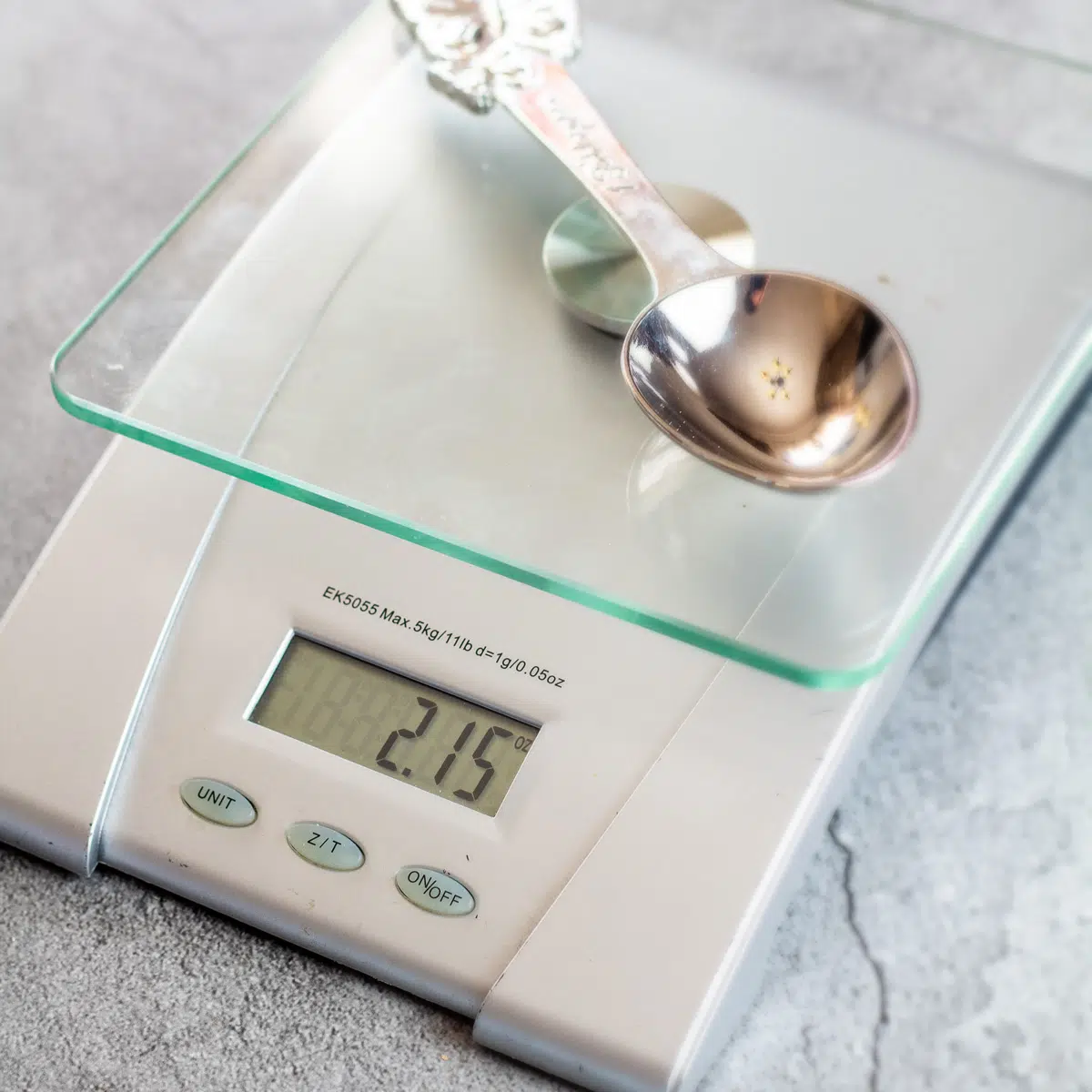 Jump to:
Learning how many tablespoons in an ounce may not sound like the most exciting topic to dissect as a cook. However, a better in-depth understanding of the conversion from tablespoons to ounces will help you be a better cook. It will also help you have an appreciation for the complexities of the seemingly simple things in the kitchen.
From how many tablespoons in an ounce to how many ounces in a cup – the answers are layered, just like your favorite cake! So, let's start by cutting into the first layer.
What is a Tablespoon?
You have probably used tablespoons dozens (or hundreds) of times. This unit of measurement is one of the most common measurements used in cooking.
If you live in the United States, a tablespoon is part of the US customary system. This is a system of measuring derived from the original imperial system of the United Kingdom.
In the early 1900s, the United Kingdom moved primarily to the metric system. However, the UK does use some imperial measurements still. Especially in cooking.
The use of the imperial system is mostly seen in measuring tools, such as the imperial cup often used in England. However, most recipes are written using the metric system (milliliters, grams, ounces).
If cooking in the United States, it is essential to understand that most recipes outside of the U.S. follow the metric system. This is also important to understand when using a recipe from the U.S. in another country.
Not All Tablespoons Are the Same
The history of the systems of measurement is important in understanding what a tablespoon is because it is different in each system.
A measuring spoon that equals 1 tablespoon in the United States has a different volume than a tablespoon in the United Kingdom.
Therefore, it is important to consider where a recipe was written and what tablespoon was used.
Like I said, lots of layers!
US tablespoon vs UK tablespoon
Here is a simple comparison of these two different tablespoons.
1 U.S. Tablespoon = 1.04 UK tablespoon
As you can see, the difference is quite small. Therefore, if you are using only 1 or 2 tablespoons you can use your tablespoon without any need for adjustments.
However, if you are multiplying a recipe considerably you will want to pay attention to the need for some adjustments.
If you are wondering how to account for the .04 difference in measurements, keep reading. It is easier to measure these differences in milliliters and ounces.
What is an ounce?
An ounce is a unit of measurement that is equal to ¹⁄₁₆ of a pound or ¹⁄₁₆ of a cup. When cooking, ounces are used as a primary form of measurement in countries that follow the metric system.
Measuring in ounces is considered the most exact form of measurement. Therefore, many cooks prefer to use a food scale to weigh their ingredients. However, not all home cooks have food scales at home.
Moreover, depending on where the recipe was written measurements in ounces may not be included. While the ounce is a universal form of measurement, many recipes are written using teaspoons, tablespoons, and cups.
Therefore, knowing how to correctly convert tablespoons into ounces (and vice versa) will allow you to make any recipe regardless of if you are measuring with a scale or tablespoons.
How Many Tablespoons in an ounce?
Even though there are different tablespoons around the world, the U.S. tablespoon is the most common one used when converting between ounces. This is simply because cooks in other countries will already be more familiar with using ounces.
Therefore, let's first look at the conversion of tablespoons to ounces using the U.S. tablespoon as the primary measurement.
1 tablespoon is equal to ½ ounce. Therefore, you need 2 tablespoons to equal 1 ounce. Here is a quick chart of several tablespoons with ounce, cup, and milliliter conversions.
| Cups | Tablespoons (Tbsp) | Milliliters (ml) | Fluid Ounces (fl oz) |
| --- | --- | --- | --- |
| | | | |
| ⅛ cup | 2 Tbsp | 30 ml | 1 fl oz |
| ¼ cup | 4 Tbsp | 60 ml | 2 fl oz |
| ⅓ cup | 5 Tbsp | 75 ml | 2 ½ fl oz |
| ½ cup | 8 Tbsp | 120 ml | 4 fl oz |
| ⅔ cup | 10 Tbsp | 150 ml | 5 fl oz |
| ¾ cup | 12 Tbsp | 180 ml | 6 fl oz |
| 1 cup | 16 Tbsp | 240 ml | 8 fl oz |
| 2 cups | 32 Tbsp | 473 ml | 16 fl oz |
| 4 cups | 64 Tbsp | 946 ml | 32 fl oz |
Quick Conversion Chart: Cups, Tbsp, ml, and fl oz
While you can continue to measure in tablespoons, once you reach a certain number of tablespoons it is easier to measure in cups. This is most likely what you will do if you multiply a recipe.
How Many Ounces in a Cup?
The volume of a U.S. standard measuring cup is 8 ounces. However, the actual weight of a cup can vary depending on if the ingredient being measured is liquid or dry.
Generally, there are 8 fluid ounces in 1 cup. This is because almost all liquids have the same volume-to-weight ratio.
When converting ounces to cups with dry ingredients though, it is best to use a scale or look up the specific ingredient you are measuring. Check out my post on ounces in a cup for more helpful information.
Tablespoons to Liquid Ounces vs. Dry ounces
How does this play out regarding using tablespoons? Tablespoons, like cups, can also measure liquid and dry ingredients. However, unlike cups, the conversion from tablespoons to ounces is the same for all ingredients.
This is primarily because the volume of a tablespoon is much smaller than a cup. Moreover, most ingredients measured in tablespoons are similar in weight (for example flour and cocoa powder).
Therefore, you can always follow the standard conversion of 2 tablespoons = 1 ounce.
Converting UK Tablespoon to Ounces
One time when you may need to adjust your conversions is if you are using a UK tablespoon. The UK tablespoon still follows the original imperial system.
So, if you know you are using UK mearing spoons follow this conversion for tablespoons to ounces.
While a U.S. tablespoon is equal to .5 ounces, a UK tablespoon is equal to .625 ounces. While this slight difference won't impact most recipes too much, it is important to note this difference if going between American and British recipes.
More Useful Conversions
We hope we've answered all of your questions about the number of tablespoons in an ounce. For more useful conversions, check out my other posts listed above!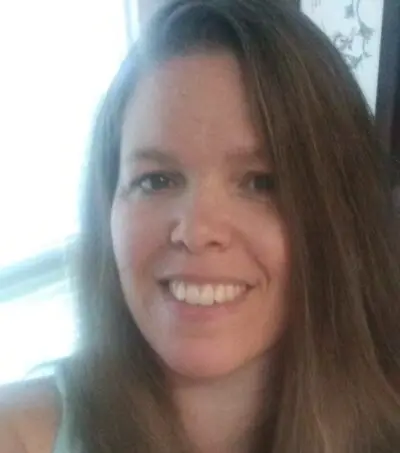 Angela is an at home chef that developed a passion for all things cooking and baking at a young age in her Grandma's kitchen. After many years in the food service industry, she now enjoys sharing all of her family favorite recipes and creating tasty dinner and amazing dessert recipes here at Bake It With Love!