The number of ounces in a cup might surprise you because it isn't as simple of an answer as you might think! Are you measuring out a liquid ingredient while cooking? How about some flour for a delicious baked good? Whatever the case, take a look at this article to learn how many ounces are in a cup so you can perfect your skills in the kitchen!
How Many Ounces Are In A Cup?
The answer to how many ounces in a cup depends on what you are measuring. Fluid ounces will be a simple measurement. However, measuring dry ingredients gets a bit more complicated.
What makes measuring liquids easy is that volume and weight are the same for liquids. Therefore, the measurement for coffee and water is the same.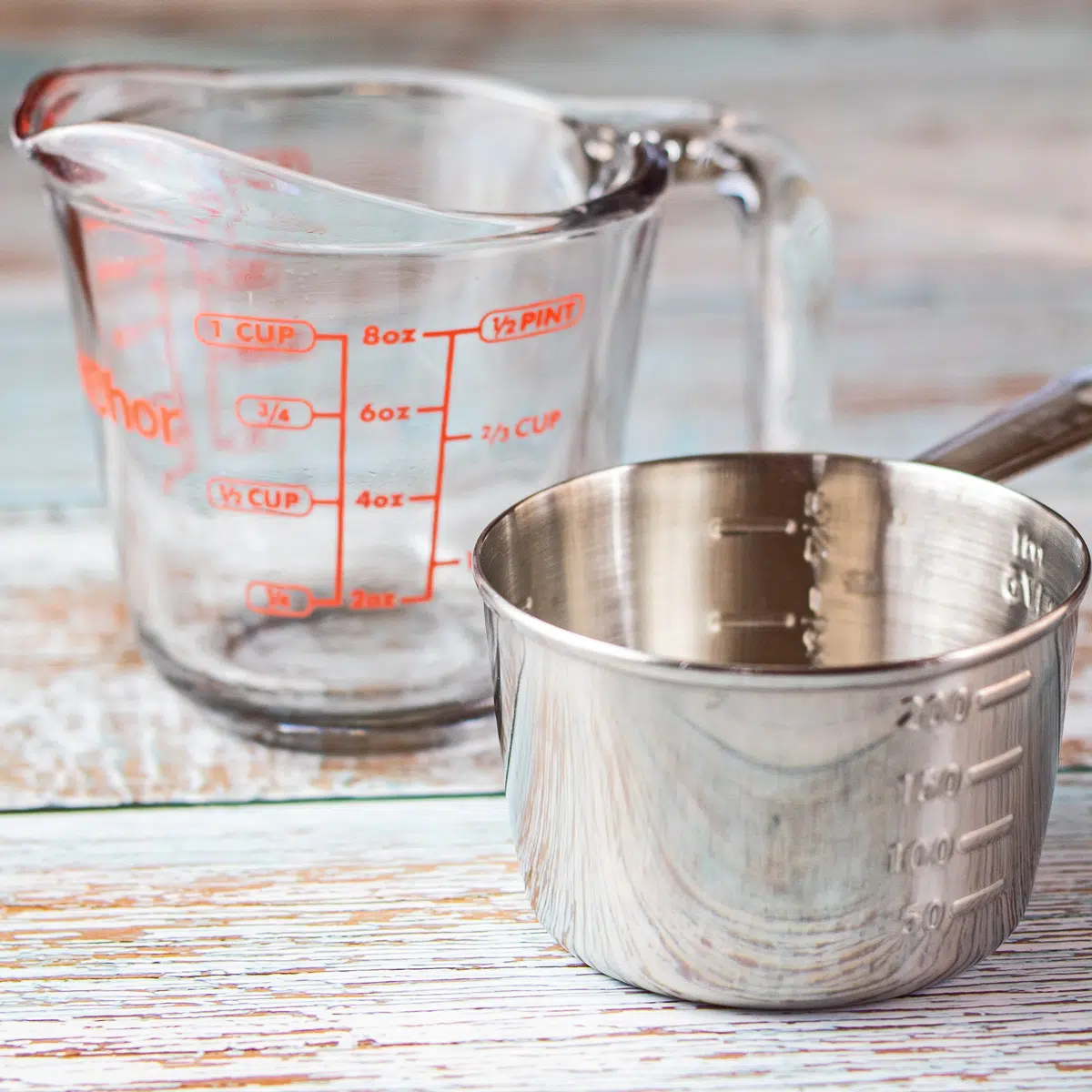 Jump to:
However, when measuring dry ingredients, it can be a bit more complicated. Check out my guide below to learn everything you need about how many ounces are in a fluid cup. As well as how to measure dry ingredients by ounces and cups.
How Many Ounces In A Fluid Cup?
When measuring liquids, the weight and volume are the same. Furthermore, it doesn't matter what type of liquid you are measuring – the volume and weight will be the same. This makes it super easy to answer the question of how many ounces are in a cup?
There are 8 ounces in 1 fluid cup. Milk, water, coffee, tea, alcohol - ANY liquid is 8 ounces in 1 cup.
What Is The Best Way To Measure Liquids?
The easiest way to measure liquids is with a liquid measuring cup. Liquid measuring cups have lines on the sides to note how many ounces or cups are at each line. This is great because you can use one liquid measuring cup for all your measurements!
Moreover, liquid measuring cups have extra space at the top. This allows you to get an exact measurement (without losing any liquid).
Another benefit of these types of measuring cups is most of them have a pour spout. The pour spout makes it easy to transfer the liquid into your recipe. This design further supports an exact measurement because none of the liquid is lost in the transfer.
Liquid Measuring Cups vs Grain Measuring Cups
While a liquid measuring cup is ideal for fluid ounces you can also use a grain measuring cup. Grain measuring cups are the standard cups most home cooks have in their kitchens. These are the cups that stack inside one another.
Grain measuring cups have the same volume as liquid measuring cups. The only downside to using grain cups for liquids is that there is no extra space at the top.
Therefore, you may lose some of the liquid when you move the cup. A few drops of liquid lost will not be significant; however, if you notice you have lost quite a bit of liquid, you'll want to add an extra splash to your recipe.
What If I Can't Find A 1 Cup Measuring Cup?
Finding the best measuring cup may not be your biggest concern. You may simply need to find a measuring cup! Measuring cups and spoons are like the missing socks of the kitchen. Somehow, they just disappear.
Luckily, if you can find some type of measuring tool (cups or tablespoons) you can get your correct measurements. Here is a conversion table to help you out.
1 cup = 8 ounces
½ cup = 4 ounces (two ½ cups = 1 cup)
⅓ cup = 3.33 ounces (three ⅓ cups = 1 cup)
¼ cup = 2 ounces (four ¼ cups = 1 cup)
⅛ cup = 1 ounce (eight ⅛ cups = 1 cup)
How Many tablespoons Are In A Cup?
1 cup = 16 tablespoons
¾ cup = 12 tablespoons
½ cup = 8 tablespoons
¼ cup = 4 tablespoons
⅛ cup = 2 tablespoons
How Many Ounces In A Dry Cup?
As mentioned above, you can use a grain cup to measure liquids. Therefore, a grain cup is also equal to 8 ounces. However, not all dry goods have the same weight-to-volume ratio. Unlike liquids.
Consider all the different types of dry goods you could measure in a cup. Rice. Beans. Popcorn – both kernels and popped. Coffee grinds. Pasta. Cereal. Oats. There are hundreds of different dry goods!
This is where it is difficult to get an exact measurement using a 1 cup measurement. Let's look at popcorn for example.
1 cup of popcorn kernels is not equal to 1 cup of popped popcorn. While the volume of a 1 cup measurement is the same, the weight of the items in the cup is not.
How Do You Correctly Measure Dry Goods Using Cups?
Thankfully, most recipes have already been written with measuring cups in mind. Therefore, all you need to do is follow the directions. If you don't have a 1 cup measuring cup available, you can use the conversion chart above to get the correct measurement using other cups or a tablespoon.
While the conversion chart above will work for both wet and dry ingredients, one thing that differs is the use of a liquid measuring cup vs a grain measuring cup.
Technically, liquid measuring cups and grain measuring cups are of the same volume. However, when measuring dry ingredients in a liquid cup it is hard to get the exact measurement.
While the extra space in a liquid cup is perfect for getting the exact fluid measurement, the flat top of a grain cup is perfect for an exact dry measurement.
For the perfect dry measurement spoon your dry ingredients into the measuring cup. Use a knife to gently scrape across the top of the measuring cup. This will take off any excess and leave you with the most precise measurement.
Can You Measure Ounces In Cups For Dry Ingredients?
Even though most recipes are written in cups there are plenty that are written in ounces. Especially outside of the United States.
Unfortunately, it is not possible to get an exact measurement from ounces to cups for dry ingredients. There are simply too many variables. Here are some examples of how different the weight is between different foods in a 1 cup measurement.
1 cup of popped corn = .3 ounces
1 cup of greens (spinach/lettuce) = 1 ounce
1 cup of macaroni (uncooked) = 4 ounces
1 cup of flour = 4 ¼ ounces
1 cup of chocolate chips = 6 ounces
As you can see, there is a huge difference between the weight of different dry foods when measured with 1 cup. Therefore, if you have a recipe that calls for ounces it is best to measure using a food scale.
While a food scale is not a staple in everyone's kitchen, it needs to be. Especially if you plan to explore your talents with different recipes. You can pick up a cheap food scale at places like Walmart and Target.
Another option is to buy a calibrating measuring cup. These special measuring cups adjust when the food is added. It also shows the weight of the food as it is added to the cup. It is like a scale and a measuring cup in one.
We hope to have helped you fully understand how many ounces there are in a cup! Let us know if you found this article useful and would like to see more like it by commenting below!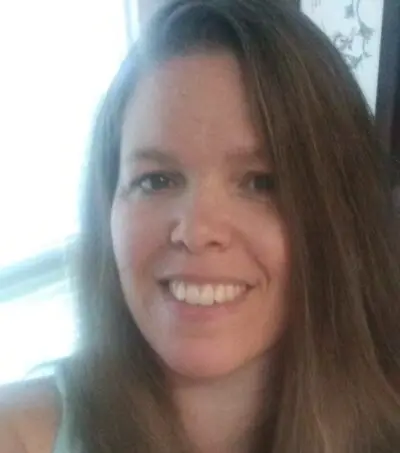 Angela is an at home chef that developed a passion for all things cooking and baking at a young age in her Grandma's kitchen. After many years in the food service industry, she now enjoys sharing all of her family favorite recipes and creating tasty dinner and amazing dessert recipes here at Bake It With Love!