The best summer side dishes are those you can share with family and friends- from pasta salad to roasted veggies and everything in between! Whether you are planning a backyard BBQ, pool party, or family get-together, these fabulous summer side dishes will help bring everyone together!
The Best Summer Side Dishes
Summer is the best time for friends, fun, and of course, food! All of these sides are great for feeding a crowd, and they will pair perfectly with any meaty main course from burgers to BBQ!
Stick with the summertime classics like egg and potato salad or branch out and try some unique sides! No matter what you choose, these recipes are guaranteed to be a hit with your family and friends this summer!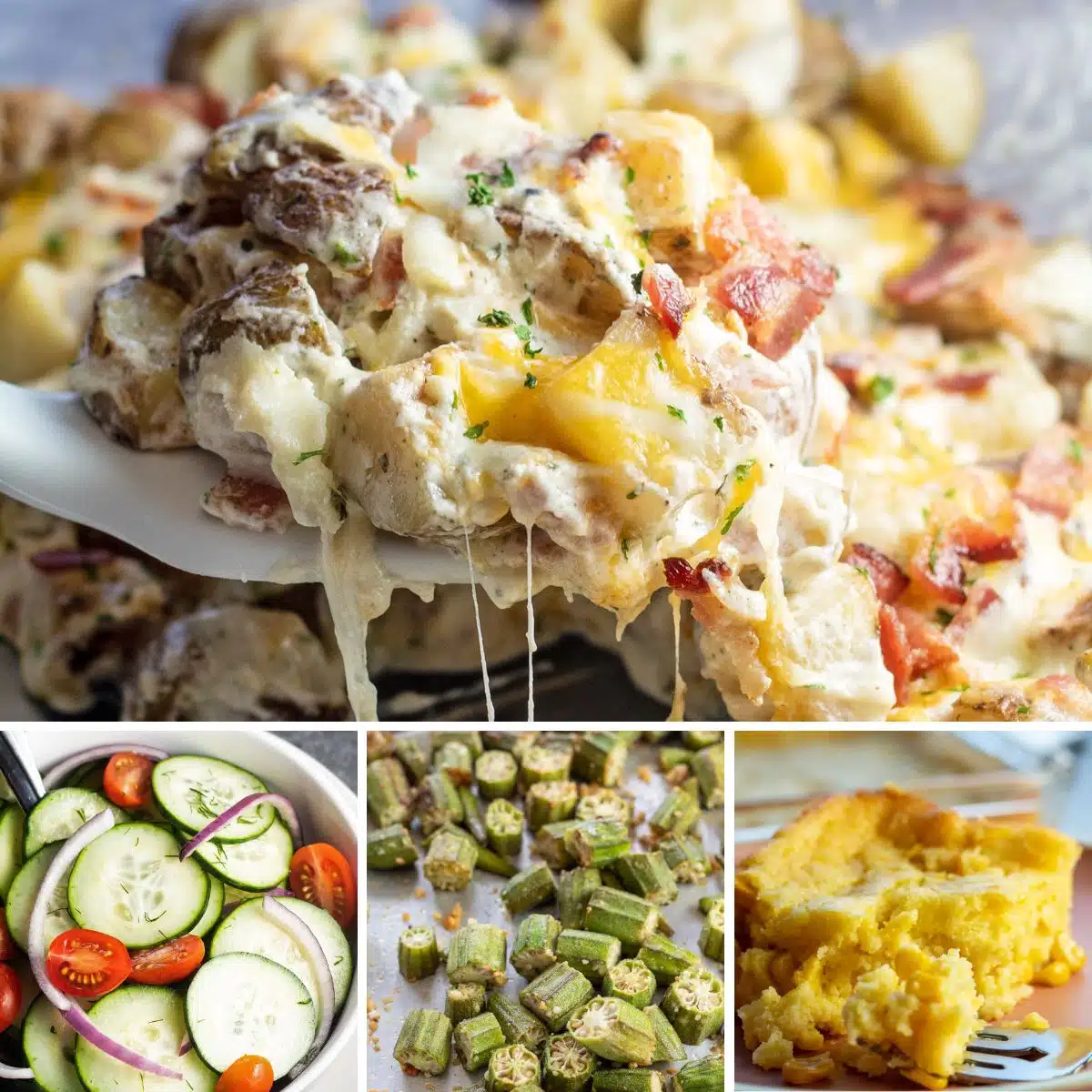 Jump to:
1. Mexican Street Corn
Mexican street corn is flavorful and perfect to eat while on the go. This dish tops sweet corn on the cob with a blend of mayonnaise and sour cream with garlic powder, queso fresco, smoked paprika, and chili powder.
2. Baked Beans with Ground Beef and Bacon
Baked beans with ground beef and bacon are a meat-packed masterpiece! These baked beans have ground beef, bacon, Worcestershire sauce, green pepper, and brown sugar which pairs perfectly with BBQ or anything off the grill!
3. Southern Coleslaw
Southern coleslaw is the perfect summer side dish. It pairs well with many cuts of meat and is perfect on top of hotdogs, sausages, and sandwiches.
The coleslaw is made with cabbage, carrots, mayonnaise, sugar, Dijon mustard, celery seed, and onion powder. It's extra refreshing on hot summer days!
4. Mandarin Orange Jello Salad
Mandarin orange Jello salad is quite the summertime treat that can be served as a side dish or dessert! This chilled sweet salad contains mandarin oranges, pineapple, gelatin, cool whip, and marshmallows.
5. Loaded Baked Potato Salad
Loaded baked potato salad is a great recipe to add to your list! This loaded baked potato salad features your favorite potato toppings like bacon, mayonnaise, sour cream, cheddar cheese, and green onions.
6. Zucchini Squash Casserole
Zucchini squash casserole is a great dish that is loaded with delicious veggies! This casserole is made with zucchini, yellow squash, butter, milk, Panko bread crumbs, garlic, and cheddar cheese!
7. Creamy Baked Corn
Creamy baked corn is perfect for summer barbecues with friends and family. This recipe blends whole kernel corn, cream style corn, flour, butter, half and half, maple syrup, chili powder, garlic, and cheese!
8. Asian Cucumber Salad
This Asian cucumber salad recipe is so refreshing that you will want to make it for all your summer parties. This tangy treat is made with mini cucumbers, ginger, garlic, soy sauce, sesame oil, honey, chili paste, and lime juice.
9. Southern Baked Mac & Cheese
If you want a side dish that is cheesy and full of flavor, try our southern baked Mac & Cheese! This recipe uses milk, heavy cream, eggs, and three different kinds of cheese!
10. Greek Pasta Salad
Greek pasta salad is packed with bold flavors that you and your dinner guests will love! This pasta salad uses farfalle pasta, kalamata olives, feta cheese, cherry tomatoes, red onions, and artichokes.
11. The Best Twice Baked Potatoes
If you want a new potato recipe, try this recipe for the best twice-baked potatoes! They are easy to eat on the go and are loaded with your favorite potato fixin's!
12. Jiffy Corn Casserole
Jiffy corn casserole is the perfect blend of sweet and savory. This casserole is made with sweet corn, creamed corn, jiffy corn muffin mix, sour cream, and butter.
13. Parmesan Roasted Artichokes
We all love Parmesan, right? If you agree, then you must try this recipe for Parmesan roasted artichokes! These delicious Parmesan artichokes are made with Lemon, butter, garlic, panko breadcrumbs, and feature a pesto dipping sauce!
14. Tuna Salad with Pasta
Tuna salad with pasta is great as a side dish or the main course! This tuna salad is made with bow tie pasta, tuna, peas, celery, mayonnaise, Greek yogurt, red onion, and dill weed!
15. Cucumber Vinegar Salad
This chilled cucumber vinegar salad is perfect for warm days! This refreshing salad has crisp cucumbers and cherry tomatoes topped with fresh dill, sugar, salt, white wine vinegar, and olive oil.
16. Braised Red Cabbage
Braised red cabbage is a healthy and delicious dish that everyone can enjoy. This easy recipe is made with red cabbage, butter, apple cider vinegar, light brown sugar, yellow onion, and apples.
17. Smoked Brussel Sprouts
Smoked brussel sprouts are a great recipe for your summertime dinner parties and a good excuse to fire up the smoker! These brussel sprouts with bacon bits, olive oil, salt, and pepper are totally snackable!
18. Roasted Cherry Tomatoes
Roasted cherry tomatoes are tangy and sweet! With a touch of olive oil, thyme, salt, and pepper, you can whip up these refreshingly tasty morsels!
19. Cheesy Bacon Ranch Potatoes
Cheesy bacon ranch potatoes are the perfect blend of potatoes, ranch seasoning, bacon, and of course cheese! Serve these to your friends and they will be begging for the recipe!
20. Hawaiian Macaroni Salad
If you want a side that is tropical and unique, then you must try this Hawaiian macaroni salad! This macaroni salad blends pineapple in with the creamy mayo base to enhance the flavor and make you feel like you are in an island paradise!
21. Black Eyed Peas with Collard Greens
Black-eyed peas with collard greens and ham will fill your heart and stomach! This classic Southern side dish is great for any summer get-together!
22. Parmesan Risotto
Parmesan risotto is a great way to get even the pickiest of eaters to sit down and enjoy a meal! It is creamy, rich, and filling and will improve any meal you serve it with!
23. Roasted Okra
Roasted okra will open your mind to new vegetables in the best way! You will love the blend of garlic, olive oil, salt, pepper, and paprika!
24. Deviled Eggs
Deviled eggs are a perfect appetizer or side dish for any occasion! These deviled eggs are made with hard boiled eggs, creamy mayonnaise, and Dijon mustard, and for added flavor top them with crispy bacon!
25. Lemon Asparagus Orzo
Lemon Asparagus orzo is a recipe that your guests will never forget! This lemon asparagus orzo is filling yet refreshing at the same time!
26. Egg Salad
If you want to make something that you can prepare ahead of time then this egg salad recipe is perfect! Simply blend boiled eggs, mayonnaise, mustard, green onion, and bacon and serve it as-is or on bread as sandwiches!
27. Sautéed Asparagus and Cherry Tomatoes
Sautéed asparagus and cherry tomatoes are healthy and full of flavor! This easy veggie side dish pairs together asparagus, cherry tomatoes, Parmesan cheese, oil, and fresh herbs.
28. Roasted Green Beans
Roasted green beans are a wonderful addition to your summer menu. This is one vegetable even the kids will enjoy!
29. Air Fryer Potato Chips
Air fryer potato chips are such a simple side side dish to make from scratch. All you need is your air fryer, some thinly sliced potatoes, oil, and salt!
30. Bacon Wrapped Brussel Sprouts
You will love these bacon wrapped Brussel sprouts, they are downright addicting! This recipe involves fresh Brussel sprouts wrapped in delicious bacon with paprika, honey, and butter!
Summertime is the perfect time to gather all your friends and family for cookouts and barbecues! Let us know in the comments below which summer side dish recipes are you plan on making this year!
📖 Recipe Card