These leftover chicken recipes are exactly what you need anytime you have some leftover chicken in your fridge! They are perfect for after the holidays or a family get-together when you just always seem to have too many leftovers. So instead of eating chicken sandwiches for a week, try out some of these delicious and flavorful leftover chicken recipes!
Best Leftover Chicken Recipes
Chicken is used in such a wide variety of dishes that it seems I always have some leftovers in my fridge! I try to keep my meals different and delicious so that we don't end up having to eat the same thing over and over while we try to use up the chicken.
Below is my list of recipes that I go to anytime I have some leftover chicken! These dishes are hearty, savory, and extremely delicious- and using leftover chicken makes them extra easy!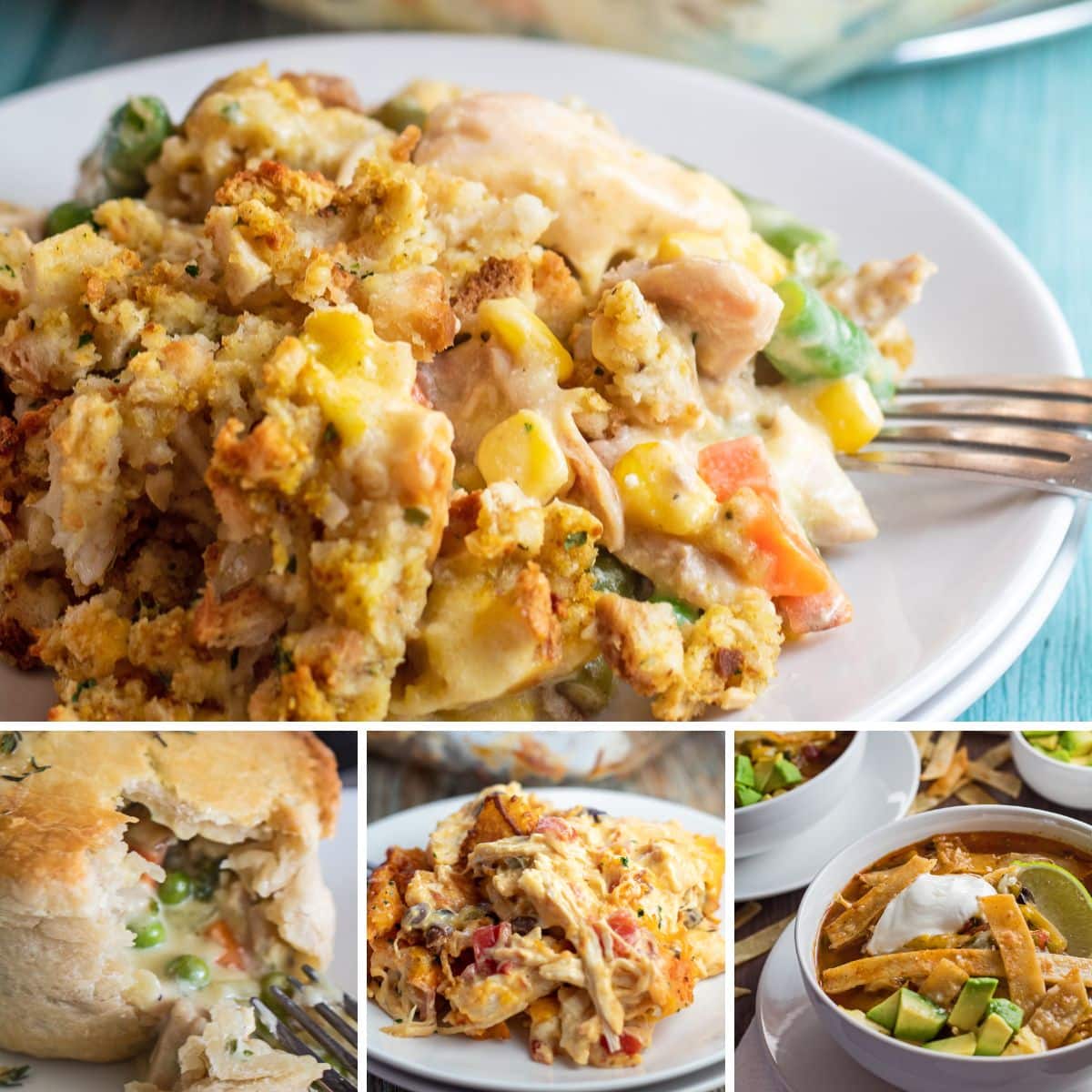 Jump to:
If you're looking for the very best recipes to use up leftover chicken - look no further! Everything you need to feed a hungry family is shared below!
1. Sour Cream Chicken Enchiladas
The flavorful chicken enchiladas topped with the creamy sour cream sauce are going to be a hit with your entire family! Any leftover chicken you have will work perfectly for this dish!
It doesn't matter if you're using freshly boiled chicken, leftover cooked chicken, or pulled rotisserie chicken - any of these recipes will turn out deliciously!
2. Chicken Broccoli Rice Casserole
This creamy, cheesy, and tender casserole will leave you feeling satisfied and comforted! I recommend adding the Panko breadcrumbs for a delightfully crunchy topping!
Since this recipe combines so many yummy flavors, it can stretch your bit of leftover chicken out to make a hearty family meal!
3. Doritos Chicken Casserole with Cream Cheese
This kid-friendly casserole is fun to make and full of flavor! The Doritos add such a cheesy, crunchy element that will leave you wanting more!
4. Chicken a la King
My chicken a la king recipe is creamy, easy, and very satisfying! Not to mention, it will be ready to eat in just a mere 15 minutes!
5. Chicken Stuffing Casserole
If you're craving some good, home-cooked comfort food- this is the recipe for you! Go grab some leftover chicken and this meal will be ready to eat in 30 minutes!
6. Italian Chicken Pastina Soup
This warm and flavorful soup is the perfect use for leftover chicken when it's chilly outside! This hearty soup is a great option for those busy weeknight dinners!
7. Chicken Spaghetti with Rotel
Extremely cheesy, easy, and quick- what more could you want from this comforting casserole? You can even throw in some extra veggies that you love!
8. Creamy Chicken Minnesota Wild Rice Soup
You can't go wrong with a nutritious, hearty grain in a comforting, creamy soup. This chicken Minnesota wild rice soup is great any time of the year!
9. Chicken Divan Casserole
Chicken, broccoli, and cheese are one of my favorite flavor combinations! It all comes together in this easy-to-make casserole!
10. Chicken Enchiladas
These Tex-Mex chicken enchiladas are a fantastic way to use up some leftover chicken! This classic recipe is a family favorite and makes a great dinner any day of the week!
11. Bisquick Chicken and Dumplings
Chicken and dumplings are such a rich and creamy dish that is deservedly popular, and this recipe makes it even easier by using some Bisquick for the biscuits! This recipe is so simple, yet extremely delicious!
12. Shredded Chicken Tacos
These tacos are one of my favorite last-minute, easy meals! Make sure to top them with your favorite taco toppings!
13. Chicken Parmesan Pizza
This recipe combines two popular Italian dishes into one easy and flavorful meal! Your family will love this addicting dish and will ask for it over and over again!
14. Biscuit Chicken Pot Pie
In this chicken pot pie, you won't have to mess with adding a pie crust, because it's topped with biscuits instead! You'll never go back to making traditional chicken pot pie ever again!
15. Green Chile Chicken Stew
If you're in the mood for a good, flavorful stew that uses leftover chicken- this one is for you! This dish is also a one-pot meal so you won't have to deal with the dishes!
16. Chicken Tortilla Soup
Nothing is more classic and family-friendly than a savory bowl of some chicken tortilla soup! This recipe will make a soup that is better than anything you can find at a restaurant!
These delicious leftover chicken recipes are the best meals you can make with any leftover chicken you have! Leave a comment down below and let me know which recipes you tried!
📋 Recipe