Best shredded chicken recipes so you can turn shredded chicken meat into a new and delicious dinner every night! There are family-favorite casseroles, savory chicken soups, and so much more to choose from! You'll love the convenience of cooking with shredded chicken!
Best Ways To Use Shredded Chicken
I like to keep shredded chicken on hand because it's so incredibly versatile, and it's already cooked! It can be added to salads, sandwiches, tacos, dips, soups, and just about anything else that could use a little protein.
You can quickly and easily make shredded chicken in your Instant Pot or just grab a rotisserie chicken from the grocery store! It cuts down the overall time of most recipes significantly, so it's perfect for family dinners on busy weeknights!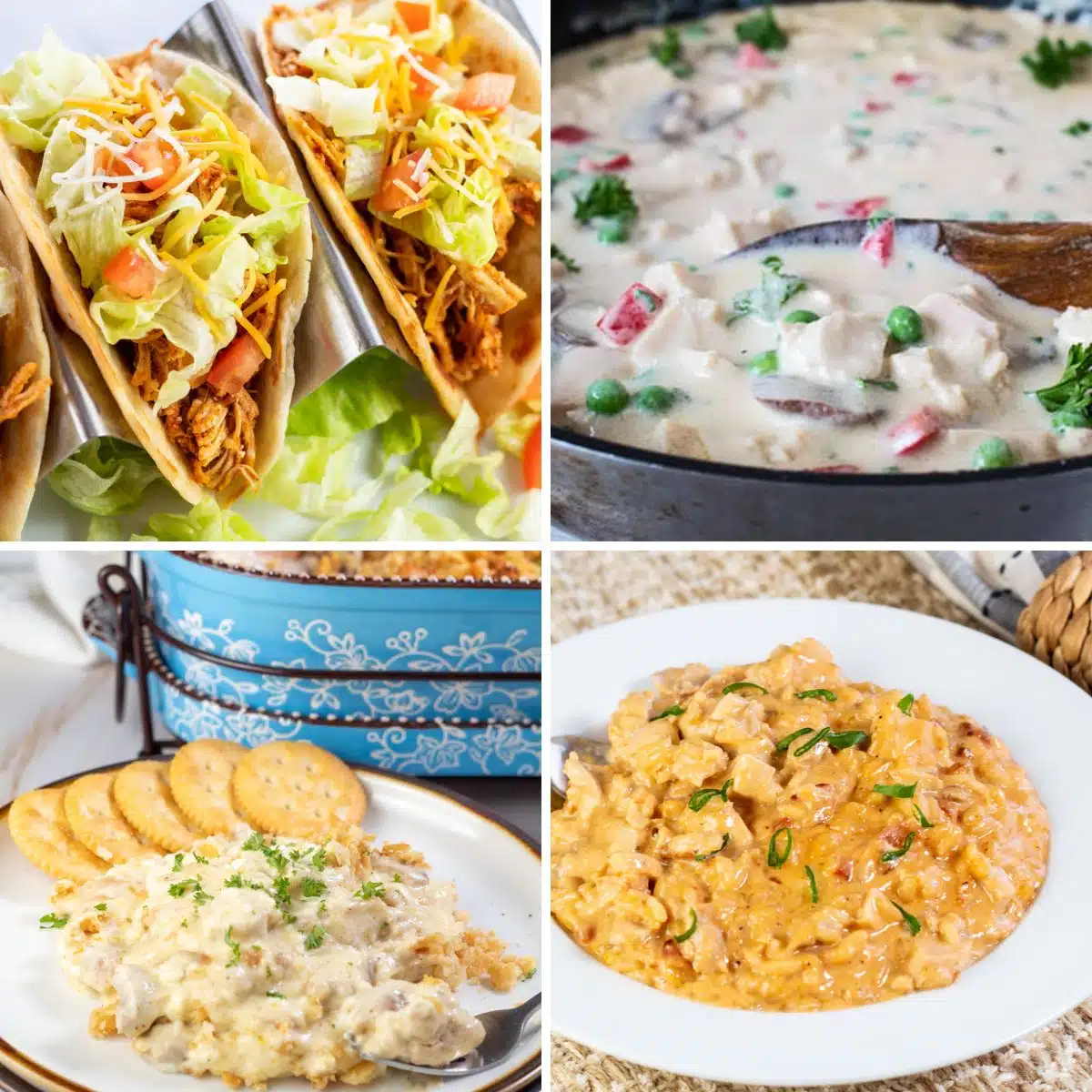 Jump to:
1. Shredded Chicken Tacos
Shredded chicken is perfect for taco nights! Just add some chicken taco seasoning and a little red salsa, then grab your favorite tortillas and taco toppings and dig in!
2. Chicken Bacon Risotto
This impressive chicken bacon risotto is creamy, cheesy, and downright indulgent. You can mix the shredded chicken in at the end if it's already cooked, and no one will ever know you took a shortcut!
3. Chicken Enchiladas with Green Sauce
Nothing beats a big plate of homemade chicken enchiladas with a side of restaurant-style Mexican rice and refried black beans. If you aren't a fan of green enchilada sauce, you should give my sour cream chicken enchiladas a try!
4. Million Dollar Chicken Casserole
The name says it all, this casserole tastes like a million bucks! It has a rich and creamy filling made with 2 kinds of cheese, sour cream, and cream of chicken soup, and a crispy Ritz cracker topping.
5. Chicken Taquitos
These crispy chicken taquitos are so easy to make, and they freeze beautifully. They are perfect for after-school snacks, lunches, or dinner with a few of your favorite Mexican side dishes!
6. Chicken Burrito Bowls
Chicken burrito bowls are completely customizable and can include your favorite beans, cheeses, veggies, and sauces! All you have to do is warm up the shredded chicken and assemble your ideal bowl.
7. Chicken Quesadillas
If you have shredded chicken on hand, you can quickly whip up some delicious chicken quesadillas! They can easily be customized with your favorite vegetables, fillings, or sauces so that everyone gets what they want!
8. Ritz Chicken Cassrole
This easy 7-ingredient casserole is a one-dish meal that is ready to eat in just 30 minutes! Butter Ritz crackers make up the crispy topping that will have you savoring every last bite.
>>>>See all of my recipes HERE<<<<
9. Chicken a la King
Chicken a la King is a delectable combination of tender chicken meat, peas, mushrooms, and bell peppers all in a luscious cream sauce. You can serve it over rice, noodles, potatoes, and so much more!
Find out more about what to serve with chicken a la king right here!
10. Chicken Spaghetti with Rotel
This cheesy chicken spaghetti casserole has juicy Rotel tomatoes with green chiles, which give it a zesty Southwestern flare. Don't worry, it's not too spicy for the kiddos; it just gives it some extra flavor!
11. Chicken Tortilla Soup
A steaming bowl of chicken tortilla soup is perfect for any time you're feeling under the weather or when it's a little chilly outside! You can top it off with freshly diced avocado, sour cream, and of course, crispy tortilla strips!
12. Chicken Divan Casserole
When it comes to chicken casserole dinners, chicken Divan casserole is as classic as they come! It's made with a handful of ingredients including rice, breadcrumbs, cheese, broccoli, and of course, chicken!
13. Doritos Chicken Casserole
This casserole features taco-seasoned shredded chicken, Rotel tomatoes, black beans, Mexican cheese, cream cheese, and nacho cheese Doritos! It bakes up into a creamy, cheesy, crunchy casserole that the whole family will love!
14. Bisquick Chicken and Dumplings
This recipe for chicken and dumplings originally calls for uncooked chicken, but you can cut the cooking time down drastically with shredded chicken! Just add your shredded chicken near the end just before you drop in the dumpling batter.
15. Rotisserie Chicken Salad
If you aren't working with rotisserie chicken, you can use plain shredded chicken to make this creamy chicken salad. I also have a super simple recipe for air fryer rotisserie chicken that would be perfect for this recipe and others on this list!
Tips For Cooking With Shredded Chicken
After you've decided on which shredded chicken recipes you'd like to try, it's time to prepare your shredded chicken (if you haven't already)! Here are a few easy tips and tricks for cooking with shredded chicken:
Cooking the Chicken: There are a number of ways to cook chicken before shredding it. You can poach, boil, or bake it, or use your Instant Pot or crockpot! It should be fully cooked through and tender before shredding.
Shred While Warm: Once cooked, let the chicken cool just enough that you can handle it without burning yourself. Warm chicken is much easier to shred.
Hand Shredding vs. Mixer/Shredder: I find it pretty easy to shred chicken by using two forks pulling in opposite directions. However, you can also shred your chicken using a stand mixer with a paddle attachment or a hand mixer set to low. Be careful not to over-shred your chicken meat, or it will turn into mush!
Seasoning: Shredded chicken is a blank canvas, and it will take on whatever flavors you season it with. Keep this in mind if you plan on using your shredded chicken in multiple recipes.
Last-Minute Addition: If you're adding shredded chicken to a dish near the end of cooking, make sure it's already cooked and just needs to be warmed through. Overcooking the chicken at this stage will dry it out significantly. All cooked shredded chicken should be added at the end of the cooking time when possible.
Now that you see how many delicious meals can be made with shredded chicken, maybe you'll start keeping it on hand, too! Make sure to come back and tell me which recipes were your favorites in the comment section below!
📋 Recipe